We're sharing eleven fool-proof pet hair removal tricks to remove pet hair from hard-hit areas. If you have pets, you know that the struggle with pet hair is very real, and finding tricks to remove pet hair is even more difficult. You literally find cat hair and dog hair everywhere.
It is on your furniture, clinging to your clothes rugs, blankets, and even lurking in your car. It gets in every crack and crevice imaginable! It's by far one of the biggest challenges of pet ownership. No matter where you turn, those cute, furry, family members are leaving their marks by tracking their hair everywhere they land. If you're like me, you're exhausted with the clean-up and have just about given in.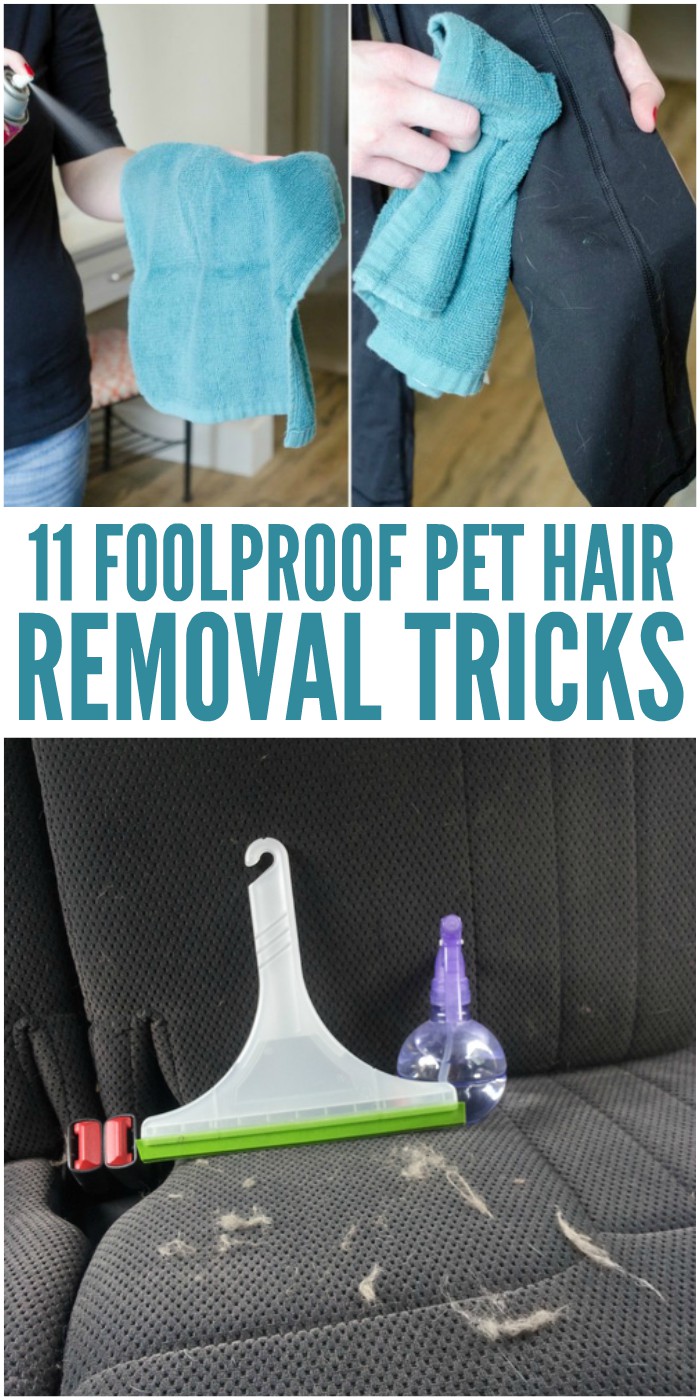 You have accepted that this is just the way things will be, but it doesn't have to be. You can get rid of that pesky excess hair problem with these foolproof pet hair removal tricks. You will love every one of our pet hacks?
A Trick for Pet Hair Removal
Pet hair is a hassle that every pet owner dreads. It feels nearly impossible to remove clumps of hair from the sofa, carpet, and other fabrics. Until now. These eleven tools are foolproof ways to make your cars and carpets cleaner, and your clothes lint-free. No matter if you're struggling to remove cat hair, or dog hair, we've got you covered with pet hair removal hacks that work like magic.
1. Carpet Rake Trick to Remove Pet Hair
You don't have to grab a lint roller or lint trap on your carpet every time. Get incredible results with a carpet rake (or rubber broom) by spritzing the area with water first. The water helps the rake grab onto the pet hair better, so you'll get a cleaner carpet. It lumps the hair altogether making it easier to pinpoint and to pick up. This trick makes removing pet hair from the carpet fibers easier than ever. Plus, carpet rakes are easy to store making this tool a no-brainer for any pet owner.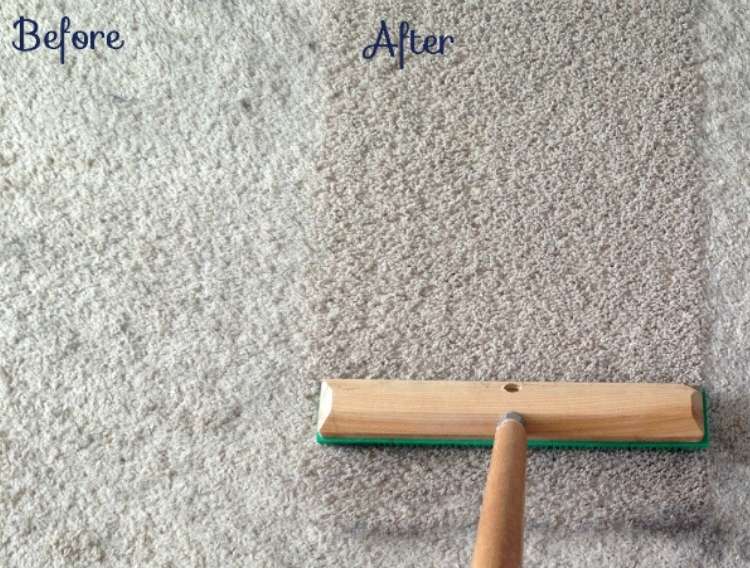 2. Paint Roller With Duct Tape- Best Pet Hair Roller
Newly upholstered furniture? Here's an easy DIY pet hair remover tool you can whip up anytime. This may seem unconventional, but it's honestly genius. With this hack, a little creativity went a long way. Simply wrap duct tape around a paint roller (sticky side out) to create a super-effective hair remover on the fly. It's cheap, and it works! Why I've never thought of this before, who knows? Maybe, I've been living under a rock, but what I do know is that it's so easy to make and works instantly with very little effort. It's the perfect solution to remove pet hair from the sofa. This works perfectly on hardwood floors, the couch, or any tile surface!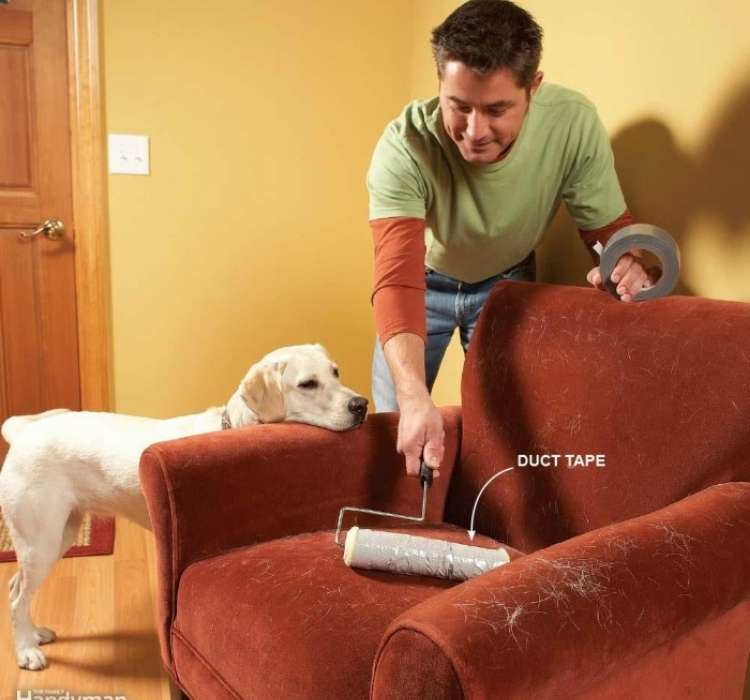 3. Handheld Vacuum
A good handheld vacuum is a MUST for pet owners. Pulling out the big machine is treacherous. No one wants to dig out the big machine every time their pet sheds a little hair here and there, but we do want a hair-free home. Handheld vacuum cleaners are the best tool to remove pet hair from the stairs in your home. It is also versatile enough to tackle your car, and other home furnishings as well. The great thing about a good handheld is that it small enough to bend into cracks that our typical home vacuum cleaners would be too bulky to fit into.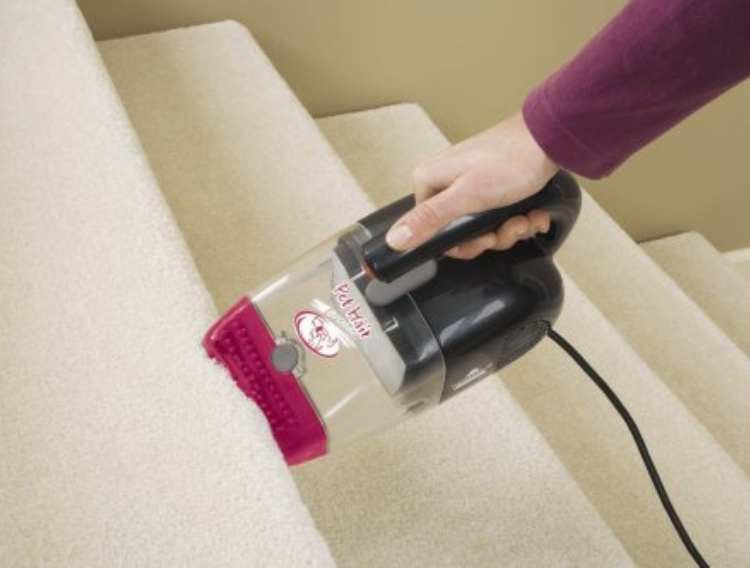 4. Squeegees and Water Dog Hair Remover for Car
Keep squeegees in the house and in the car to remove pet hair after your furry friend has shed all over the place. We have the most fun bringing our cats and dogs with us along for family trips and fun visits to the parks. However, the damage their fur does on our seats is often a deciding factor. Do I really want to have to clean up all of the pet hair? Well, with this convenient tool, that is a thought of the past. Here's a hack that will tumble clean your car, whether you've got the seats covered in leather (or pet hair: literally). A small spray bottle of water and squeegee works miracles on all of the hair that furry friends leave behind. (Can add a bit of fabric softener for a more fragrant smell.) We use this trick often now, and it's been a lifesaver!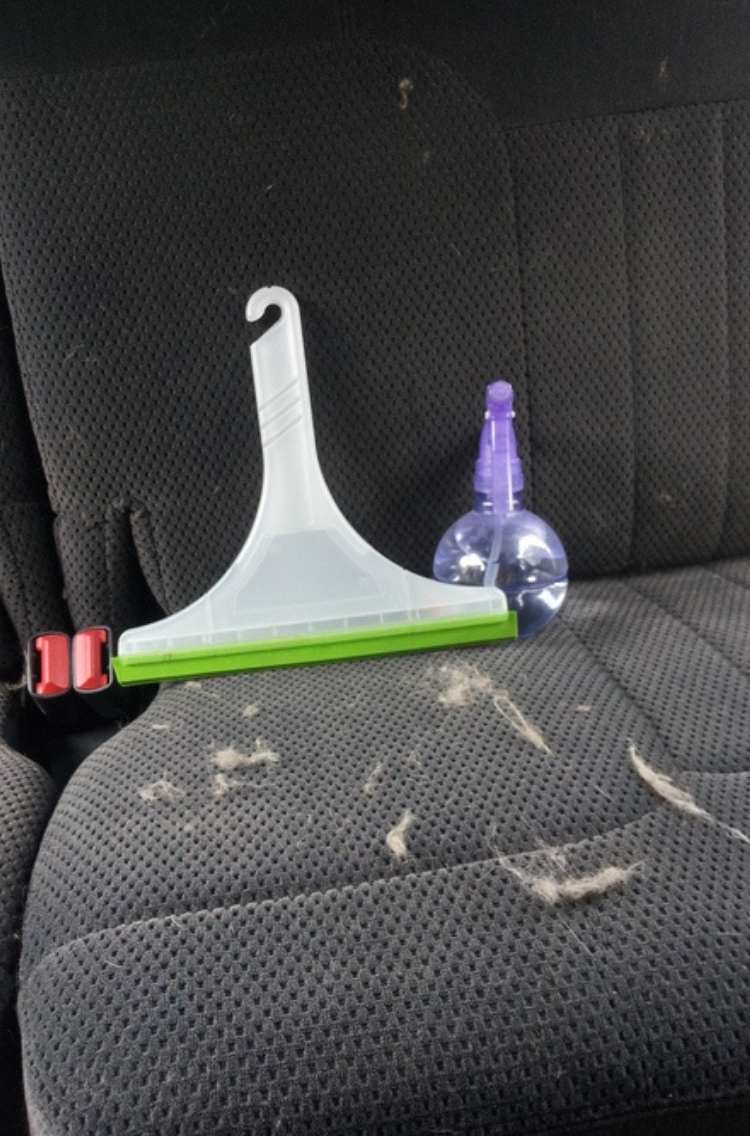 5. Rubber Gloves
Let's talk about hacks! Did you know that a rubber glove does the trick? Grab a rubber glove from your cleaning closet to wipe pet hair off of small areas. The hair attracts in one ball and is a super-easy way to control dog hair in small spaces around the house. It's never been easier, or has there been a more convenient way to remove loose pet hair from around your home.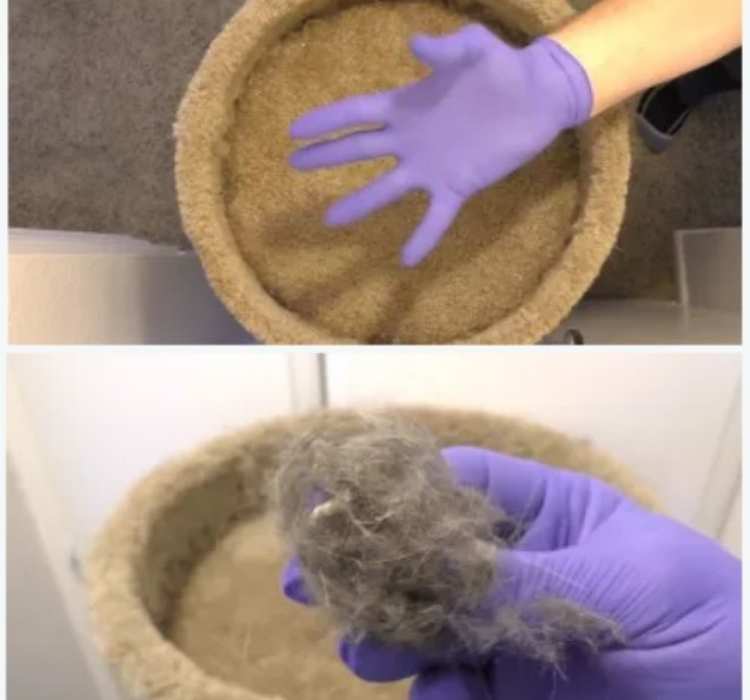 6. Pumice Stone
This is big! You might not believe it, but pumice stones are meant for more than foot callouses. In fact, their benefits reach far beyond your local salon's pedicure station. As it happens, they're also amazing pet hair catchers. Use a pumice stone to remove pet hair from upholstery if you have one on hand. Perfect for those tight areas in the car too!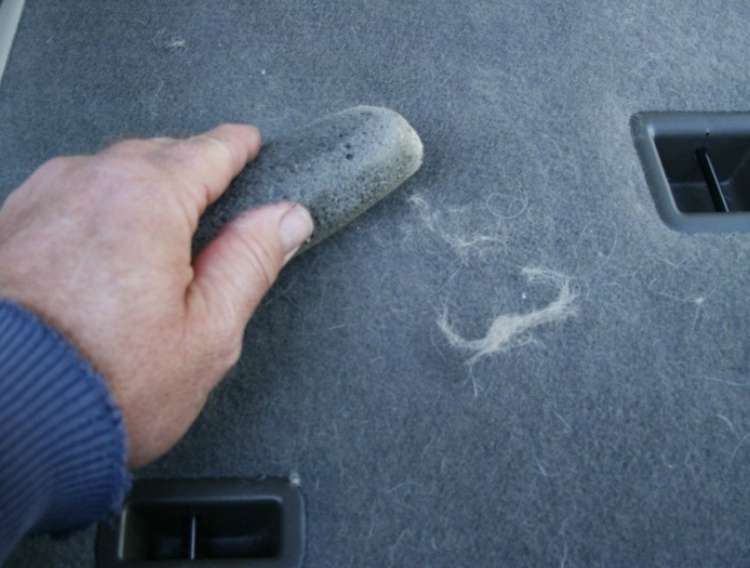 7. Dryer Sheet Trick for Pet Hair Removal
Dryer sheets are useful in so many ways. If you're like me and you have tons of dryer sheets on hand, today is your lucky day. You can remove pet hair from the carpet and your clothes. The best part about this tip is that it doesn't require any extra supplies. Whatever your typical dryer sheets are will work just fine. Its as easy as grabbing a dryer sheet and wiping. Doesn't much more simple than that!
However, this tip is mainly for surface-level hair removal. It's not the best choice for deep-rooted hair removal. If it's deeply embedded hair, you'll want to use one of the other tricks we mentioned.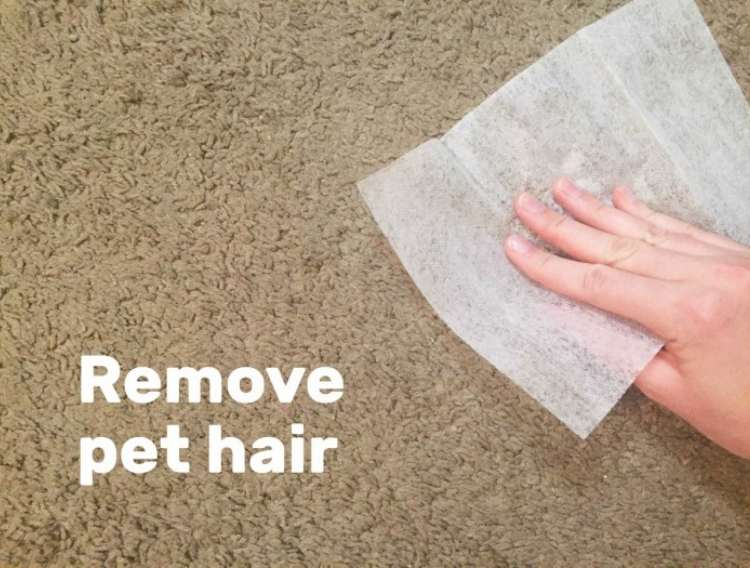 8. Rubber Lint Brush Hair Remover Trick for Clothes
If the above tools haven't worked for you, I'm positive that this rubber lint brush is just the thing you've been waiting for. It's the go-to tool for pet hair removal from clothes. Your best bet is to get a few for easy access on the go as it works wonders to remove pet hair from clothes. Store one in your bedroom, one in the common area of your home, one in your car, and leave one at work in your desk. That way you're always covered, even when you're in a hurry. Pet hair can be a pesky thing but this rubber lint brush helps you handle it with ease. Oh, couldn't hurt to keep one in your purse too!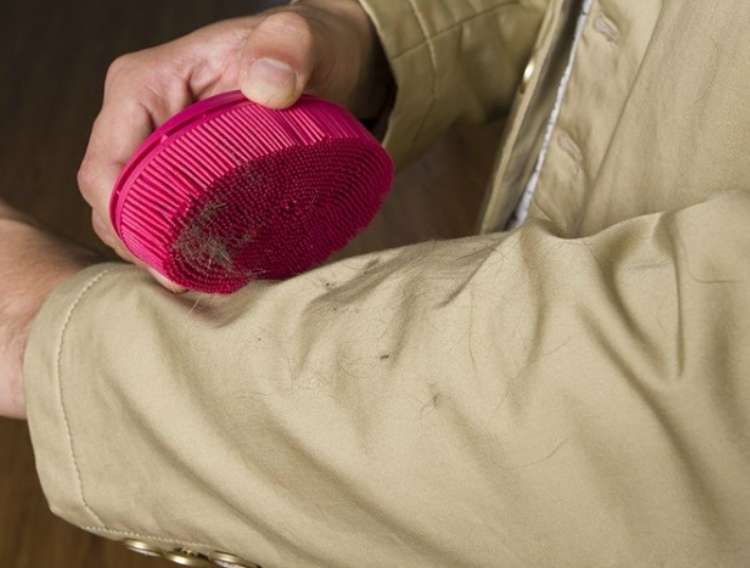 9. Swiffer Tricks for Pet Hair Removal
I remember when Swiffers first came onto the scene many years ago. They were the go-to device for wood floors. Now, they're the go-to device for pretty much all home cleaning tools. Ranger from dusters, to wet jets, and from regular sweepers to heavy-duty mops, Swiffer has everything. But, did you know that your Swiffer can also be used to remove pet hair? Win, win, right? Use a Swiffer to remove pet hair from the carpet before you vacuum if you're afraid of clogging it up. (Picture uploaded by Pinterest user Cecilee Maelin)
Swiffer sweeper
No pad
Sweep hair into a pile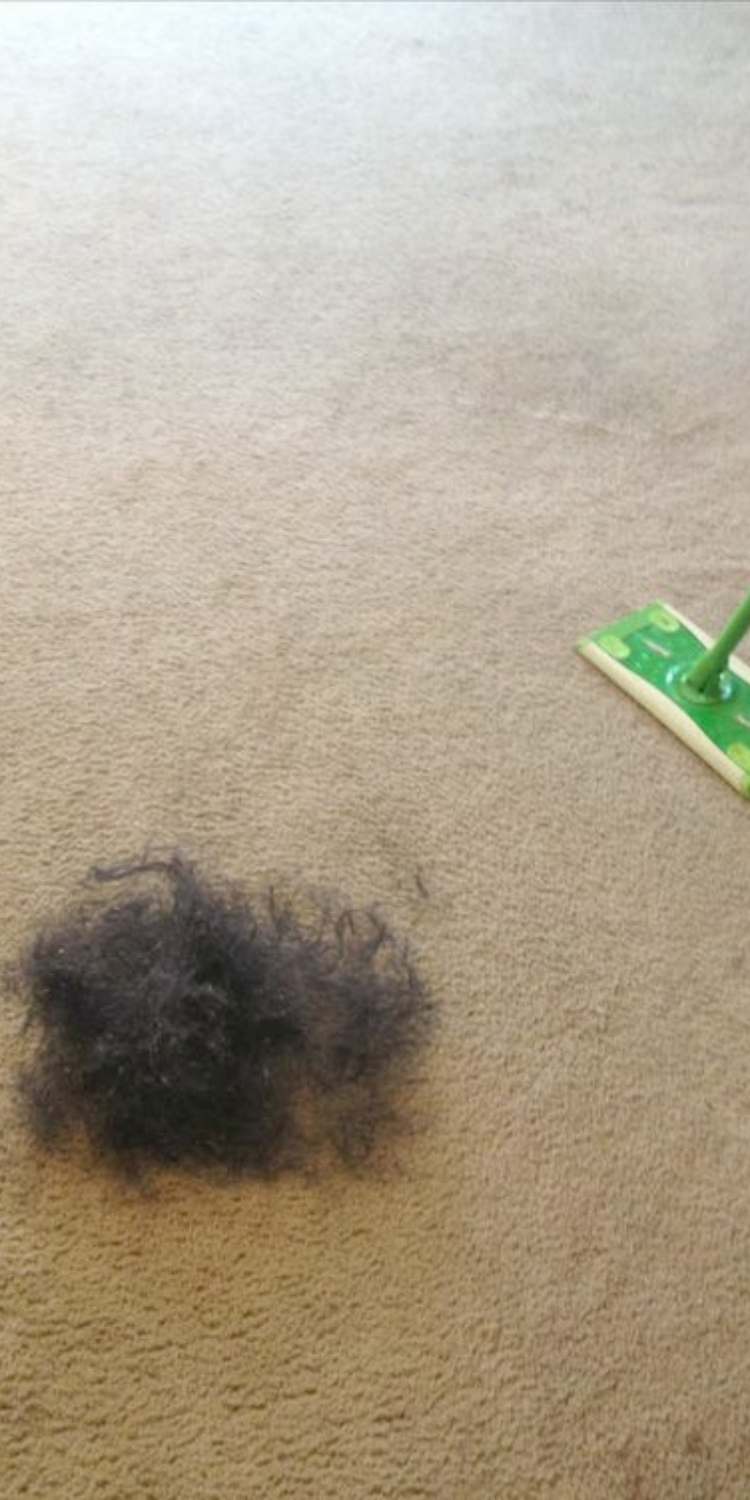 10. Microfiber Cleaning Cloths to Remove Pet Hair from Dryer
A common dilemma for me is finding a way to remove my pet's hair from the washing machine. That's why this tool is my favorite. It's so simple and like the "dryer sheet" hack, it's functional. Most of us have microfiber cleaning cloths on hand — aren't they amazing? Wipe them across your upholstery to remove pet hair as needed. And guess what? You can use them in your dryer too? They're so multi-functional and helps me keep my dryer clean from hair so that I can then have less dog and cat hair on my clothes. Another win, win for me!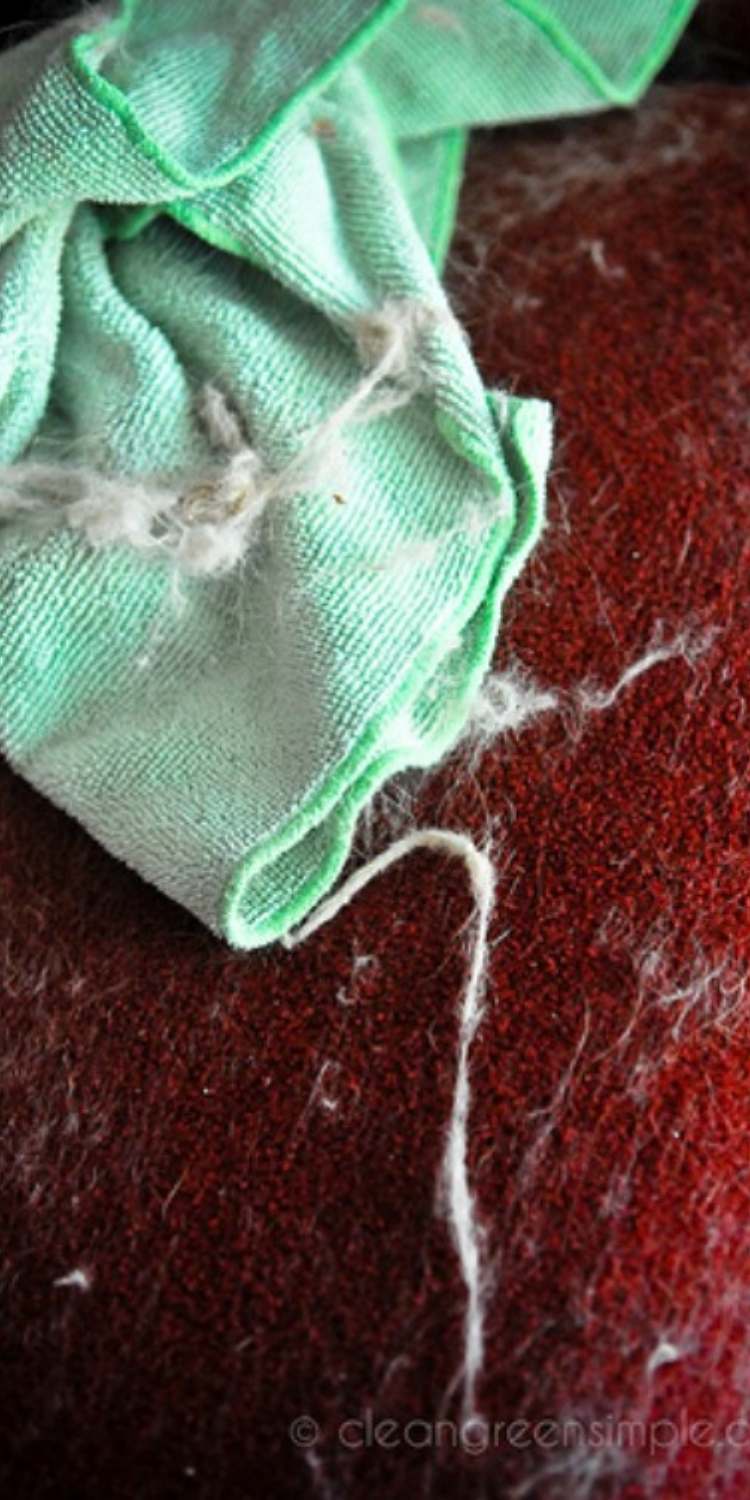 11. Pet Hair Removal Tricks Using Hairspray
More everyday items to the rescue. Spray a small towel with hairspray, let it dry, and wipe it over your clothes to remove pet hair in a pinch. It may be unconventional, but this is a great tool to remove pet hair from many fabric surfaces when your options are low and you need a solution. Plus, I tend to waste hairspray. Usually, I buy hairspray for an event like a wedding or something fancy. I use it that one time and it sits under my cabinet collecting dust. Now, it has another purpose and it won't go to waste.
A hack that saves me money, and keeps me from wasting things is my favorite kind of hack.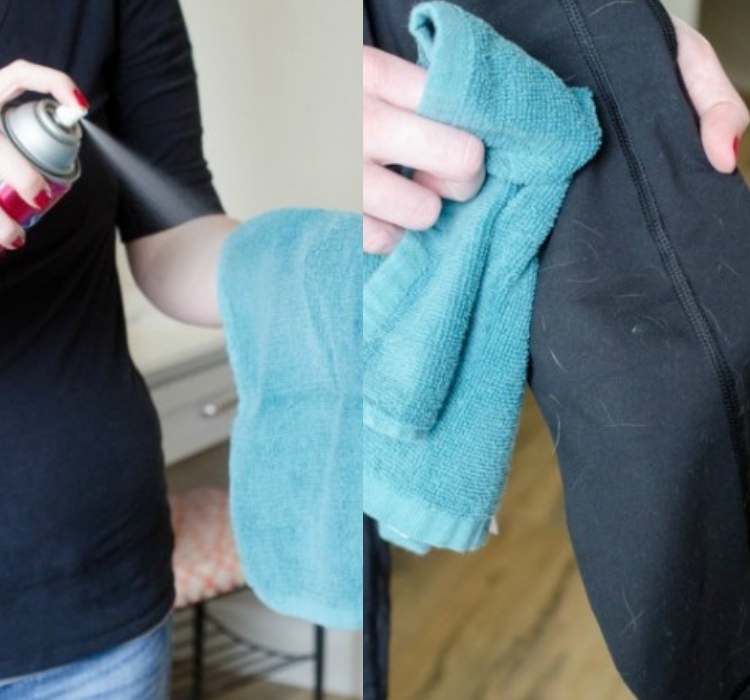 More Hacks for Pet Owners
Pet hair is a huge inconvenience. Besides, the fact that it's hard to get up, and that animal hair gets everywhere, cleaning it up adds an extra unnecessary chore to your already busy life.  But, these hacks will transform your life. They will come in handy now and be useful tips for the future.
If you liked these pet hair removal tricks, you should also check out our other helpful hacks for pet owners. They'll surely help you take a load off and do this pet thing with ease!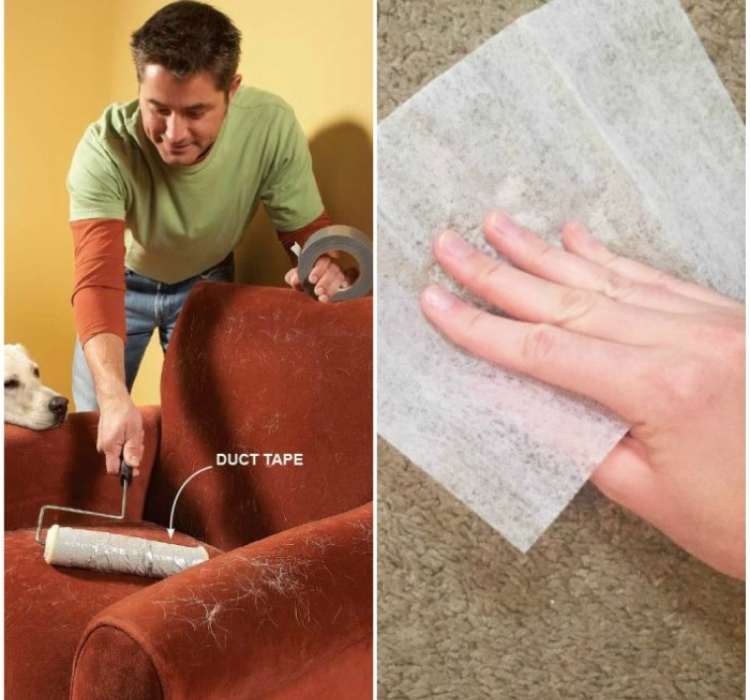 Have you tried all of these hacks? Which ones do you like the best?