The weather's heating up, so it's time to cool down with one of our favorite frozen treats: popsicles! But there's no need to run to the store if you find your freezer empty. With just a few ingredients that you probably already have around the house, you can whip up these homemade orange creamsicles in no time.
If you are short on time and don't want to wait for the freezer, consider whipping up a kids frozen slushie – YUM!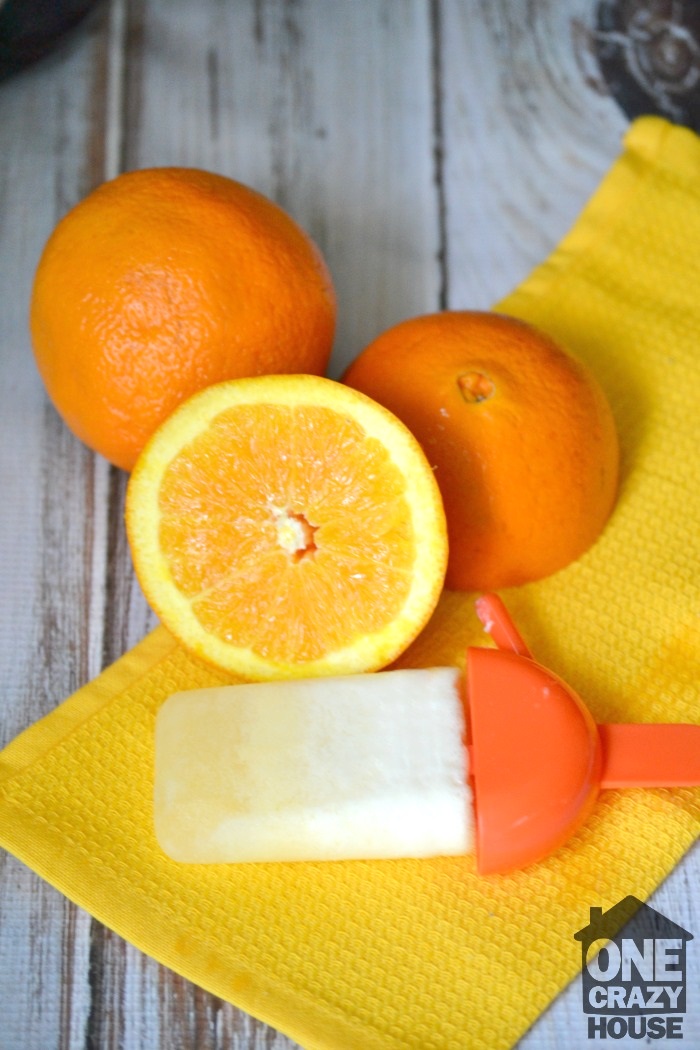 The recipe for these cool, creamy popsicles is based off of this Creamsicle Slushie recipe. We just skipped the orange pieces for the pops, but you can leave them in if you'd like. The oranges provide more pulp and texture, so if you like that, go for it!
Homemade Orange Creamsicles
You'll need the following ingredients:
3/4 cup orange juice
1/2 cup milk
2 tablespoons white sugar
1/4 teaspoon vanilla extract
12-14 ice cubes
Just dump all the ingredients in your blender, and pulse for 3-4 minutes, until all the ice has been broken up and the liquid is smooth. It will get a little frothy from the milk.
Pour the liquid into your popsicle molds.There's enough here to make at least 8 creamsicles, but why not enjoy a slushie now and the popsicles later? Win-win!
Leave a little bit of space from the top because these will expand as they freeze. Put the tops on before you put them in the freezer. If you want to put wooden popsicle sticks in them, let them freeze for about an hour, and gently place them in the center.
The creamsicles will need to stay in the freezer at least 3-4 hours. We left ours overnight.
Pro tip: To get the popsicles out of the molds neatly, place the mold in warm (not hot!) water for 30-40 seconds. Then gently pull the popsicles from the tray. If they don't come out easily, place them in the water again for about 10-15 seconds at a time.
Enjoy!
Looking for more summer snacks? Try frozen grapes! They're seriously yummy.