Looking for some simple tips for cover-up a tattoo? This is a simple, affordable and painless way to make it happen!
Do you have a tattoo that you really wish you didn't have? Or maybe you have a reason that you need to cover it up for a short time?
Or maybe…just maybe, your parents don't yet know that you've got your very own tattoo yet. Well, don't fret. You probably have what you need sitting in your makeup drawer at home to cover up that tattoo.
Instead of stressing out and worrying over it, why not just cover it up? With just a little application of make-up, no one will ever know the difference!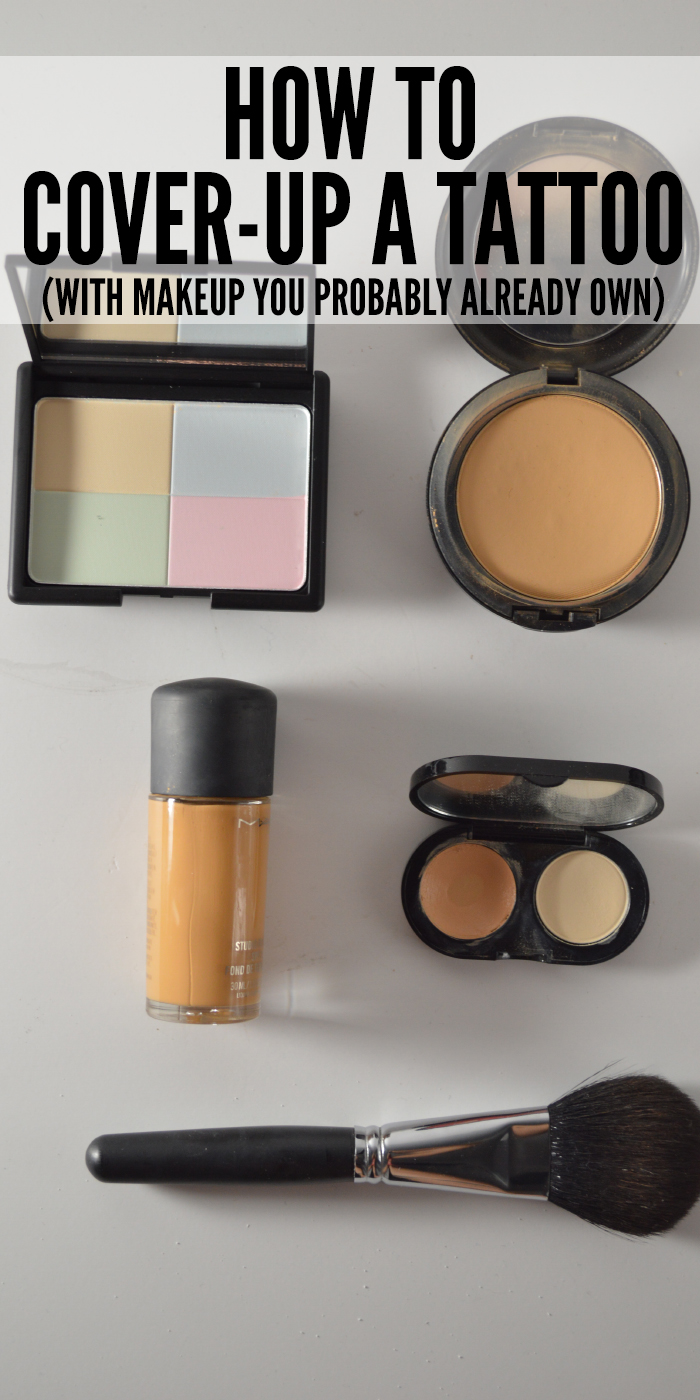 How to Cover-Up a Tattoo
Wanna know a little secret? It's really not hard to cover up a tattoo. Most people don't do it because it's a bit time-consuming but the more you do it, the faster that you're going to get. And thankfully, you don't have to pay thousands of dollars to cover up a tattoo every now and again.
Is it hard to cover-up a tattoo?
Makeup can do so many wonderful things. It's always thrilling to see it transform its subject. Whether you're into contouring, blending, or layering, there's just so much you can do with creams, shadows, and palettes.
And once you start messing around with this, you're going to really find out how creative you are! It's not hard to do and again, the more you do it the better you're going to get.
How do you cover up a tattoo?
Makeup has been used for centuries and has greatly developed over time. There are tens of thousands of different product offerings, each one allowing you, the makeup artist, to create your masterpiece.
But keep in mind that you don't have to spend thousands of dollars to cover up that ink. You can do it with ease and just a few simple dollars.
Makeup to the rescue!
Yes, makeup is a complete art form. Even the basic understanding of layering, blending and shading shows that all of us "makeup users" have the ability to be artistic – even it's not with a traditional paintbrush and canvas.
Today, we're going to work our makeup magic. Let's make good use of those artistic skills to cover-up a tattoo. Here are our step-by-step instructions.
What do you need to cover up a tattoo?
All you need are a few simple supplies to get started.
What you'll need:
Yellow base in either liquid or powder form
Cream and powder concealer
Liquid foundation
Powder foundation
Blending brush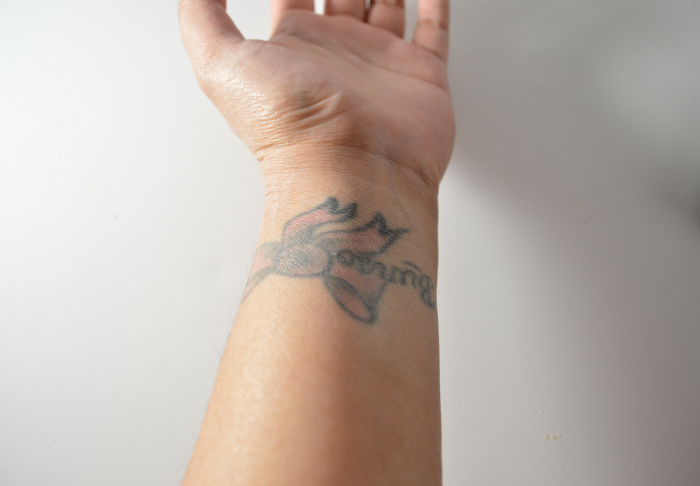 Start with your yellow base. Use multiple, thin layers. This yellow-base layer is very important because it helps cut off the black and gray in your tattoo. If desired, you can also use an orange eyeshadow for the same effect!
Don't be scared to play around with different colors and see what works for you.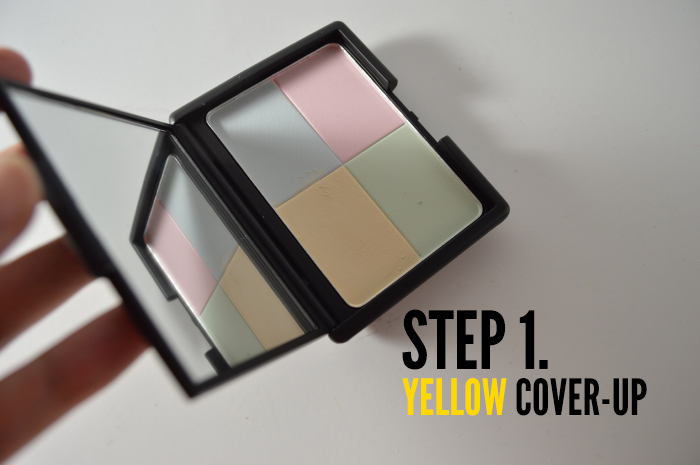 Next, use a cream concealer to cover the entire area. Set it with a powder.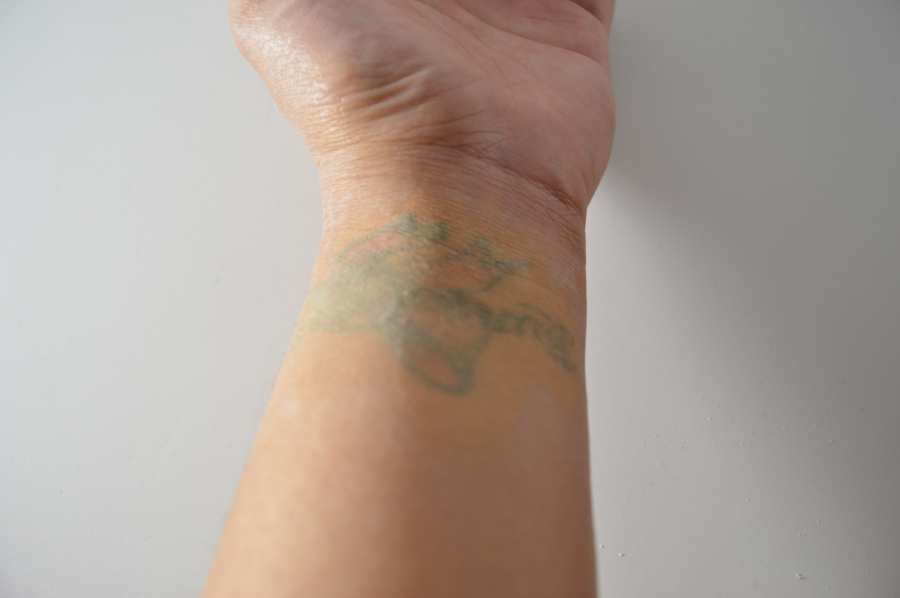 Apply liquid foundation. Just like your yellow base, dab on thin, multiple layers. Allow drying.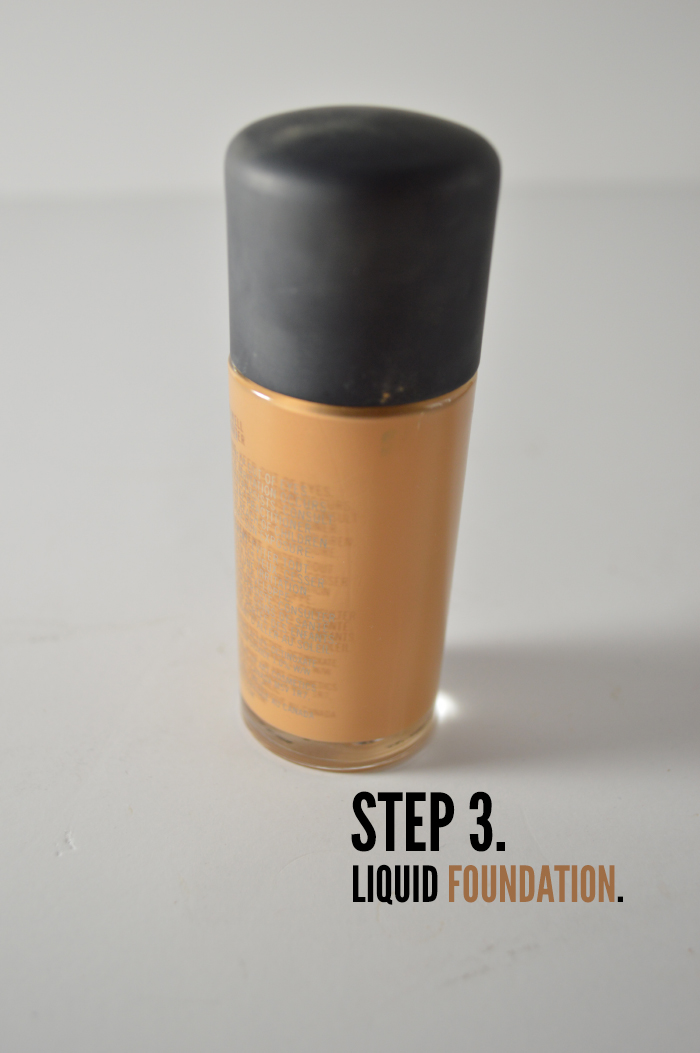 Set everything with a powder foundation. We used a brush to get everything looking even and blended.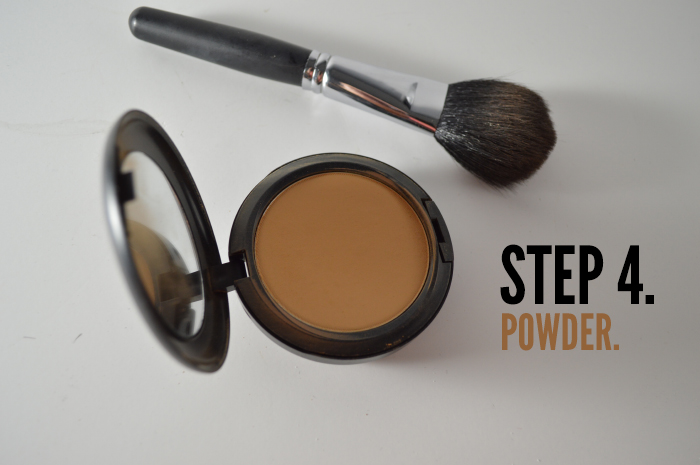 Of course, there are always specialized products to help temporarily cover up tattoos. Instead of spending the extra cash, we figured that there would be a way to do it with what you already own.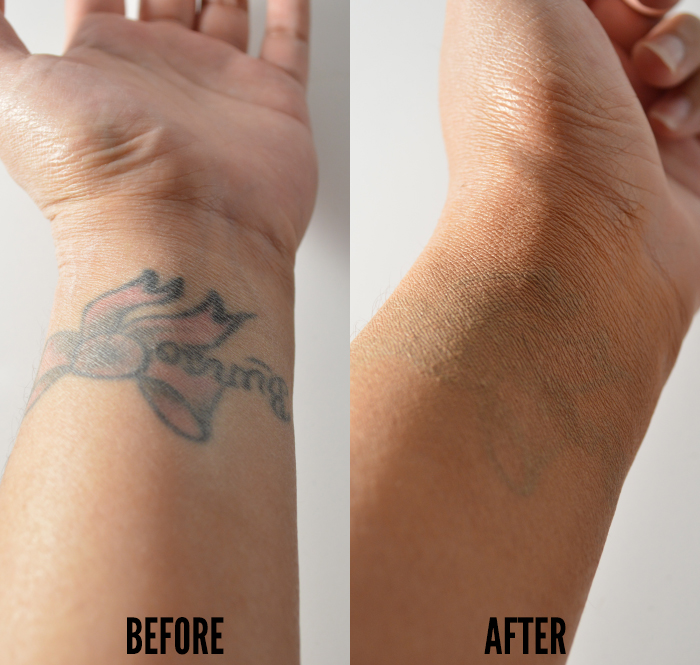 Why cover up your tattoo rather than remove it?
That's simple. This is a painless, affordable and easy way to get rid of your tattoo for a short amount of time. You're not committing to getting rid of it completely, but you totally can for the time that you need it to be gone.
Does tattoo make up rub off on clothes?
You'll need to be prepared for this possibility. Just like makeup to your face, there's a good chance that the makeup might rub off on your clothes. This is important to be aware of if you're trying to cover up a hand tattoo or ankle tattoo. Your pants and shirt might get some makeup on it and your tattoo might not stay covered up for very long.
Can I put makeup on a new tattoo?
These tips are really only for tattoos that you've had for a while. New tattoos need time to heal so you don't want to put anything over the top of them that is going to slow that healing time.
How much does tattoo removal cost?
SO MUCH MONEY. This is where it's totally a great idea to cover them up temporarily if you can. You could be looking at thousands of dollars to have your tattoo permanently removed…probably lots more than you actually paid to have it done.
If you're thinking of removing your tattoo, why not try and cover it up first to see if you're really not going to want it any longer. This is a less permanent way but will still give you an idea of what you'll look like once your tattoo is gone.
So now that you know that it's possible to cover up your tattoo, you should have fun experimenting with it. You can easily do this each and every day if you happen to work someplace where this is their rule.
Or, if you've got a tattoo that you're just not wanting to see for a while, (hello ex-boyfriend or girlfriend!) then you can go ahead and follow these steps to hiding it easily.
So, now we are all wondering….do you have any tattoos that you're wanting to cover-up?