Pringles can crafts you can actually use, because who doesn't love Pringles, right?
Do you know these simple Pringles can crafts that can be used in daily life? Pringles stay intact better than bagged versions of chips and they come in that handy cardboard tube. But what to do with the empty pringles containers? It seems rather wasteful to just throw them away. I've always thought I should turn them into something useful but didn't know where to start. So, I turned to the crafty bloggers and creators on the web to find these clever Pringles can hacks.
From your bedside table to your kitchen table, there are so many different ways to use Pringles cans! You can even get the kids together and do a craft time project together.
All you need to customize your Pringles chip container is some paint or some pretty craft paper. Then use double-sided tape or hot glue to get your great craft paper to stick, and use stickers to label your beautiful new storage containers! You can also get creative and use other materials, like small stones, to create a textured look. You won't even remember that they used to be a Pringles can! Let us know in the comments which one is your favorite DIY Pringles can hack.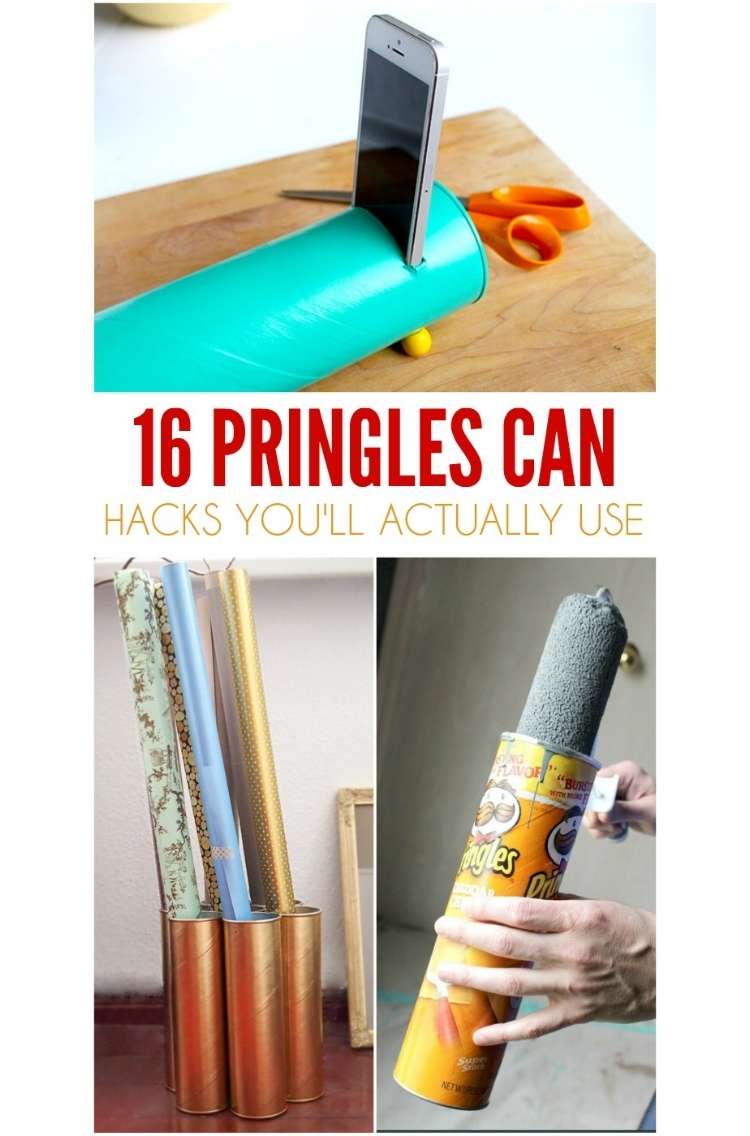 Pringles Can Crafts You'll Actually Use
1. Turn your Pringles cans into storage for pasta and grains
Pringles cans are great for storage throughout your kitchen. Makeover Pringles cans into a good use with just a few craft supplies like chalkboard paint to create cute, cheap kitchen storage containers for:
pasta
grains
beans
oatmeal
sugar
If the chalk paint doesn't really go with your kitchen, you can use any paint color you like and use a tag to label the Pringles cans with stickers or a marker. Another option is to wrap the Pringles can with decorative paper. Whichever way you choose, the important part is that your containers are airtight and cute!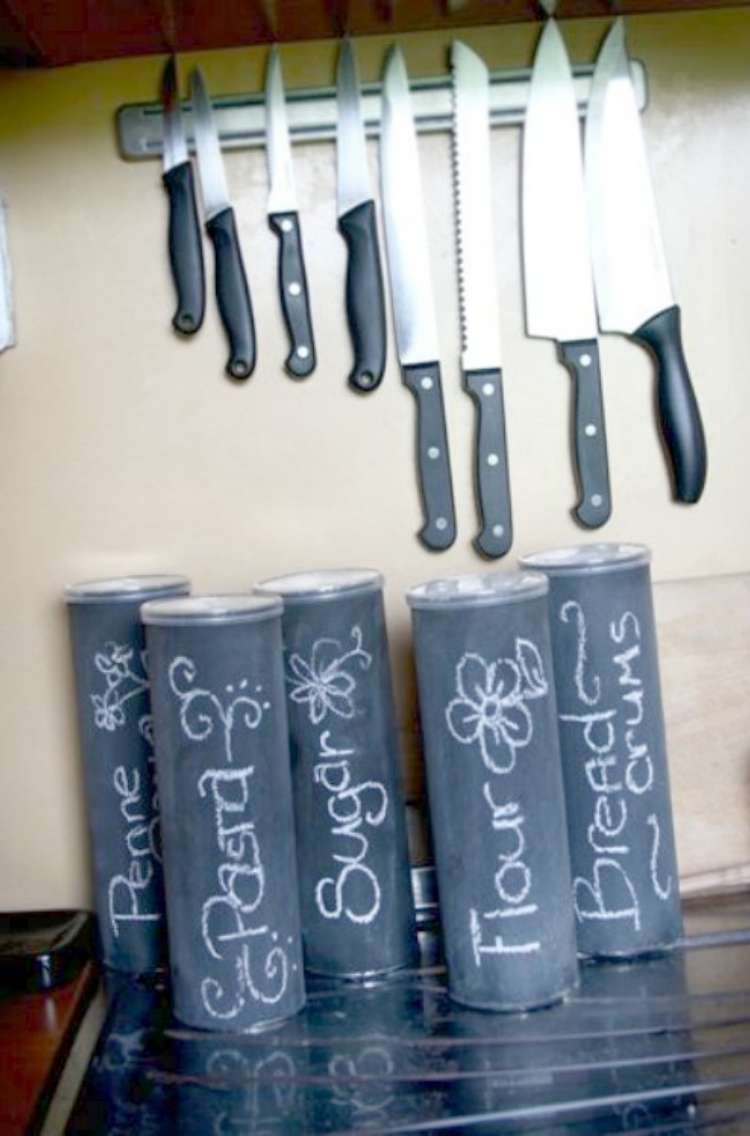 2. Pringles cans for gifting cookies
Save them for gifting cookies at Christmastime (or anytime!). Simply cover them in pretty wrapping paper, add some ribbon embellishments, and a gift tag. Isn't this a lovely project?
You can use wax paper on the inside to keep the cookies from touching the can (after washing it out, of course) and double-sided tape to wrap the paper around the outside.
This is a great idea for any odd, long-shaped gifts you might not be able to wrap. Another gift idea for the Pringles can is to use it as a prank gift for a small gift so that the giftee won't be able to guess what it might be.
Save up your Pringles cans all year and you won't have to buy boxes for Christmas gifts! I'm not sure what's more fun, making the containers or the cookies to give away in them.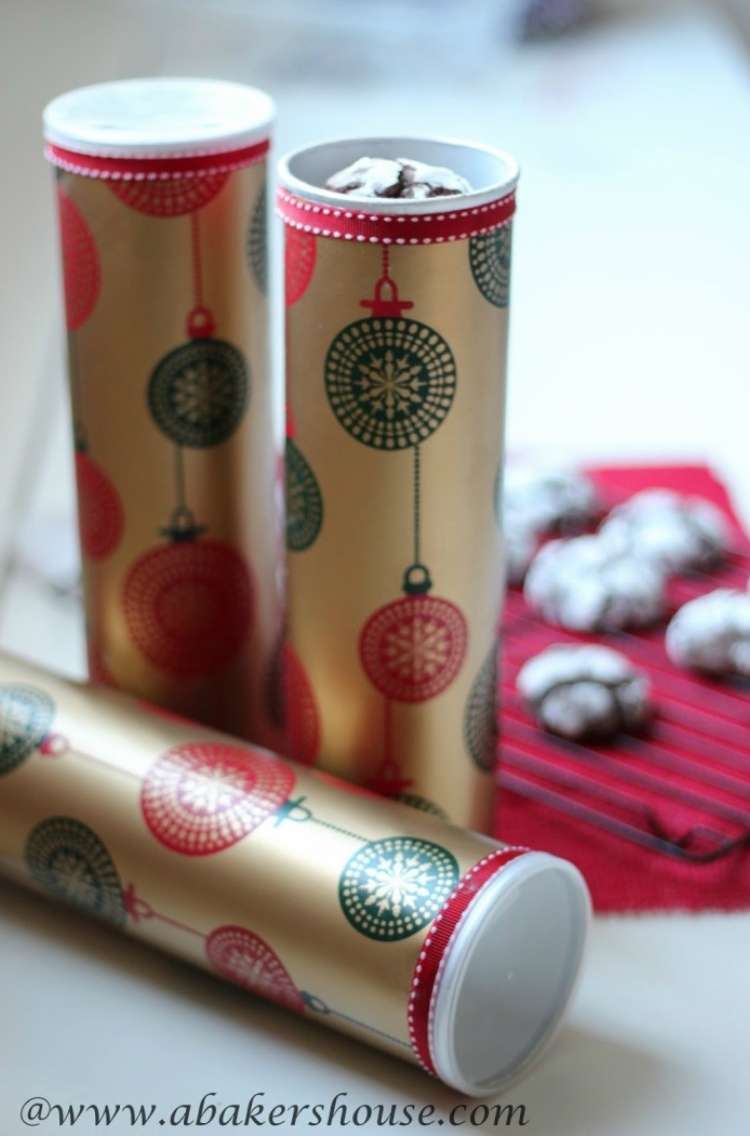 3. Pringles can hacks to store paint roller overnight
When painting over the course of several days, don't bother washing out the rollers each day. Store them overnight in a Pringles can, and they'll be moist and ready to use the next day. This way you don't have to be making a huge mess every night when you are working on a painting project that takes several days.
This Pringles can hack is one of my favorites because I love anything that helps me avoid a mess (and I hate washing out those darn paint rollers!)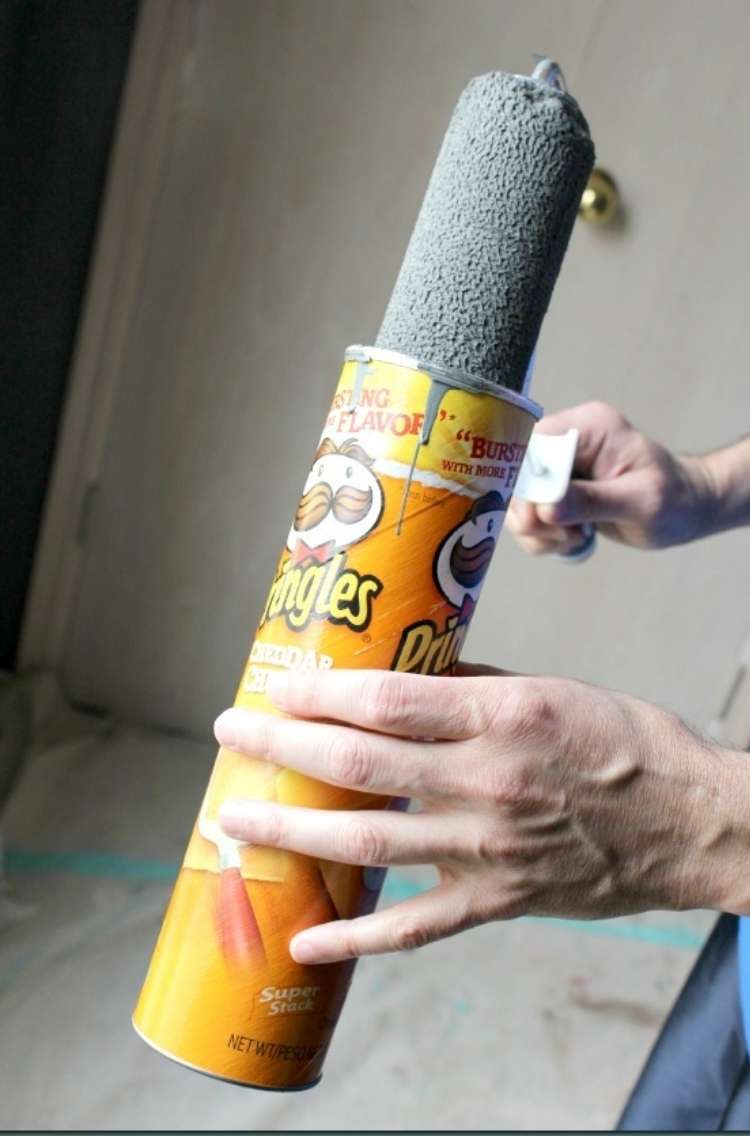 4. Pringles can as a curling iron holder
Minimize counter clutter in the bathroom by storing your curling iron in an empty can. Wait until it's cool before putting it in there, though. This could work for some of your other heated styling tools, like your hair straightener or even your blowdryer, depending on the shape of your tools. These can be stored on your counter or you can attach them to the side of your sink or toilet to save on counter space.

5. Pringles can as a plastic bag dispenser
Store plastic grocery bags to reuse later. You can make the canister prettier by decorating it with scrapbook paper or contact paper. Use an Exacto knife to cut a small hole in the plastic lid of the Pringles can to keep the bags neatly inside. Finally, you can tame that mess of plastic bags under the sink!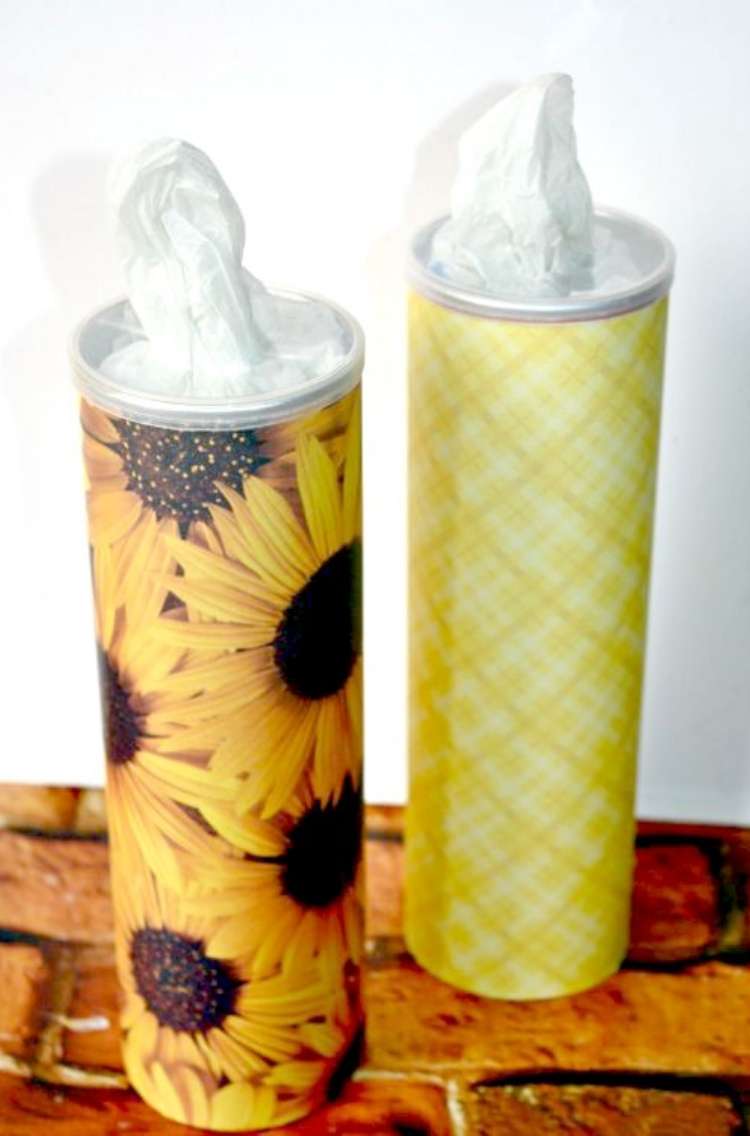 6. Pringles can store hair accessories
Use a can for hair accessories storage. Wrap hair elastics and headbands around the can. Put bobby pins and bows inside. Genius!
You can use these repurposed Pringles cans to organize your whole bathroom.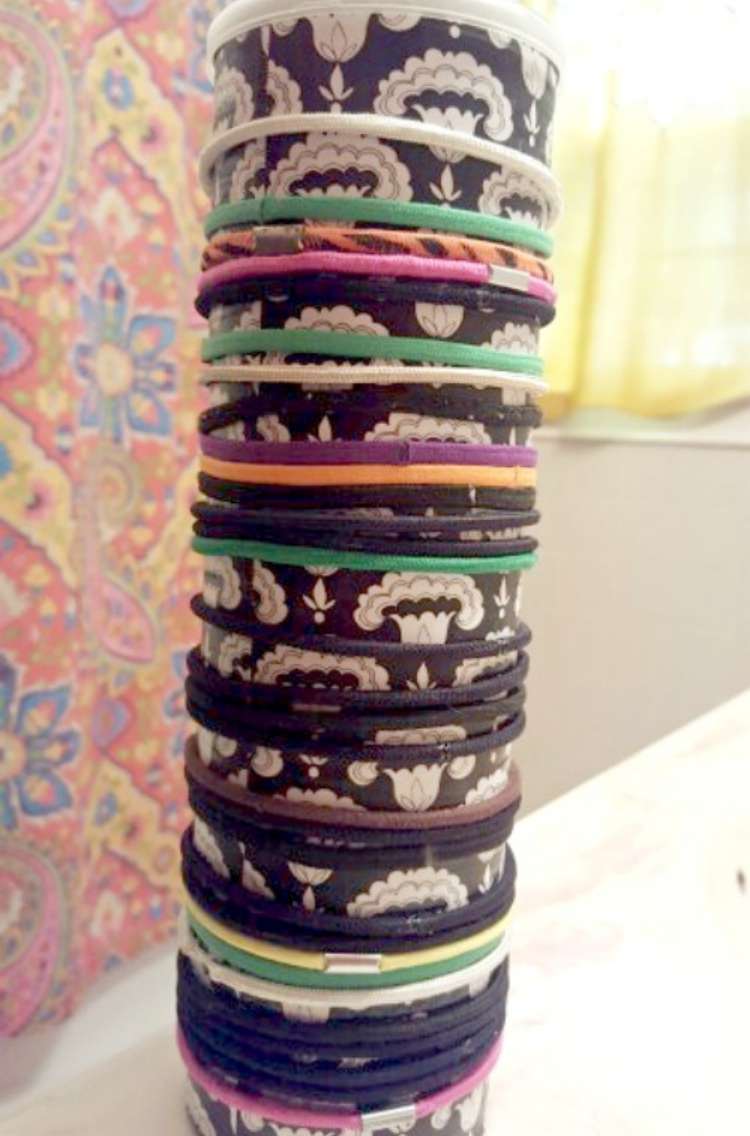 7. Pringles can hacks: Create a smartphone speaker
Make your own smartphone speaker. The canister amplifies the sound — really! You'll be surprised at how much louder it is. All you need is your Pringles can, scissors, beads, and a hot glue gun. Glue the beads to the bottom of the Pringles can your speaker and phone standing up straight.
This is a perfect solution for jamming on a picnic or at the beach.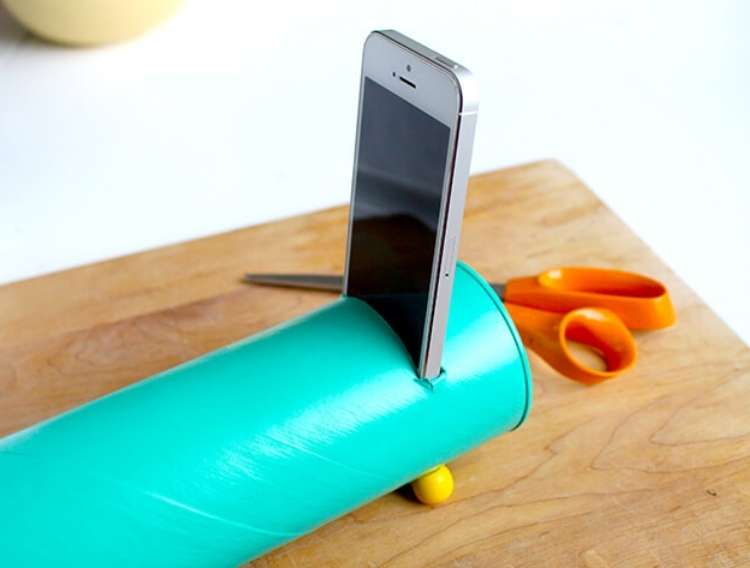 8. Pringles Can hacks: desk organizers
The mini Pringles cans are the perfect size to use as desk organizers. Just make them look pretty with some scrapbook paper or washi tape! These DIY Pringles can organizers are great for the office or craft room. Mix it up with the size of the Pringles can you use depending on the supplies you need to store.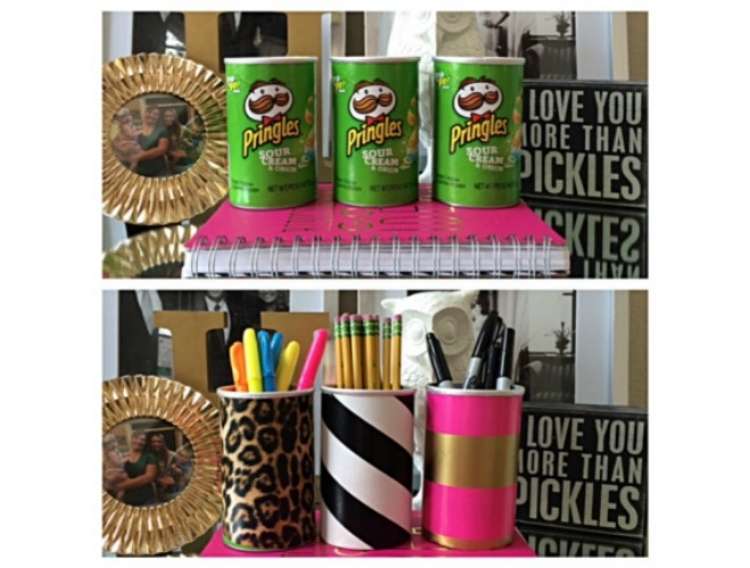 9. Pringles can be repurposed as a rock vase
If you're willing to put in the time, this rock vase is simply gorgeous. I never would have guessed that it was made from a Pringles can. A small bag of stones and some modge podge will help you get this beautiful vase together in no time.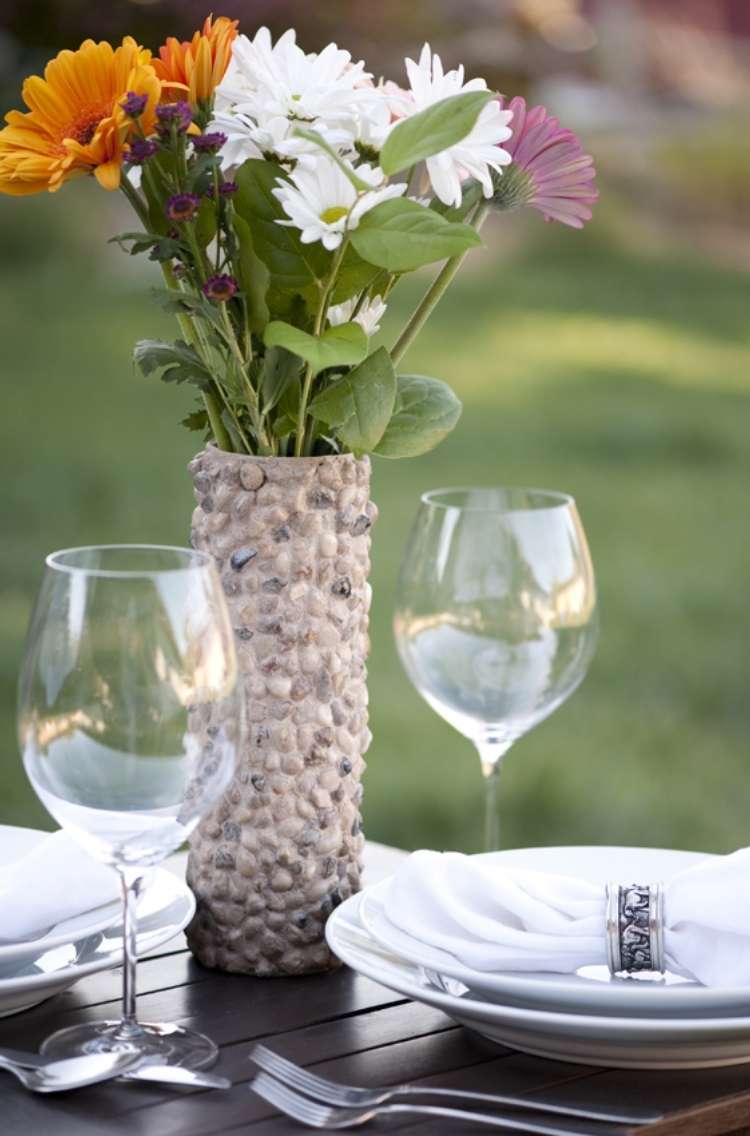 10. DIY Gift Wrap Stand made from Pringles cans
Secure several cans together to make your own gift wrap stand. You don't want those tubes to get crushed in your closet, do you? Covering the Pringles can in a pretty paint or paper will allow you to display this as an art piece for easy storage.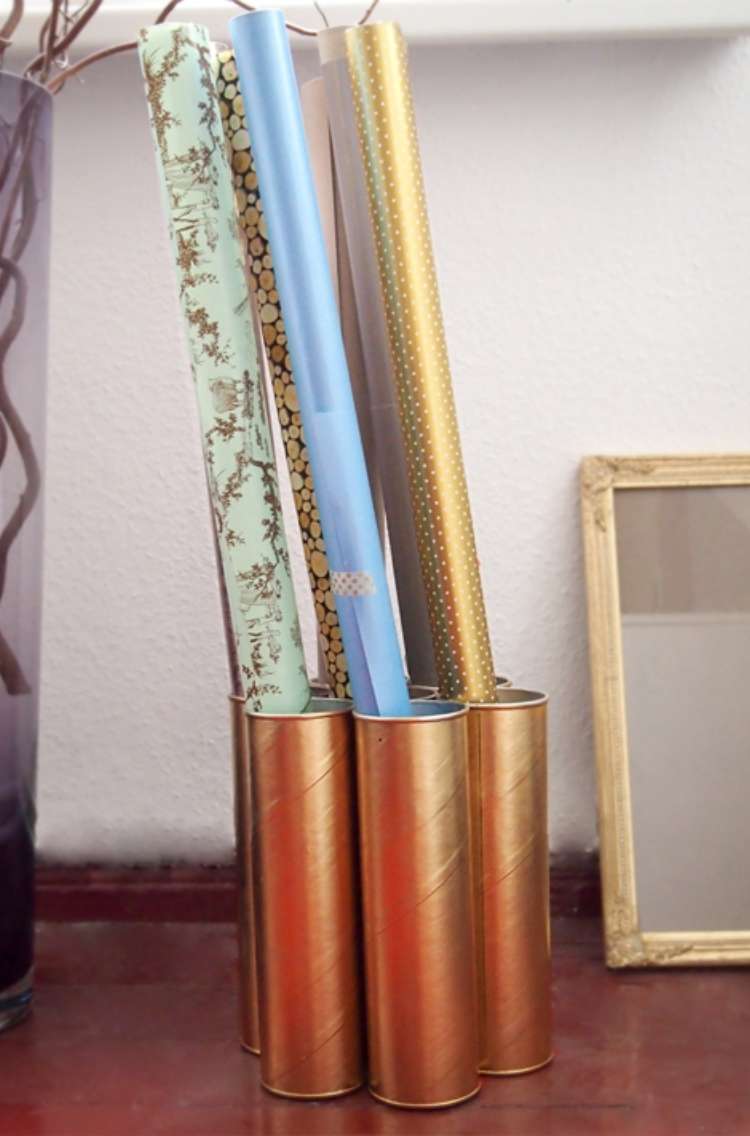 11. Pringles can hack: DIY bird feeder
Add peanut butter and birdseed, and you have a nifty way to feed your fine feathered friends. The kids will love this project! A Pringles can, peanut butter, birdseed, and some string are all you need to get this awesome project done!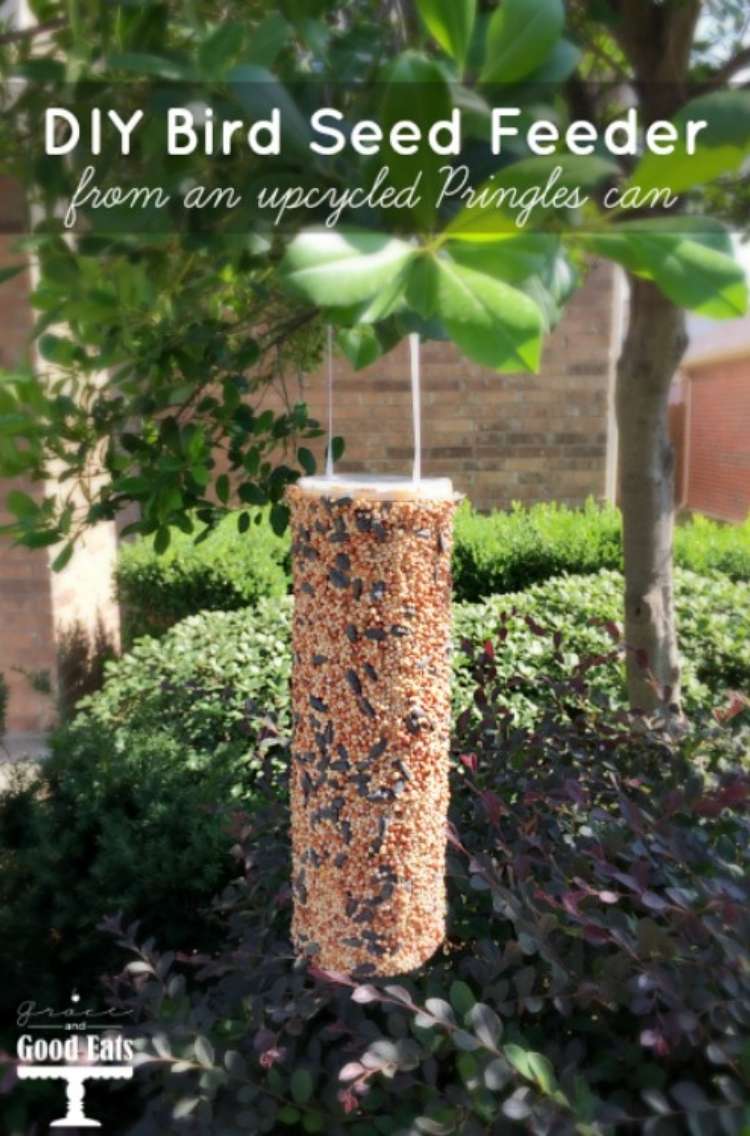 12. DIY Pringles Can paintbrush holder
Add it to your crafting corner for storing paintbrushes. These DIY Pringles can hacks can be used across your entire arts and crafts room! Use a combination of the regular size and mini cans to store the variety of tools in your arts and crafts room or office.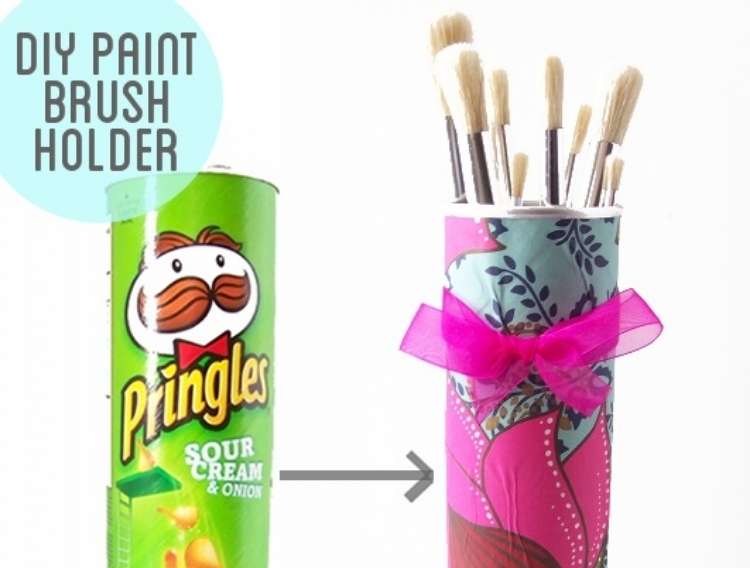 13. Pringles can advent calendar
Create an advent calendar from a bunch of Pringles cans. This is a wonderful way to gift craft beers or other small trinkets for non-beer drinkers and a great project if you have a lot of leftover Pringles cans you aren't sure what to do with it. Put the numbers in order, or decorate them all and then mix up the order for some extra fun. You can also repurpose it for other holidays or occasions. Imagine how much fun it would be to open each lid for a different birthday surprise! Spell out Happy Birthday with the lids instead of using numbers for a unique twist on this Pringles can hack.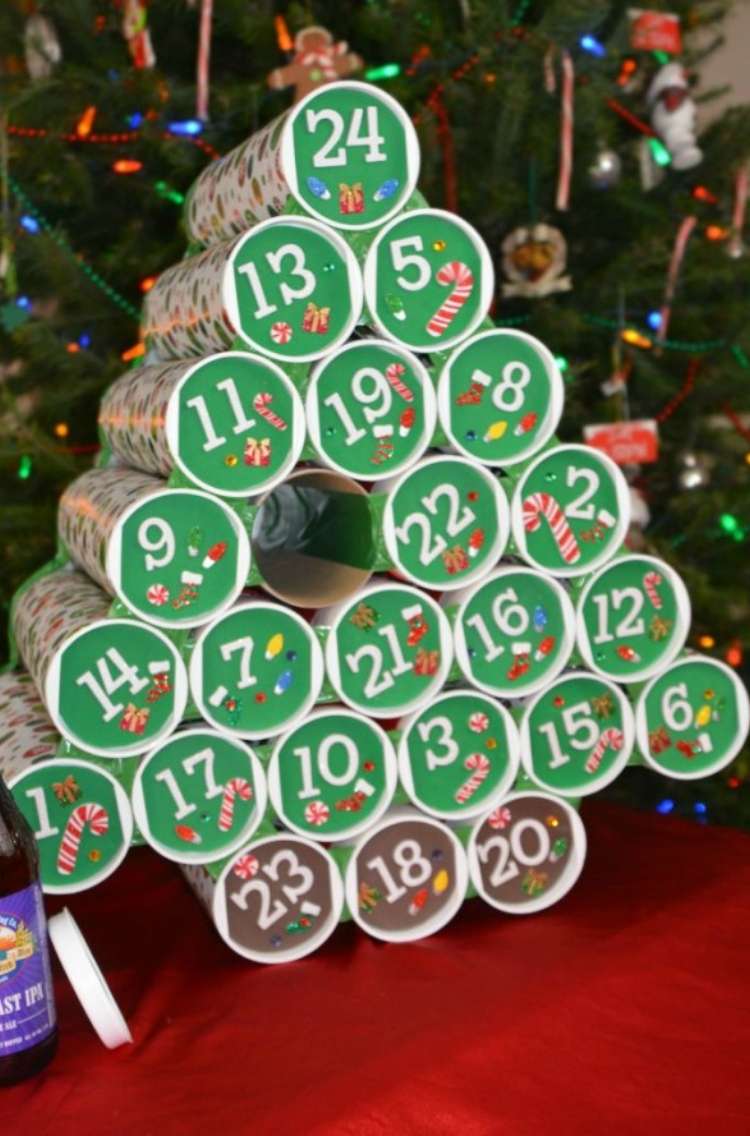 14. Pringles can for DIY shoe storage
String several cans together and hang them on the back of the closet door. They're big enough to store kids' flip-flops, but you'll likely need something bigger for yourself. This Pringles hack can also be used to store larger accessories in your closets, such as belts or scarves. This could even be repurposed in the bathroom to hold smaller tools such as your curling and straightening irons to help save counter space!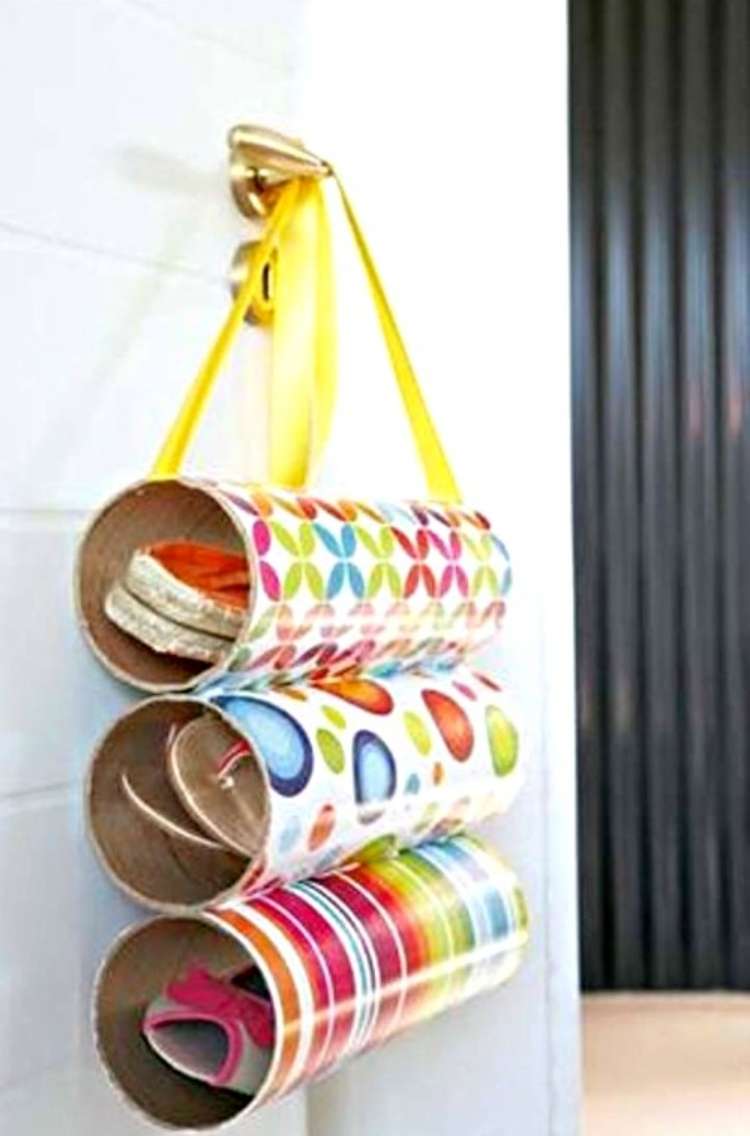 15. Pringles can hack for ribbon storage
Cut out part of the tube and use it for ribbon storage.  You can either paint the Pringles can or glue some pretty craft paper on the outside. The cans can also be taped together to create a storage system for your various arts and crafts supplies.
16. Pringles can hack: create candles from Pringles can molds
Pour colored wax into Pringles cans to achieve this tall layered candle look. Pringles cans are a great way to create tall candles since the cardboard is sturdy enough to hold the wax together, yet is soft enough to easily cut off once the wax is dry.
Fill it with one color wax, or pour a bit of one color, allow it to harden and then layer with another color to create a layered look. You can even mix different scents to create a unique scent for each color layer.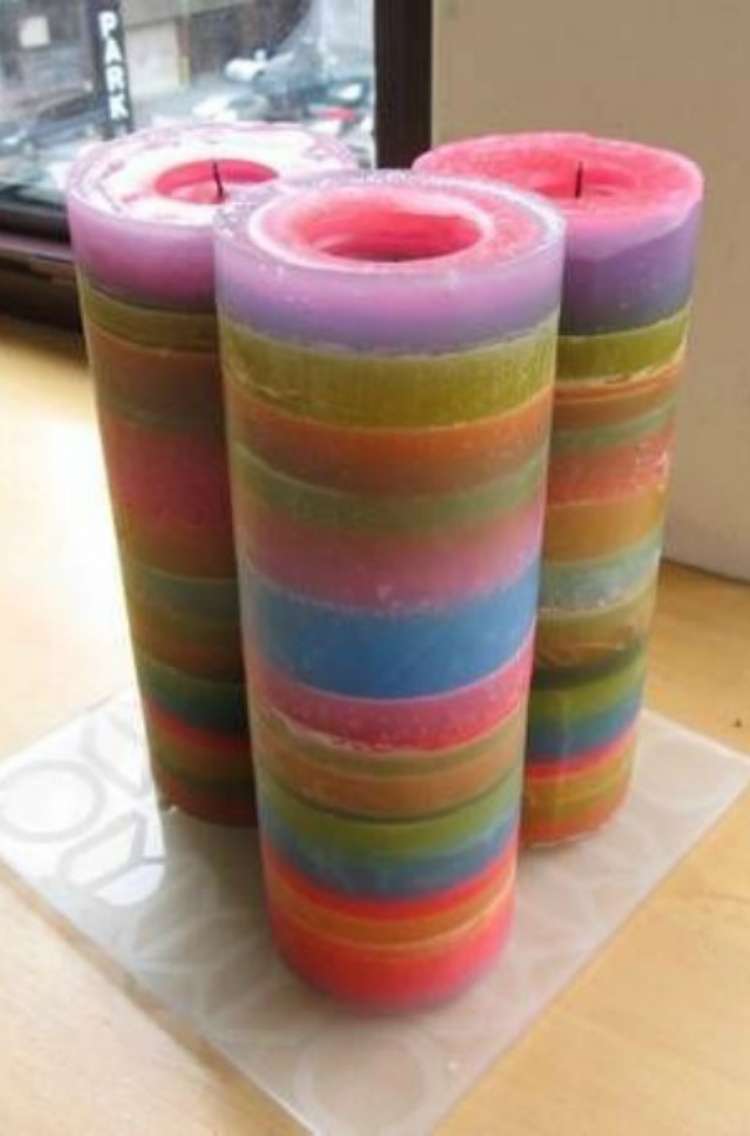 Stop overpaying for home decor items! Your home is filled with things you have already paid for that you can turn into a home decor masterpiece.
Enjoy these Pringles can crafts? You'll love these posts about other ways to use regular household items!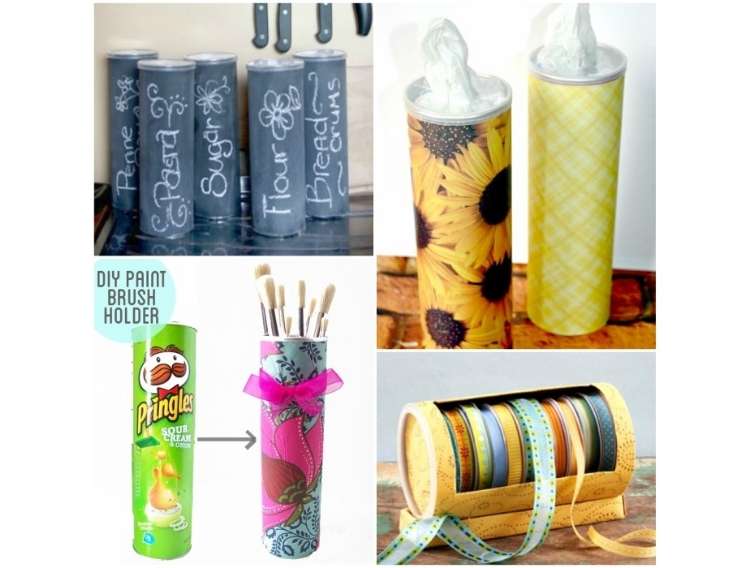 Which pringles can craft is your favorite?