Planning how to organize a baby room does not need to be stressful! Hopefully some of these ideas will inspire you!
Howto Organize a Baby Room
You don't need a lot of space to have a nursery. This family shares their nursery organization secrets on how they fit their baby into a tiny loft apartment.
Fabric bins don't need to be blah! These are great for floor and shelf storage, washable, and are kid-tumble proof! No corners to poke little eyes.
If you don't have a dresser, consider storing baby's clothing in a clear over-the-door shoe rack. They're perfect for storing all those adorable onesies!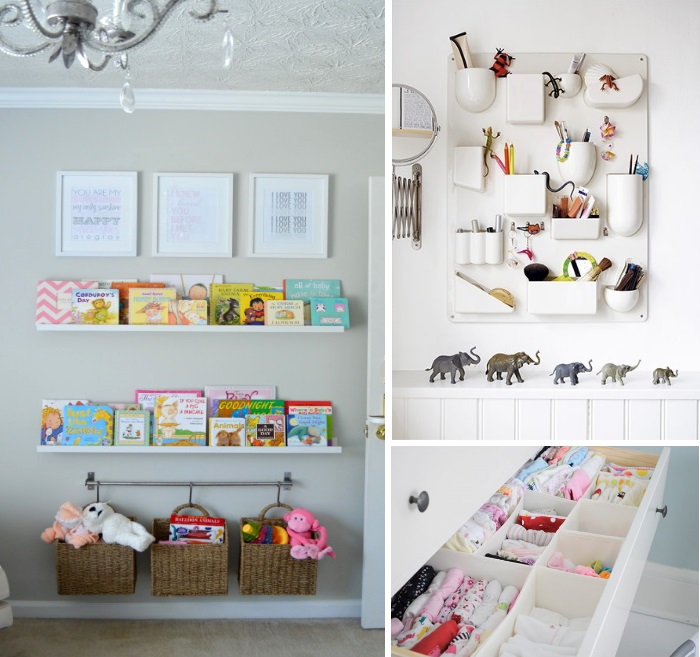 Nursery Storage Ideas
Hang baskets on the wall with hooks and a towel rod for a sweet vintage nursery.
These prefabricated wall cubbies are unique. Your kids can hide items into the little bins.
Help keep kids stuff organized inside the drawers. Use little bins inside a drawer to help separate and cut down on the clutter.
Group items into boxes for storage in your kids room. Keep all the bath supplies in one bin, diapering in another, etc.
Wondering how to keep baby's nursery organized and still easily accessible? Here are 9 simple tips that you can implement in your little one's play space. We love putting toys on their level.
Storage for the Kids
When you think of organizing your child's room, put shelf on their eye level  Decorate for them.
Go soft with toy storage in your baby's room. These canvas bins are tumble proof.
You can get these bins in a hanging closet shelf unit – but the bins are great for storage in themselves, not only as part of the unit!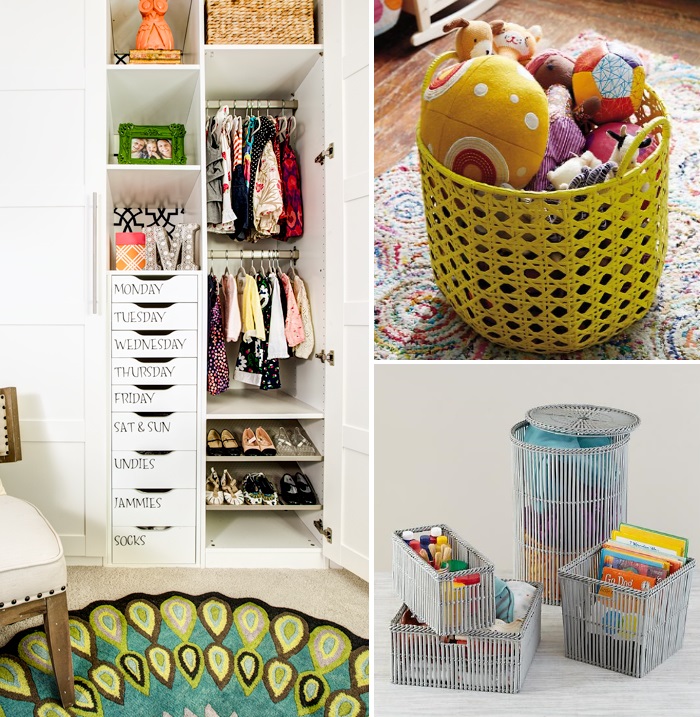 Organize Kids Rooms
Label the closet with days of the week – you can set your child's clothes out in advance for the week.
Storage can be stylish for all ages! Consider adding some lattice baskets to help contain the toys and other extras that come with kids.
I love these grey reed baskets. They fit a wide range of styles and would grow well with your child. Invest in timeless storage for your kids room.
Storage containers do not need to be sterile or square. Consider creating a shelf unit of mixed sized boxes to organize the kids room.
These colorful canvas bins are perfect if you are looking for portable cleaning and organization ideas.
You can also use semi-see through bins to help your kids know what belongs where. These mesh bins are a durable storage option.
And here are 15 more really cool projects for baby's room after you get everything organized.