Today's trash-turned treasure is Tic Tac containers. I've been saving a few of these lately because I just knew I could come up with something fun to do with them. Here are 15 fun ways to reuse your empty Tic Tac containers.
I love finding things that I can repurpose. Bringing new life to something you would normally consider trash is so fun! And it's good for the environment. Not to mention, it can be a thrifty way to make use of what you already have instead of buying something new.
DIY Tic Tac Container Ideas
We have gathered 17 fun ways to repurpose and get more use out of old Tic Tac containers. You won't believe all the genius things you can do with them! Such fun!
1. Make a Pretty Bobby Pin Container
You can make a bobby pin holder with a clean (and empty) Tic Tac container. If you are always hunting for loose bobby pins in your bathroom drawer, this is a great way to keep them organized. You could also make a second one to keep in your purse if you like to have extra bobby pins on hand for hair emergencies.
2. Tic Tac Container to Ribbon Storage
If you use a lot of ribbons for your craft project, you may have problems keeping your ribbon neatly wound and organized. Tic Tac containers come to your rescue.
Storing your ribbons inside the Tic Tack container keeps the ribbon clean, it keeps it wound, and it makes it easy to see at a glance at much you have left and all the different colors available to you. It's also super easy to dispense your ribbon when you're ready to use it.
And for extra fun, you can decorate the container with Washi tape in a coordinating color or pattern! Get those creative juices flowing!
3. Light Your Way With a Tic Tac Container
Ok, this has got to be the most creative way to reuse one of these old containers. I never in a million years would have imagined this on my own!
You can make a working flashlight from a Tic Tac container! This would be a fun project for an older child who wants to experiment with electronics.
4. Keep Your Cords Organized
If you're tired of all your charging cords getting lost, tangled, and being just plain messy, you can organize them with a wire container. Just drill a couple of holes in the top of the Tic Tac big box, wrap your cords up neatly and slide them inside, popping the ends of the cords out each of the holes. So smart!
5. Water-Resistant Matchbox Container
Do you do a lot of camping, hiking, or other outdoor activities with your family?
Use a Tic Tac container for a water-resistant matchbox that would be perfect to take with you on a camping trip.
The only supplies you need are:
Tic Tac box
heavy duty glue
sandpaper
scissors
matches
Just glue the piece of sandpaper to the back and fill the box up with matches. Easy as can be!
But be sure to keep it out of the reach of children!
6. I Scream, You Scream, We All Scream for Ice Cream
If your family loves ice cream as much as mine does, you're going to love this Tic Tac container hack!
Use an old Tic Tac container for ice cream toppings. Fill empty Tic Tac boxes with your toppings to perfectly sprinkle them on top of your favorite ice cream.
This cute idea would also be great for hosting an ice cream social, playdate, or other similar activity! It's a fuss-free way to transport toppings to your favorite get-together.
7. Tic Tac Tooth Protection
Lost Tooth – Worried your kid might lose a tooth while they are at school? Send them to school with this special box! If their tooth falls out while they are there, they can drop the tooth inside to keep it safe for the Tooth Fairy until they get home. So smart!
8. Tic Tac Containers for Spice Organization
I love this idea so much! It's a great way to store spices and keep them in uniform containers so they take up less space in your spice cabinet.
All you need to do is decant your spices in clean Tic Tac containers and you have new spice jars!
And it's not just for home. If you wish, you can fit those small Tic Tac containers inside a recipe box! This works out great for traveling, small storage spaces, picnics, Airbnb stays, vacations, basically any time you want to travel and bring your spices along.
9. DIY Tac Tac Toe Game
Use this printable and tape it to the outside of your Tic Tac box and when you're bored, you and a friend can play Tic Tac Toe, using the Tic Tacs inside for your playing pieces! How creative is that idea!
You could also use this to entertain your children when you're out and about running errands. Restaurants, doctor's office, but probably not the dentist's office!
This Tic Tac Toe game is a clever approach for keeping your children occupied for short periods of time. But be aware of potential choking hazards with little ones.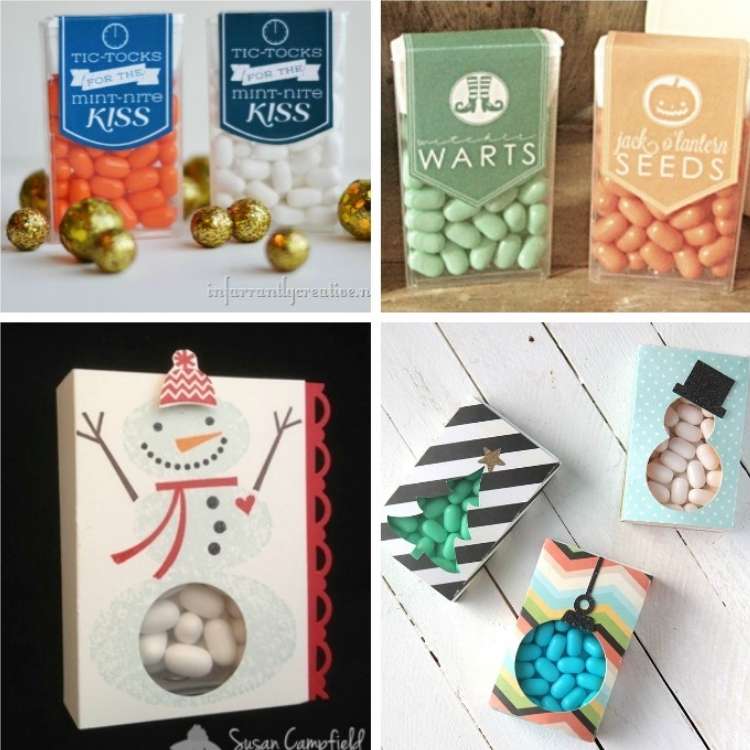 10. Tic Tacs For Halloween Fun
Halloween is a big deal around our house and we love to find new ways to add a little fun to the holiday. Here's one I'm definitely adding to the list!
If you're using Tic Tacs to hand out like Halloween candy, add a special label to them. Orange Tic Tacs become "jack-o-lantern seeds," red for "vampire vitamins," and white for "ghost poop". So fun!
You could also use them in the same way if you have any tabletop decorations you put out or for baking you might do. You can decorate your cupcakes with "pumpkin seeds." How creative!
11. Customize Your Tic Tac Containers for Holiday Gift-Giving
Add an extra touch of fun to your stocking stuffers when you cover your Tic Tac boxes with festive paper in the shape of a Christmas tree or snowman cut out. It's an easy way to make a little gift more special and have fun with your creativity!
Get your children involved, too, by keeping them entertained and letting them exercise their creative gifts, as well! It could turn into a cherished family tradition that you practice for years to come. And all from a little Tic Tac box!
12. Tic Tac Snowman Kisses
If white Tic Tacs masquerading as "ghost poop" is not your thing, how about snowman kisses? White Tic Tacs make the perfect snowman kisses!
This would be another fun holiday craft to do with your children and it makes a super sweet holiday gift for teachers or child care providers.
13. Grinch Pills
This is a fun alternative to coal in a stocking!
Give Grinch Pills to someone who's not feeling the holiday spirit. Just one "pill" might give them some holiday cheer. Print out the label, cut down to size, and attach it to a box of green Tic Tacs. So cute!
14. New Year's Eve Fresh Breath
Here's a fun party treat for your New Year's Eve bash! Hand out a bunch of Tic Tac containers to your guests. The printable you put around the box says, "tic-tocks for the mint-nite kiss." How cute is that!
You simply need to print the label on sticker paper. Cut it out with scissors. Wrap the sticker paper across the top of the Tic Tac container. And you have an entertaining party favor to share with your guests. Fresh breath for everyone there!
15. Valentine's Day Love Pills
For Valentine's Day why not give a sweet gift to someone special using one of these fun free printables that say, "my heart tics for you" or "mint 2b together?" It's a fun and clever way to express yourself this Valentine's Day. So sweet!
16. Tic Tac Jewelry Container
If you do any traveling, an empty Tic Tac container can make a great travel companion.
Drop your earrings inside. You can probably fit multiple pairs in each container.
You can also use them to store your necklaces while you travel. But only put one necklace in each container so the chains don't get tangled up together.
17. Another Travel Use
Another great way to reuse old Tic Tac containers when you're traveling is to hold things like Q-tips or eye shadow applicators. This small storage container keeps them clean and dry and also allows you to see what's inside.
Genius Ways to Repurpose Tic Tac Containers
Can you believe all the fun ways we found to repurpose Tic Tac Containers? Who would've thought there would be so many creative ways to reuse them?
Did you like these tips and tricks for repurposing? Here are more nifty hacks from One Crazy House