I love finding things that I can repurpose. Bringing new life to something you would normally consider trash is so fun!
Today's trash turned treasure is tic tac containers. I've been saving a few of these lately because I just knew I could come up with something fun to do with them. Here are 15 fun ideas!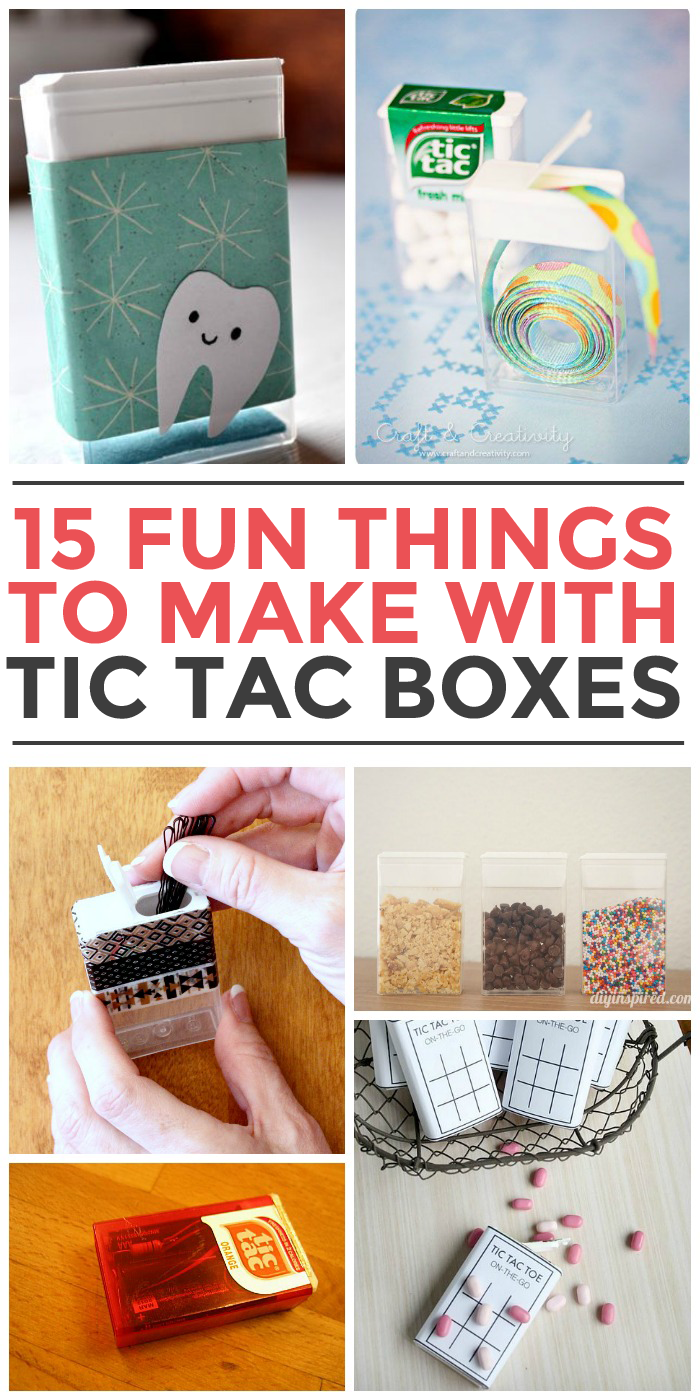 15 Things To Make With Tic Tac Containers
Bobby Pin Container – If you are always hunting for loose bobby pins in your bathroom drawer, just keep them in an empty tic tac box!
Ribbons – Organize your ribbons and make them easy to get to!
Flashlight – Yes, you can make a working flashlight from a tic tac container! This would be a fun science project for kids.
Wire Container – Tons of wires all over the house? Use the tic tac big box to keep them tidy. So smart!
Matchbox – Use a tic tac container for a water resistant matchbox that would be perfect to take with you on a camping trip. Just glue a piece of sandpaper to the back and fill the box up with matches.
Ice Cream Toppings – This cute idea would be great for hosting an ice cream social! Fill empty tic tac boxes with your toppings to perfectly sprinkle them on top!
Lost Tooth – Worried your kid might lose a tooth while they are at school? Send them with this special box to keep the tooth in and keep it safe until they get home.
Spices – Keep your spices in small tic tac containers that fit perfectly into a recipe box!
A game – Use this printable to tape on the outside of your tic tac box and when you're bored, you and a friend can play tic tac toe!
Gifts
Halloween – Use orange tic tacs for "jack-o-lantern seeds" red for "vampire vitamins" and white for "ghost poop". So fun!
Winter – Cover your tic tac boxes with festive paper with the shape of a Christmas tree or snowman cut out.
Snowman Kisses – White tic tacs make the perfect snowman kisses!
Grinch Pills – So cute! Give red tic tacs as a holiday gift with the Grinch Pills label.
New Years Eve – These are so sweet! This printable says, "tic-tocks for the mint-nite kiss".
Valentine's Day – Give a sweet gift to someone special using one of these fun free printables that say, "my heart tics for you" or "mint 2b together".