I have to admit, I'm new to the world of pressure cooking. I stumbled across an infomercial several months ago where they were cooking massive amounts of food at lightening speed. I was intrigued, so I decided to give it a whirl with the Instant Pot IP-Duo. I'm so glad I did, it's been a real time saver for our family!
Instant Pot IP-Duo Review
One of the biggest budget busters at our house is when I forget to thaw things out for dinner, and we end up ordering in. For a family of 6 this is a costly mistake.
So I decided this pressure cooking thing was worth a try! At first I was a little intimidated because you always hear those stories about someone's grandma who's pressure cooker exploded in her kitchen. Let me just say, the Instant Pot IP-DUO has a ton of safety features, so after my first use I felt at ease. The instant pot seals and locks when it is pressure cooking and will not open until the pressure is released.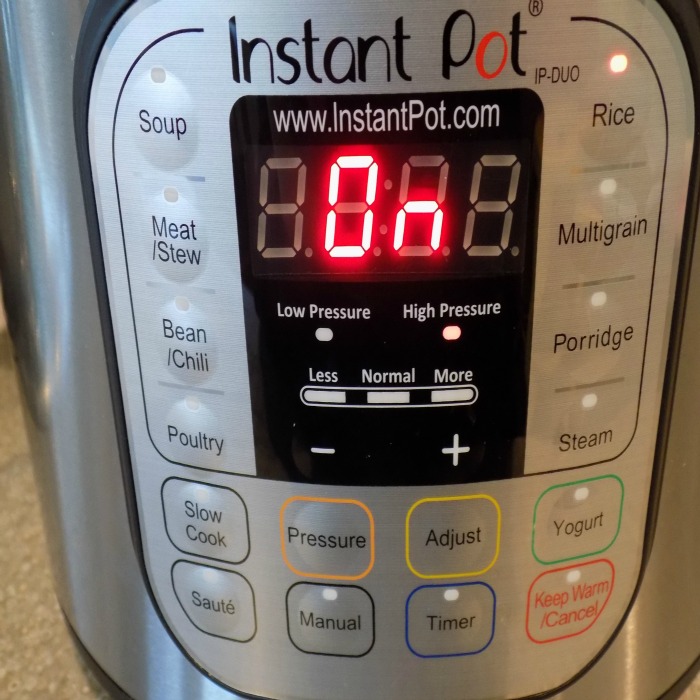 I was skeptical about adding frozen meats to the pressure cooker, but the first thing I tried was frozen chicken leg quarters. I added eight. They cooked to perfection in 15 minutes! I was amazed. The Instant Pot is going to be a huge time and money saver for our family. Total game changer.
I've used the Instant Pot to cook almost every night since! It has a saute function, a slow cooker, rice cooker and yogurt function. This thing can literally replace your rice cooker, yogurt maker and crock pot. HELLO CABINET SPACE! I'm in love. The only function I've yet to try is the yogurt maker, and that's next on my list.
If I had the cash, I'd buy one for every mom I know. The Instant Pot is a dream come true. I never thought I say that about an appliance.
Recipe for the InstaPot Gumbo
1⁄2 tablespoon oil
8 ounces andouille (or your choice) sausages, sliced
8 ounces boneless skinless chicken breasts, cut into 1-inch pieces
8 ounces shrimp, peeled & deveined (uncooked)
1 1/2 teaspoon creole seasoning (or essence spice)
1  teaspoon dried thyme leaves
1 dash cayenne pepper
1 onion, chopped
4 garlic cloves, minced
1 green bell pepper, chopped
1 jalapeno pepper, finely chopped (optional)
3 stalks celery, sliced
1 teaspoon creole seasoning (or essence spice)
1⁄2 teaspoon dried thyme leaves
1 dash hot sauce (or cayenne pepper)
1 cup long grain white rice
2 cups canned tomatoes, undrained
1 cup chicken broth
3 tablespoons fresh parsley, minced (or 3 tsps dried)
DIRECTIONS
In an electric pressure cooker, set to saute mode & add chicken, sausage & shrimp. Stirring well after each addition.
Sprinkle meats with 1st amounts of the creole/essence seasoning, thyme & cayenne. Cook for 3 – 5 mins, stirring frequently, until chicken is cooked & shrimp has turned pink. Remove with a slotted spoon & set aside.
To the pressure cooker, add onion, garlic, peppers, celery along with remaining creole/essence seasoning, thyme & cayenne. Cook 4 – 6 mins, stirring frequently until vegetables are crisp-tender. Yum!
Add rice, tomatoes & broth; secure cover & bring to high pressure. Cook for 8 minutes
Release pressure, remove lid, then stir in parsley along with cooked meat/fish. Cover tightly & let stand 5 mins before serving.
Enjoy!!!