Spring cleaning is the perfect time to get your house ready for open windows, fresh air, and the sun beaming in and making the place sparkle. Sometimes we forget the garage when it's time to organize, but it's definitely one of the most cluttered areas of our homes. Time for Garage Storage Ideas! It's easy to stack boxes, sports equipment, and tools and just have the place a mess. These ideas help – guaranteed!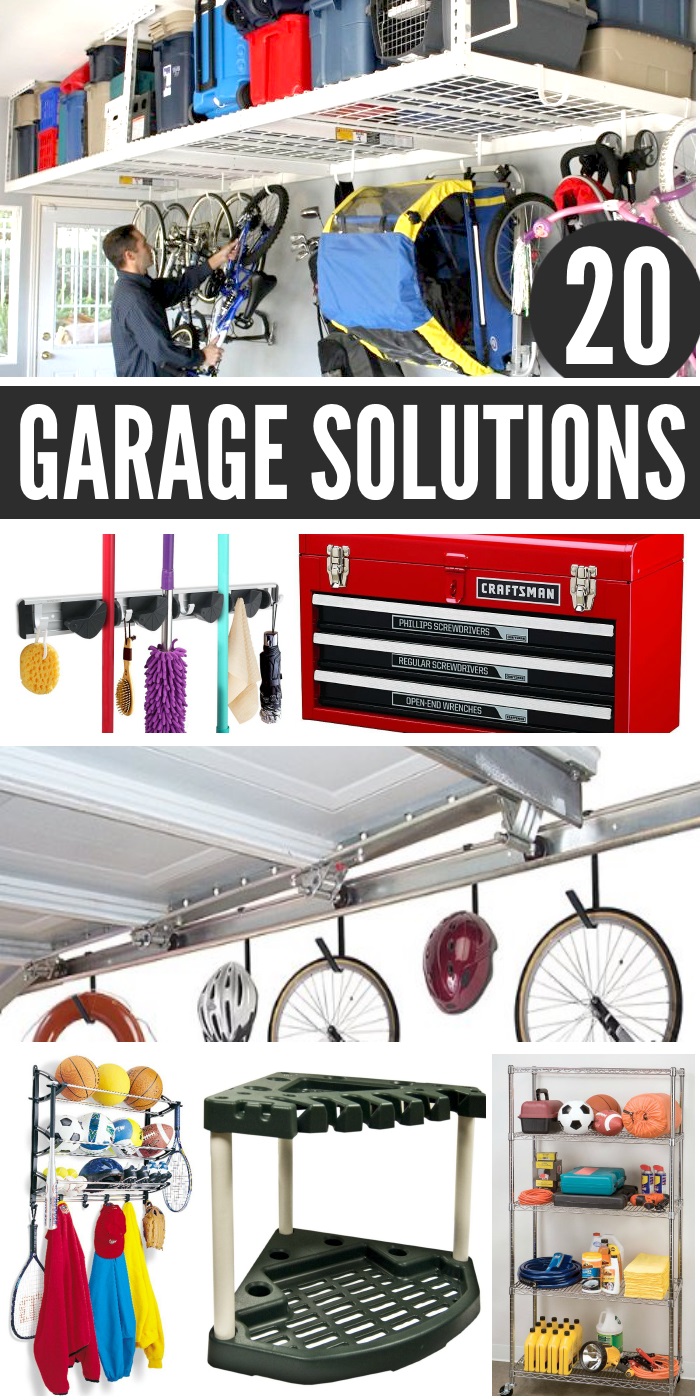 Garage Storage Ideas that will Eliminate Clutter!
Here is a list of some great items that will help you organize your garage. Just like inside the house, if you keep things neat and items put away in their spot, you won't have the headache of trying to hunt things down when you need to use them. Think of all the space you'll find once everything's organized.
Love these ideas?? Keep reading! We have 18 Garage Hacks. Affiliate links included.
If you are dealing with clutter storage at your home, then do read this awesome post!

Genius!! Make your own bike rack using PVC piping!
Wire Shelving Rack with Wheels. It is super sturdy – industrial strength!
Get an industrial strength rolling shelf. It comes in a two pack!
You won't believe how much this 10-Drawer Organizer Cart will help you organize all the bits and tools!
Stack! This Rugged Stacking Storage Bin is perfect for sports equipment, gardening tools and more.
These Garage Storage Ideas will Make it Functional Again!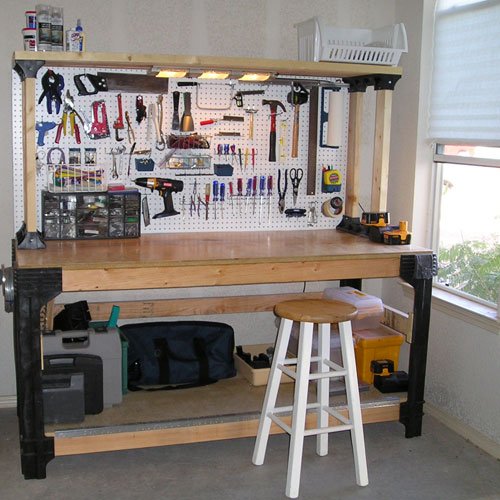 Every garage needs a "zone". This is it! Try to create a Workbench and Storage area.
Keeping the hose neat and orderly is a breeze with this strap! It also works with anything that has a handle. Just affix the Bundling Strap with a Bracket to your wall.
Do you love zip locks!! Did you know they have a BIG Big Bag Double Zipper? This bag is huge!
Stack them up! No more pile of tools! The Tool Tower Rack holds 40 tools – and it has wheels! However, if you don't have a ton of space, try a Corner Tool Rack.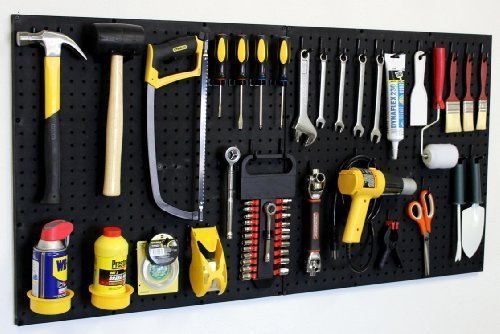 One of the culprits to destroy organization is not having a place for everything. So that makes the Garage Pegboard Kit a great solution!
Go high! Don't forget to utilize the space immediately under your garage door! This Add-A-Hook is simply genius!
Do you have a tool box? This Craftsman is the dream, because it will organize all the nuts, wrenches, and bolts that you can imagine!
Use your wall space! What I love about this broom wall rack is the hooks between the "grabs" for the poles.
Declutter that Garage!
Hooks are super handy! You won't believe all the places you will end up using this 30 Piece Hook Set in your garage! Magnetic Hooks are even more handy!
Even if you don't have a full garage, you will still need a one stop place for all the little tools and maintenance "parts". This Tool Organizer comes with most of the nails, screws, fasteners and other commonly needed items!
Organize all your grab and go items in one place! This Sports Rack would be perfect for backpacks and even gardening supplies.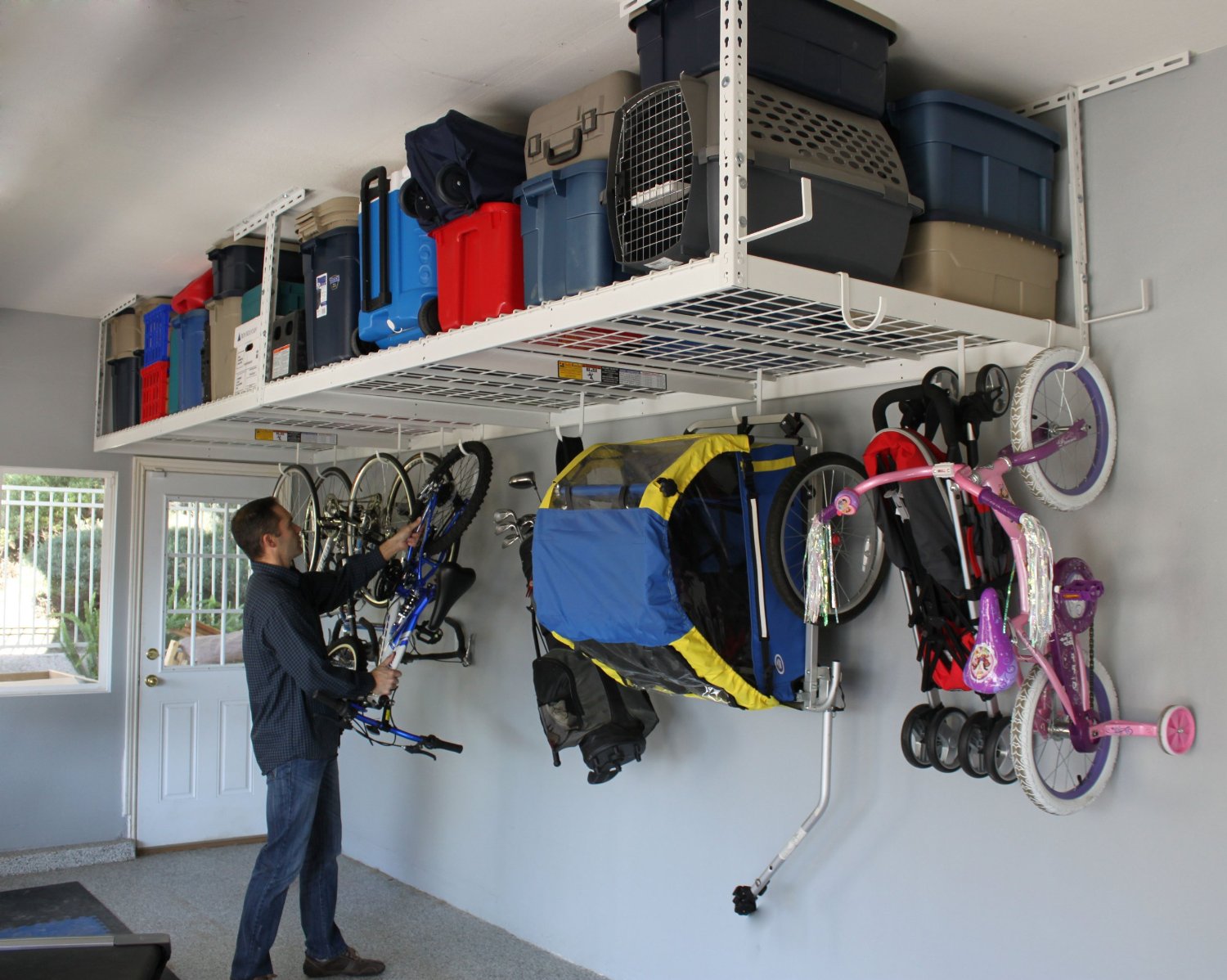 Don't forget about the ceiling! Create a long term storage "loft" with this heavy duty overhead Garage Storage Rack .
The bins!! Something about bins! You can write the contents of the bin on the outside with a marker. You can even use these bins (or the storage unit) to help you organize the basement!
Storage Solutions for the Garage.
There's such a great feeling that washes over me once I have everything picked up and in its place. Finally, it's almost as if I have a whole new house -since we can now park our car in the garage!