Spring cleaning is the perfect time to get your house ready for open windows, fresh air, and the sun beaming in and making the place sparkle. Sometimes we forget the garage and that it still has some storage space when it's time to organize, but it's definitely one of the most cluttered areas of our homes. Time to DIY Garage Storage Ideas! It's easy to stack boxes, sports gear and equipment, and tools and just have the place a mess. These garage space storage system ideas help – guaranteed!
Easy DIY Garage Storage Ideas that will Eliminate Clutter!
Here is a list of some great items that will help you organize your garage, garage floor space, and or garage walls. Just like inside the house, if you keep things neat and items put away in their spot or baskets, you won't have the headache of trying to hunt things down when you need to use them. Think of all the space you'll find once everything's organized.
Love these ideas?? Keep reading! We have 18 Garage Hacks.   Affiliate links included.
If you are dealing with clutter storage at your home, then do read this awesome post!

These DIY Garage Storage Ideas will Make it Functional Again!
Today, we are going to the store to buy some supplies which you will use to organize your garage. DIY nuts, don't look so disappointed, most of these still need your artistic skills to install and assemble. We are going to explore how to store;
Bikes
Brooms, mops, and other long-handled tools
Small tools and equipment
Chords and hoses
You are bound to find something that will help you organize the mess that is your garage, let's dive right into these garage organization ideas!!
1. Bike Storage Using PVC Piping
Our garage was a crazy pile of bikes. With our six kids (and multiple sizes of bikes waiting to be "handed-down"), our garage looked like bikes were having babies. Bikes were everywhere. I got some 1-inch PVC pipe and lots of fittings to make this rack for all the bikes.
Genius!! Make your own bike rack using PVC piping!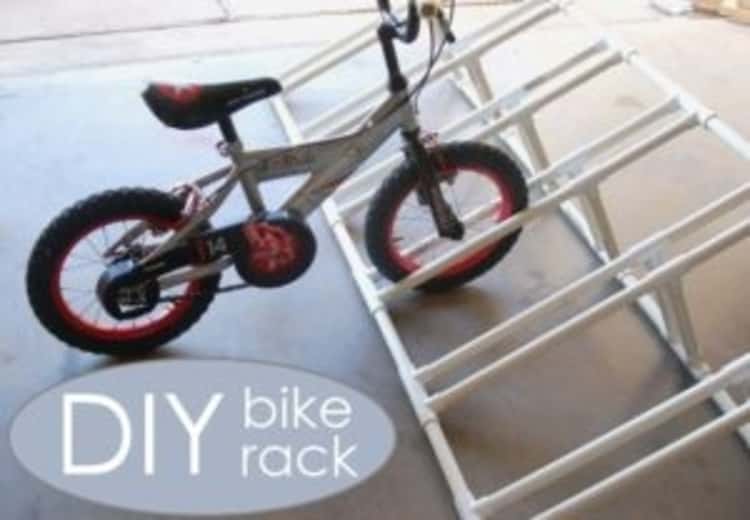 2. Wire Shelving Rack
I liked this rack I got from Amazon as it comes in pieces that I put together to make a rack as big as I need. It comes with up to 5 shelves but if you need it to have less, you can put the rest in the box and just have as many as you want.
The wheels are particularly handy in moving the entire rack from one corner to the other within the garage, plus, they come with little brakes you can engage to stand the rack at one point. You can also put labels on each rack for easier visibility.
Wire Shelving Rack with Wheels. It is super sturdy – industrial strength!
3. Wall-Mounted Shelf
These shelves are a must diy project! They can easily mount to the wall using quarter-inch rawl bolts or self-tapping screws and wall plugs. They are quite sturdy and can take a lot of weight. Get this industrial-strength wall shelf. It comes in a two-pack. Such an easy shelving system!
4. 10-Drawer Organizer Cart
You won't believe how much this 10-Drawer Organizer Cart will help have instant tool storage you organize all the bits and tools! Yet another garage storage idea from Amazon. Organize all those small items like tools, old unused toys, and so on that, you have lying around in the garage into these drawers.
5. Rugged Stacking Storage Bin
Stack! This Rugged Stacking Storage Bin is perfect for sports equipment, gardening tools, holiday decorations, and more. Get as many as you need and stack them up as you organize those small items inside. You can even have them in different colors for different kinds of items
6. Workbench and Storage Area
Every garage needs a "zone" somewhere in one dark corner. This is the space where all repairs are made, Sometimes we are working on some pretty heavy equipment which is all oily or greasy, as such, you will need a workbench that is sturdy enough to take the weight and hardy enough to not get corroded by all the oils and chemicals you'll spill as you work
This is it! Try to create a Workbench and Overhead Storage area. The workbench is sturdy and you have additional storage underneath for all your tools. Literally, you just need a bench on this!
7. Bundling Strap
Tripping on chords, bungee cords, or hoses in the garage is very common, most of the time we do not even know what to do with the wires and hoses other than bundling them up in a corner somewhere, try to forget about them until the next time we need them or they trip us. And then, when you need to water your garden, the first 30 minutes are taken up by untangling the mess of a bundle
Keeping the hose neat and orderly is a breeze with this strap! It also works with anything that has a handle. Just affix the Bundling Strap with a Bracket to your wall.
8. Ziploc Storage Bags
Do you love zip locks!! Did you know they have a BIG Big Bag Double Zipper? This bag is huge! It will take up many items which you can then place on a shelf somewhere at the back of the garage. Another DIY garage storage solution!
9. Tool Rack Garage Storage Idea
Another annoying thing in the garage is looking for a tool when you need it. The brooms just seem to disappear when you are in the mood to finally clean up the back corridor, you could have sworn you saw it right there just yesterday.
A tool rack or holders will organize these tools neatly and you will never have to look so frantically for that rake when you need to maw your lawn
Stack your brooms, and shovels up! No more pile of tools! The Tool Tower Rack holds 40 tools – and it has wheels! However, if you don't have a ton of space, try a Corner Tool Rack.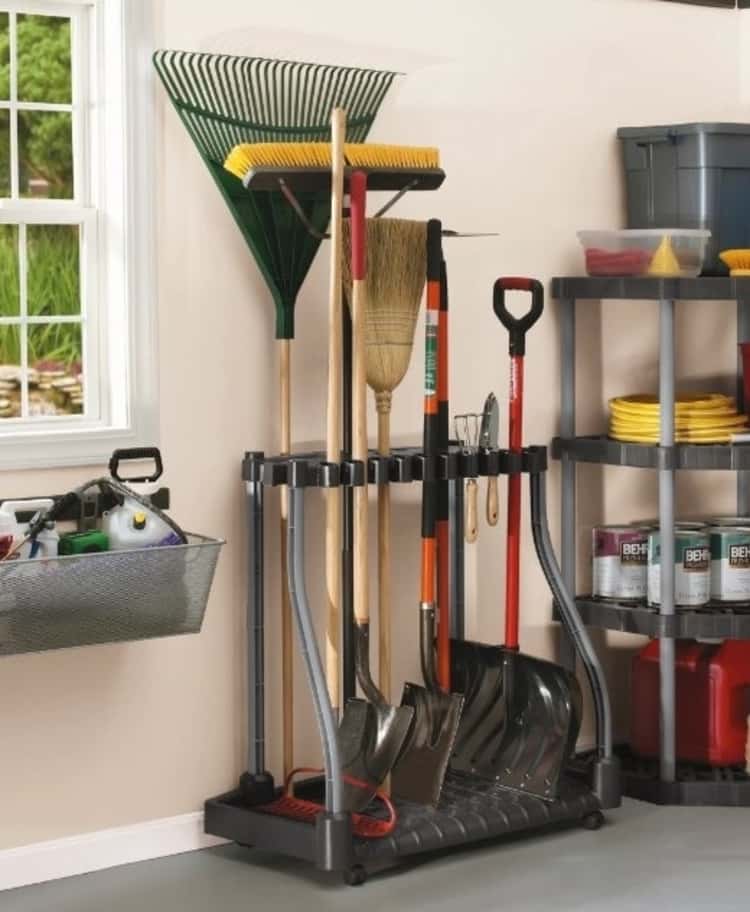 10. Pegboard In The Garage
You have all these tools lying around on the garage floor and you do not know what to do with them. Pick a blank piece of the wall away from most traffic but easily accessible and hang up a pegboard. There are many different hooks, wall studs, and brackets that can go up on the pegboard to hang up any tool or equipment you can think of.
Of the many garage storage solutions and ideas we have looked at today, the Garage Pegboard Kit is one of the most versatile and a great solution!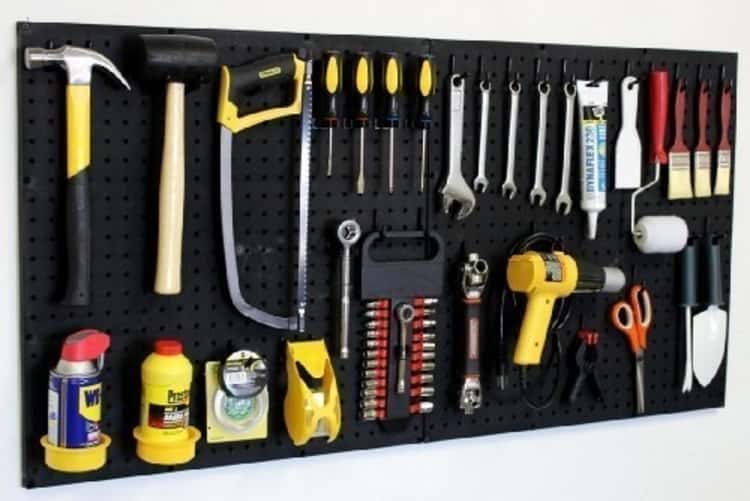 11. Add-A-Hook
Go high! Don't forget to utilize the space immediately under your garage door! This  Add-A-Hook is simply genius! Remember to get one that will not interfere with garage door operation or damage your walls and ceiling.
12. Garge Storage Idea For The Utilitarian; Toolbox
Do you have a toolbox? This Craftsman is the dream because it will organize all the nuts, wrenches, and bolts that you can imagine! There is just something attractive about a man who has a toolbox. Ladies don't look daggers at me, you too look awesome with one.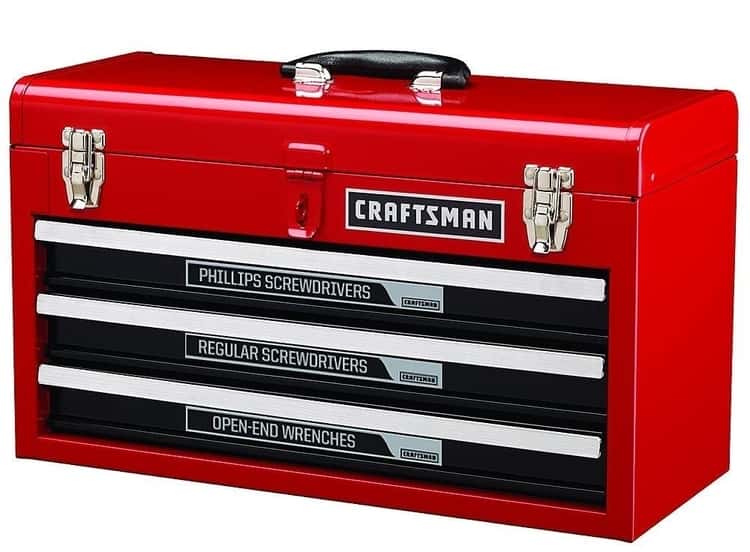 13. Broom Wall Rack Garage Storage Idea
Use your wall space to hang all the brooms, mops, brushes, and such kind of equipment on a broom wall rack! What I love about this broom wall rack is the hooks between the "grabs" for the poles.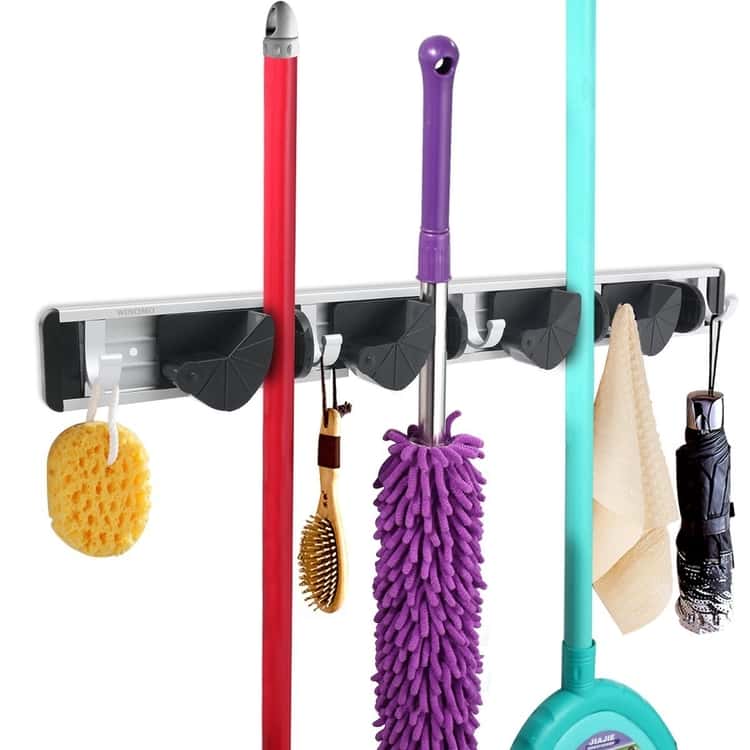 14. An Obvious Garage Storage Idea; Hooks
Hooks are super handy! You won't believe all the places you will end up using this 30 Piece Hook Set in your garage! Magnetic Hooks are even handier! You can never have enough hooks, you are always finding something else that needs to go onto the wall.
15. Tool Organizer
Even if you don't have a full garage, you will still need a one-stop place for all the little tools and maintenance "parts". This Tool Organizer comes with most of the nails, screws, fasteners, and other commonly needed items!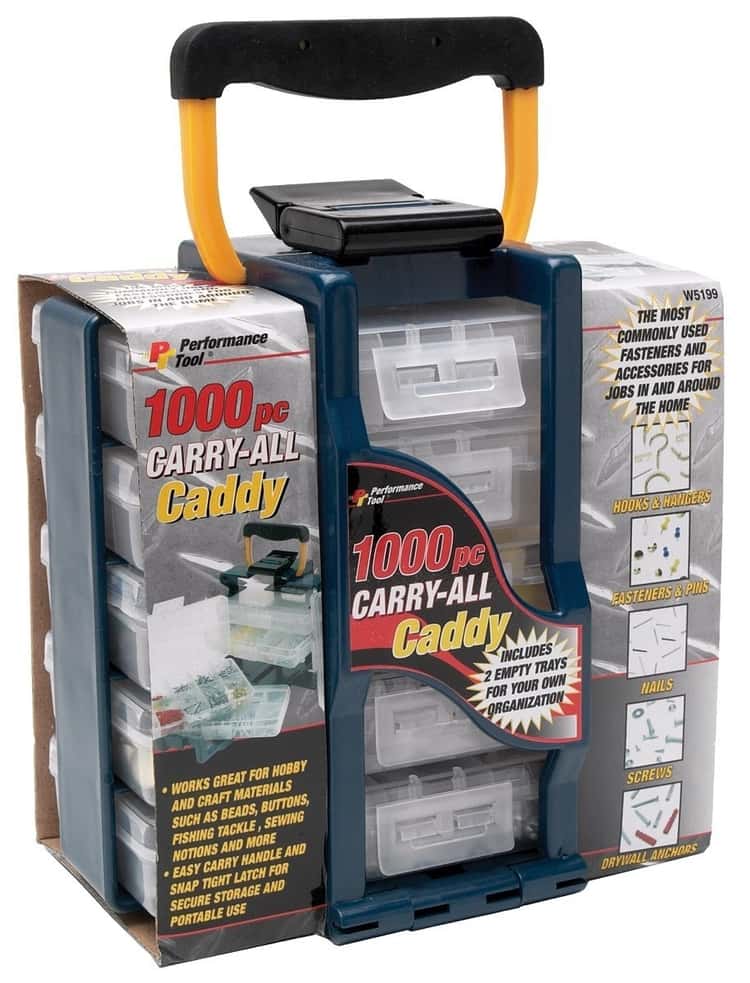 16. Sports Rack
Organize all your grab-and-go items in one place! This Sports Rack would be perfect for backpacks and even gardening supplies.
17. Overhead Garage Storage Rack
Don't forget about the ceiling! Create a long-term storage "loft" with this heavy-duty Overhead Garage Storage Rack. Remember that not all types of ceilings can take this rack, ask your contractor or handyman if the ceiling in your garage is suitable for hanging heavy items.
18. Storage Bins
The bins!! Something about bins! These ones are stackable and so won't take up too much space in the garage while organizing a ton of items.
You can write the contents of the bin on the outside with a marker. You can even use these bins (or the storage unit) to help you organize the basement!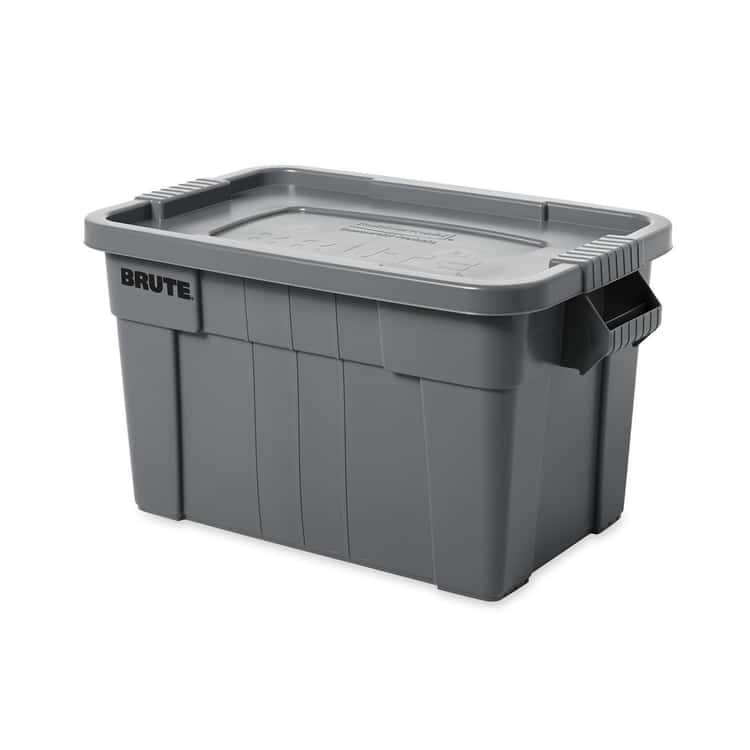 19. DIY Nuts, Here Is A Garage Storage Idea; Storage containers
You don't have to always spend more money to get organized. If you're tired of breaking the bank to free-up a little space here and there, this hack is for you. This organization method keeps your garage organized at no extra cost. Cut the tops off laundry detergent containers, and use them to organize your nails, screws, bolts, and other hardware. It is convenient, and smells amazing!
Who needs plugins when you have detergent containers?
20. Storage lockers
School-style lockers can keep your power tools locked up nice and tight. I can't get over the nostalgia! No matter when you last used a locker, you have to admit that this garage organization idea brings back memories. Not just for books, or a hot place to gossip in between classes, school-style lockers keep things in place and out of sight.  Helpful if you have small kids who go in and out of the garage! Lockers protect dangerous things and serve as a cool, funky garage organizer.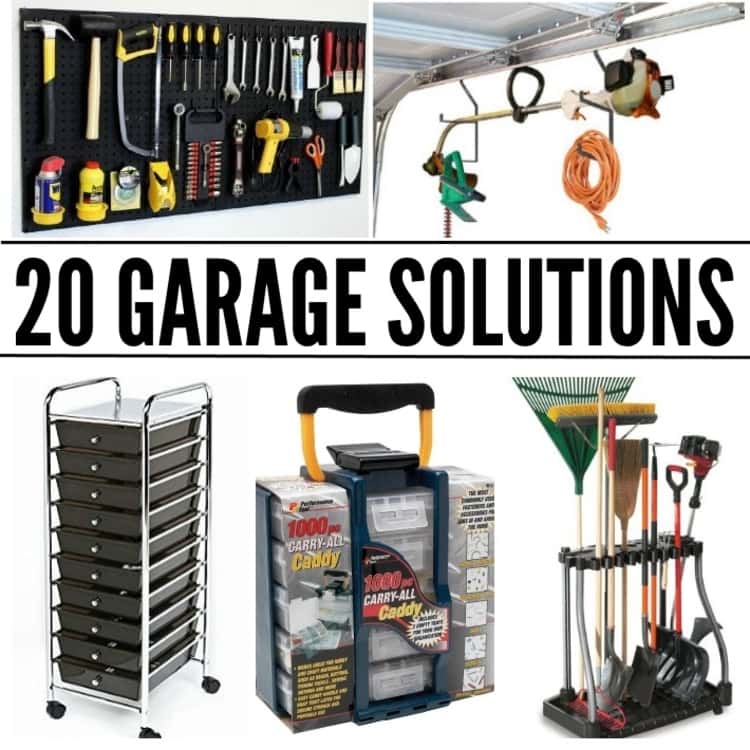 Did You Like These Garage Storage IDEAS? Here Are Some Other Storage Solutions From One Crazy House
Which of these awesome DIY garage storage ideas do you like the most? Let us know in the comments!