We've gathered together a list of the 11 best Crockpot accessories you need in your kitchen to get the most out of your Crockpot. I mean, a Crockpot is pretty amazing all on its own, but when you had a few pieces to the side, it really becomes your go-to dinner prep piece!
The Crockpot is one of the most amazing tools in the kitchen! By the time dinner rolls around I am so tired I don't want to cook! I love to prep a meal in the morning (or even weeks before and freeze it) and then toss it in the Crockpot. It cooks all day long while I'm busy at work or doing other things and before I know it, dinner is ready to eat!
But there are some things about the Crockpot that are less than ideal. Here are 11 must-have Crockpot accessories you didn't know you needed!!
11 Crockpot Accessories You Didn't Know You Needed 
1. Culinary Claws for Shredding Meat
You know one thing I don't like about using my Crockpot? How much it hurts my hands to use forks to try to shred the meat I cooked in the crockpot!
The solution is these culinary claws! They have a comfortable handle with a wide plastic grip and will quickly and easily shred any meat you cook in the Crockpot without hurting your hands! They're also BPA-free and heat resistant up to 450 degrees. And they are dishwasher safe which means less clean-up time.
You can use them on:
beef,
chicken,
roasts,
turkey,
poultry,
pulled pork
Bonus: you can use them to mix up salads!
Culinary Claws are a must-have tool to work alongside your Crockpot!
2. Slow Cooker Liners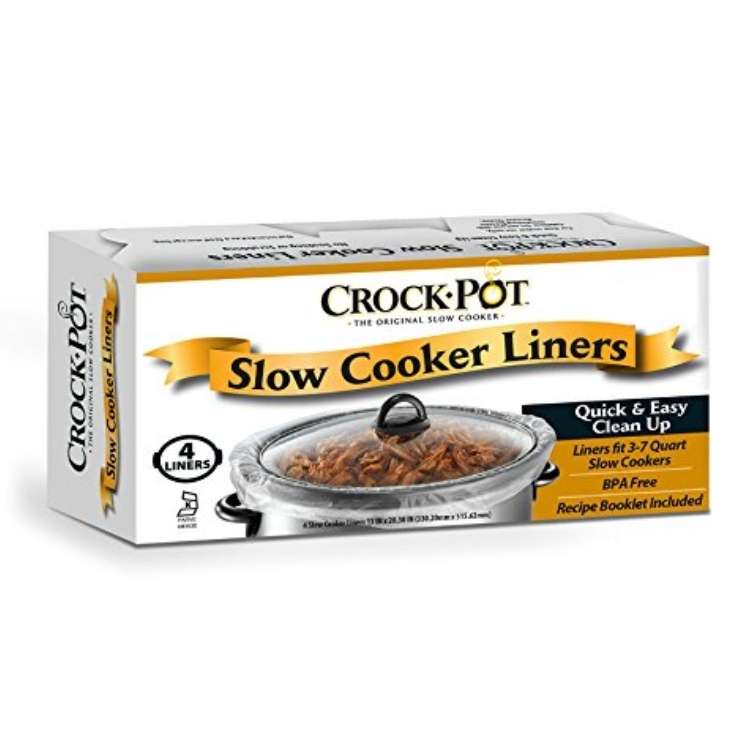 If there is one fault slow cookers have, it's cleaning up the baked on grime that you have to deal with after you eat your delicious Crockpot cooked meal.
The solution? Slow cooker liners make dinner clean up so easy. They fit a wide variety of Crockpot inserts.
No more spending endless time after dinner scrubbing the baked-on food out of your Crockpot. Instead, the only clean up you'll need to do is throwing away this BPA-free cooking liner. Problem solved! These liners are convenient and totally worth it! No mess, no fuss kitchen clean up!
3. Travel Bag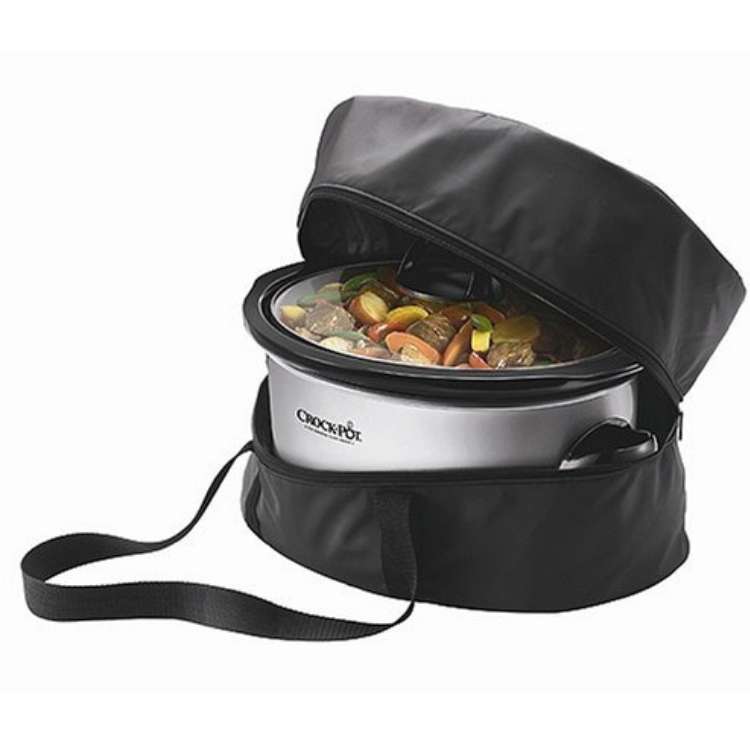 There is nothing worse than traveling with a Crockpot. Especially if you don't have one of the newfangled ones with straps or clips to keep the lid on!
But there is a solution! The Crockpot Travel Bag. This bag makes it clean and easy to travel with your Crockpot to potlucks, bake sales, fundraiser, family events, and more.
This travel bag has
2 handles for carrying
an interior strap to keep the Crockpot in place
zippers to keep the Crockpot secure
and thermal insulation to keep your food warm
If you take part in a lot of food-related events that require you to cook, you definitely want to invest in one of these handy tools. It will make traveling with the food so much easier. And in the event of a spill, they made the travel bag of easy clean material.
You can't go wrong with this Crockpot accessory!
4. Gravy Warmer
This is a really fun idea!
I love to make homemade gravy. But if you don't have somewhere good to put the gravy when it's ready, the gravy congeals and gets icky. This gravy warmer is perfect for keeping the gravy warm and keeping it at that perfect texture! No more waiting until the last minute for holidays to prepare the gravy. Make it ahead and keep it ready in this handy kitchen gadget!
This warmer will hold up to 2 1/2 cups of gravy and the spout makes it easy to pour your gravy onto your food. And the crock is dishwasher safe, so you have less clean up after dinner.
Best of all, it has a removable cord so you can take it directly to your dining room table. It's a really pretty addition to your table setting!
5. Heat Resistant Grilling Mitts
Yup, I will admit it, I burn myself on my Crockpot at least once each time I use it! Yup, I am slightly klutzy and obviously, my memory is not that great!
But now with these awesome heat-resistant grilling mitts I can use my Crockpot in safety without burning my hands or wrists! What a relief!
These oven mitts are available in different colors and they're environmentally friendly. And no sweaty hands as they have a comfortable cotton liner inside to wick away moisture. And with their non-slip texture, you don't ever need to worry about losing your grip on your Crockpot or Crockpot insert.
The best part is that they are machine washable so you can just toss them in the washing machine when they get dirty.
Does it get any better? Easy to use, easy to clean, and keeps your hands safe!
6. Baggy Rack Stand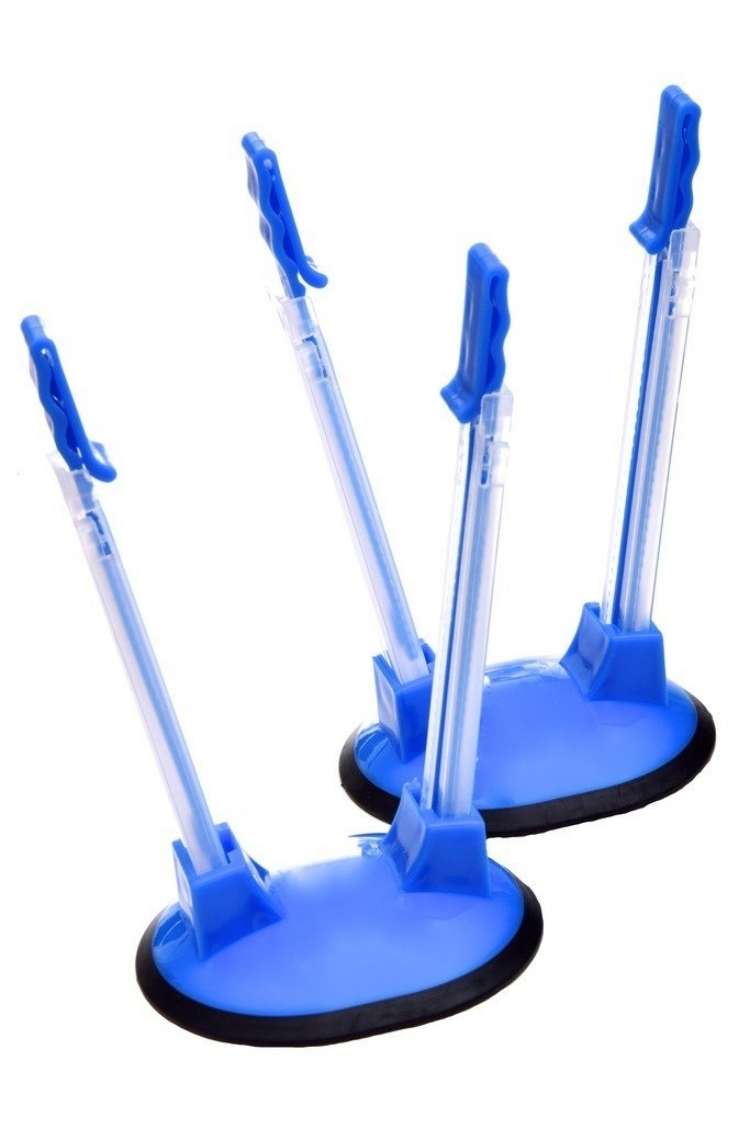 This is the coolest contraption ever!
I'm sure you're familiar with the frustrations of getting food into the freezer bag without raw meat touching the sides or without pouring liquids all over the counter. The solution to those troubles is the Baggy Rack Stand.
This one is definitely a must for all those Crockpot leftovers! I have a big Crockpot and you should see me trying to lift it and pour the leftovers into a plastic baggy. Ha not pretty! But this little guy holds the baggy open so you can use both hands to hold the heavy Crockpot and get the leftovers put away quickly and without a big mess.
Simply pour your leftovers into the freezer bag. Then after the food cools a bit, lay the bag flat in the freezer and you have a meal for another day.
These racks also work great for drying your reusable plastic bags. Just wash them out and turn them upside down over the arms until they are dry.
This is a great addition to your kitchen and makes Crockpot meals even easier!
7. Microwavable Food Container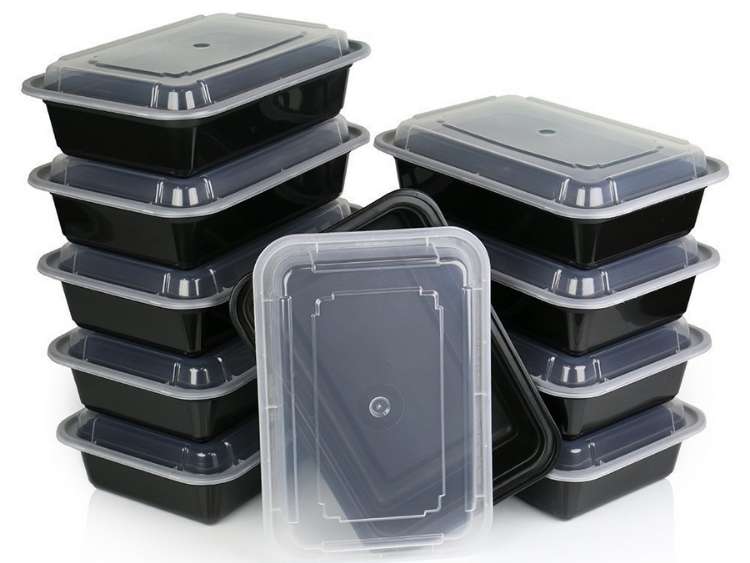 Food storage containers are one of the best Crockpot accessories.
Why not make an extra big Crockpot meal and store the leftovers in these handy containers to take to work for lunch? Or you can freeze them and use for individual meals on another night.
These microwavable containers are perfect for your lunchbox or for storing extra servings in the freezer. You can take healthy meals to work that you made at home in your Crockpot rather than eating out at lunchtime! You'll save yourself some calories and some money!
These containers are durable, stackable, microwavable, dishwasher safe, freezable, and leakproof. They're also BPA-free. If only they did the cooking for you…wait, you have the Crockpot to do that!
8. Tall Plastic Container
It's not what you think! Use the plastic container to hold up your bags as you pour food into them. This is especially helpful for soupy liquids that you are freezing. Check out all the recipes – to die for – from Pretty as a Peach. You make many of them with your Crockpot!
9. Make Your Crockpot Into a Broiler
This is great if you are cooking meats and do not want the fat to soak into your meats. This rack gently lifts your food just an inch or two off the bottom of your Crockpot! That allows the heat to circulate better, which means faster cooking times and a more even browning of the meat you're cooking. You can use it for poultry, beef, pork, or fish. It's one of my favorite tools to use with my Crockpot!
10. Crock-Pot Lid Lock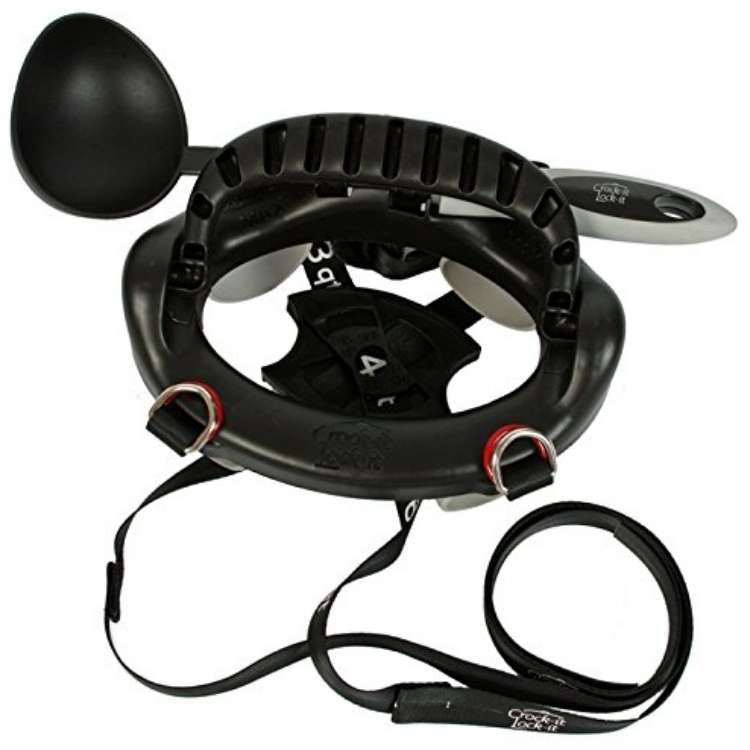 Please tell me I am not the only person who has had this struggle and discovered a puddle under the Crockpot during transport? Last Thanksgiving we hit a pothole, and the gravy spilled over the sides and onto the floor of the car. I wish I had a contraption like this to lock the lid in place!
This Crockpot Lid Lock has adjustable handles, so it fits 3 quarts to 8 quart Crockpots and it also comes with a ladle! It's ready to bring to a potluck!
11. Home Canning Set
If you use your Crockpot for canning (I do), you will love this collection of gizmos! It includes all the tools you need to can (except for the food and the jars with lids)!
Must-Have Crockpot Accessories For Optimal Cooking Pleasure
Do you already own any of these Crockpot accessories? Which ones are your favorite?
With these helpful tools, cooking with your Crockpot will be more fun than ever before and kitchen cleanup will be a breeze. You'll be saving time and money, and eating healthy, too. Crockpot cooking is just the best way to get a healthy, flavorful meal into your family and we hope these Crockpot accessories make mealtime easier for you, Mama!
If You Found These Best Crockpot Accessories Tips Helpful, Check Out These Other Helpful Kitchen Tips From One Crazy House