Check out this list of refreshing summer smoothies to help cool you down this summer. From green smoothies to berry overload, I got you covered with a variety of smoothie flavors. The beauty of smoothies is they are so versatile. Use up the perfectly ripe fruit sitting on your counter or pull fruit from the freezer. Either way, you get that smoothie that is bursting with vibrant flavors and you gain a little energy boost from all the nutrients inside! So what are you waiting for? Grab that blender and let's get to mixing!
Plus if check out these 33 Healthy Smoothies for kids. This is a great way to sneak in added fruit and vegetables into their diet, to help give them minerals and vitamins to help them grow big and strong. Our family is huge into smoothies, and I am always on the hunt for new flavor combinations to give a whirl.
Summer Smoothie Recipes That Are Bursting With Flavor
Strawberry pomegranate smoothie is great for breakfast time or even a snack. It is bursting with vibrant fruit flavor and tastes amazing. This is great for kids and adults.
Cool down with this raspberry lemonade smoothie. You get that sweet from the raspberry and the hint of tangy tartness from the lemonade factor.
Sneak in some cauliflower into your kid's breakfast with this cauliflower chocolate protein smoothie. They will taste the creamy chocolate flavor and it helps hide the veggie inside.
If you are a fan of green smoothies, try this delicious kale smoothie. It is full of protein and takes just five minutes to whip up, which is a huge win for busy moms on the go.
If you don't like a straight green smoothie try this tropical green smoothie. It helps incorporate some greens and some fruit for a lighter flavor.
You can never go wrong with a strawberry banana smoothie. When the strawberries are ripe in the summer this is my go-to flavor combination.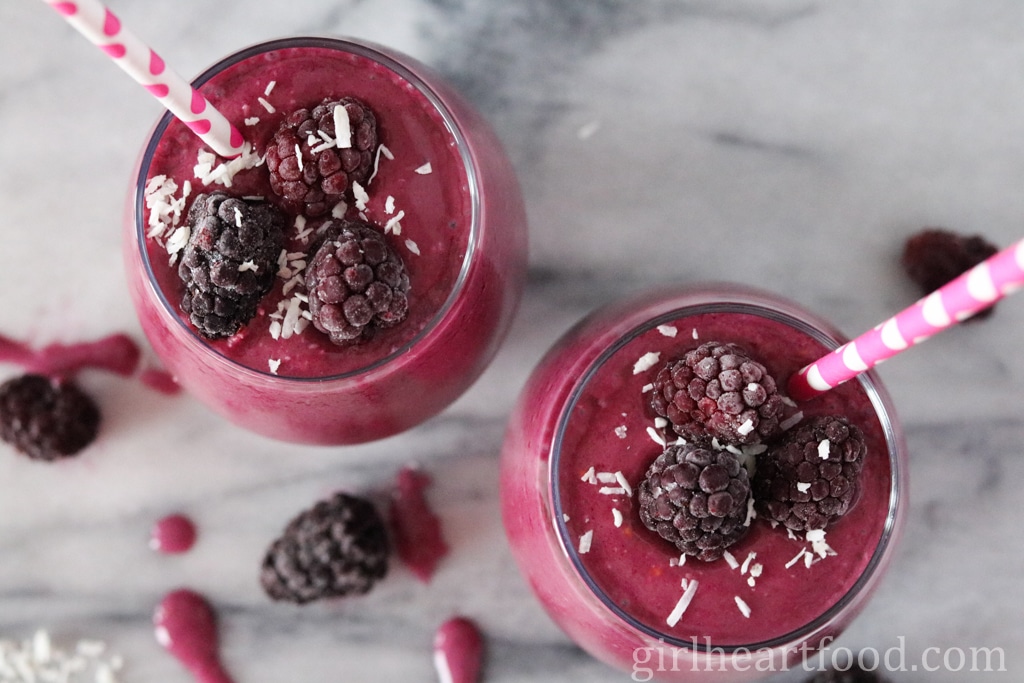 This blackberry coconut smoothie is vegan so if you are on the hunt for a vegan-friendly smoothie this is a great one to blend up.
If you grow lemon balm in your garden, check out this lemon balm mint blueberry smoothie. You get that sweetness for the blueberries paired with the light mint!
Lover of melons? Here is a melon smoothie that uses summer melons to make a tasty smoothie for kids and adults.
Hydrating Summer Smoothies
Another vegan option is this vegan pineapple smoothie. Frozen pineapple, almond milk, hemp hearts and more for a healthy smoothie option.
Take a walk on the tropical side with this pina colada berry smoothie. You get that pineapple and coconut from a traditional pina colada and then add in berries for a whole new twist of delicious flavors.
Need an energy boost? This energy boosting smoothie with papaya and avocado is really refreshing. Rich in vitamin C, which we all know we can't get enough of!
Here is a healthy pineapple smoothie with bananas. Carrots, pineapple, bananas and more are what makes this one power-packed smoothie.
This anti-inflammatory cherry smoothie is great to sip on post-workout or to help give your body that boosts to help reduce any inflammation going on around your joints. Plus it tastes delicious!
Sip on this hydrating lemon lime smoothie to help give your self that hydration your body needs. A very delicious smoothie for sure.
What is your favorite smoothie flavor combination?