Want an easier way to get your kids to eat their fruits and veggies every day?  These 33 Healthy Smoothie Recipes Your Kids Will Love are delicious and will leave your kids asking for more! On to healthy smoothies for the kids and the whole family!
The recipes here vary from strawberry banana blend to smoothie bowls to boost your little one's day. I'm sure they will enjoy the creamy texture of the vegetables, fruits, and other ingredients each recipe id mixed using a blender. Ready? Let's check them all out!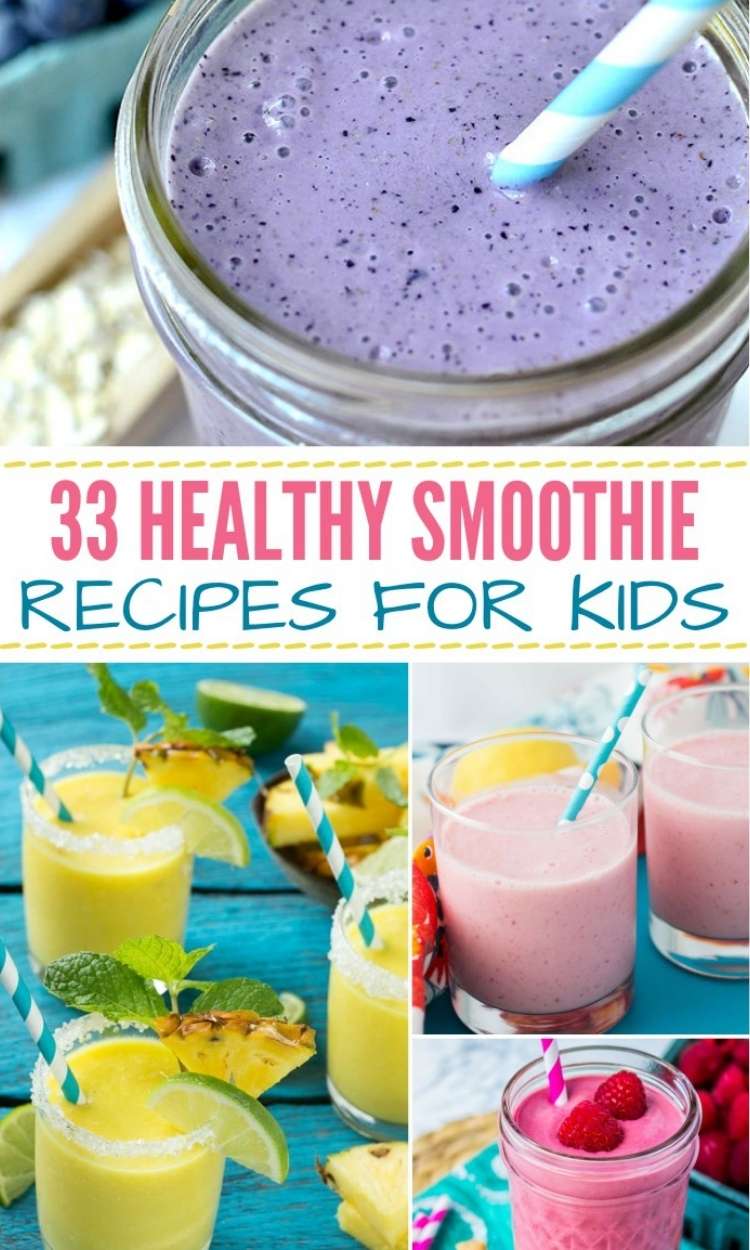 Have you ever found yourself struggling to get your child or children to eat healthier? I know I have and this list of 33 Healthy Smoothie Recipes Your Kids will give you so many ideas and recipes to try out with them. You are sure to find one that is a hit! Sometimes having your child help you in making the smoothie can make it more fun and increase the chance they will be more excited to try something new. Let's dive into this awesome list of healthy smoothies perfect for kids!
33 Easy & Healthy Smoothies for Kids
1. Kiwi Lime Banana Smoothie
For a tart change of pace, try a Kiwi Lime Banana Smoothie. It's not so green that it'll turn the kids off, but it's easy to sneak in a little spinach if you have it on hand without them suspecting a thing! Spinach is a great source of folate and fiber. This tropical smoothie is for the win!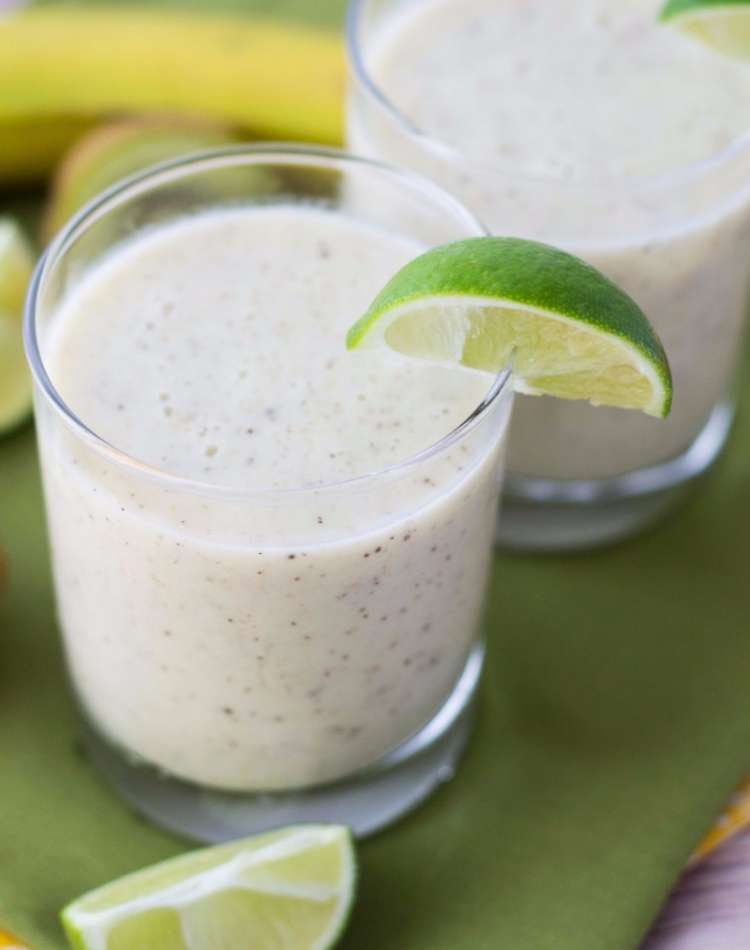 2. Blueberry Muffin Smoothie
Skip the muffin for breakfast, and opt for this healthy Blueberry Muffin Smoothie instead. It's full of fruit, yogurt, and oatmeal for a healthy meal or snack. Oatmeal is a great source of fiber and filling and blueberries are a powerhouse of antioxidants. If you want, you can sprinkle a dash of chia seeds or flax seeds for extra protein and the kids will never notice!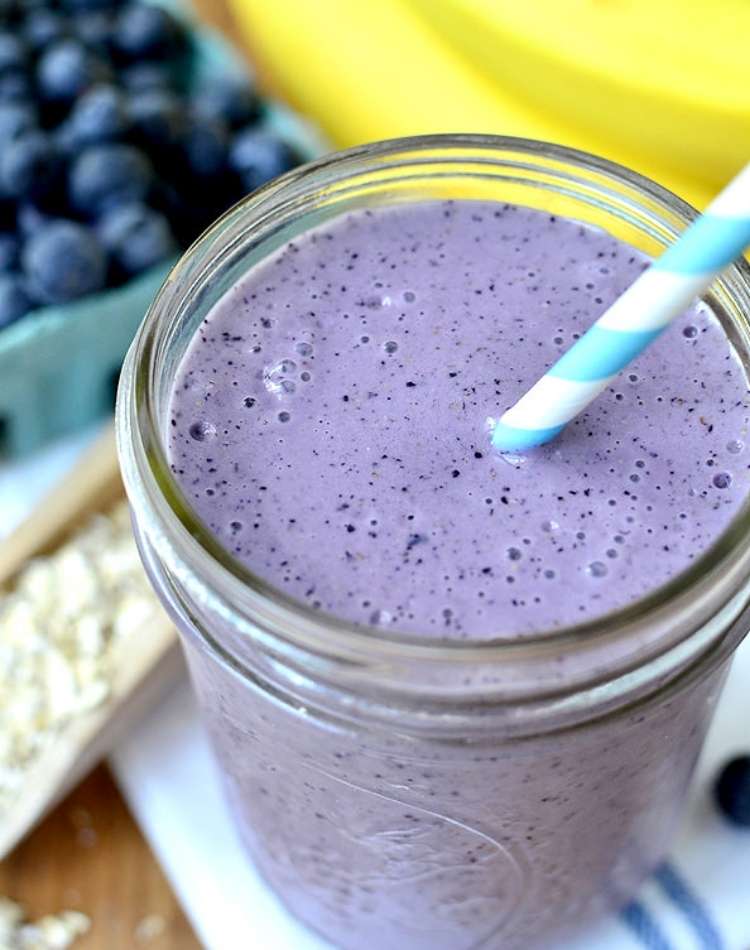 3. Strawberry Oatmeal Smoothie
Let's move far from the good old strawberry-banana smoothie we traditionally do. This Strawberry Oatmeal Smoothie is the perfect breakfast drink when you and your kids have to rush out the door. Simply double the recipe if you need to make several, pour them in to-go cups, and you're all set. This smoothie is as visually appealing as it is nourishing!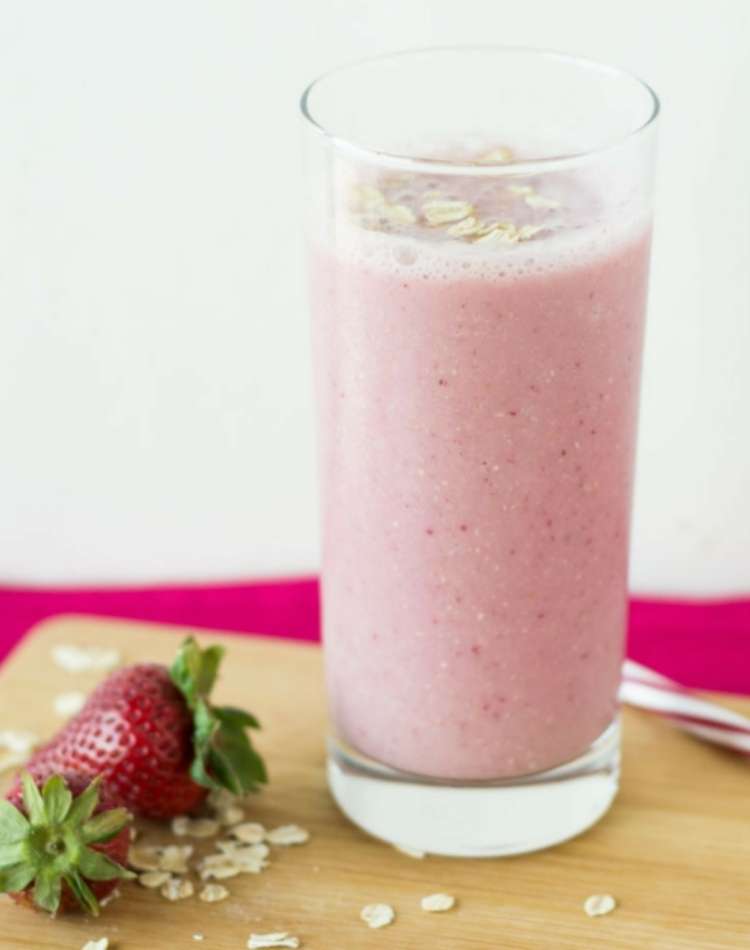 4. Orange Pineapple Green Smoothie
Want a twist to the regular orange juice? An Orange Pineapple Green Smoothie may have loads of spinach, but your kids will never taste it with the naturally sweet and delicious fruit. Pineapple sure adds a punch of sweetness your kids will LOVE!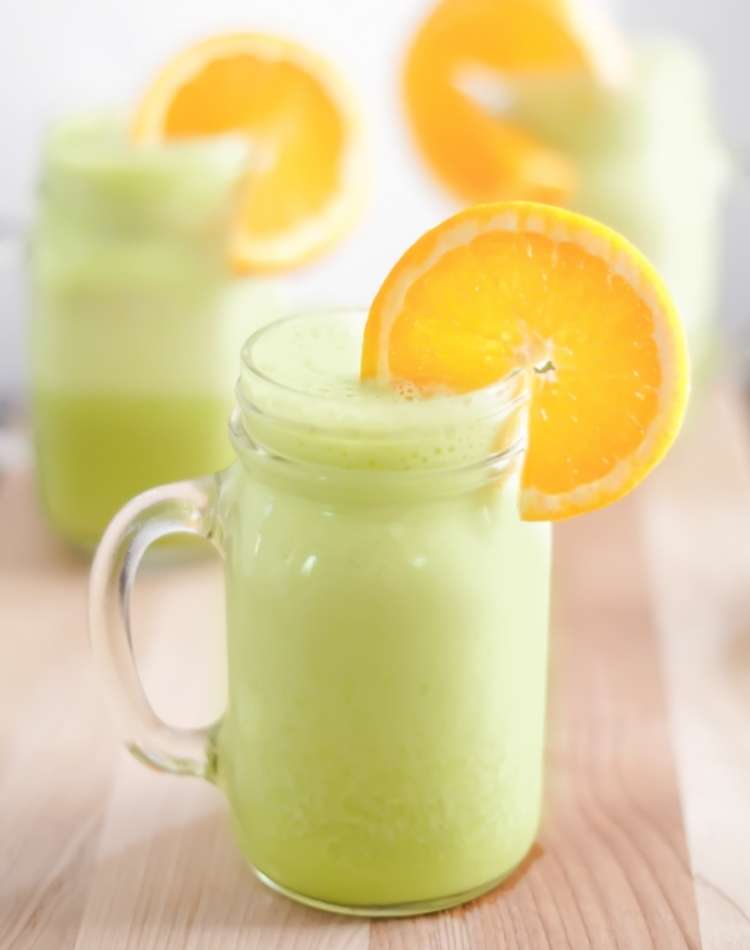 5.Healthy Butterbeer Smoothie
Are you and your kids Harry Potter fans? If you are, you can't go wrong with a Healthy Butterbeer Smoothie. It's made with bananas and a vegan caramel sauce that's smooth, creamy, and delicious! Perfect with pumpkin pie, I'd say. Make this smoothie then have a movie marathon – how fun!
6. Lemon Strawberry Smoothie
This Lemon Strawberry Smoothie is tart and refreshing, too. Use frozen fruit to make it more of a creamy slushie than a smoothie. It's yummy either way. This one is perfect for the Summer as it reminded me of blended strawberry lemonade. YUM!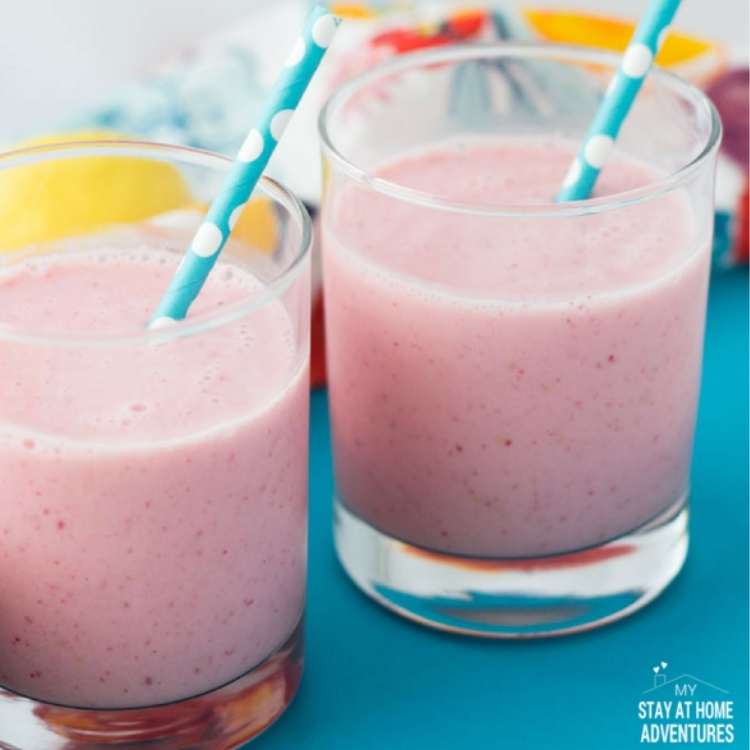 7. Kale Pineapple Smoothie
You may think that getting your kids to eat kale is impossible, but let me tell you, anything is possible with this deliciously fruit Kale Pineapple Smoothie. With kale, pineapple, banana, peanut butter, almond milk, yogurt, and honey for sweetness, they won't even taste the big dose of veggies you've added to their drink!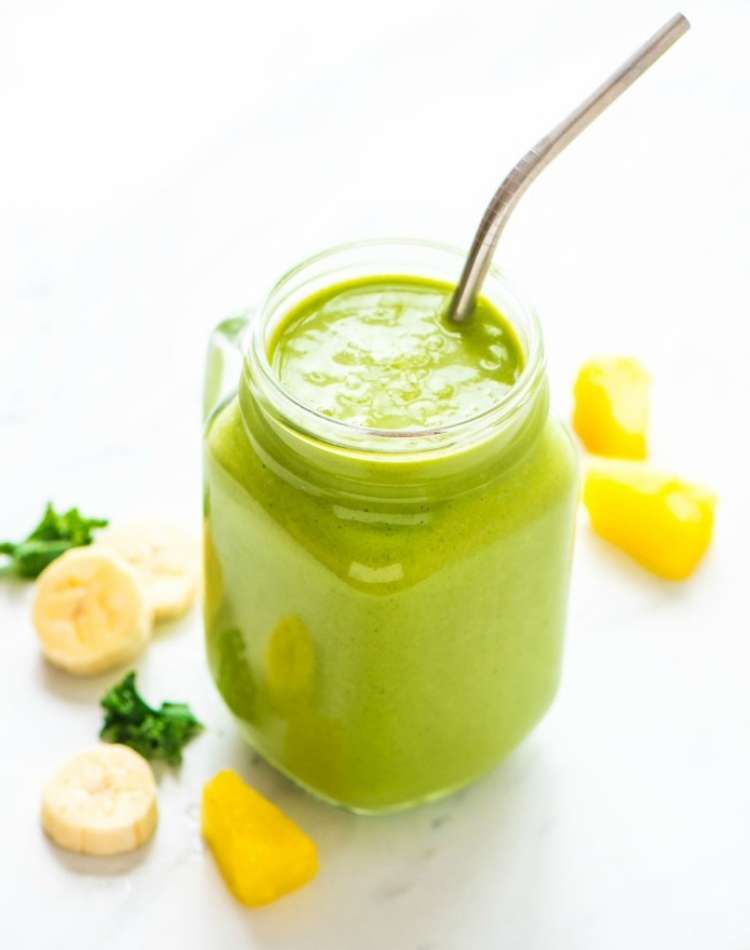 8. Smoothie for Picky Eaters
Try this Smoothie for Picky Eaters (unavailable) if your kid isn't yet keen on drinking their fruits and veggies. One almost exactly like this is what got our son into smoothies. It is worth a try!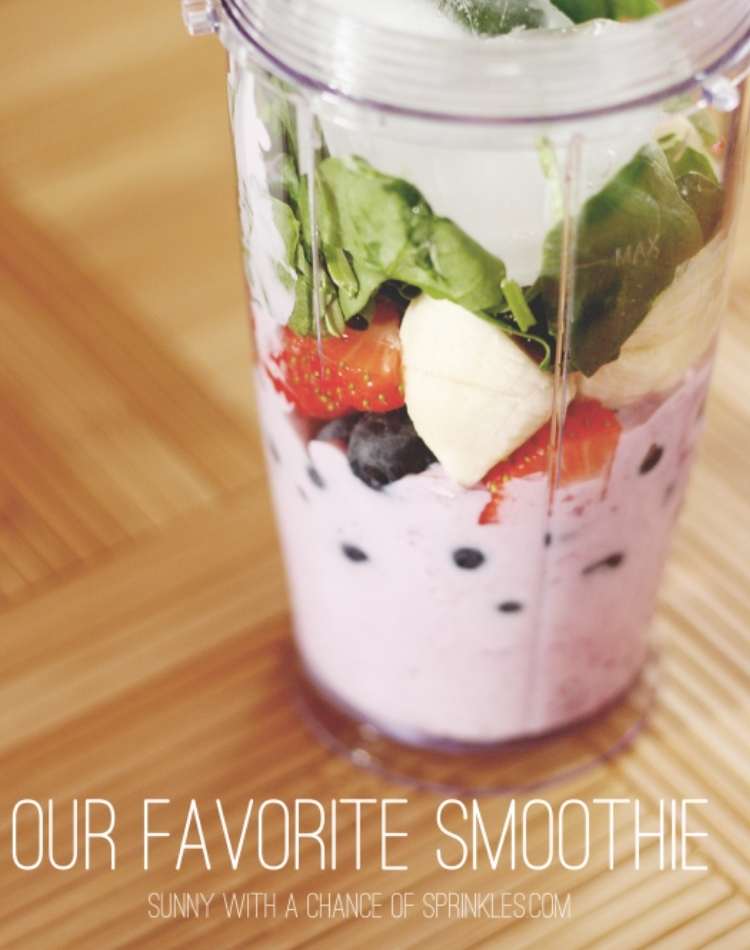 9. Blueberry and Spinach Smoothie
This Blueberry and Spinach Smoothie is called the superfood smoothie for a good reason! Both blueberries and spinach are full of antioxidants and good-for-you nutrients that benefit kids and adults. Add some hemp seeds and it turns into a superpower drink! This was one of our favorites in my house.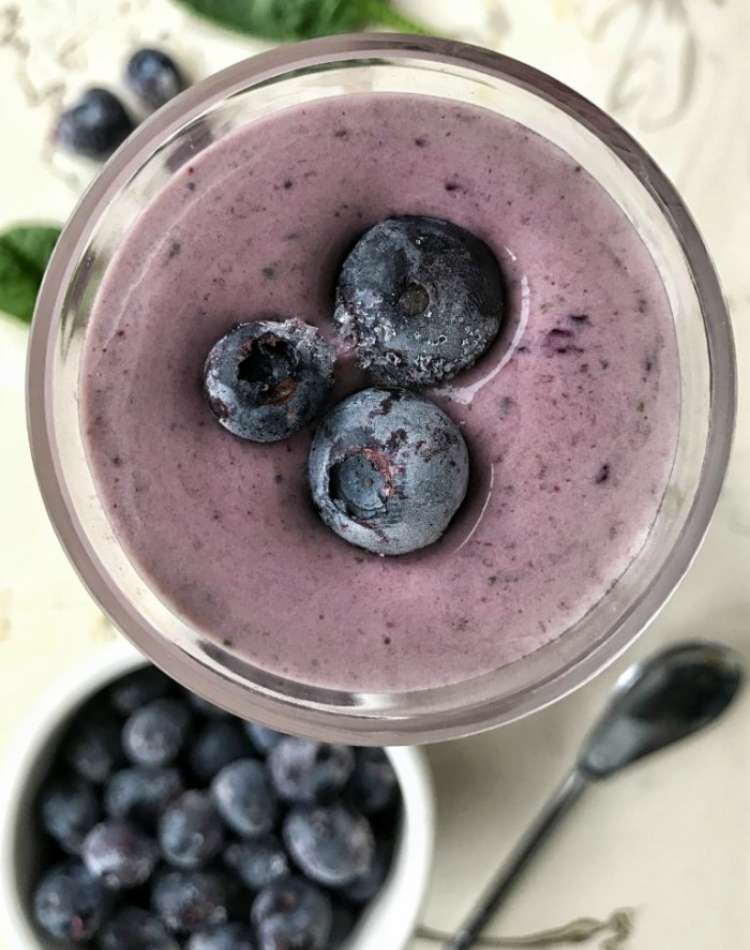 10. Raspberry Peanut Butter Smoothie
Pretty and purple, this Raspberry Peanut Butter Smoothie is sure to fill kids up on a busy morning. The nut butter mixed with tropical fruits tastes a little like a peanut butter and jelly sandwich! Who doesn't love a PB&J?!
11. Raspberry Lime Smoothie
Looking for a colorful Vitamin C smoothie? Raspberry Lime Smoothies are perfect for summer. They're brightly colored and made with raspberries, key lime yogurt, lime juice, and limeade. If you prefer to skip the limeade, add some extra lime juice and a bit of honey for sweetness to make it healthier.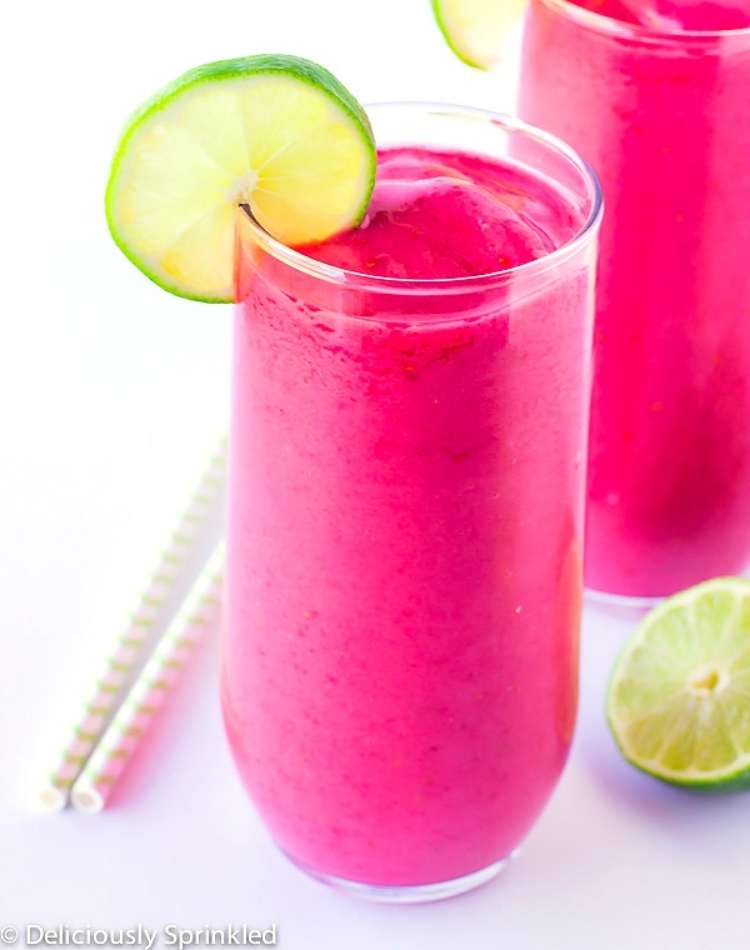 12. Peanut Butter Banana Oatmeal Smoothie
A Peanut Butter Banana Oatmeal Smoothie is a great option for breakfast because it's packed with protein to keep kids full until the next snack or lunch. I wonder if this one will be your kids' next favorite drink! Haven't tried it with cocoa powder for a chocolate twist, but it won't hurt to try! I mean, who doesn't like chocolate?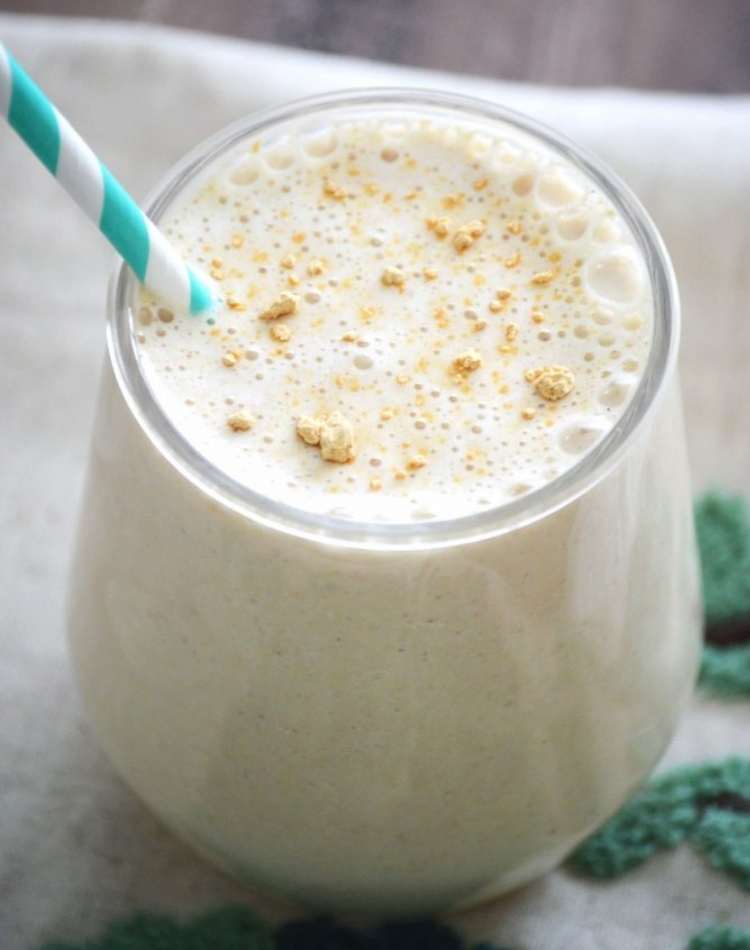 13. Mixed Berry Smoothie
Make a Mixed Berry Smoothie with your favorite berry combinations and healthy Greek yogurt for a bit of protein. Yum!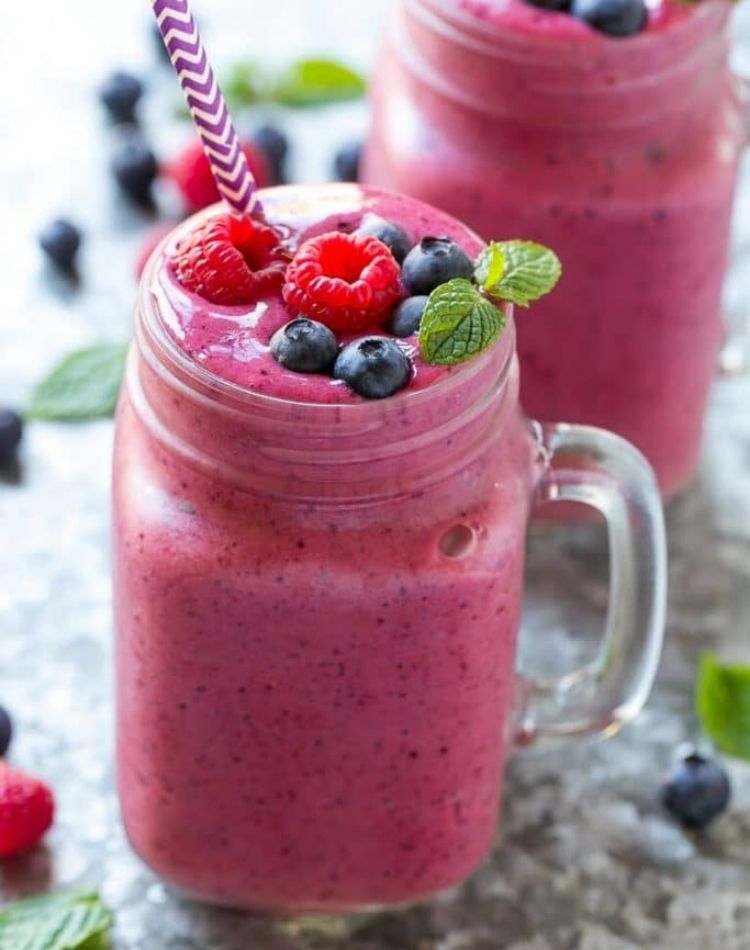 14. Strawberry Cheesecake Smoothie
Although it looks decadent, this Strawberry Cheesecake Smoothie is made with low-fat cream cheese, strawberries, yogurt, and more for a healthier take. It's a safe dairy. What a wonderful dessert in a glass!
15. Rainbow Smoothie
How gorgeous are these layered Rainbow Smoothies made with your kids' favorite fruits? These are fun any time of the year but can also be fun for St. Patrick's day too!
16. Oatmeal Smoothie
With oats, raisins, cinnamon, and vanilla, this Oatmeal Smoothie tastes like an oatmeal cookie in a glass! Sign me up- yum!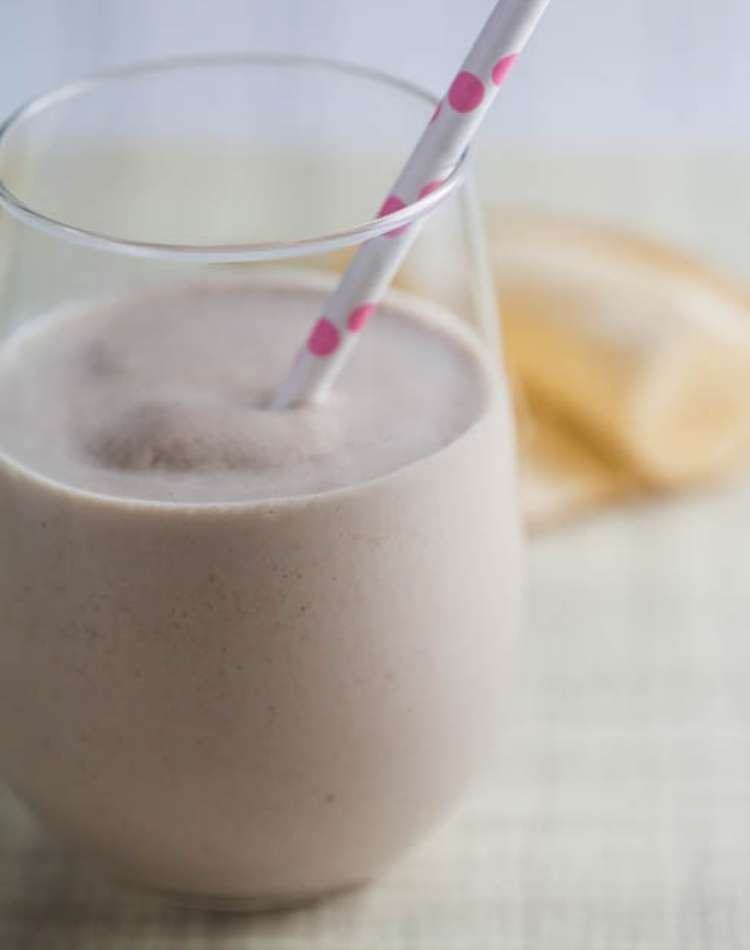 17. Healthy Pineapple Coconut Smoothie
Feel like you're on a tropical island when you drink this Healthy Pineapple Coconut Smoothie. You can skip the sugar on the rim, of course!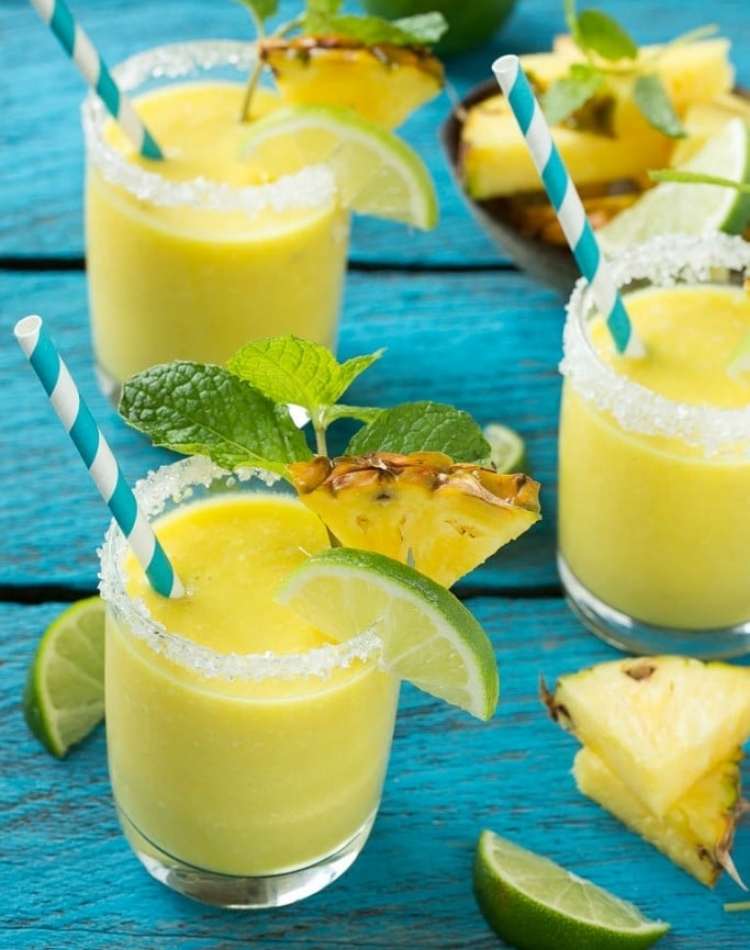 18. Banana Blueberry Smoothie
Grab a Banana Blueberry Smoothie when you and the kids are on the go. We almost always have these fruits in the house, so it's a no-brainer!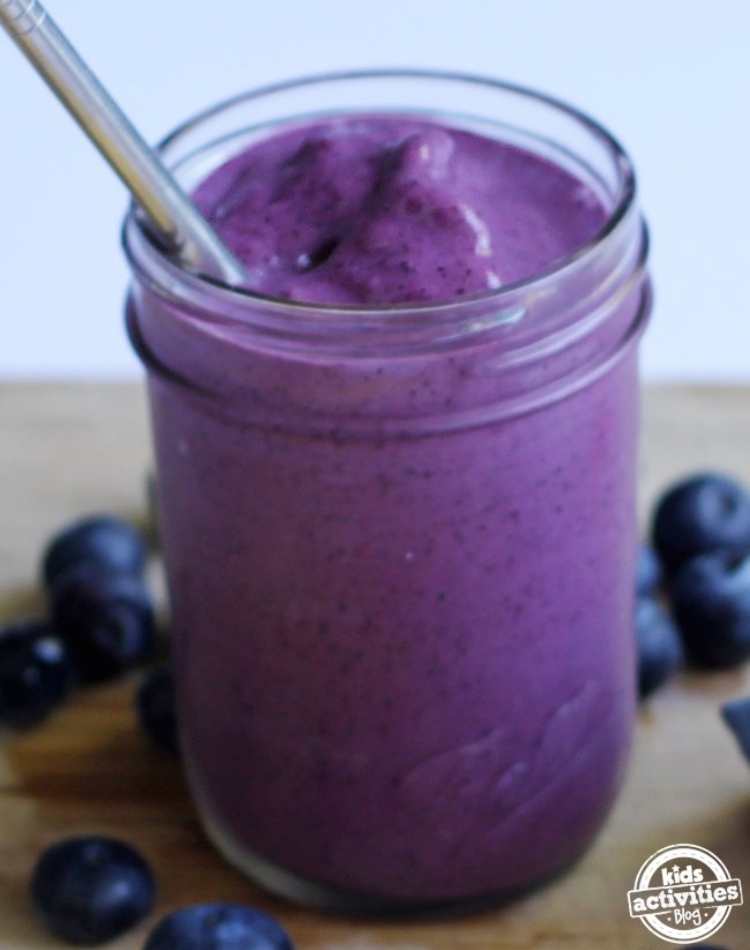 19. Key Lime Pie Protein Smoothie
I'm loving this Key Lime Pie Protein Smoothie! It's perfect if your kiddo needs to squeeze in a little more protein, but if not, you can always leave the protein powder out and add some vanilla extract and plain Greek yogurt.
20. Mango Yogurt Smoothie
A Mango Yogurt Smoothie is a terrific way to start off a summer morning. The cinnamon and honey add a good bit of sweetness to the fruity drink without being overpowering.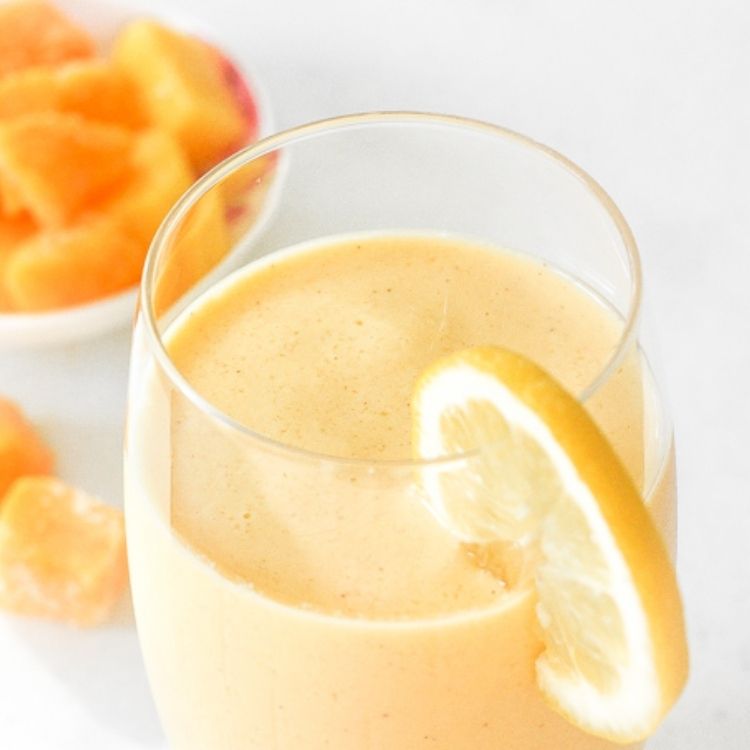 21. Orange Banana Smoothie
This Orange Banana Smoothie is blended with oranges, bananas, and carrots for a deliciously citrusy flavor to get your morning started off right.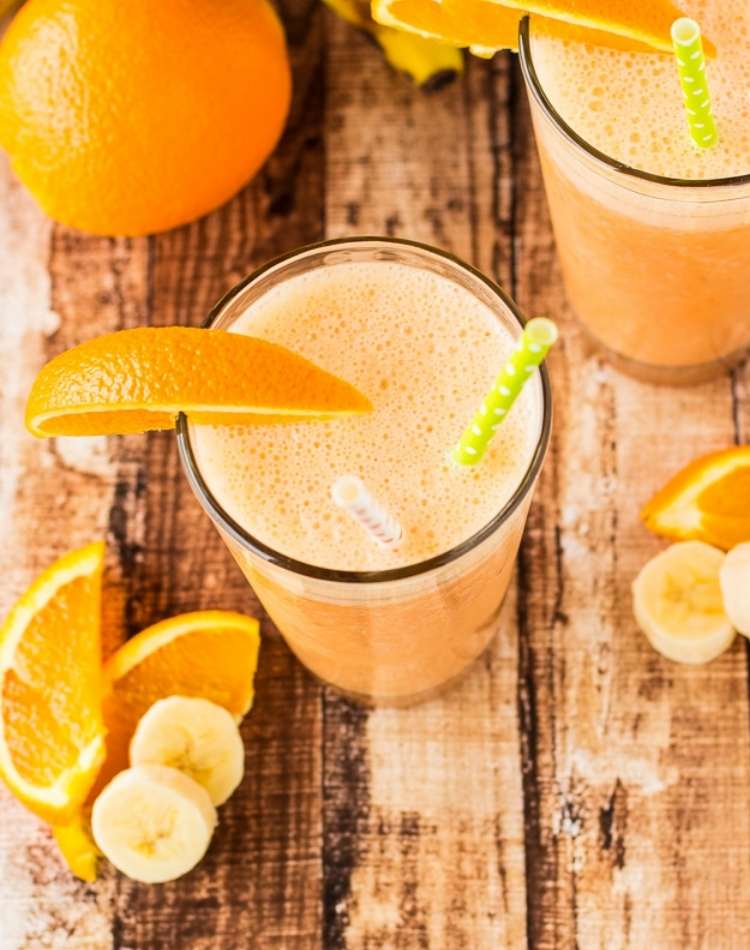 22. Healthy Strawberry Orange Protein Smoothie
A Healthy Strawberry Orange Protein Smoothie can become a little more kid-friendly by substituting Greek yogurt for protein powder. It's still just as yummy!
23. Banana Cream Pie Smoothie
For a healthy smoothie that tastes like a dessert, try this Banana Cream Pie Smoothie. The vanilla wafers do add some sugar to the equation, but it's part of the banana pie experience. Of course, you could always skip them if you want.
24. Blackberry Coconut Smoothie
Blackberries are ripe here in July, so I can't wait to pick some fresh ones to make this Blackberry Coconut Smoothie. Doesn't that look refreshing?
25. Pineapple Mango Smoothie
This Pineapple Mango Smoothie is sugar-free and ideally suited to the sunny weather. In fact, doesn't it look like a big glass of sunshine?
26. Raspberry Mango Sunrise Smoothie
Enjoy a Raspberry Mango Sunrise Smoothie first thing in the morning. The tart raspberries swirl with the sweet mango for a yummy morning pick-me-up.
27. Tropical Bliss Smoothie
Feel like you're relaxing on a sandy white beach with this Tropical Bliss Smoothie made with blood oranges, carrots, bananas, mangoes, and more. You and the kids can enjoy them poolside!
28. Peach Cobbler Protein Shake
Sub Greek yogurt for the protein powder in this Peach Cobbler Protein Shake, and you've got something the kids will ask for again and again!
29. Toasted Pecan and Coconut Smoothie
I love adding nuts to smoothies, so this recipe for a Toasted Pecan and Coconut Smoothie speaks to me. I think kids will like it, too… the creamy drink with the crunch of the pecans all in one drink.
30. Papaya Strawberry Smoothie
Not sure what to do with some leftover papaya? I know it's a fruit that I cook with occasionally but rarely purchase just for eating. Next time I'll try this tasty Papaya Strawberry Smoothie to use it all up.
31. Creamsicle Smoothie
Both my son and I love creamsicles (you can try our homemade creamsicles if you're looking for a popsicle), but this Vegan Creamsicle Smoothie is very nice, too!
32. Strawberry and Banana Smoothie
You can skip the whipped cream and sprinkles if you like, but there's no doubt that this Strawberry and Banana Smoothie is a healthy snack option for the kids.
33. World's Best Watermelon Smoothie
And finally, you can't finish off a list of smoothies without some watermelon. This is the World's Best Watermelon Smoothie (with just three ingredients), after all!
I hope this list offered you a plethora of ideas to try with YOUR kids! It is amazing the benefits that can come from a wholesome and nourishing smoothie cup! If that list was not enough to convince you – check out a few reasons WHY you should give these a try and also a few more fun ideas to get more produce into your family's diet.
3 Ways Healthy Smoothies will Benefit your Kids
Energize! A healthy smoothie provides an easy way to get energy and calories into your child. Sometimes it is not the child that refuses produce that needs this but the child who struggles to eat enough in general or the child who needs extra calories for energy and/or growth.
Hydrate! Smoothies are an excellent way to stay hydrated especially during the warmer seasons. if you want even MORE ideas of how to up your hydration game check out these 21 infused water recipes.
Great source of electrolytes. Electrolytes help the body stay in balance and function optimally. Often people think the only way to take care of this is through drinking such drinks as Gatorade BUT fruits are actually nature's best source of electrolytes!
How to Get More Healthy Food Intake into Your Family's Diet?
Healthy eating can be a daunting task for a family – large or small. Everyone has different food preferences and it can feel very overwhelming BUT with your list of healthy smoothie recipes for kids and a few of these tips we are about to share you will be off to a great start!
Ways to Increase Healthy Food Intake with Your Kids
1. Get involved.
Cook with your kids. Invite them to help make recipes. Even consider taking a cooking class together. When you make the prep fun it makes the eating part more exciting too. If you have kids just starting to cook, even just teaching them how to use the microwave can be a great start. Check out these microwave hacks.
2. Increase choice.
Often kids need to feel like they have a choice. Having choice honors their raging need for independence BUT with that comes a higher chance they will try the healthier options you offer.
3. Make a plan.
Like any goal having a plan is a key to succeeding. When it comes to food you need a menu plan. Check out these 50 simple dinner ideas to help you create a plan together as a family!
If You Like These Healthy Smoothie Recipes For Kids, You'll Also Love: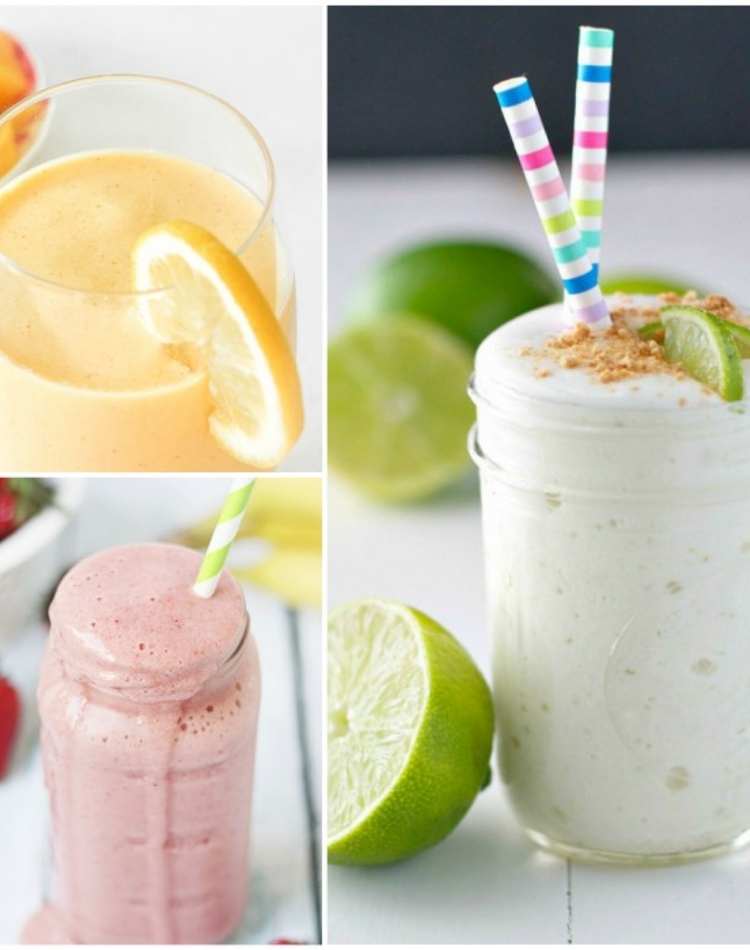 Which of these healthy smoothies is your little one's favorite? Which one is YOUR favorite? Share it in the comments!