I love eating peanut "anything". I've even been know to walk around the house eating scoop after scoop of peanut butter. If you're wanting to treat your taste buds a little bit more than that, try these delicious peanut snacks and meals instead.
Within this list you'll find delicious peanut soups and main meals that you just can't afford to pass up. Wait until your taste buds try these delicious treats!
Ready for these delicious peanut snacks and recipe? You'll have to make them all!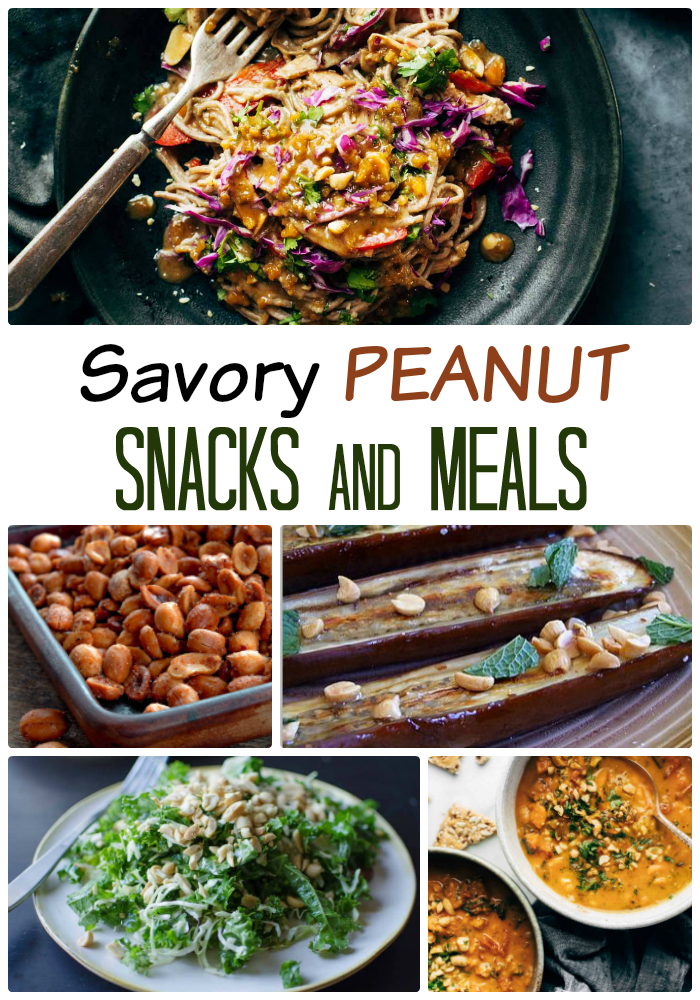 Savory Peanut Snacks and Meals
Sometimes, having a big old bowl Spicy Peanut Soup With Sweet Potato & Kale is just what your tummy needs. Talk about a savory soup that will hit the spot every single time!
Looking for a lighter dish that packs on the taste and flavor? You're going to love this Crunchy Thai Peanut & Quinoa Salad. I've eaten this as a main dish and a side dish and I can tell you that I love each one.
This One Skillet Thai Peanut Chicken Zoodle Bowl proves that combining everything together can result in something amazing. If you love the Thai taste and flavor, you're going to love this epic dish.
I love how tofu takes on so many different tastes and flavors! This Peanut Tofu Buddha Bowl needs to be on your radar. Perfect for those of you who don't eat meat!
Leave the takeout at the store and instead make you own homemade Mango & Avocado Spring Rolls With Peanut Sauce. One bite, and you'll be hooked.
The flavor of this Roasted Eggplant W/Chiles, Peanuts, and Mint will knock off your socks. I never knew that it was possible for eggplant to have so many varieties of taste!
Who doesn't love Thai Peanut Sesame Noodles? So tasty and simple to make! This is probably my new go-to dish for when I'm craving homemade Thai food.
Get out that crockpot! This Slow Cooker Thai Peanut Chicken Quinoa Bowls recipe is such a great dish to set and forget. (Can we all just agree that the slow cooker is something truly amazing!?)
Love the heat? Try these delicious Spiced Peanut Snack! I love how the combination of spicy and savory really comes together in this awesome snack.
Boiled Peanuts . . . A Real Southern Treat! It's true, boiled peanuts are totally a southern thing, but they are also super delicious! And if you're not from the South, you really do need to give them a try. They're so good and addictive!
Bring on the heat! This Spicy Peanut Soba Noodle Salad will have your taste buds dancing. There's always room for more spice and heat, right?
Give this West African Peanut Soup a try. One bite and you'll wonder where it's been all your life. I for one, have this on my radar for a nice weekend soup.
Want even more heat? Don't miss this Spicy Peanut Chicken! This is so spicy, it's probably going to be just for my taste buds alone.
Eat light with this Roasted Peanut Kale Salad. Such an awesome side dish that everyone will love.
Last, but not least, you're going to love this Thai Chicken Pizza! The kiddos give this delicious dish two thumbs up and once you make it and give it a try, you're going to see why!
As you can see, you can do so much with having peanuts as an ingredient! Who knew that it was such a versatile food ingredient to have.
Say so long to the plain Jane peanut butter and jelly sandwiches and instead give this long list of peanut recipes a try.
If you plan carefully, you can enjoy something new and delicious almost every single night!
Do you have any peanut snacks to share?