Are you tired of serving the same old snacks to your kids? Are your kids getting bored of eating the same snacks every day? Then check out these easy snack ideas that every busy (and lazy) parent needs to know!
I'm sure that if you've spent any time around kids, then you know that some days their stomachs can be bottomless pits. Keeping up with the food and snack demands of your little ones can be overwhelming and stressful. In fact, you probably stay stressed and exhausted from making several snacks a day to keep those huge appetites under control until the next meal…or the next time they scream that they are "literally starving!!".
But don't worry, we are here to help you make snack time easier and less stressful with these seriously simple healthy snack ideas that every lazy parent needs to know in order to keep their sanity!
Also, don't miss our post on Toddler Snacks You Can Feel Good About!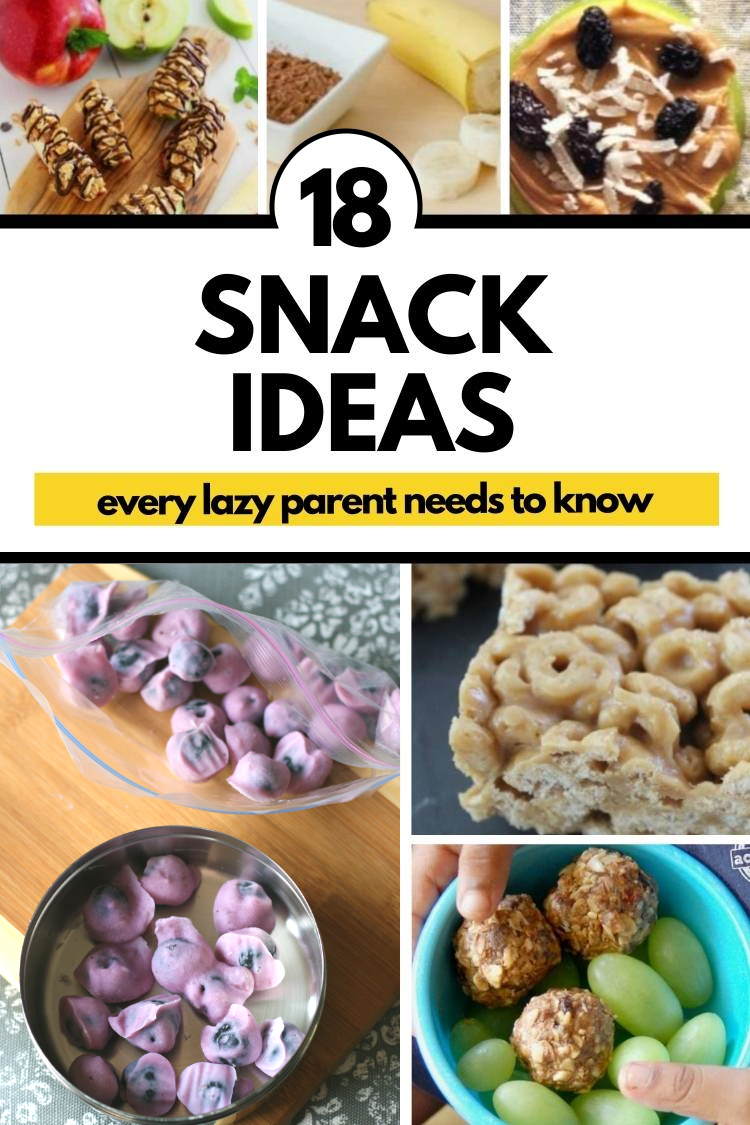 Super Simple and Easy Snack Ideas for Lazy Parents
Okay, so even if you aren't "lazy" (but it's okay if you are, we won't tell anyone ?), these super simple and easy snack recipes are the perfect quick fix that busy (and lazy!) parents everywhere will appreciate it! Not only will it make your life easier, but they are also a delicious treat that your entire family will enjoy!
All it takes is a little creativity and thinking outside the box to make these yummy kids' snacks. You probably already have all the ingredients you need to try these today!
1. Blueberries in Greek Yogurt Snack
This one is about as easy as it can get. Just bring some Greek yogurt (we recommend Vanilla or Honey Vanilla flavored) and blueberries and you're ready to go! These make a great frozen snack for the hot, summer months!
Wash your blueberries and let them dry (or pat them dry)
Pour your yogurt in a bowl
Using a toothpick, dip your blueberries in yogurt, being sure to cover them as much as possible
Place the dipped blueberries on a baking sheet that has been covered in wax paper
Freeze until solid
Put any leftovers in a Ziplock bag for a quick, frozen treat!
2. Frozen Grapes Snack
Okay, if the dipped blueberries work too much for you, these frozen grapes are even easier…if that's possible!
For this sweet treat, all you have to do is wash your grapes and then put them in the freezer! If you really have little ones, you may want to cut them in half first before freezing them to avoid a choking hazard.
Pull out anytime for a deliciously sweet surprise taste with none of the guilt!
3. Turn your kid's Go-Gurt into yummy frozen yogurt bite snack. How clever is that?
For those kids who just love their Go-Gurt, this easy snack is a great variation to add!
Cover the baking sheet with wax paper
Cut a small corner off of the Go-Gurt tube
Squirt a small amount of the Go-Gurt on the wax paper (you decide how big or small you want the bites)
Freeze until solid!
Store any remaining in the freezer in a ziplock bag
And there you go! Frozen Go-Gurt snacks that your kids will simply love!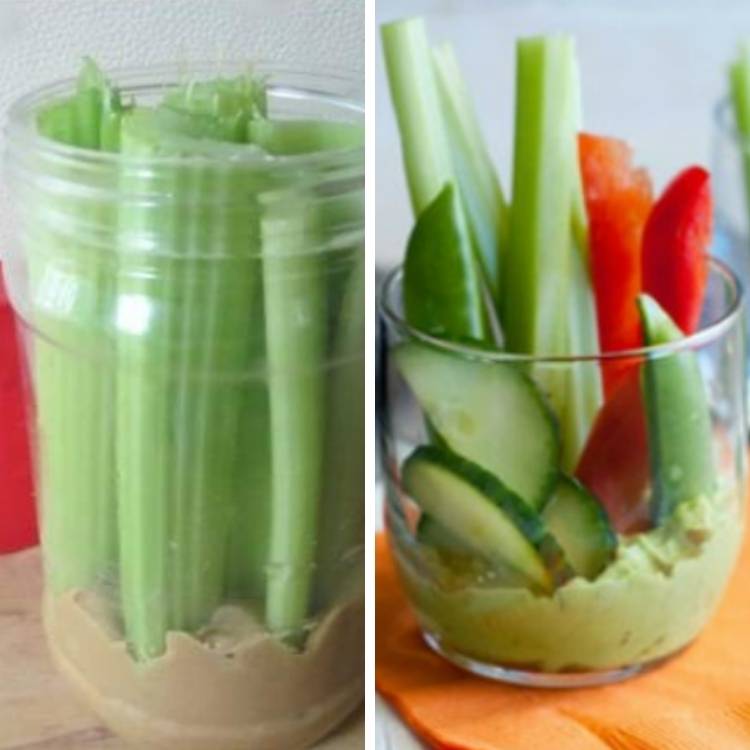 4. Simple Snack Necklace
Does your kiddo ask for snacks all day long? Or maybe you have a road trip coming up soon. Then we've got the perfect snack to help keep the all-day-snacker occupied and satisfied!
Try making this super simple snack necklace. The kids will love them and you won't be spending your entire day making snacks! You can create mini bracelets too!
5. Peanut Butter Fruit Dip Snack
Yes, we know that peanut butter is featured a lot in this list, but it's such an amazing snack food and easily versatile. And did we mention it's delicious?
This is why we highly recommend this tasty peanut butter fruit dip. This mixture is a great way to get your kids to eat more produce without complaining or putting up a fight.
6. Grab-and-Go Veggie Cups Snack
Are you looking for another way to get your kids to eat more veggies? Then try this avocado-based dip to make these Grab-and-go veggie cups. We guarantee that it is vegan friendly, gluten free and loaded with healthy fats. It will surely be a hit with the entire family!
8. Banana Ice-Cream Snack
What's better than a big bowl of ice cream? How about a big bowl of this healthy homemade banana and chocolate ice cream? This recipe is so easy and simple that all it takes is some frozen bananas and some cocoa to make this cold, delicious treat that your kids are sure to love. They're happy that they've gotten their bowl of ice cream and you're happy that it's healthy and without all those added sugar and unhealthy ingredients! It's a win-win for everyone!
9. Grilled Cheese Bites Snack
Cheese slices and crescent rolls were literally made to be together. Nothing is as amazing as pulling apart that warm roll with stringy cheese coming out. Can you say Yumm???
These easy and yummy grilled cheese bites are the perfect snack or addition to your tomato soup!
10. Breakfast Balls Snack
Some days, it's just not possible or even practical to make a big breakfast. That's where these Breakfast Balls come in! They are a great source of protein that your little one needs to start their morning and can be made ahead of time and kept in the freezer or fridge for several days (as if they would last that long).
But, you don't have to wait until morning to try these tasty little snacks. They also make the perfect bite-sized snack any time of day. All you need are granola bars or oats, almonds, dark chocolate and almond butter!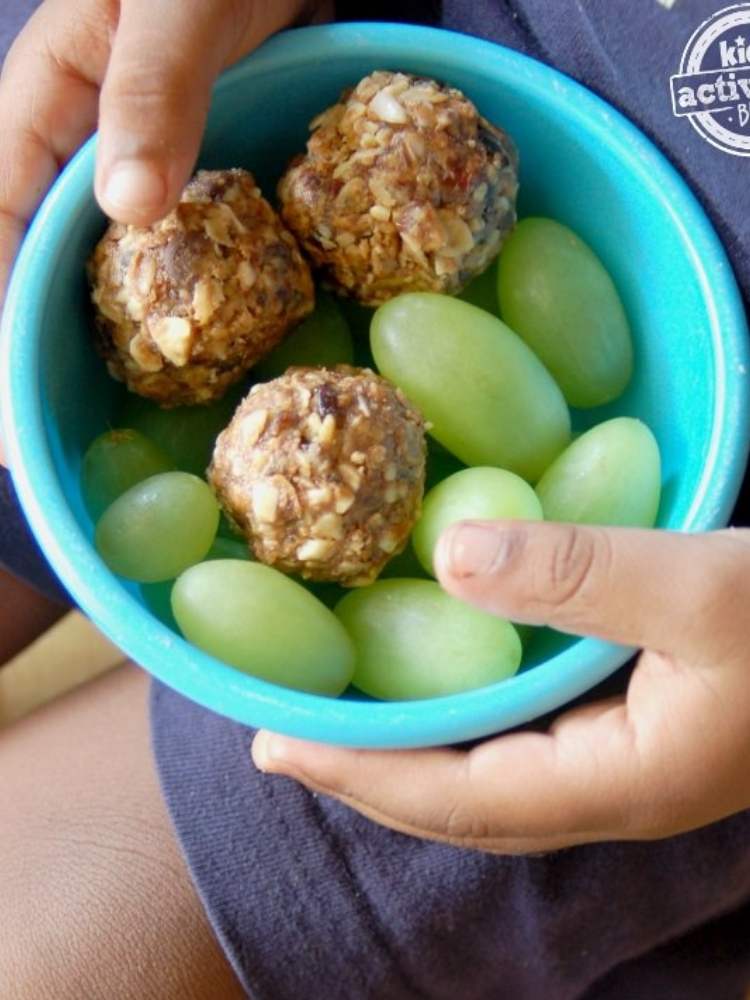 11. Chocolate-Peanut Butter Granola Apple Bites Snack
We all know that an apple a day keeps the doctor away, but sometimes we want a little more than a plain apple. If you're ready to take your apples to the next level, then try these Chocolate-Peanut Butter Granola Apple Bites!
This chocolatey, peanut butter treat makes the perfect mid-day snack to keep your kiddos feeling satisfied and full!
12. Celery and Peanut Butter in a Jar Snack
If you're looking for another healthy, rich in fiber and easily portable snack, look no further than this celery and peanut butter in a jar. This makes a great school snack or a snack for a road trip.
It's simple, it's healthy, it's portable… It's a winner.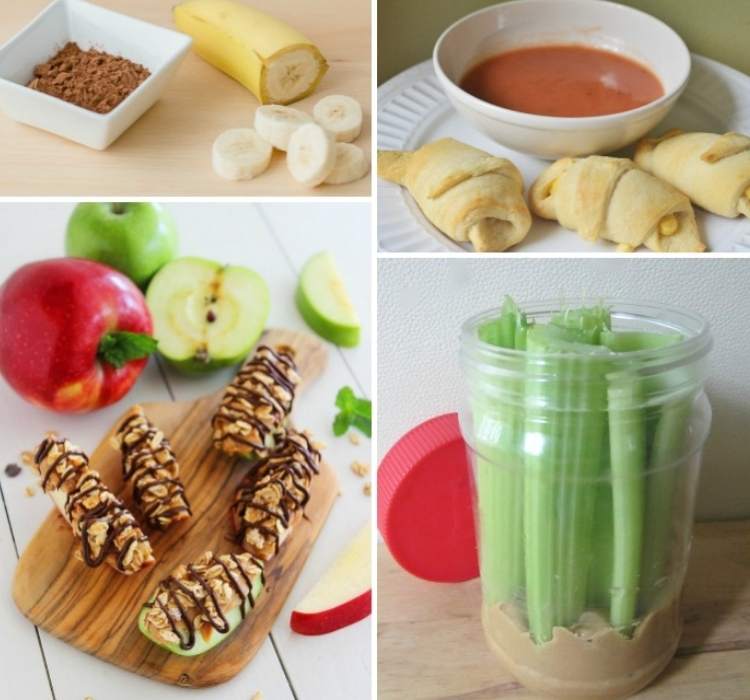 Easy Snack Ideas Kids Will Love
If you're worried about feeding a "picky-eater", we've got your back! With these simple snack ideas, you'll find something for the entire family. Even the pickiest of eaters will love these irresistibly delicious treats.
13. Homemade Instant Mac and Cheese Snack
Most kids LOVE their savory mac and cheese. But you may be wondering if it's worth it with all of those "questionable" and unhealthy ingredients.  Don't pay for those packaged mac and cheese cups at the store! Make your own instant cup of mac and cheese in a big batch with simple ingredients you probably already have on hand – macaroni, cream cheese, cottage cheese, sprinkles of salt and pepper! Not to mention, it's healthier than the store-bought kind.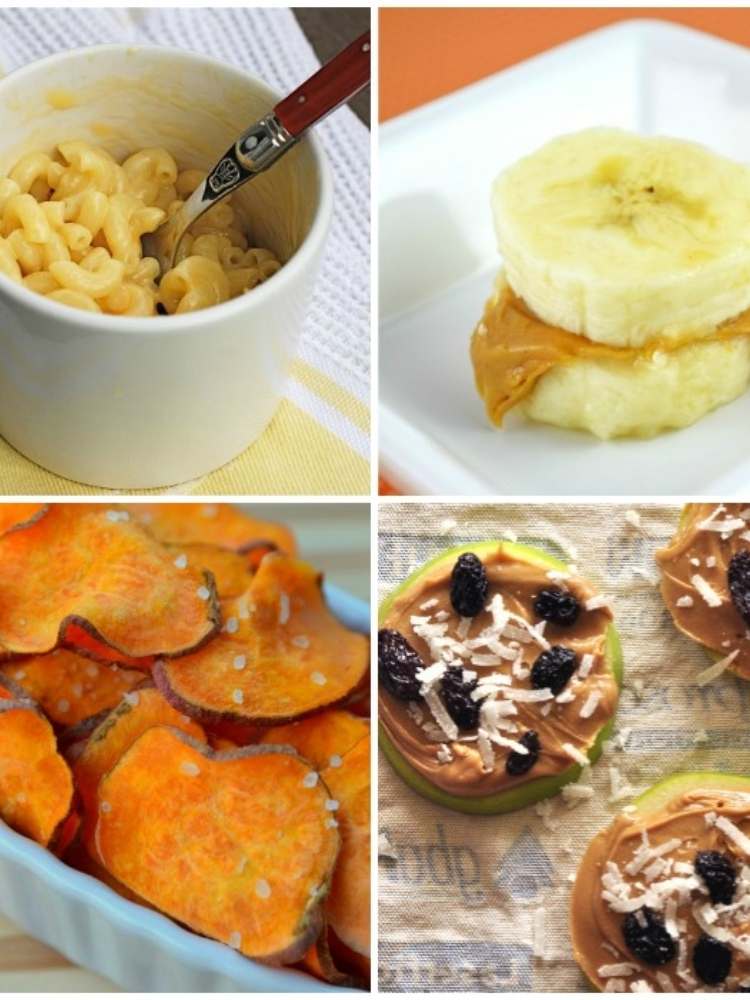 14. Peanut Butter and Banana Bites Snack
Peanut butter and banana bites are the ultimate kid's snack. All you have to do is slice the bananas into circles or cut them lengthwise. Either way, it's super easy and super tasty.
Tasty Tip: If you want to make them even more filling and fun, then you can add a few chocolate chips, some shredded coconut, or some chopped nuts and cinnamon.
15. Healthy Sweet Potato Chips Snack
You don't have to settle for store-bought, bagged chips, no matter how easy and tasty they may be. If you want to make something that is more substantial and healthier, try making these healthy sweet potato chips in the microwave. You will only need thinly sliced potatoes,  olive oil and salt. It only takes minutes to make. You can even try different spices and herbs to change up the flavor. For variety, you can try replacing the potato with zucchini!
16. Peanut Butter Cheerio Bars Snack
When you think of staple foods for kids, you probably think of cheerios and peanut butter. So why not mix them together? Try these Peanut Butter Cheerio Bars. They only require 3 ingredients, and they're perfect as after-game snacks. They're also easy to pack for school snacks or road trips!
17. Apple Cookies Snack
Do your kids ask for cookies every day? Then why not try these delicious and yummy Apple Cookies?  Simply cut some apple slices and then top with peanut butter, raisins, and coconut! Your kids will love these easy and healthy "cookies" as much as you do!
18. Frozen PB&J Snack
We all love a good old fashion PB&J, right? But if you thought peanut butter and jelly sandwiches were easy, have you tried freezing them? It saves even more time and is just as tasty! The kids will love this frozen version of an old classic.
Easy and Simple Snack Ideas that Any Parent Can Make
There are times as parents where we can be a regular June Cleaver, whipping out extravagant and time-consuming snacks for our kids. But let's face it, not everyone wants to be stuck in the kitchen all day long. Because "ain't nobody got time for that". Am I right?
For those of us who want to spend our time outside of the kitchen, these snack ideas are a great way to add some healthy and easy variety to your kid's snacks!
Love these? Check out more of our delicious snack and meal-themed posts:
Which snack ideas are you going to make first?