It's that time of year again. The leaves are falling from the trees, there's a chill in the air, and you want to serve something warm and filling for dinner. Folks, soup is where it's at. It's so easy to throw together a tasty soup in the crock pot or on the stove from whatever you have in your kitchen and pantry. Easy soup recipes are the best!!
This Easy Chicken Tortilla Soup pulls double duty! Have soup one night, and serve it as chicken tacos the next night.
Italian Sausage Soup with Zucchini Noodles is a delicious and healthy choice if you're watching your carbs and your waistline.
No matter how old you are, nothing makes you feel better when you're under the weather than a big, steaming bowl of Old Fashioned Chicken Soup. Add noodles to this recipe for a chicken noodle soup that the whole family will love!
Warm, rich, chunky and filling, this Slow Cooker Chicken Parmesan Quinoa Soup is perfect for a cold winter's day.
Black Bean Soup is both frugal and delicious. You can't beat that!
Delicious Soup Recipes
Low-carb Stuffed Pepper Soup will warm you up without overloading on carbs.
Mmm… Hamburger Soup with a slice of yellow cornbread sounds like heaven, doesn't it?
For a creamy and colorful dish, try Moroccan Carrot Red Lentil Soup. Isn't it gorgeous?
Make some grilled cheese sandwiches to go with this simple and flavorful Crockpot Tomato Basil Parmesan Soup.
This creamy Cheeseburger Soup is loaded with cheese, ground beef, bacon and potatoes. I think I'm in love.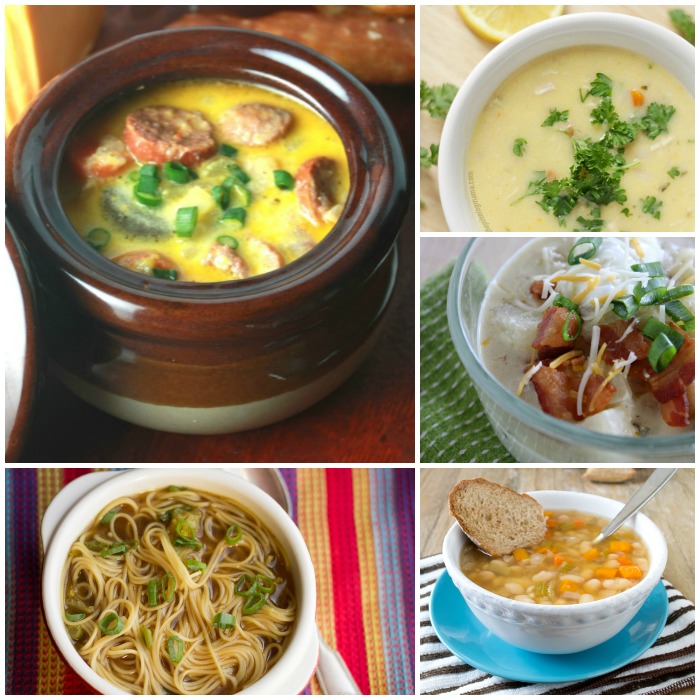 Thick & Hearty Soups
Loaded Baked Potato Soup is my personal favorite. Love that this recipe uses both red and gold potatoes.
For another frugal soup option, make Italian Vegetarian Bean Soup in the slow cooker. Add sausage for even more flavor.
The guys will go crazy for Louisiana Beer Cheese Soup. It's chock full of meat, potatoes, cheese and beer.
Short on time? This 5-Ingredient Lemon Chicken Soup only takes 10 minutes to make!
Make Quick and Easy Chinese Noodle Soup when you're in the mood for takeout but don't want to pay the price tag.
Soups to Warm You Up
If you prefer soups on the lighter side, Simple Southwest Chicken and Rice Soup is just the ticket.
Jalapeno Popper Soup sounds delicious. The best part? You can make it in about 30 minutes. Score.
Pair this Roasted Red Pepper Brie Soup with a crusty bread and a fresh salad for a delicious lunch!
Weight Watchers folks, rejoice! This yummy Tortellini Soup is only 3 points per cup.
Think soup isn't filling enough? Chicken Meatball Soup will prove you wrong. Just look at those big hunks of meat and veggies!