Ever wonder how to use mesh laundry bags to make your life easier? Mesh laundry bags are one of those invaluable laundry gadgets that you may or may not have ever used. If you haven't ever used one, you are seriously missing out! There are so many creative mesh laundry bag ideas–beyond keeping delicates safe in the wash!
Some ideas are just so brilliant that when you come across them, you literally smack yourself in the forehead because you've never thought of it before. For me, one of those is the number of ways you can use mesh laundry bags. 
I first stumbled across the dishwasher tip (brilliant!) and then the sock tip… and before you know it, we have a whole collection of ways to use them. Mesh bags aren't just for washing clothes, anymore!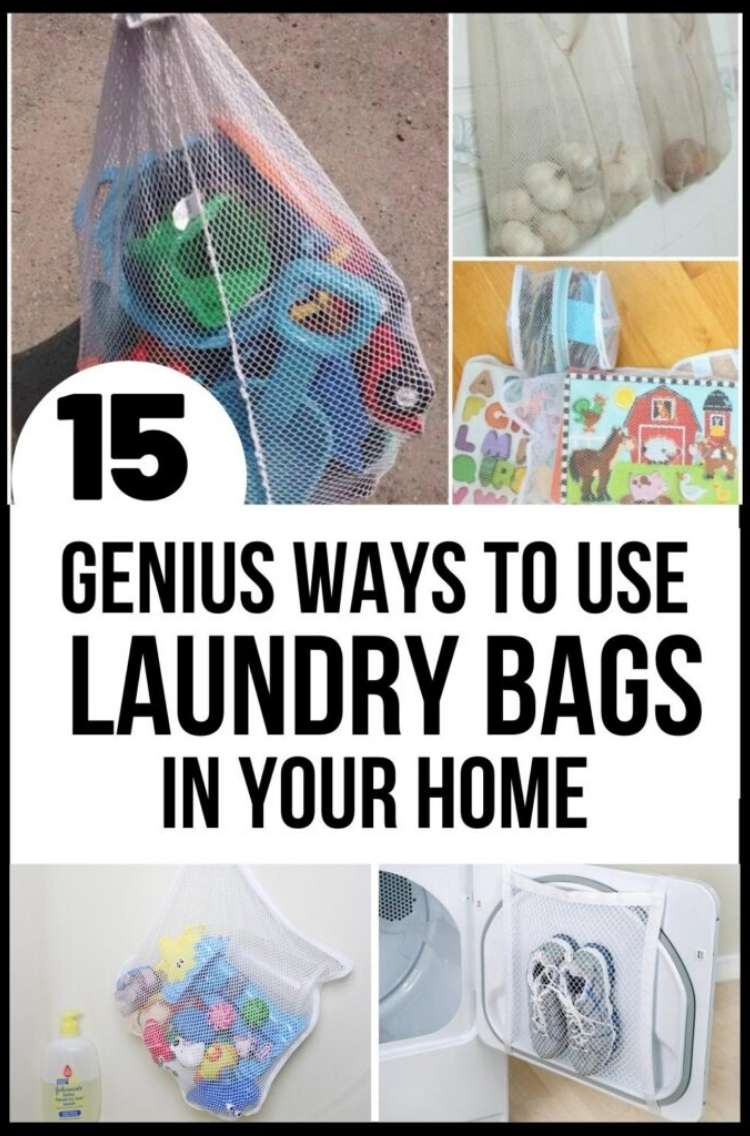 Genius Mesh Laundry Bag Ideas
Even if you have used mesh bags before, I'm willing to gamble that you don't know all these different tricks and ways that you can use them. Grab these mesh laundry bag ideas to make your housekeeping tasks easier. Whether you are trying to tidy up your laundry baskets and storage areas, save your delicate garments from the washer or dryer, or looking for ways to quickly and easily dry bath or beach toys, we have a mesh laundry bag solution for you! It might become your favorite laundry hack moving forward!
What Are Mesh Laundry Bags?
Mesh bags are inexpensive little bags that many people use to put their undergarments or delicate fabrics in when washing, to prevent them from snagging, twisting, or becoming misshapen.
Tips For Buying and Using Mesh Laundry Bags
You can generally find two different styles of laundry bags: zippered and drawstring. It's probably best to buy a drawstring bag with zipper closure to prevent any tangling around clothes.

Avoid overfilling your bag.

The items inside won't get clean unless they can move around within the bag.

Buy multiples in different sizes.

You want to use a size that's appropriate for the items that you are washing. Also, as you expand the ways you use these handy dandy items, you'll find that you need different sizes and will likely use several at the same time for different jobs.
1. Use Mesh Laundry Bags to Store Onions and Potatoes 
Onions and potatoes should ideally be stored in a dry, dark, and well-ventilated area, away from each other. Store onions and potatoes in an over-the-door laundry bag in your pantry. They will stay fresh longer and you'll be able to see through the bag to tell their availability.
This also works great for other vegetables or herbs like garlic. I also love this hack because it saves me precious shelf space in my cabinets. Worth mentioning again: make sure that you are not keeping your onions and potatoes together as this can make them go bad quicker!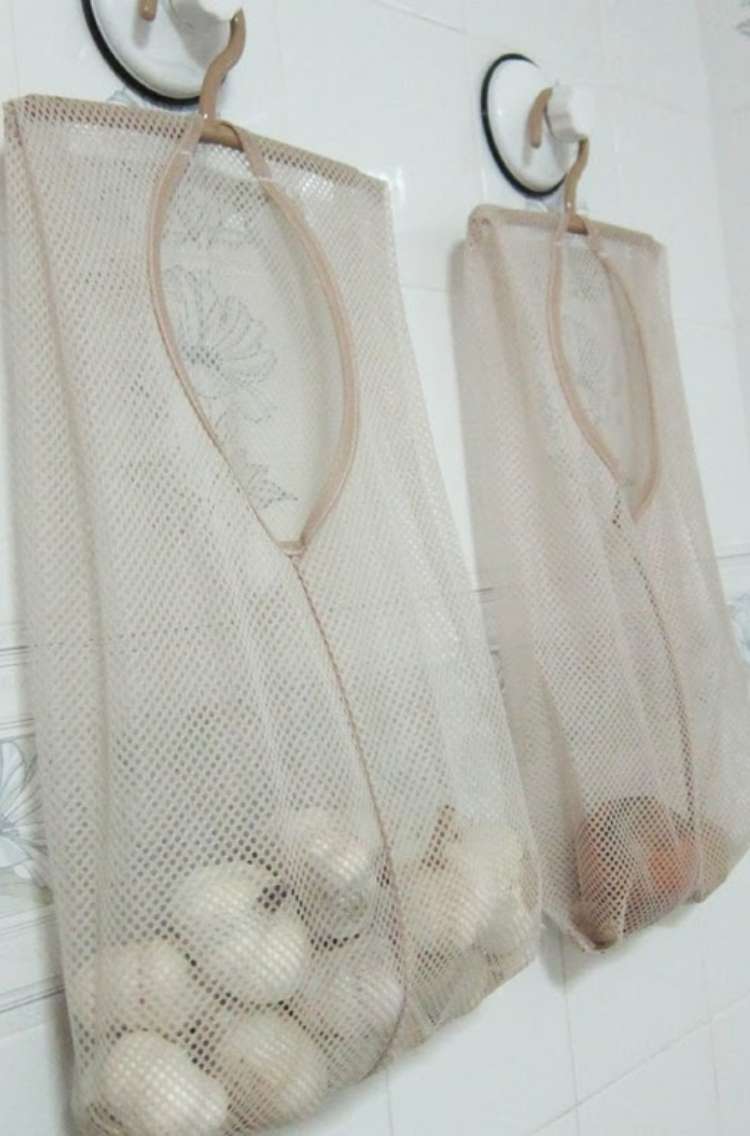 2. Use Mesh Laundry Bags To Help Keep Sand Out of Toys (And Your Car!)
There's no better way to transport toys to and from the beach. A mesh wash bag allows the sand to filter out so it doesn't get in your vehicle or your house. Win!
This tip also works for taking toys to the local park. Not only does this allow for the sand to fall right out, it provides a super simple way to store the beach or park toys for the next fun adventure! Just grab and go have fun.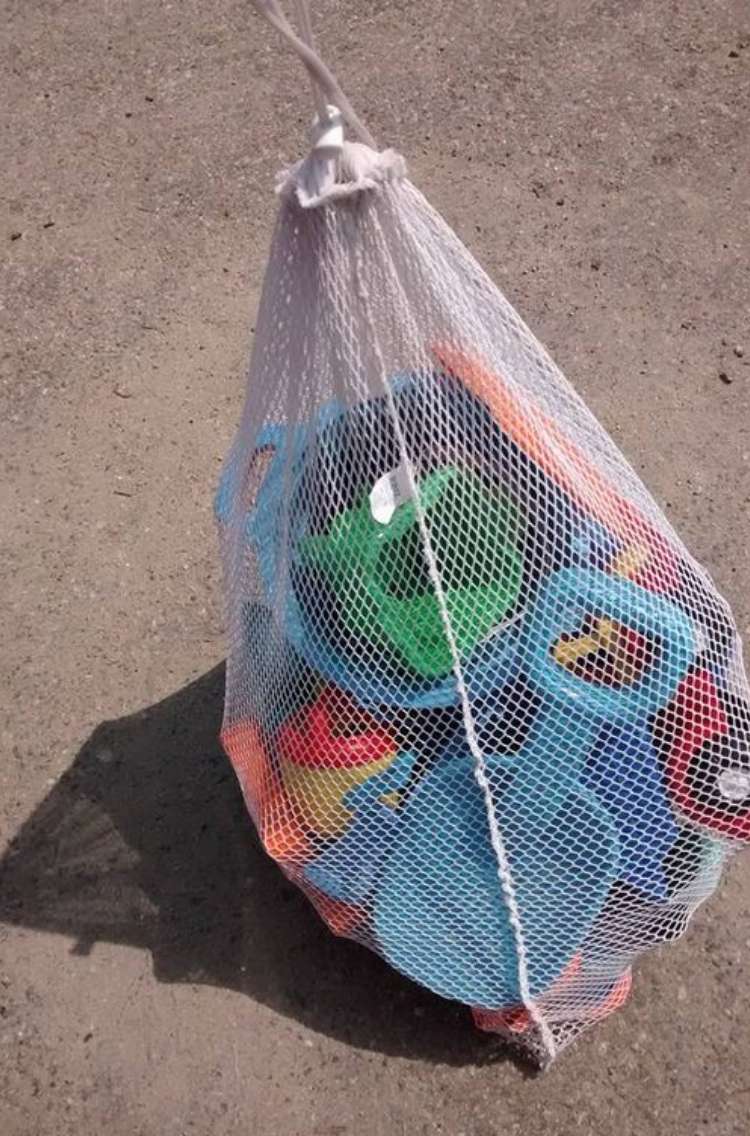 3. Carry Bigger Items in a Mesh Laundry Hamper
Here's the same concept using an expandable mesh hamper instead. You might want to go this route if you have larger sand toys that you need to carry around, such as buckets or sifters. Items that won't fit into a standard mesh laundry bag will fit in a mesh laundry hamper. 
For more beach ideas, catch our other beach hacks before hitting the sand!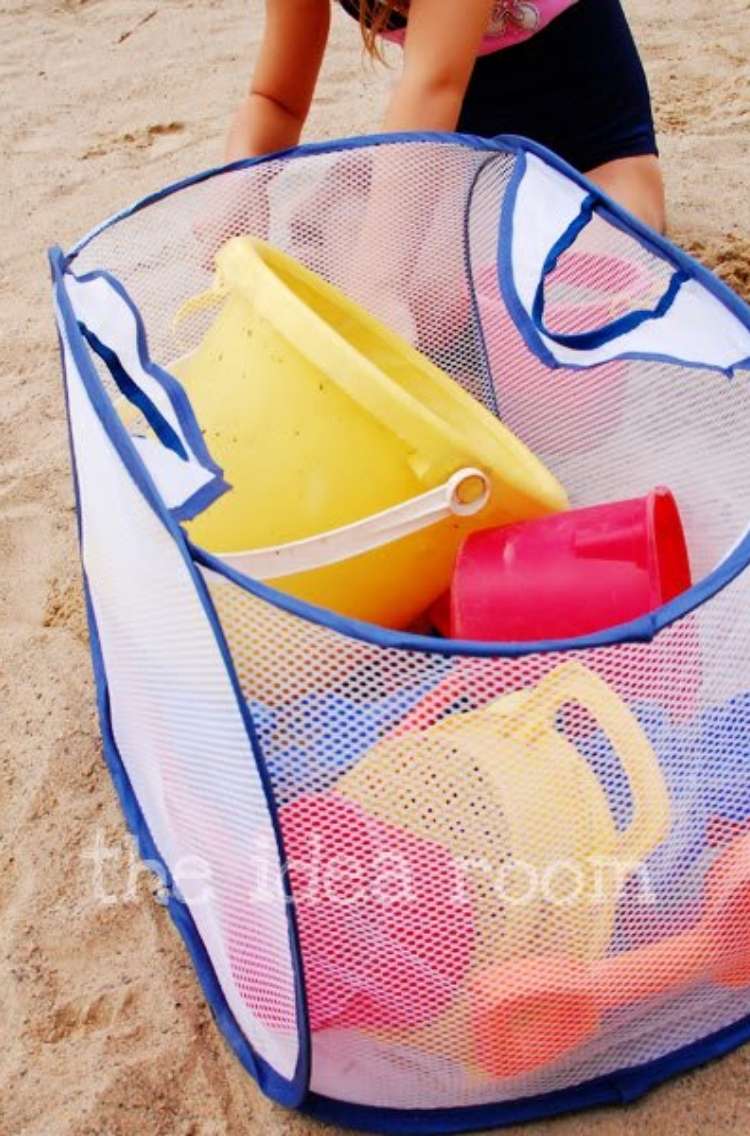 4. Never Lose Socks Again with Mesh Laundry Bags
Wash socks in a mesh laundry bag to keep them separated from the other things that you're washing. It'll be so much easier to match them up when you're done and you'll never lose socks again. This hack can also save you some money since a clogged dryer vent can be expensive to fix, not to mention dangerous! 
5. Better Hanging Fruit Basket
Make a better hanging fruit basket with colanders and a large mesh laundry bag to keep the bugs at bay. You could also modify this to use outside for a barbeque or picnic.
Use the colanders to cover your plated food, and keep it inside the zipped mesh bag on the table. This will keep the food fresh, and the mesh laundry bag clean.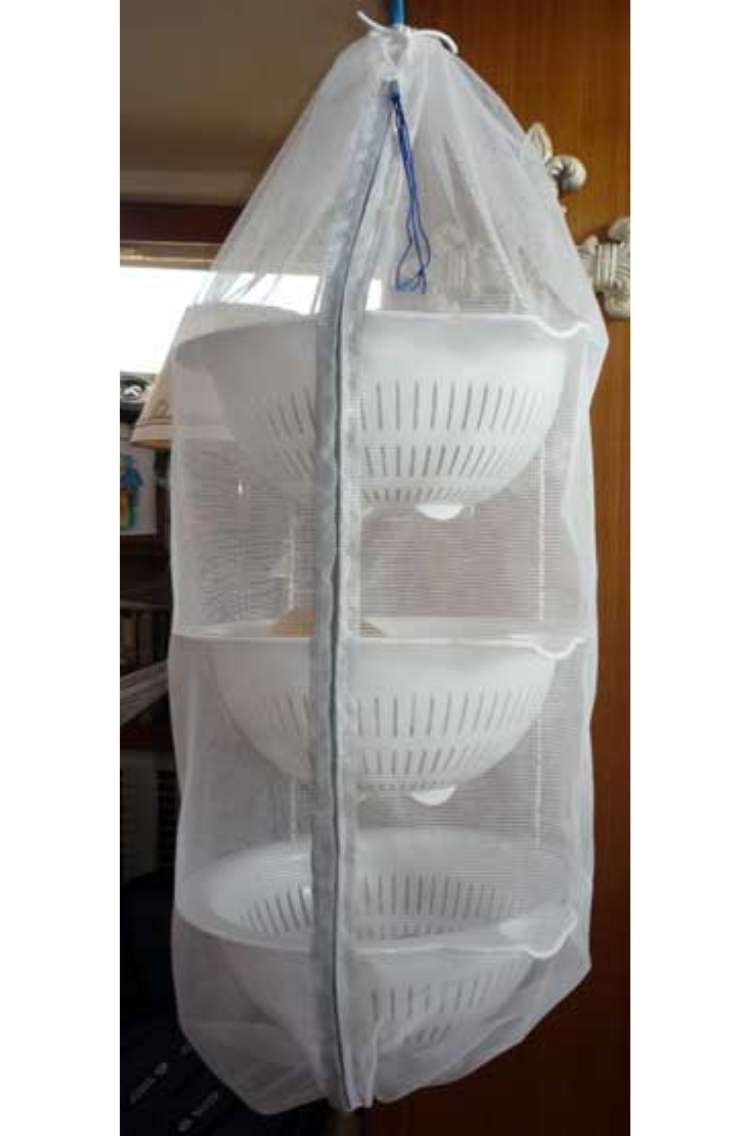 6. Clean Legos and Other Toys Easily with Mesh Laundry Bags
Have you ever thought about all the germs on your kids' Legos? How often do you clean them? (Confession from me: almost never)! Put all those little pieces in a laundry bag, and run them through a gentle cycle.
If you're afraid the washer will be too rough on them, run them through the dishwasher, instead. This could also work for doll clothes and accessories.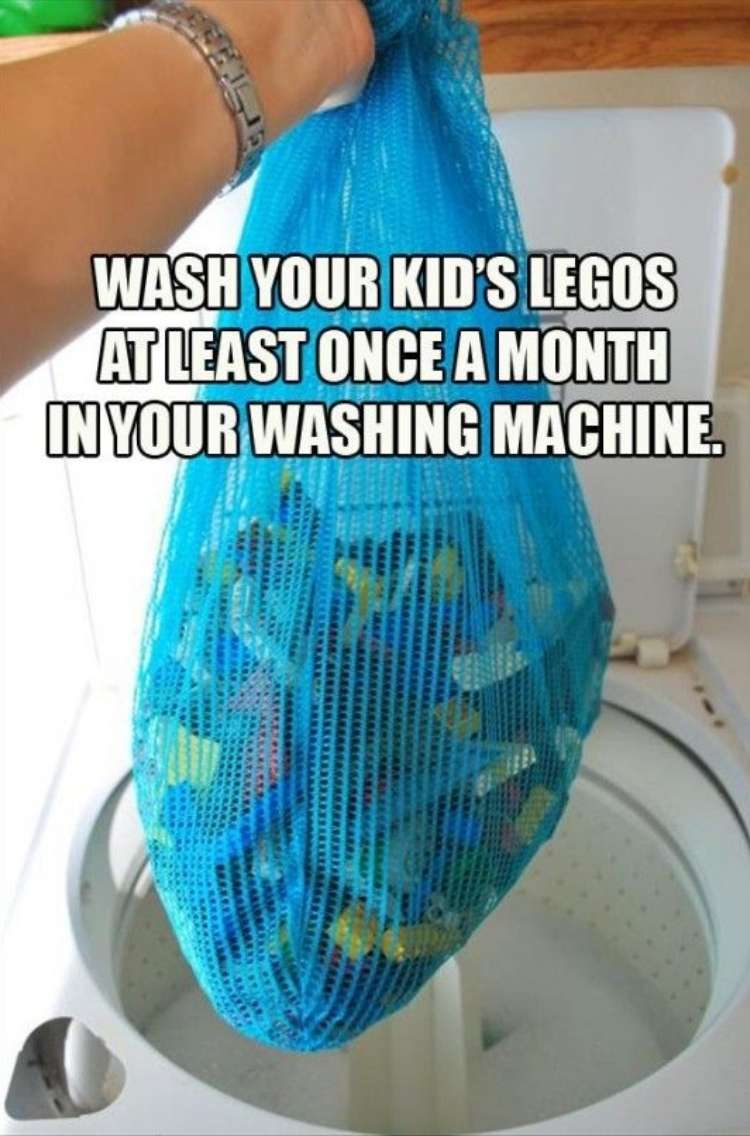 7. Use Mesh Laundry bags to Store Bathroom Toys
Add one to the bathroom to store your kids' bath toys when they're not in use. They'll drip dry, so you won't have to worry about icky mold. The toys will always be easily accessible, and they won't take up and valuable storage space in your bathroom. 
Grab even more helpful bath toy storage ideas! 
8. Dry Dishes When Camping with Mesh Laundry Bags
Hang dishes out to dry while you're camping.
Genius!
You won't have to clutter up table space with drying dishes or spend precious relaxation (or hiking and fishing) time hand-drying dishes. Keep everyone's plate and cup set together in individual mesh bags. Once dry, you can also store them in mesh bags for easy access the next time you are ready to go camping. Using mesh laundry bags to dry dishes is also a great idea for long beach days!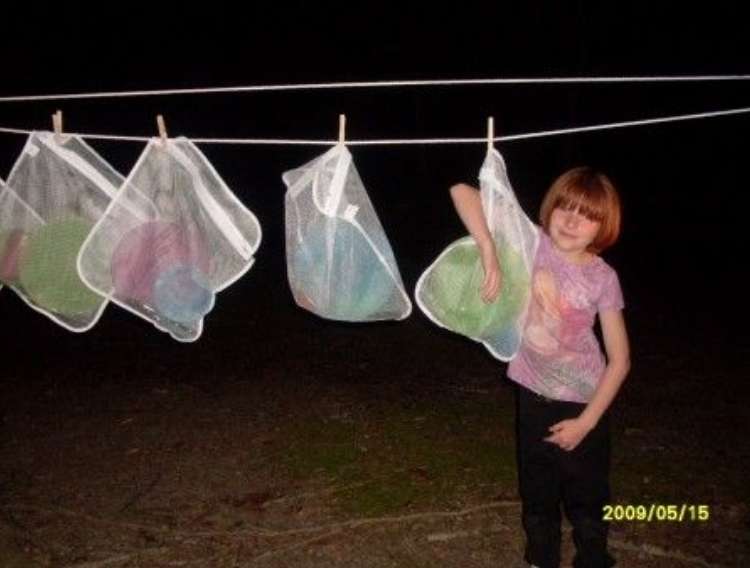 9. Use Mesh Laundry Hampers to Dry Herbs
Dry herbs the easy way! Just install plant hooks outdoors, put your herbs inside the mesh hampers, and hang them up. 
If you live in a windy area, loop the handles around the hooks a couple of times to make sure they're really secure.  You might also be able to tie the branches of the herbs toward the top of the hamper to have them hanging down on the 4 sides for maximum airiness.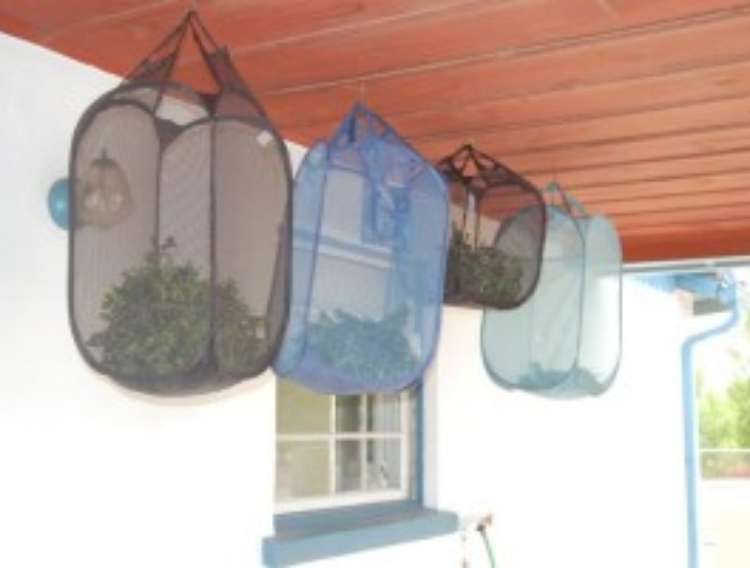 10. Mesh Laundry Bags for Pool Toy Storage
What do you do with all those pool toys when they're not in use? Wrangle them in a mesh bag so they can dry, of course! Does this one remind you of the bathtub storage idea? It should! It's the same concept and makes it easy to grab those pool toys and go when it's time to swim. Once pool time is over, hang it up to dry everything out, and then store it away!
11. Easily Keep (and find!) Puzzles With Their Pieces Using Zippered Mesh Laundry Bags 
Keep puzzles and all their pieces together in small mesh laundry bags. This tip is perfect for those heavy-duty wooden puzzles that you want to pass down from child to child. This could also work well with other toys or games, like dolls and accessories, or board games.
12. Use Mesh Laundry Bags to Aid with Washing Small Articles in the Dishwasher
Use a mesh laundry bag as a dishwashing aid. Put lids, baby pacifiers, fruit strainers, bottle pieces, and any other odds and ends in there to keep them in one easy-to-find place. You can also use the mesh laundry bag to wash more delicate toys in the dishwasher.
13. Use Mesh Laundry Bags as Sports Equipment Bag 
Use one as an activity bag for sports equipment. All sports stuff gets super sweaty and super dirty. I'm talking sweaty gym clothes, cleats, uniforms, you name it. You definitely want to let it all air out until you get time to wash it, and a mesh bag does that job perfectly!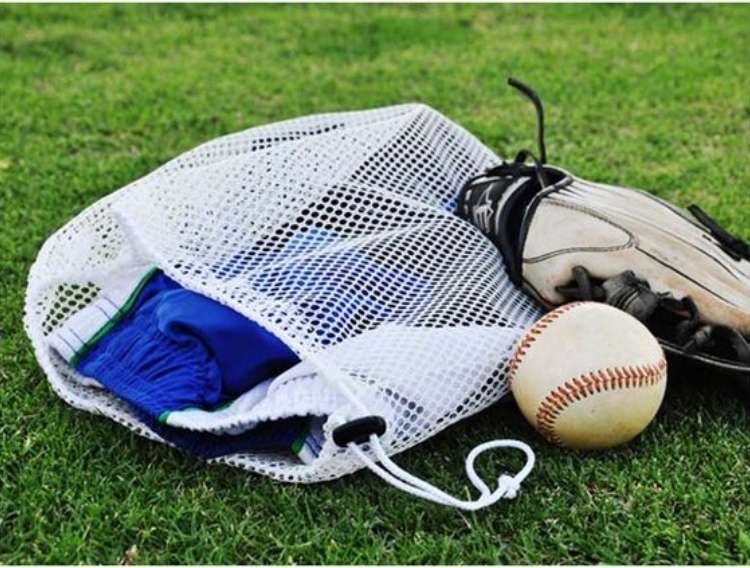 14. Wash Stuffed Animals Safely in Mesh Laundry Bags
Have you ever thought about all the germs on your kids' stuffed animals? Stomach bugs, lice, snotty noses, and more all live on stuffed animals. From time to time, those beloved stuffed animals just need a good washing.
After checking your child's stuffed animals to make sure pieces are securely attached, throw them into a large mesh laundry bag before putting them in the washing machine.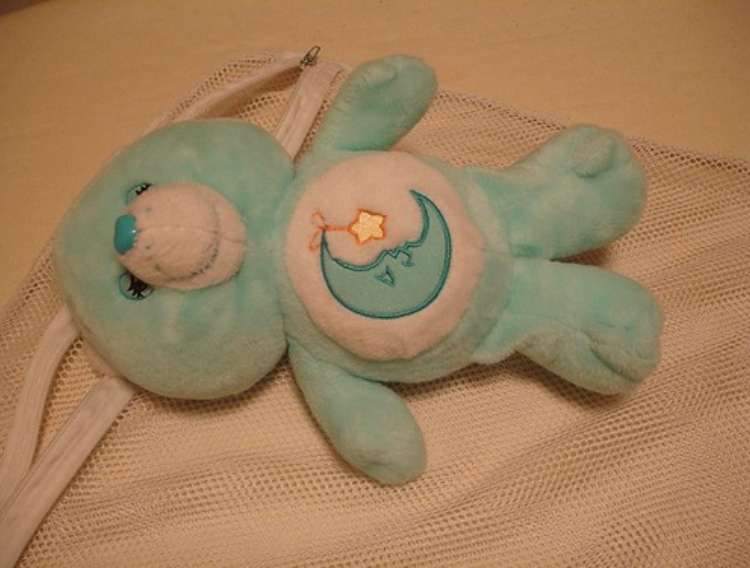 15. Create a DIY Shoe Net to Safely Dry Shoes in Your Dryer with a Mesh Laundry Bag 
Although there are shoe nets designed for this purpose, you can always make a DIY shoe net out of a mesh bag and some string or tape. Attach it to the inside of your dryer door to dry those sports shoes without listening to them banging around.
I hope these tips will help you get clean and organized!
More From One Crazy House:
Which of these awesome mesh laundry bag ideas is your favorite? Let us know in the comments!