Make summer's favorite dessert even easier without the time or work required for a standard ice cream recipe. No churn ice cream is so easy to make that kids can help make it. Give all these indulgent flavors a try!
We love ice cream in our home, whether it's plain, with toppings, scooped in a bowl, or even piled high on a sugar cone. It doesn't matter how it's delivered; our family won't say no to that summertime delight. 
We recently started trying out some new no-churn ice cream recipes, and boy-oh-boy they are delicious! You get that creamy ice cream texture and flavors that just burst on your tastebuds. 
If you don't have an ice cream maker – or don't want the hassle of USING your ice cream maker, then no-churn ice cream is for you.
What is No-Churn Ice Cream?
Creamy, indulgent ice cream can take quite some time to make. (I'm totally thinking about the ice and the rock salt and the churning right now.) However, with no-churn ice cream recipes, you can forget about all that!
All you need to make delicious, creamy no-churn ice cream is a blender, a 9×5 loaf pan, and some common ingredients. Try this affordable way to make homemade ice cream without having to turn the ice cream machine handle. 
Check out these satisfyingly sweet ice cream recipes below.
No-Churn Ice Cream Recipes
Feast your eyes on these super easy no-churn ice cream recipes below! They are a breeze to make and will cool you off during those hot summer days that are on the horizon! Plus, if your kids are anything like mine, they will love helping you whip up a new flavor combination!
All you need is 3 simple ingredients to enjoy that vibrant coconut flavor in each bite which is creamy and delicious down to the last scoop. Chewy bits of sweetened coconut wrapped in rich, creamy ice cream – it's a dream for anyone who loves coconut.
This very rich flavor gives you that cheesecake flavor in an ice cream form. Use fresh or frozen blueberries, and Neufchatel cream cheese if you want to save a few calories. My favorite part is tasting the blueberries in every bite, it is so refreshing.
This ice cream is vegan, paleo, gluten-free, and full of rich superfood nutrients. Coconut matcha ice cream allows you to really whip it up in a hurry and enjoy the ice cream flavors. In fact, this green ice cream is so delicious that the kids will be too busy eating to register that they are eating antioxidants.
Yes, sign me up for a scoop of this banana Nutella ice cream! Literally, two simple ingredients create this tasty concoction that will become your family's new favorite no-churn ice cream flavor.
Show your patriotic spirit with this ice cream flavor! Great for serving up for Memorial Day, the 4th of July, or even Labor Day! Top the vibrant red and blue colors with some homemade whipped cream, sprinkles, cherries, or any other festive toppings that you love.
Vegan chocolate sweet potato is a really surprising and unique flavor that shouldn't be underestimated – or ignored. The chocolate and sweet potato really work well together and it has such a nice texture. Since it's basically just eating vegetables for dessert, you can enjoy this completely guilt-free.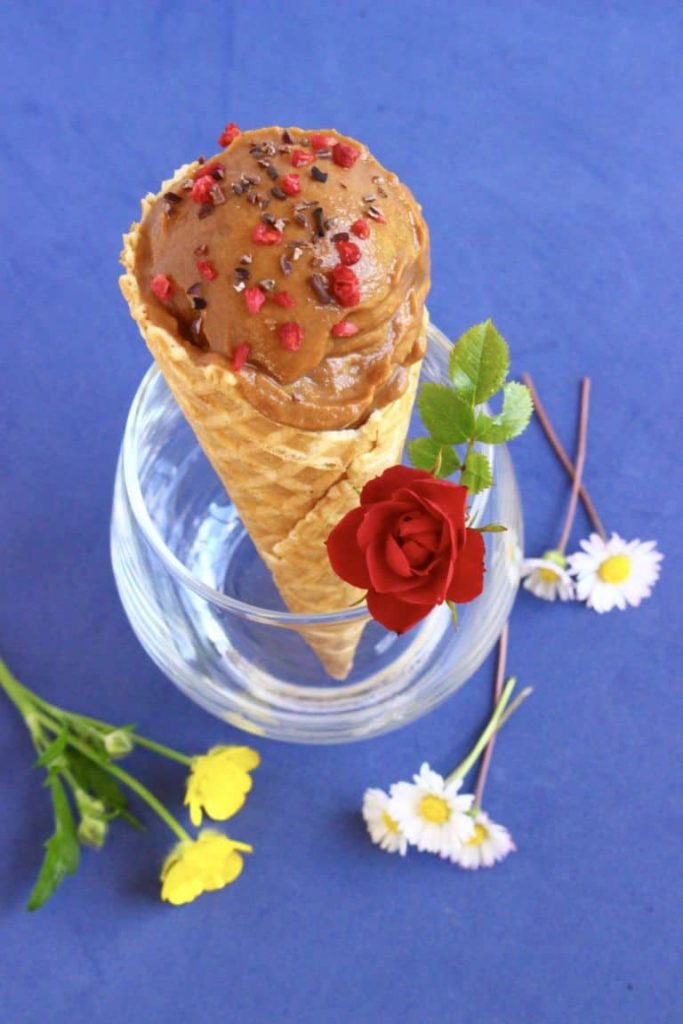 We can't forget the classic no churn chocolate mint ice cream. This is one of my all-time favorite ice cream flavors, and I love how it uses basic, everyday ingredients to create a delightful ice cream experience.
Try out this banana split no-churn ice cream at your next pool party. It gives you all those banana split flavors but without all the mess! Bonus: serve it in waffle bowls for a soda shop experience.
Cookie Monster ice cream is a bold blue with chunks of cookies throughout, that is so rich and creamy. Its vibrant color combines with its amazing flavor to create a must-make this summer. And it will remind kiddos of their favorite cookie monster.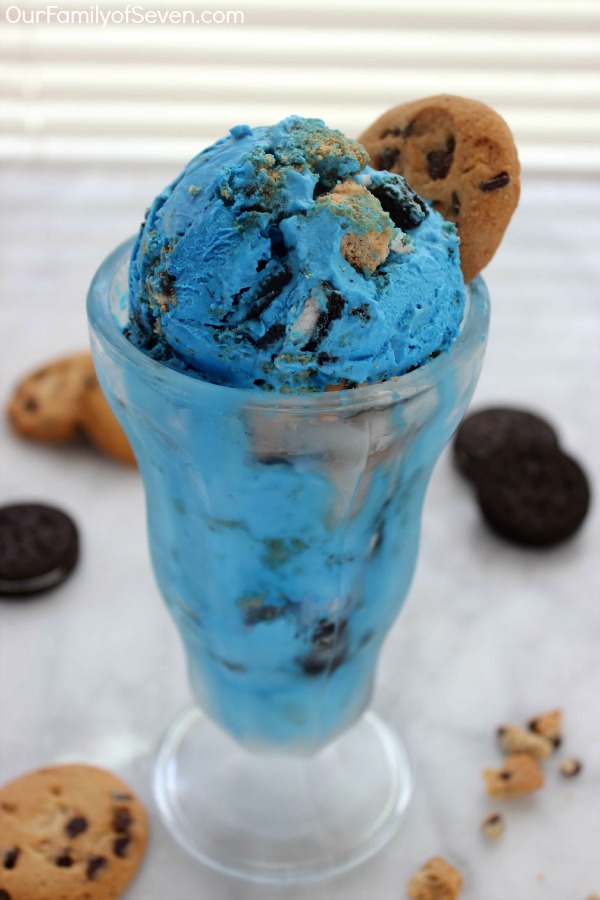 10. Vanilla
| An Italian in My Kitchen
Whip up this classic no-churn vanilla ice cream and serve alone or with your favorite toppings like chocolate, caramel, or even sprinkles. It's also perfect topped with seasonal fruit…or as a topping on some all-American apple pie.
Dulce De Leche ice cream takes just two ingredients to make. Dulce De Leche ice cream that is packed full of caramel flavor that will leave you reaching for one more bite. Just 2 ingredients and no need for an ice cream maker? Yup, sign me up.
No-churn bubble gum ice cream is one that kids go crazy for. Bubblegum ice cream offers fun colors but also chewy bites of bubblegum throughout. This flavor is a must-try and will likely become a regular repeat!
You can never go wrong with a quick and easy no-churn strawberry banana ice cream. It's a great way to use up some ripe fruit, and I love the vibrant colors and bright flavor.
14. Mocha
| Smart Savvy Living
One of my must-haves on occasion is this mocha ice cream, where you get those rich coffee flavors bursting as it melts in your mouth. Ah, a favorite for any coffee lover.
Serve up this lemon no-churn ice cream at your next summer barbeque. It gives you that light, bright citrus flavor with the creamy ice cream, that is so divine.
This no churn ice cream recipe is one of the simplest ever and it tastes like cotton candy!  I am in!
Have you ever made homemade no-churn ice cream before? 

More From One Crazy House: