Add some patriotic flair to your summer barbecue cookout with this 4th of July food ideas list. Without a doubt, you'll be surprised at the red, white, and blue creations you can make! From savory dishes like potato salad to sweet dishes like firecracker cake, you'll find lots of great patriotic food ideas and recipes here.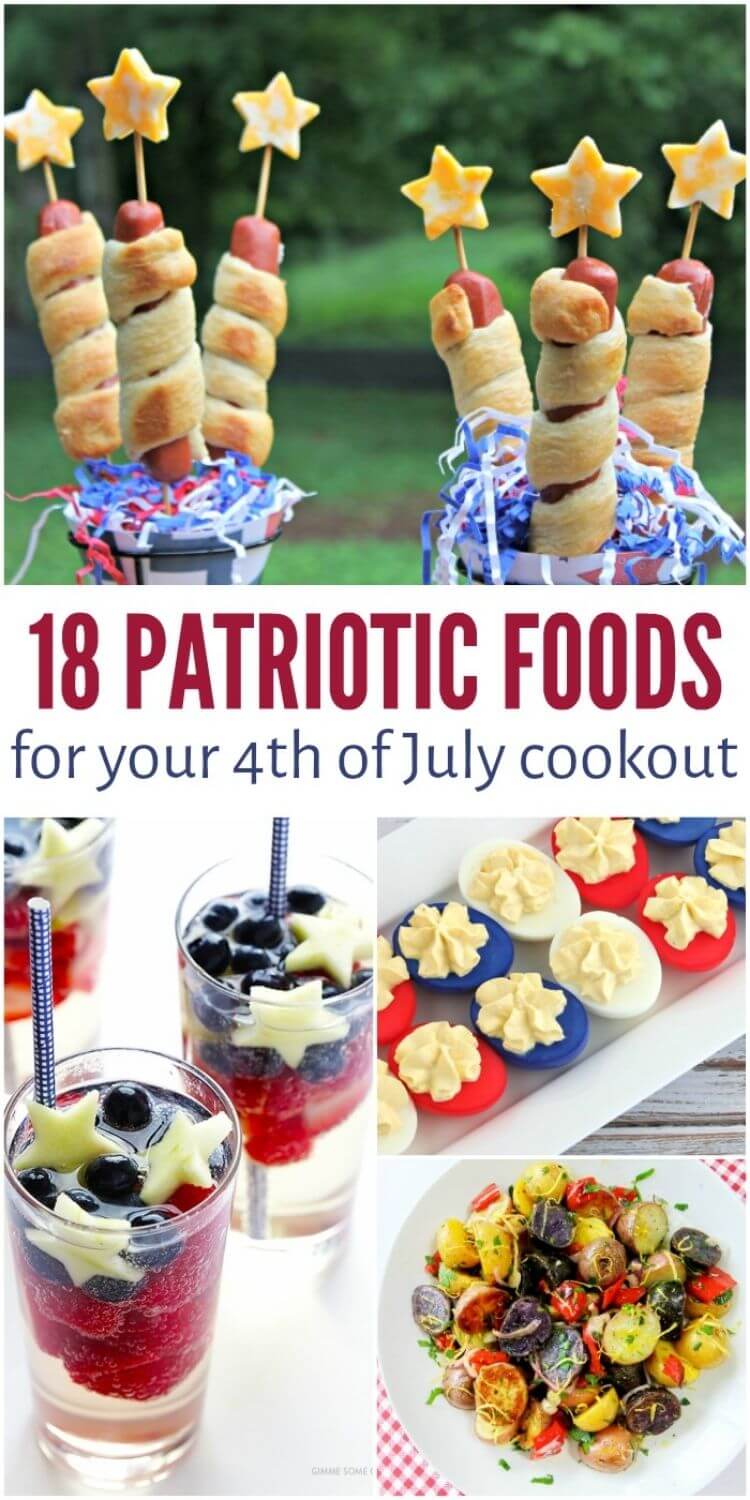 Delicious 4th Of July Food Ideas To Serve Up This Summer
One of the most American things to do on the 4th of July is having a cookout. Whether you are looking for classic food like pulled pork or something cool like a sangria drink these patriotic food ideas are sure to inspire you!
1. Cool Red, White, and Blue Popsicles – Fun Independence Day Treat
The kids will love these red, white, and blueberry popsicles and they only use three ingredients! To make them first puree blueberries and place them in the bottom of a popsicle mold. Freeze that layer. Next, add a layer of thinned-out Greek yogurt and freeze it again. Third, add a layer of pureed raspberries and freeze that layer. Keep alternating layers of yogurt and raspberries until your popsicle mold is filled.
Also, don't forget to add the popsicle stick! Not only are they a yummy treat but they are a great way to cool off on what's sure to be a hot day!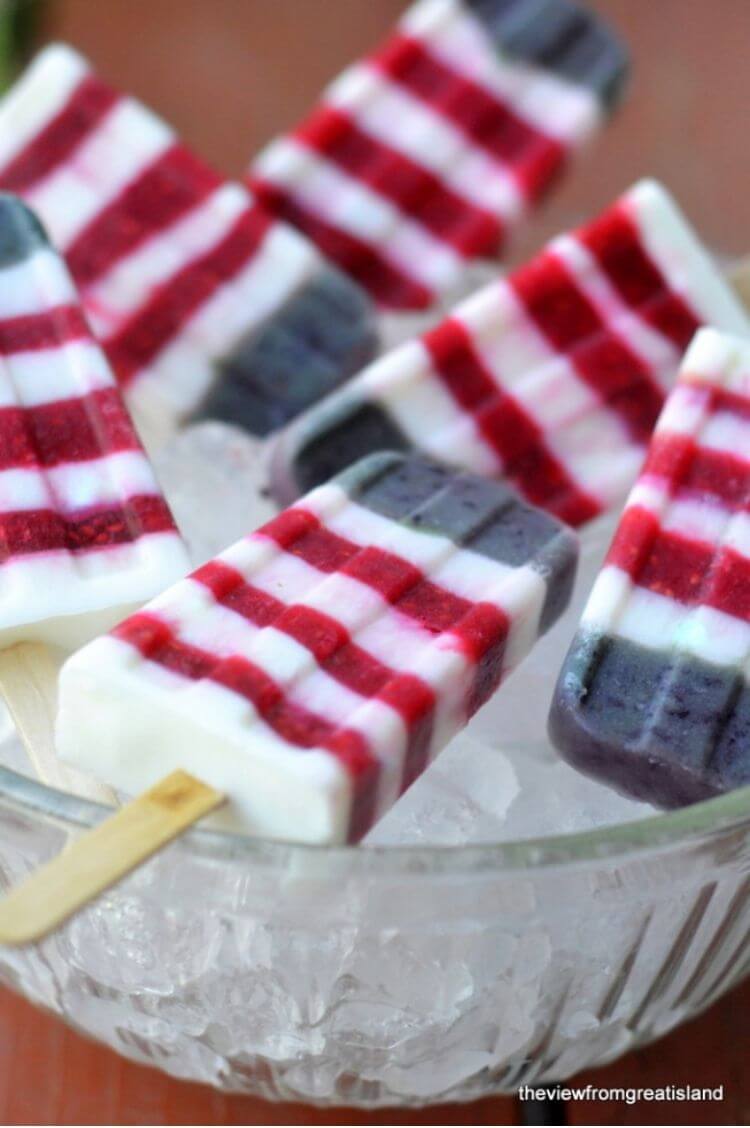 2. Patriotic Fruit Salad – Healthy 4th of July Food Idea
Enjoy a healthy patriotic fruit salad made with raspberries, blueberries, and apples. This is a creative and healthy way to celebrate the 4th of July. Who said that dessert had to be full of calories and sugar? Packed with our favorite red white and blue fruit — strawberries, blueberries and apples — this is one of those things you will want to have out to snack on during the day no matter where the 4th of July takes you.
3. Red, White, And Blue Fruit Pizza – Colorful Make-Ahead Dessert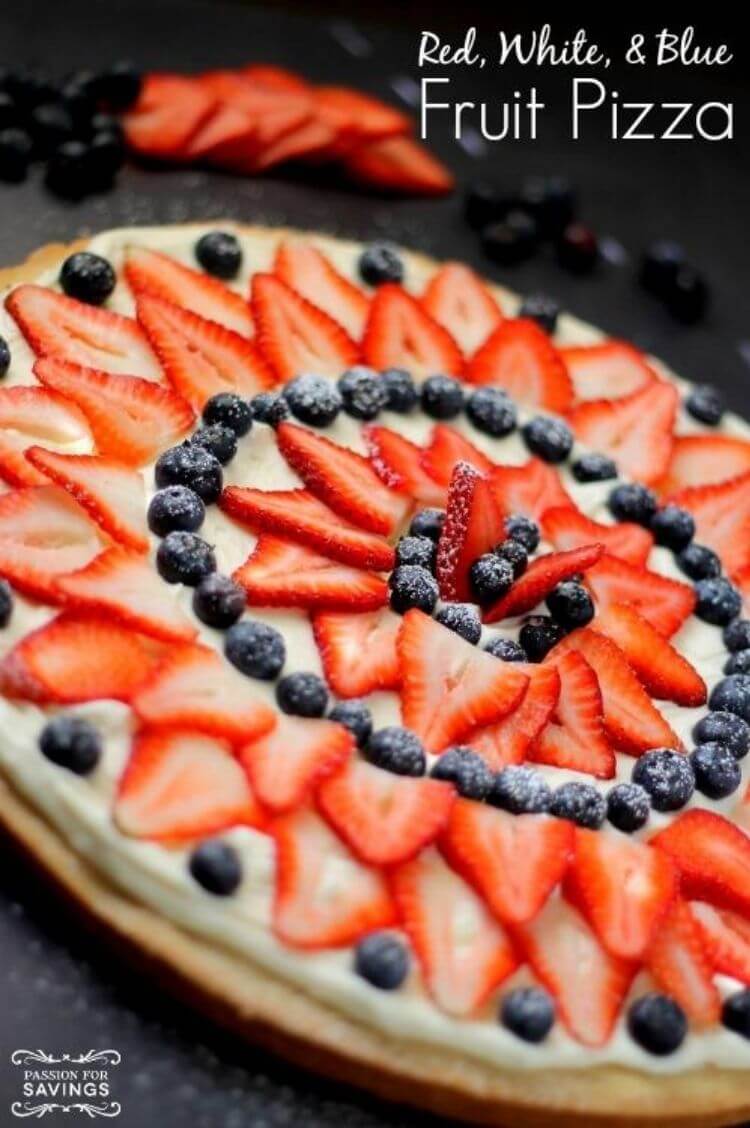 Making red, white, and blue fruit ice cubes adds patriotic flair to your drinks and are super easy. First, you add fresh rinsed berries into an ice cube tray. Second, pour water or sparkling water over the berries. Third, freeze the berry and water mixture. This super easy 4th of July food idea is the perfect extra touch for your holiday party. 
5. Watermelon, Mozzarella, and Blueberry Skewers – Light Festive Appetizer
Kick-off your cookout with these tasty watermelon, mozzarella, and blueberry skewers. Start by cutting the watermelon and mozzarella cheese into bite-size pieces. Next, use toothpicks or skewers to hold the blueberries, mozzarella cheese, and watermelon together. This recipe might seem like an odd combination but it creates a delicious Fourth of July food idea and I love the tiny little flags.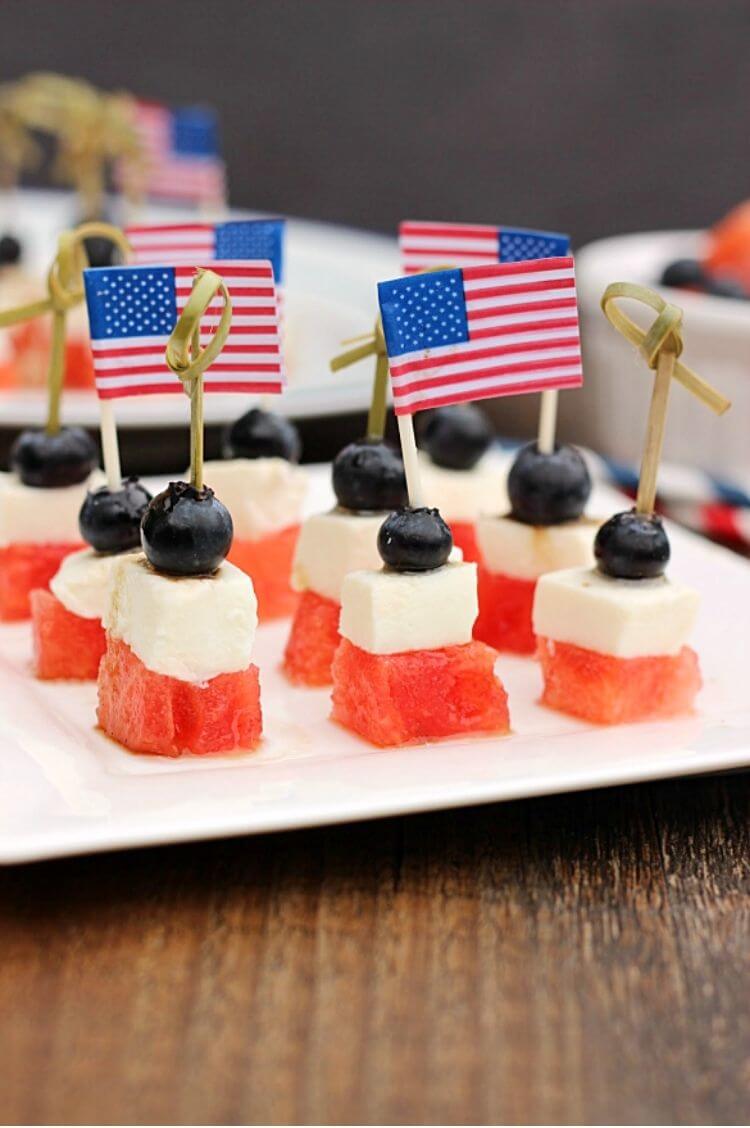 6. Blueberry, Strawberry, and Jicama Salsa – Sweet and Salty Fourth of July Food Idea
This blueberry, strawberry, and jicama salsa uses unique ingredient combinations like lime, jalapenos, onion, and of course the berries. However, those combinations bring a balanced sweet and savory flavor. Serving it with cinnamon sugar pita chips is an option for a sweet spin or regular tortilla chips for a sweet/salty combo. No matter what this summer salsa is sure to be a unique addition to your next party.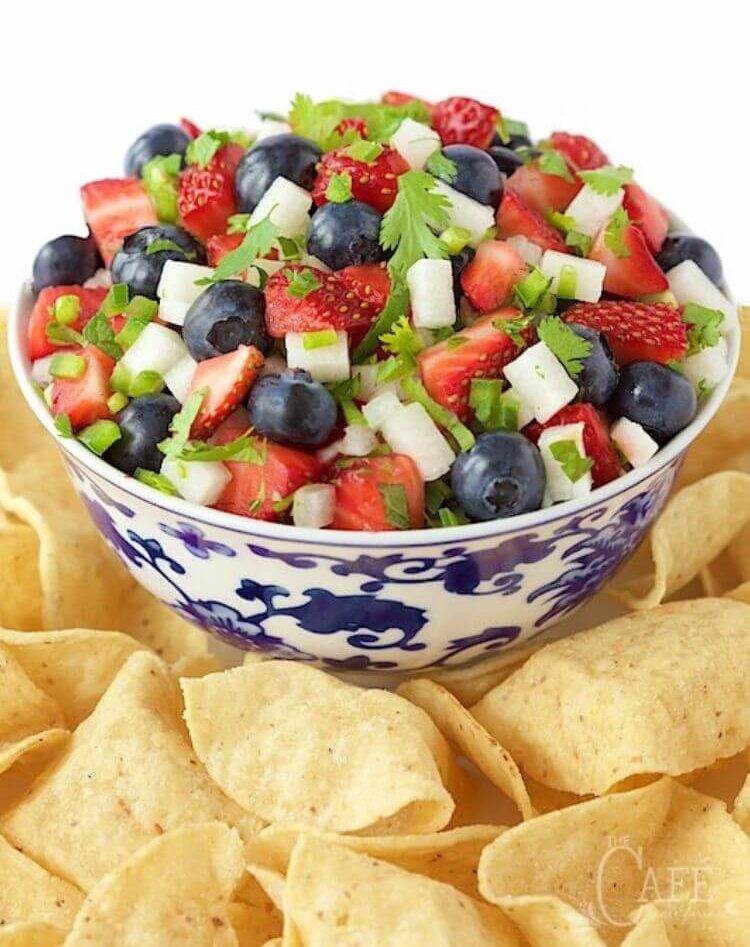 7. Red, White, and Blue Spaghetti – Fun Way to Experience a Classic Dish
This red, white, and blue spaghetti will be a huge hit with the kids! 
First, you cook your spaghetti and divide it into three even parts. Second, take one section of spaghetti and add olive oil. Next, place one section into a gallon-size storage bag and place the last remaining section into a 2nd storage bag. After that is complete, add red food dye to one bag and blue food dye to the other. Last, you'll want to keep the spaghetti separated until right before you serve. There you have it, super fun and easy way to celebrate the 4th of July or any time really.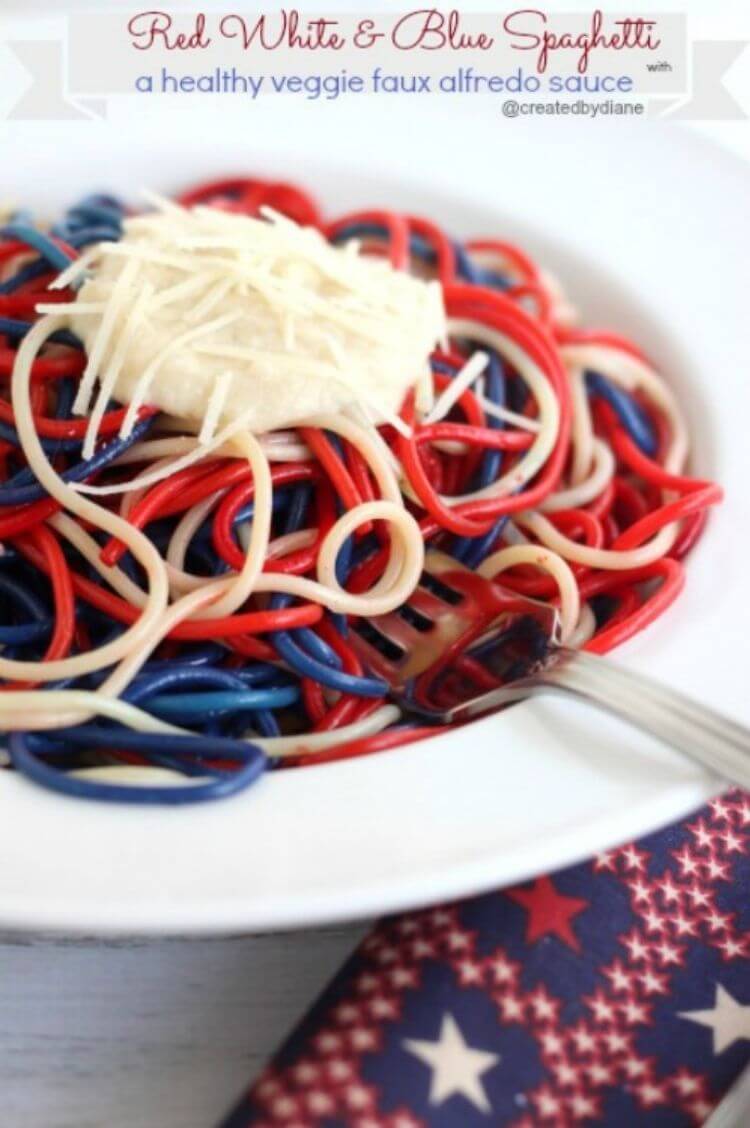 8. American Flag Veggie Tray – Healthy 4th of July Food Idea
Vegetable trays are a staple at most parties and add a healthy option too. A fun and unique spin on this BBQ classic is an American flag veggie tray. It offers the ability to include a wide variety of fresh vegetables like cherry tomatoes and cucumbers for stripes. Another option is red bell peppers and cauliflower. No matter what you put on your tray it is a surefire win for your 4th of July party. Also, don't forget the dip!
9. Firecracker Hot Dogs – Entertaining Independence Day Food Idea
Firecracker hot dogs are an easy and fun 4th of July food that your kids are sure to love! Use refrigerated bread dough and wrap it around the hot dogs before baking. Once the hot dogs have cooled you add the star-shaped cheese to the top of the skewer. Now I can never serve square and rectangular cheese again…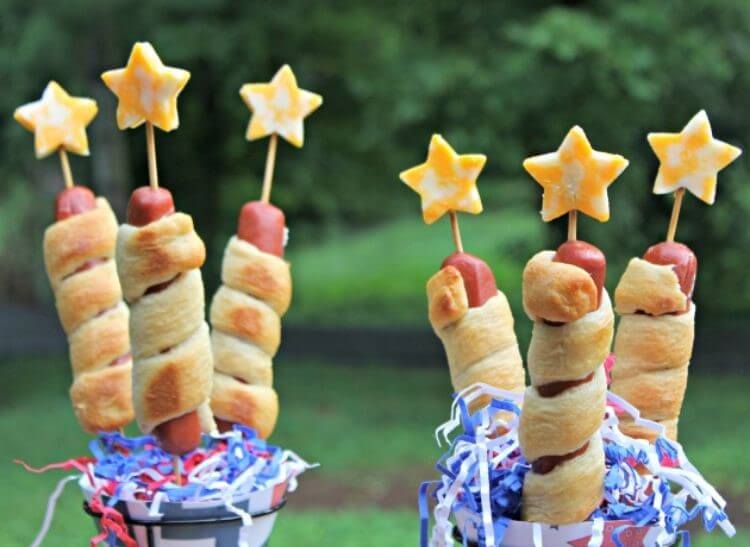 10. Sangria Red, White, and Blue Style – Fourth of July Drink Idea
Making this red, white, and blue sangria for your guests is a great way to celebrate with fresh flavors and stay cool. You can also make it kid-friendly by substituting the wine with lemon-lime soda or sparkling water. On the other hand, the adult version includes lots of fresh fruit, white wine, and sparkling white wine. Cheers!
To make this easy sangria recipe,
Stir together white wine, strawberries, blueberries, and raspberries into a pitcher. 
Refrigerate for 1-4 hours so the flavors can really mix together and your sangria gets nice and cold.
Stir in the sparkling white wine, apples, and a handful of ice.
Then pour the sangria over ice and cheers!
11. Red, White, and Blue Potato Salad – Summer Classic With a Patriotic Twist
This red, white, and blue potato salad is the perfect choice for the 4th of July. One thing you can try is to roast the potatoes instead of boiling them. It gives the dish a different flavor and really enhances the texture of the potatoes. In the end, no matter how you cook the potatoes the crowd you feed is sure to love it!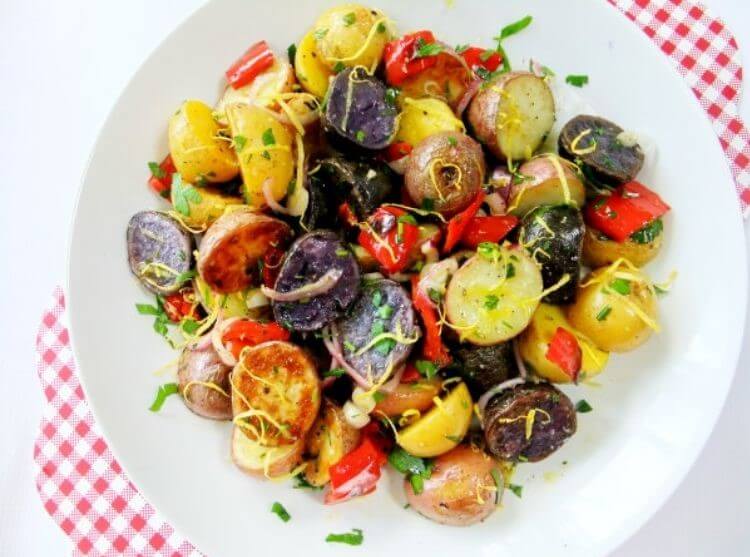 12. Patriotic Italian Cream Sodas – Yummy 4th of July Food Idea
These blueberry-raspberry patriotic Italian cream sodas are amazing! They are especially fun now that most stores carry the sugar-free syrups recommended for the recipe. Here are the basic instructions to make these patriotic Italian cream sodas:
First, you add ice cubes to your glass.
Second, you add the red syrup.
Third, you club soda and then half & half.
Next, you add blue syrup.
To finish it off you add whipped cream and a cherry on top.
Without a doubt, these make a truly yummy 4th of July dessert idea.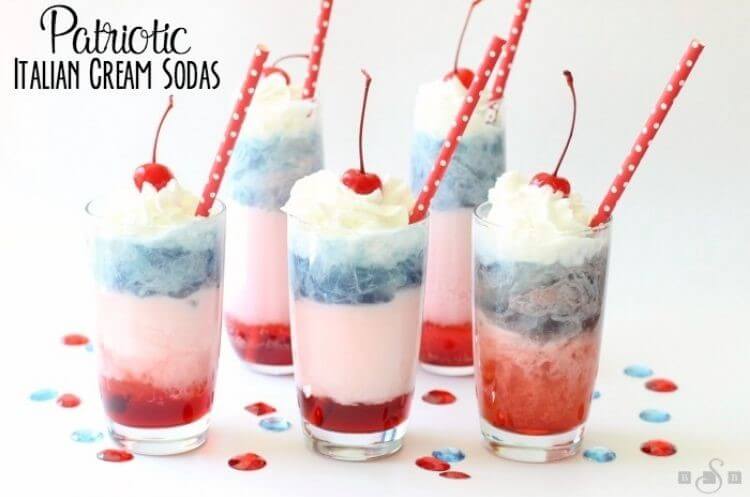 13. Firecracker Cake – Wow Your Guests With This Freedom Celebrating Dessert
Just look at this gorgeous firecracker cake! It really does look like fireworks bursting and the red, white, and blue theme makes it a great 4th of July dessert idea. It's super easy to make, which is so helpful when you're having guests over. On the inside, there is also a red, white, and blue theme. Overall, you'll really impress your guests with this delicious dessert.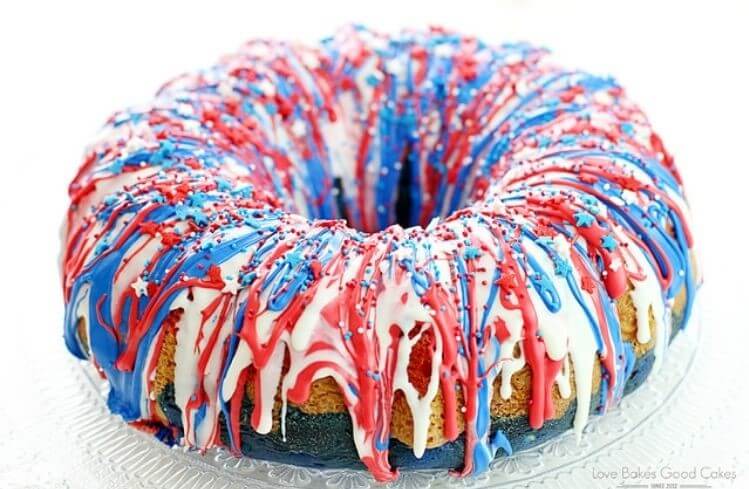 14. Deviled Eggs – Patriotic Fourth of July Time-Honored Food Idea
You can even go patriotic with your deviled eggs by dying some red and blue while leaving some of them white. By using Americolor food gel you can get the vibrant color these eggs have. Since deviled eggs are such a well-known dish you can expect these will be popular at your next get-together.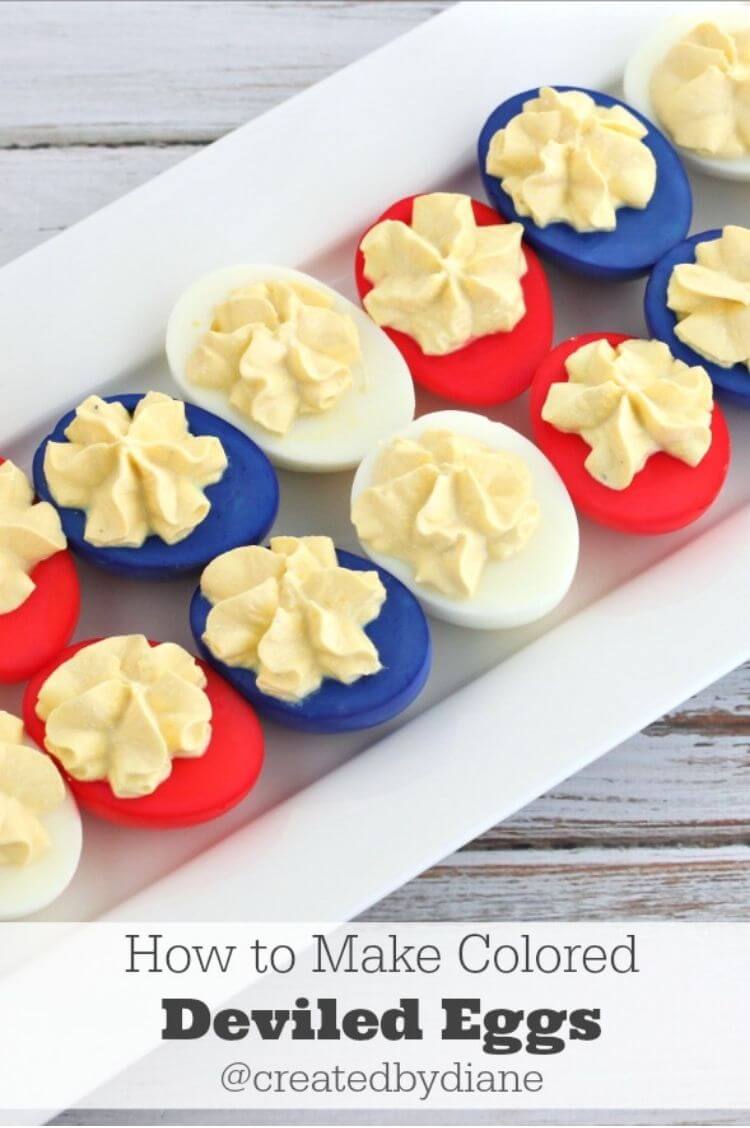 15. Taco Salad Flag – Perfect 4th of July Food Ideas or for Memorial Day
You'll be the hit of any 4th of July get-together with a taco salad flag. Instead of tossing everything in a bowl, you arrange the meat on top of a layer of chips. Next, you put lettuce over the entire layer of meat. After that, you use cheese and grape tomatoes to create the stripes. Finish by adding black olives for the stars and you are done! The taco salad flag below also has chips around the edge of the pan for an extra special look.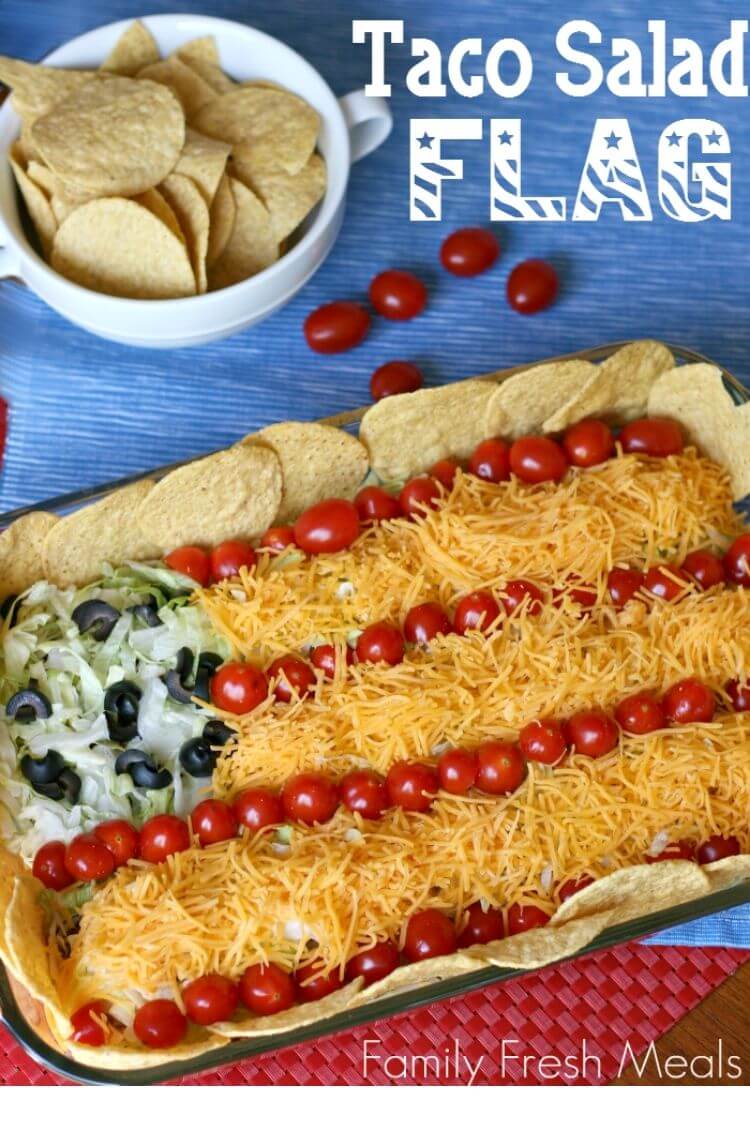 16. BBQ Patriotic Puff Pastries – Mess-Free Way to Enjoy Pulled Pork
Since nothing is as American as BBQ making this bbq patriotic puff pastry recipe is sure to be a hit! It is especially going to be popular because it is a mess-free way to enjoy delicious traditional food. You can instantly give this dish an extra patriotic look by cutting the stars out of a frozen puff pastry dough before you bake it. After baking the dough, add your pulled pork to the inside of the pastry. I'll take BBQ any way I can get it but this way is extra fun!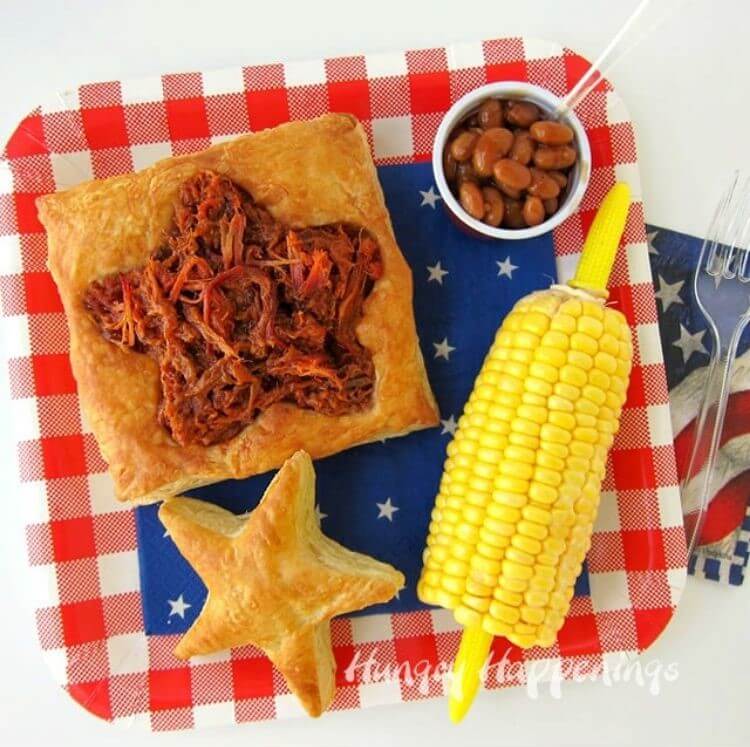 17. Cheese and Onion Dip – Appetizer Your Guests Will Love
Make this cheese and onion dip and star-shaped corn tortilla chips for an awesomely patriotic appetizer. Using pre-shredded cheese is faster and easier, however, you will get much more flavor by grating it yourself. Ultimately, it's a great dish to add to your next 4th of July get-together.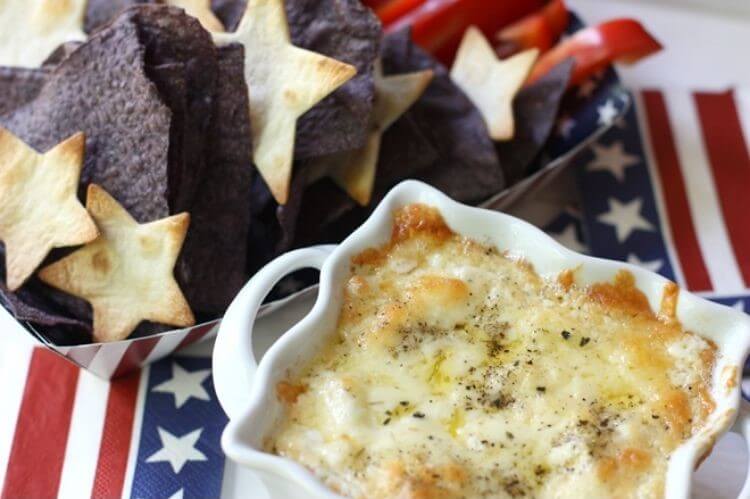 18. Patriotic Popcorn – Clever 4th of July Food Idea That Takes Popcorn to the Next Level
Patriotic popcorn is such a great way to put a new spin on classic food. Not only is this a great 4th of July recipe but it's also great for lots of other special occasions. For instance, you could use pastel sprinkles for Easter. Overall, this recipe would be a perfect addition to eat during the fireworks show or if you set up a movie screen outside on a warm summer night.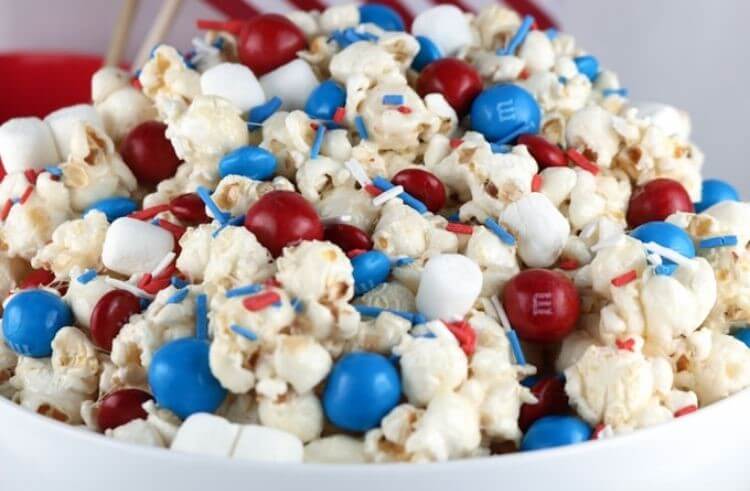 4th Of July Food Ideas To Add Fun And Creativity To Your Barbeque
In the end, no matter what kind of food you make from this list, your friends and family are sure to oooh and ahh over it as much as the fireworks display.
If you liked these patriotic 4th of July food ideas, here's another list you'll enjoy: