Going camping requires that a ton of items be packed and ready to take. If you've never made a cabin camping checklist, you are missing out. Having a plan and being prepared is certain to make your camping adventure one of the best ones yet!
Depending on the time of the year and the weather, tent camping may not be an option. If you've ever camped in a tent before, you may not want to experience it again…this is where cabin camping becomes a great alternative! The perks of camping in a cabin are numerous! No bugs…out of the elements…getting to stay warm and dry and out of the rain…all of those are perks, right?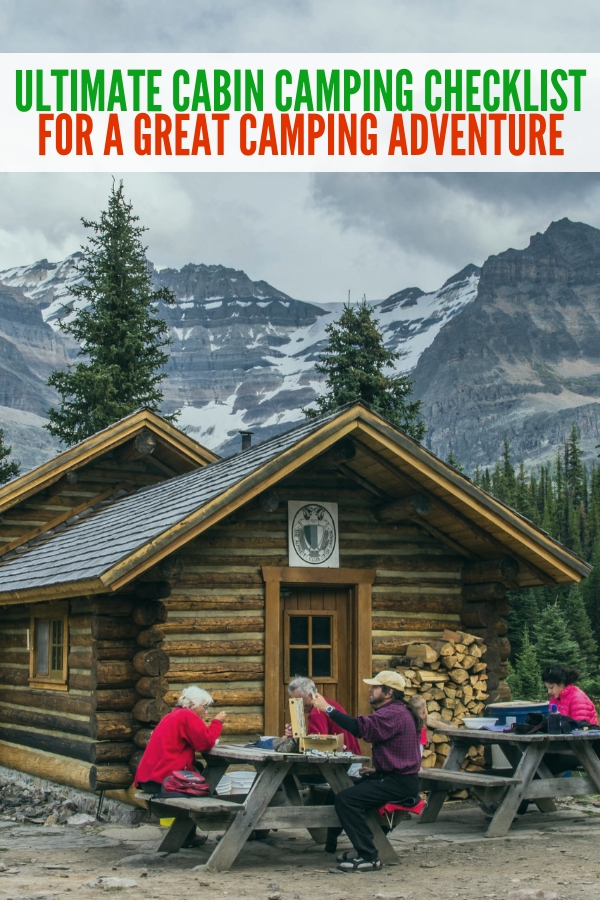 To make the most of your cabin camping experience, you are going to make certain that you pack all the camping essentials with you as well. This cabin camping checklist will help you prepare and be super excited for your next camping adventure!
Ultimate Cabin Camping Checklist For The Best Camping Adventure Ever
While this may be a great cabin camping checklist, keep in mind that it's not everything. Don't forget to add items from home like your medicine, etc that you need to remember as well! And if you wear contacts, don't forget your glasses and contact case/solution! (It's always something that I forget!)
1. Pack the toilet paper
 Though a cabin has a toilet, it is very rare for them to include toilet paper. Don't overlook this very important and much-needed item!
Speaking of toilet paper…
2. Use a Planner
The worst thing is forgetting something.  Promise.  Been there.  Done that. One trip we literally forgot the toilet paper!! Never again!  The $7 spent on the Camping planner is well worth it!!  Your sanity is worth it!!
3. Go grocery shopping
Most cabins are fitted with all the essentials of cooking for yourself such as pots and pans. With a full fridge, stove, and microwave, you will want to stock up on food for the duration of your stay. I'm pretty certain that Dominos would have a hard time finding the camping cabin in the woods.
4. Don't forget the towels!
Just like camping in the woods, there won't be towels to dry yourself off after a shower. Make sure you pack enough towels for the whole family before leaving for the cabin. If not, you'll be in for a cold, cold night!
5. Pack your blankets, pillows, or sleeping bags.
Cabins have beds and rooms, but they don't provide sheets, blankets, pillows or bed essentials. Don't forget to pack your sleeping stuff so that you can relax and enjoy your stay in your cabin.
6. Grab the dish soap.
Many cabins include dishes. If you plan on cooking, grab the dish soap so you can wash up before you go. Leaving dirty dishes in the sink is sure to get you a fee. Of, if you don't want to do any dishes at all, pack your own paper plates so you can recycle them when done!
7. Call ahead and verify what's included in the cabin.
Before you finish all your packing, be sure to call and verify if your cabin will have dishes. If not, you may need to pack some basic things such as pots, pans, plates, and silverware.
8. You will need a garbage bag.
Though you will have a trash can in your cabin, you may not have any trash bags. Before leaving, you will need to make sure all trash is collected and properly disposed of. Trust me on this one….it's important! Don't leave any food or trash for those forest creatures to find!
9. Don't forget the first aid kit.
You never know when you will have a scraped knee, a cut, or other accident that needs first aid. Always be prepared with a first aid kit.
10. Bring your favorite games.
You can hike through the woods, swim in the lake, or go fishing, but at the end of the day, you will want something quiet to do in the cabin. Bring your favorite board games, activities, or outdoor games to play. And don't forget to bring a great book or some magazines to relax with as well.
11. Pack the bug spray.
Like any camping experience, there will be bugs…and lots of them. Spiders, gnats, mosquitos galore. Don't forget to pack your bug spray to keep pesky critters away. Being bitten when camping is no fun at all!
What would you add to your cabin camping checklist?