You loved our last pantry organization post, and as you know, we love to organize! So we've put together 15 more pantry organization ideas to help you make the most of your storage space. With the right storage tools and a little bit of thinking outside the box, your pantry will be in order before you know it.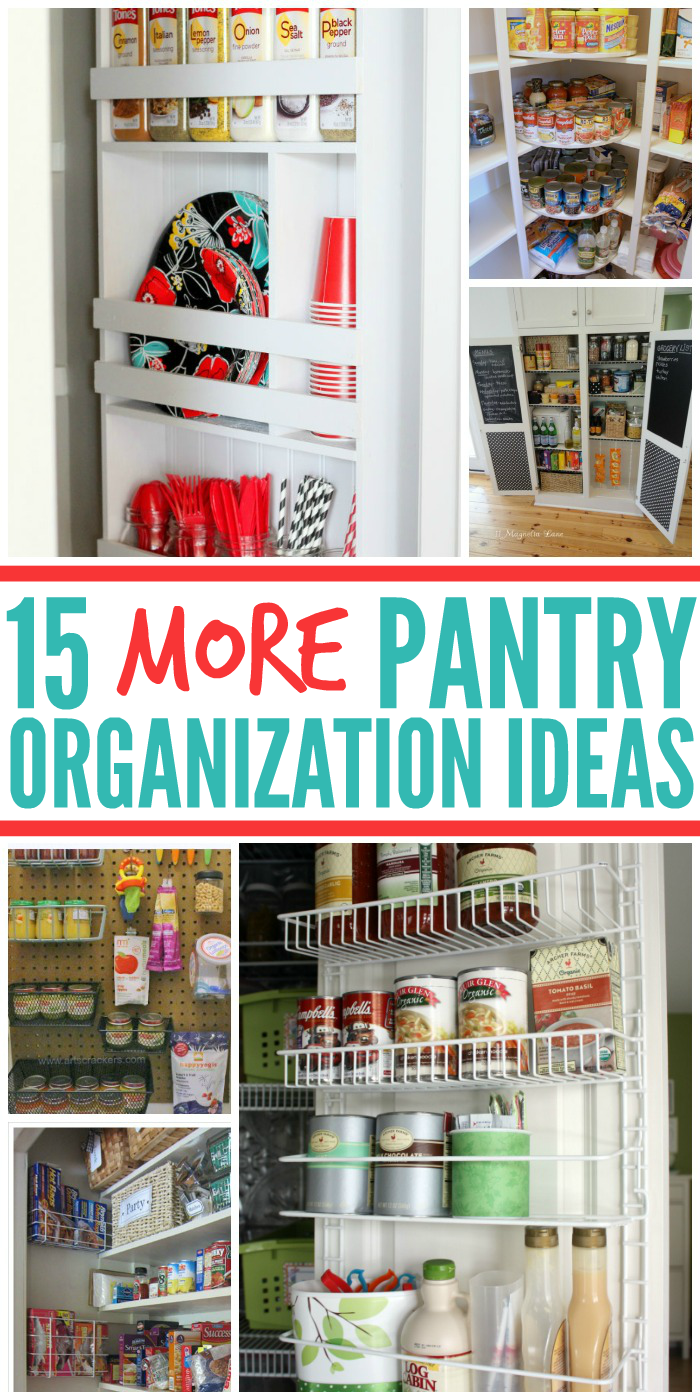 Tips to Organize Your Pantry
1. Use a Pantry Lazy Susan
Maximize corner space with a few lazy Susans (or turn tables). What a clever idea!
2. DIY Pantry Organizer is Genius!
Build your own pantry organizer to suit your family's needs. It's easier than you think.
3. Chalk Doors for Your Pantry
We love these chalkboard doors for recording the menus and shopping lists. Handy!
4. Pegboard Pantry Solution
If you really want to makeover your pantry, consider installing a pegboard. You can easily move baskets around without hammering lots of nails into the wall.
5. Small Pantry Ideas for Organizing Essentials
When you're working with a small pantry, make every inch of space count. Add wire shelves or baskets to the side walls for small miscellaneous items.
6. Over the Pantry Door Organizers
Wire over-the-door organizers are terrific for holding heavier items, like canned goods.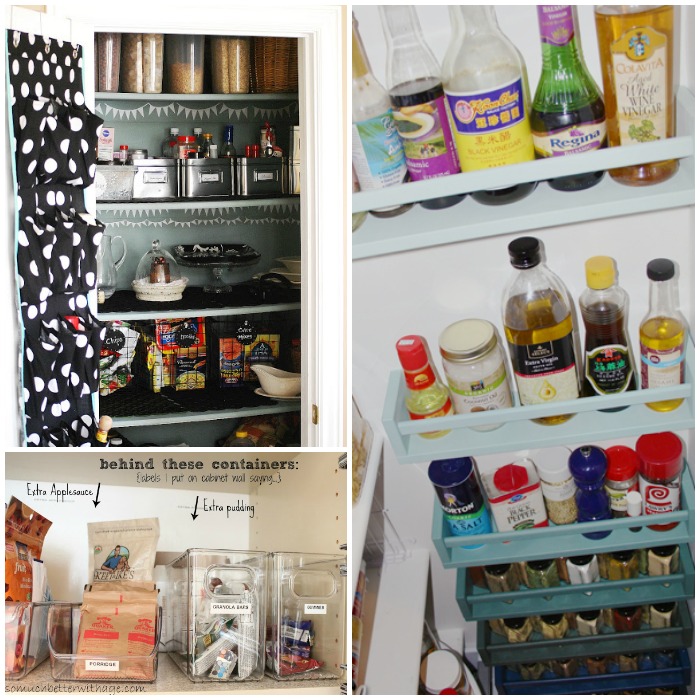 How to Get Your Pantry in Order
7. More Over the Door Pantry Organizers for Your Pantry Clutter
Free up shelf space with an over-the-door organizer for some of your most-used spices and kitchen tools.
8. Pantry Spice Racks
Add spice racks in tight spaces to hold spices and other small containers.
9. Clear Containers Help with Small Pantry Space
You'll also want to use clear containers to store most things, so that way if you have to place items in front of others, you can still see at a glance what you have.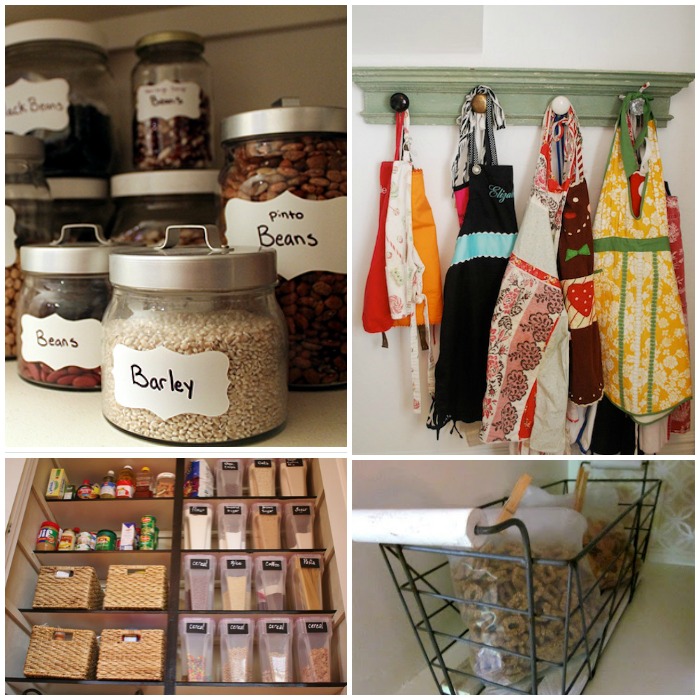 Smart Pantry Organization Ideas
10. Plastic Containers Contain Pantry Mess
Plastic containers are fabulous for storing cereal, rice, pasta and beans. Pro tip: Add chalkboard labels to them if you don't want to commit to using them for a certain type of food.
11. More Pantry Container ideas
You can do the same with glass jars and contact paper. You don't even have to buy new glass jars… just upcycle the ones you already have, and paint the lids!
12. Clothespin Hack for Your Pantry
Don't store your cereal in their big, bulky boxes. Just pop a clothespin on top, and put the cereal bags in space-saving baskets.
13. Baskets Contain Pantry Extras
Add some hooks or a pretty coat hanger to store your aprons in the pantry, too. They also work well for extra oven mitts and potholders.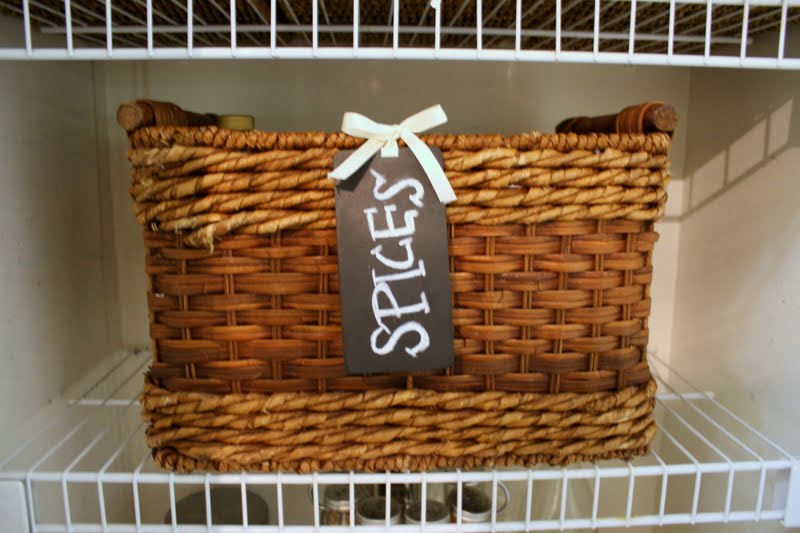 14. More Basket Ideas to Use in Your Pantry
Use inexpensive baskets to organize items that usually get cluttered, such as spice packets, tea, Jello boxes, and snacks.
15. Larger Pantry Item Solutions
Large, heavy items that you keep on the floor can be organized into pretty baskets, boxes or crates.
More Organization Info & Fun from One Crazy House
Plan on moving to the kitchen next? Read these kitchen cleaning hacks and kitchen organization tips before you start!