Declutter that giant disaster of a pantry with these clever and effective pantry organization ideas!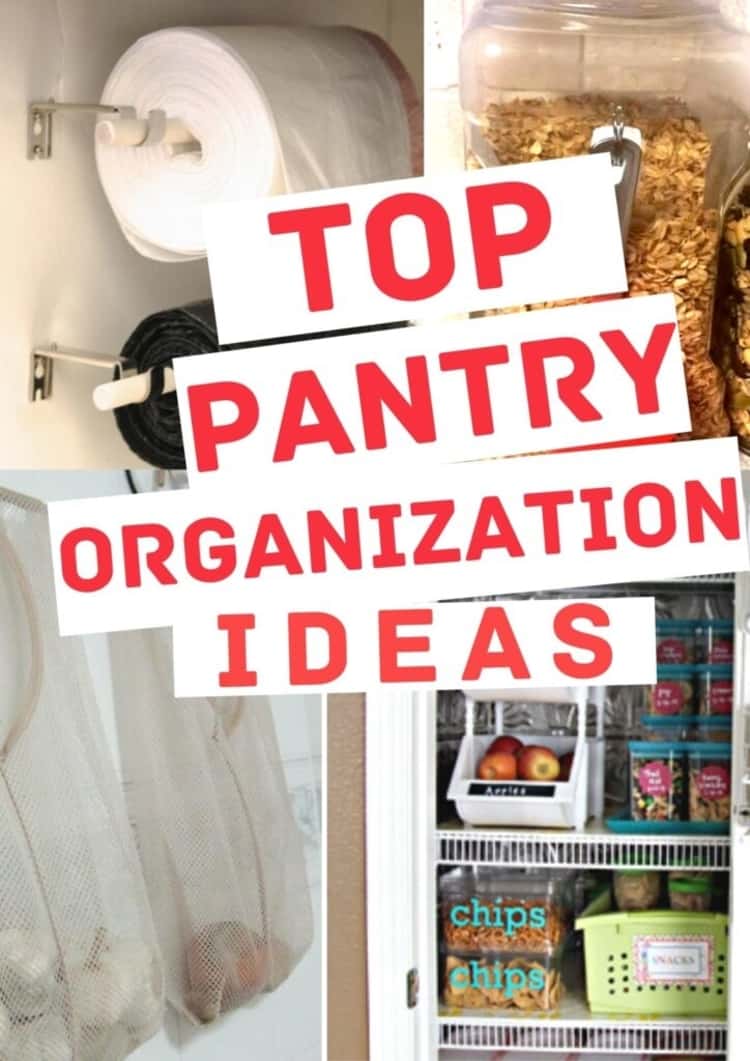 A disorganized pantry stresses me out. It's cluttered and I can't find anything when I'm working to get dinner made. Just thinking about it raises my blood pressure and makes me anxious.
What's worse is that a disorganized pantry can wreak havoc on my grocery budget. When things get lost in there, I forget I have them and go buy more only to find them later and kick myself for not looking harder.
Are you the same way when it comes to your pantry? If so, rather than losing your mind (and your money) over it, put your pantry in order! You can as many of these pantry organization ideas as you need to get started. If you love to stock up on canned foods, you will love idea #17, which is also great for a large family.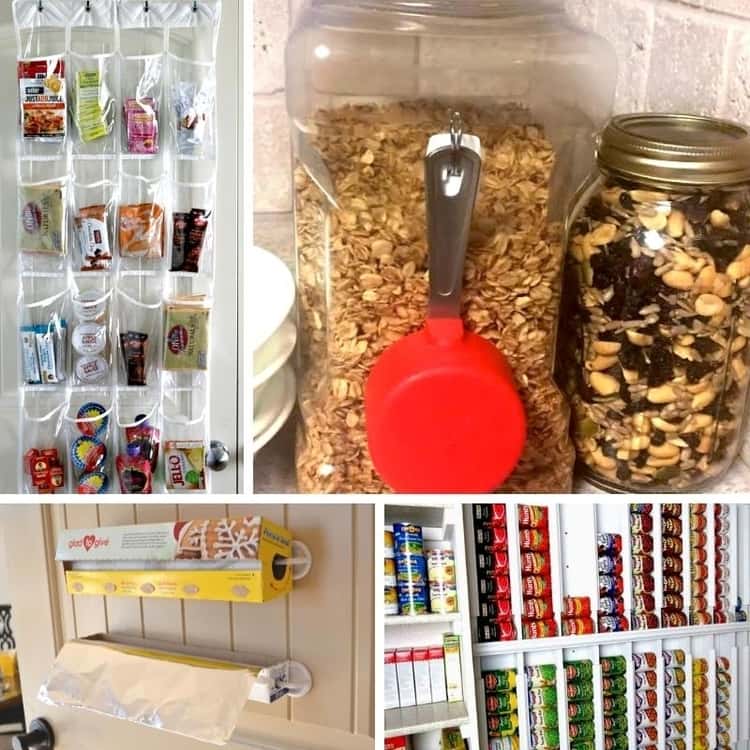 Simple Pantry Organization Ideas
It probably won't take all that much to get your pantry in tip-top shape. Check out these easy pantry organization hacks to get it humming with efficiency in no time!
1. Use A Holder For Your Aluminum Foil
Here's an affordable pantry organization option! Use a magazine holder for your aluminum foil, plastic wrap, wax paper, etc. You can also use them as can holders to keep everything tucked into place.
2. Store Loose Food Items
A magazine holder can also store your onions, potatoes, or boxes of spaghetti noodles. When it comes to pantry organization DIY, this is about as easy as it gets!
This metallic mesh holder is not only easy to clean but it lets in the air keeping your food fresh and dry.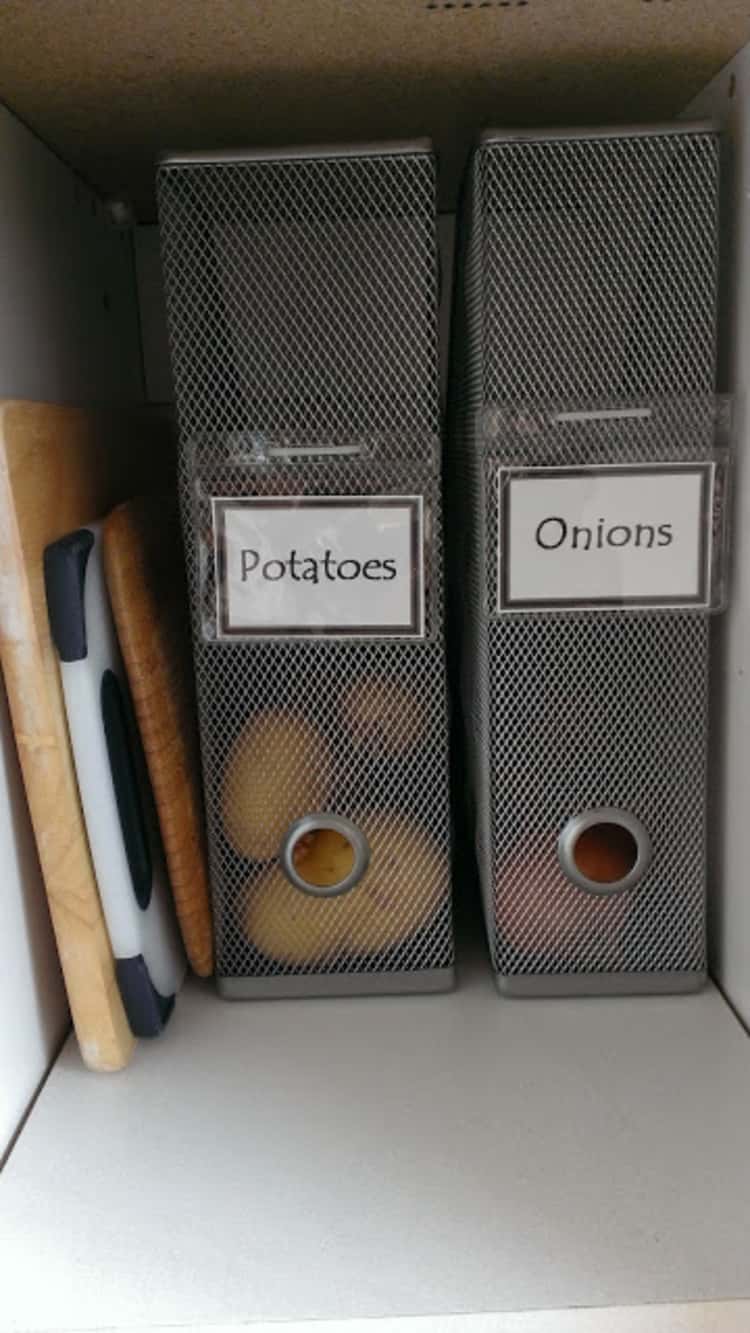 3. A Place For Pot Lids
No more pan lids clanking around! Transform the door to your pantry into a storage "zone" with towel rods. They make a brilliant, effective way to hold your lids.
4. Hang Chips Instead Of Shoving Them In The Back
Open bags of chips can become a nightmare and overtake your pantry before you know it. Tame those bags!
You know those ridiculous hangers you get with children's clothes? The ones with the clasping function? Now you finally have a use for them! Use them to hang bags of chips and other snacks.
Large binder clips can be used to hang chips, too.
5. Try a Lazy Susan
Lazy Susans to the rescue! Create a Lazy Susan to organize the corners of your pantry!! Corners are some of the neglected parts of the house. We know they can be perfect for storage but we may struggle with the best concept to actually get started with organization. I hope this clever idea inspires you!
6. Confine Plastic Grocery Bags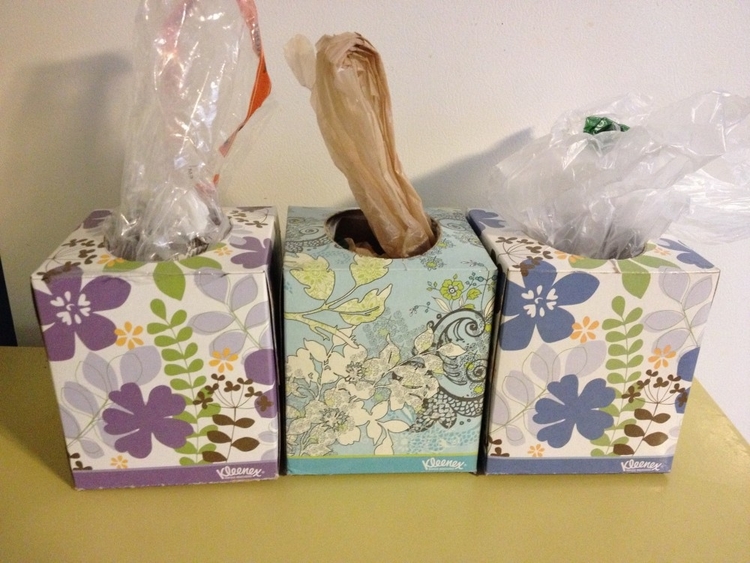 Have a big collection of plastic grocery bags? They can take over any space in practically no time. Keep them organized and easily accessible in several different ways.
Here are some of the clever ways to keep your plastic bags in order:
Use an empty tissue box to store & dispense plastic bags

Repurpose an empty wet wipes container as a plastic bag holder

Turn an old Pringles can into a bag dispenser

 Use a large coffee can to create storage for your plastic bags
7. Use Door Space
Have you ever thought about how the pantry door is just wasted pantry organization space? Not anymore! Use a wire shelf on the back of the door like this one to hold all those oddly-shaped items.
Or, hang wire baskets along the length of your pantry doors to hold your small jars and bottles. Sometimes we need a space to hold empty jars and containers before we figure out how to reuse them and this is a perfect holding solution!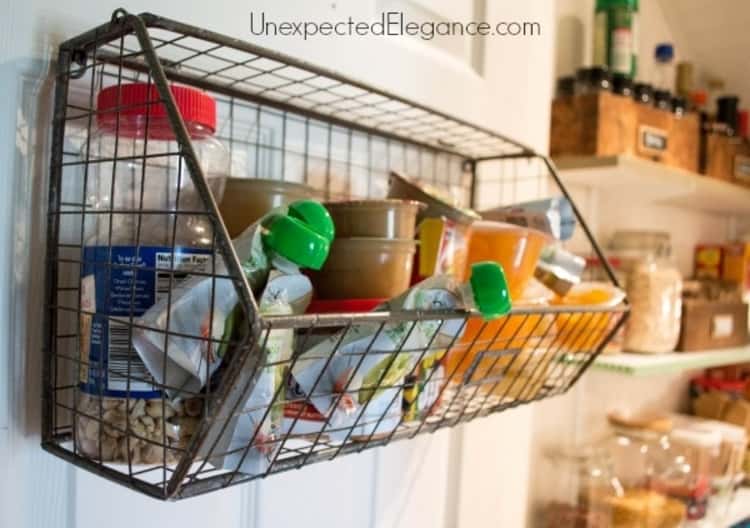 8. Reign in Those Cupcake Liners
Store cupcake liners in a Mason jar to keep them dust-free and organized. Just number 3,974 in the number of ways that you can use mason jars around your home! ?
9. Hooks Are Good For More Than Hanging Towels
Genius Idea: Hang your wax paper and aluminum foil on the back of your door using hooks on either side for easy replacement.
10. Organize Those Snacks
Shoe organizers are a must for every pantry. Hang it on the back of the door or on the wall for the kids' snacks. You're gonna love this panty organization hack at snacktime!
Shoe organizers come in a number of compartments. You can use these to categorize your snacks too. Dry snacks, juice boxes, jars, and containers, etc… We love that these come in clear storage pockets so your kids can grab and go. This is an affordable storage idea as some of these are available for under $10!
11. Add a Hanging Shopping List
Consider adding a clipboard with a shopping list into your kitchen pantry – like this small pantry example – genius!
This is so efficient because each time something runs out in the pantry, it gets to be noted down immediately. What a time-saver. Adding a pen close to the clipboard eliminates the chance of procrastination. We always never write things down if a pen is not close by!
Even when you are not around, your kids can get to fill this in themselves if they need a snack replenishment.
12. Keep Packets Gathered and in Easy Reach
Put spice mixes, Kool-Aid packets and similar items in clear sponge caddies hung on the wall. You will love all the space that this handy trick frees up.
13. Recycle Soda Boxes
Save those empty soda boxes – use them to organize your pantry! You've probably bought canned soda in boxes while going on a road trip, or organizing a small party. Don't throw them away just yet! They make it easy to organize your canned foods by type – you can stack your cans more easily as well.
14. Mess-Free Produce Storage
Store onions and garlic in mesh laundry bags to keep skins off the floor or shelves and to promote air circulation – as a result your product will last even longer.
If you have more mesh bags laying around you're wondering what to do with, check out our 15 Ways Mesh Laundry Bags Can Make Your Life Easier.
15. Practical Use For Command Hooks
Here's one useful pantry organization hack! Keep a scoop on the side of your bulk cereals with this command hook tip  – not only will this tidy up your pantry, but it will also make breakfast or baking a breeze!
16. Trash Bag Rollers
If you keep your trash bags in the pantry, this DIY tutorial is for you. Keeping them on a roll makes grabbing one a breeze when emptying the trashcans.
This is great storage and organization idea if you have a small space. 
17. Never Find Expired Cans Again
If your family stocks up on canned food, you know how tricky it can get with the organization. Not forgetting all the times some cans have gotten forgotten and expired altogether. This rotating canned food system is simply genius and takes up very little space as it is designed for vertical arrangement. In most homes, the space above our hand reach mostly goes underutilized. We tend to focus on areas that are within our easy reach. With this can storage system, organize your cans to be sure of their expiration date and use the oldest cans first.
You only need a very small space to stand this shelf and I love how everything is visible! This DIY rack can hold lots of canned food so it's saving money on food too!
18. Helpful Supplies for Pantry Organization
This is our FULL list of things that will organize your pantry – of all the pantry products that have helped us organize, we love these most of all!
Save your time, money, and sanity by organizing one of the most used places in your home. Pantry organization hacks here include simple steps such as labeling, cleaning, and rearranging.
Use whatever pantry organization ideas you need so you can find everything you need and spend more time doing what you love!
More Organization Inspiration from One Crazy House