If you have a dryer, you probably don't have many clothespins lying around the house, but you should! We have 15 great clothespin hacks and tricks below for all your different needs like keeping foods fresh and organizing your accessories.
Who'd have thought clothespins can go more than dirty clothes, dryer sheets, towel, washer, or drapes? You can use these clever little contraptions for much more than just hanging your clothes out to dry. Check out these clothespin hacks for more clever ideas.
Clothespins can be used on a picnic table and another DIY project your mind can think of.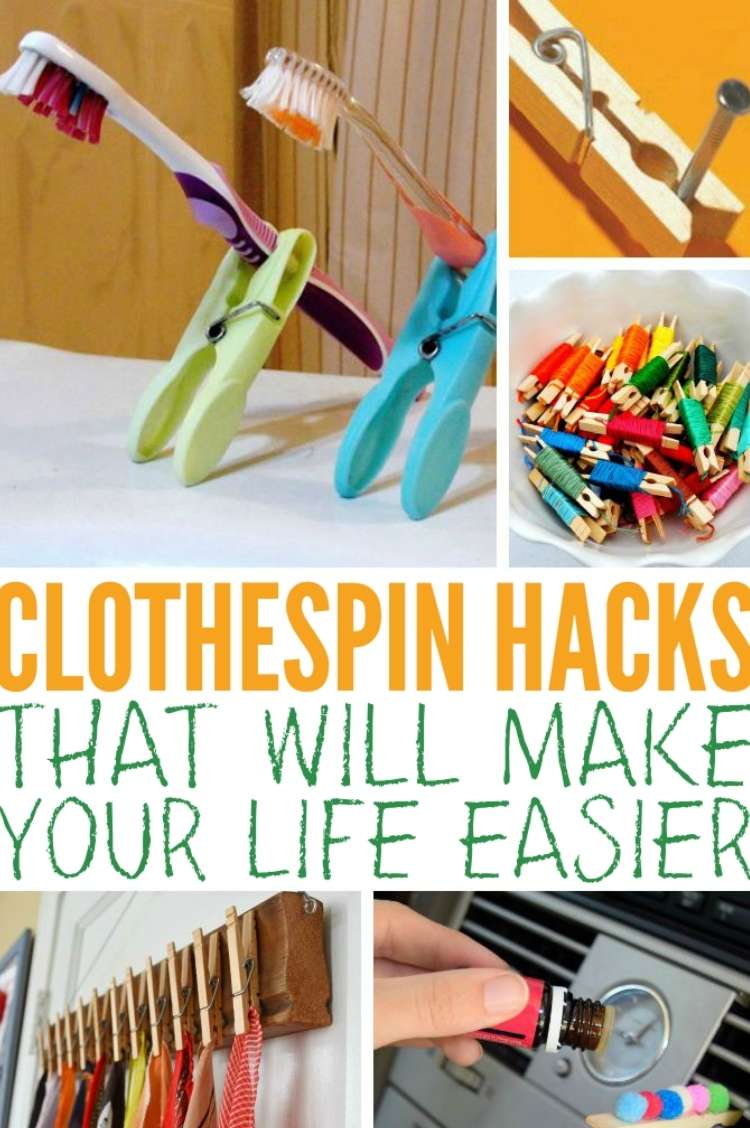 I don't know about you, but I use a dryer for most of my laundry. Occasionally I will use a set of clothing racks to dry some things. But I definitely don't hang my laundry outside to dry anymore.
Clever Clothespin Hacks You Can Do at Home
That doesn't mean I don't have clothespins in my house! Clothespins are some of the handiest little tools you can have around. In a pinch, they hold things closed and they even have some organizational uses.
Yes, I love my clothespins and I'm excited to share with you these 15 smart clothespin hacks. I think you'll find they make your life a little easier and they are a nifty tool to have in your homemaker tool kit.
1. Make a Clothespin Toothbrush Holder
This tip will blow your mind if you do a lot of traveling with your family.
Oftentimes when you stay in a hotel room or Airbnb, the only place to leave your toothbrush and toothpaste is directly on the bathroom counter. Now I don't know about you, but having my toothbrush bristles that close to a flat surface makes me feel a little squeamish.
But we have the solution!
Make a handy dandy toothbrush holder wherever you are. This simple, but oh so clever, trick keeps the toothbrush head off the counter! I love this tip so much that I added clothespins to all our travel bags so we feel more sanitary when we travel.
But this clever trick works at home, too!
2. Organize Your Scarves With a Clothespin Scarf Display
Do you love scarves? Have a vast collection that matches every outfit combination in your closet? Struggling to find a fun, yet practical way to organize them? (You're probably tired of hanging them on regular hanger)
Check out this lovely scarf display! You can easily make one yourself by gluing clothespins to a pretty board and hanging on your wall or door. Pin your scarves inside each clothespin and you have a beautiful display that keeps your scarves organized, tangle-free, and in view so you can easily select the best scarf from your collection!
Video: Clothespin Hacks
Want to see some of these handy clothespin hacks in action? Check out this short video so you can see them for yourself!
3. DIY Clothespin Earbud Holder
This is better than AMAZON! This is a very smart way to keep your earbuds neat and tidy! Simply glue two clothespins together, and wrap your earbud cords around them. It's a fantastic way to store your headphones and keep them untangled and tidy. And if you want to decorate them, you have a chance to show off your signature style. Cute!
4. Fun Organization Tip With Clothespins
If you love a good to-do list, but prefer to keep it off your counters or desk and out of your way, we have a smart organization tip for daily tasks, and this one is so cool. Simply hang your to-do lists on pretty painted clothespins!
Decorate your clothespin if you wish, but don't let plain clothespin keep you from putting this slick tip to work for you today! Plain ones work just as well as pretty clothespins.
5. Create Some Fresh Air With a Clothespin
Here's a quick tip for freshening up your car.
Put a few drops of your favorite essential oils on pom-poms and glue them to a clothespin for a frugal air freshener for your car. Just clip the clothespin to the air vent in your vehicle and you can enjoy the fresh fragrance as you run your errands!
If you want to get really clever, switch out the oils depending on what mood you want to create. Use peppermint to energize yourself or your passengers or lavender oils if you need to breathe deep and relax.
6. Sew Much Crafting With Clothespins
Ok, I don't do much sewing, but if I did, this is definitely a trick I would use. You can use mini clothespins when sewing binding or piping to avoid moving around a bunch of needles. How smart is that! Handy idea if you run out of stick pins, are tired of poking yourself with them, or simply want to use something a little easier in your sewing project.
7. Embroidery Floss Organizational Tip
Do you like to use embroidery floss in your craft projects? How often does it end up a tangled mess?
This is a genius way to organize your embroidery floss! Simply wind it around a clothespin. No more tangles! Such a simple and clever idea, and it eliminates a lot of frustration when you go to use your embroidery thread.
8. Candle Making Help From Clothespins
If you like to make your own candles, use a clothespin to keep the wick upright while you're pouring the wax. Just lay the clothespin vertically across the opening of your jar. A standard clothespin will work for jars with openings up to 3 inches wide.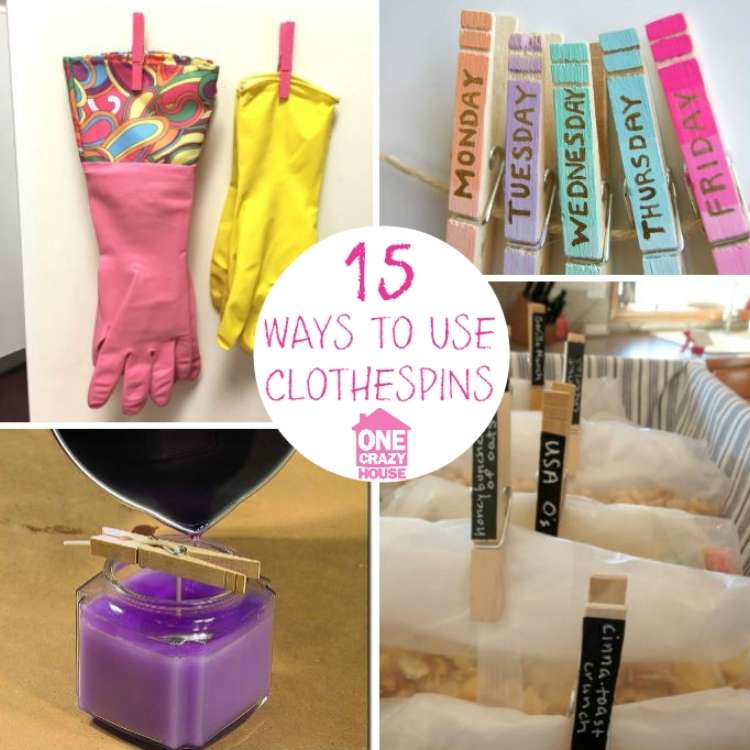 9. DIY Bike Light With a Clothespin
Do you—or your children—like to spend a lot of time on bikes? You can create your own clip-on light for your bike using a cheap light from the Dollar Store, some glue, and a clothespin. Simply glue the light to the clothespin and then clip the clothespin to the bike. If there isn't a suitable spot to clip the clothespin directly to the bike, you could always attach it with zip ties.
What a fun and simple way to increase bike safety!
10. Clothespin Spoon Rest
How many times have you been cooking dinner and "lost" a spoon in the oversized cooking pot? Never? So it's just me?
Keep your wooden spoons from sliding into the pot with a clothespin spoon rest. This is a really great organization tip for potlucks, reunions, etc., where you have loads of people serving themselves. It also comes in handy if you have to answer the phone or run to the front door while you're cooking dinner.
No more digging icky spoons out of the pot! Thank you!
11. Chip and Cereal Bag Clip
In our house, we have a problem with disappearing chip clips. They seem to wander off, never to be seen again. But I've got a cheap solution to replacing those wandering clips!
Roll and pin the tops of cereal and chip bags to keep them fresh with clothespins! An easy answer to disappearing or broken chip clips. Use plain clothespins or create custom labels. One for cereals, one for chips, another for snack crackers. You could even get super specific and put brand names on them.
What a great hack for saving money and being creative!
12. Clothespin as a Glove Holder
Rather than leaving your cleaning gloves lay on the side of the sink to dry, use clothespins to hang them up. Simply stick clothespins to the inside of your kitchen and bathroom cabinets to hold your cleaning gloves. Easy peasy way to get your gloves dry and keep them out of your way!
13. Clothespin Organization Tip for Baking
This is a super-smart trick for all your bakers!
Hold the parchment paper in place when baking. Simply clip a clothespin to each side of your baking dish to keep the parchment paper in place. Great idea for wax paper, too!
14. Clothespin Nail Holder
Are you clumsy with a hammer? Never hit your fingers again with this cool clothespin trick to hold nails in place. A plastic clothespin with grooves will work best.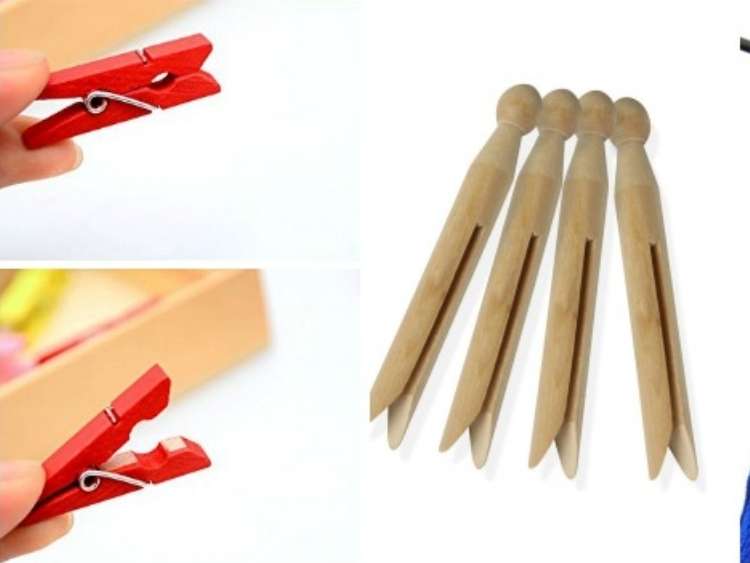 15. DIY Paintbrush Clothespin
Have an awkward space that needs painting? Or are you in the middle of the painting and need a paintbrush in a pinch?
You can make your own paintbrush with a clothespin and a sponge! Just fold the sponge in half and clip it inside the clothes. You could also cut the sponge in half if that works better for you.
What Kinds of Clothespins Should You Buy?
If you need some help to decide which clothespins work best, our favorite clothespin here at One Crazy House are these three:
Which ones you get just depends on how you want to use them. Your safest bet is to pick up one of each so that you're ready for any project that comes your way. It pays to be prepared!
Genius Clothespin Hacks That Make Life Easier!
Aren't these tricks the best tips ever? Clothespins are so handy; they're inexpensive, and they have so many uses that can help make your life just a little bit easier.
And if you are in the mood for line-dried clothing, you'll only need to find some clothesline.
Be sure to pick some clothespins up soon so you have them on hand. And let us know which of these 15 clothespin tips are your favorite!
More Tips, Tricks, and Hacks For Your Home from One Crazy House
Love these clothespin hacks? Which hack do you like most?