If dogs are truly man's best friend (and we think they are), we should reward our furry companions for their love and loyalty. But you don't have to break the bank for expensive dog toys. No, you can use materials around your home to come up with fun, creative DIY dog toys that are sure to please even the pickiest pups. Don't miss our pet hacks for even more fun ideas!
Funny thing is that you don't need rocket science skills and knowledge, or run to the pet store to hack these ideas. Even better, some of the ideas help you learn new skills that could be useful elsewhere. It does not end there because these ideas also help you find a use for apparel and other items that would have otherwise been disposed of. Have you ever thought of making dog toys using a piece of rope or strips of old sock or old shirt or old jeans? How about utilizing that empty water bottle for some dog tipper fun? What better way is there to get rid of waste than to find a way to make use of it?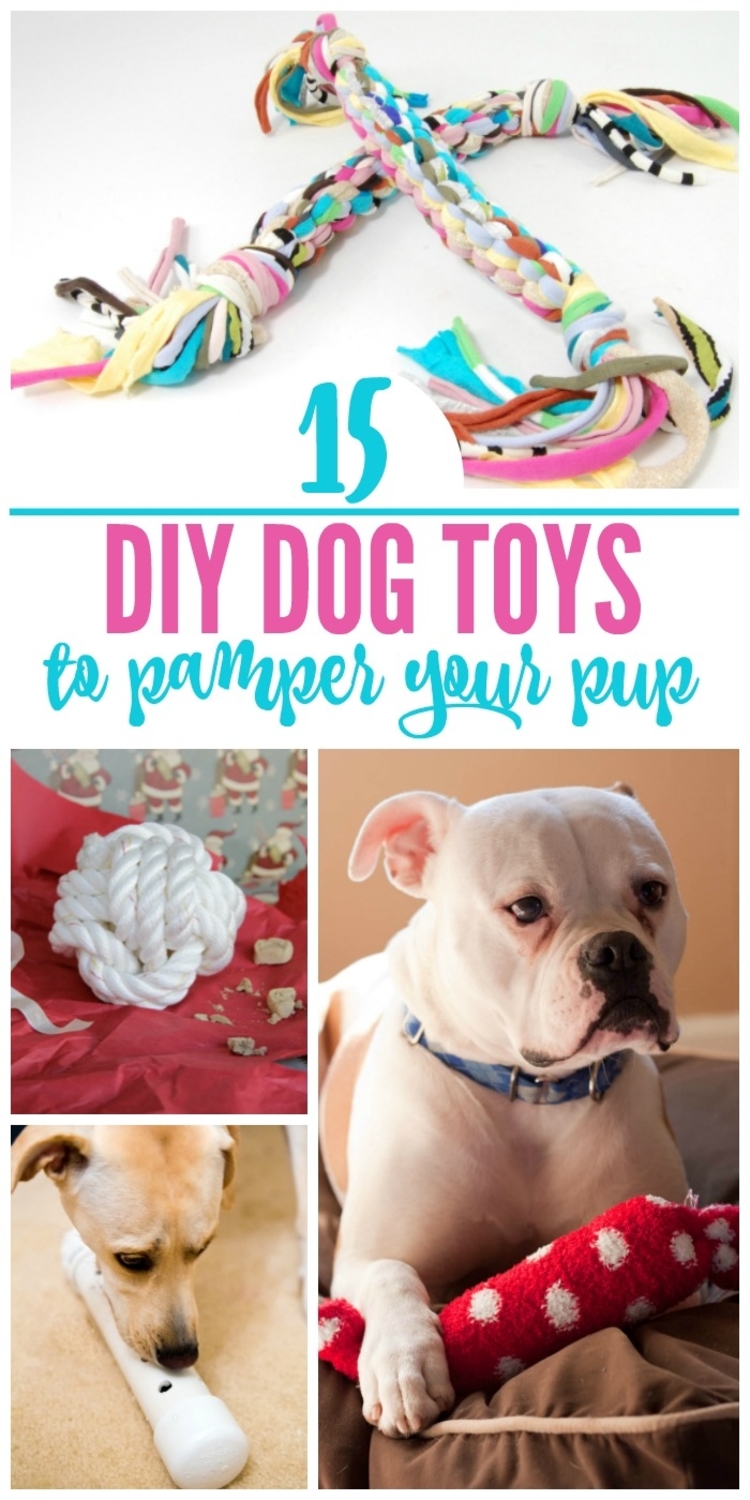 DIY Dog Toys to Spoil Your Pooch
1. Dog Tug Toy
Don't toss your old t-shirts when they could make your furry friends have a great time. Use them to make toys for your furry friends. This t-shirt and ball tug toy is sure to be a hit with your pup. With only your t-shirts, a tennis ball, and 10 minutes of your time, you could make your puppies happier. The fact that this toy uses recycled materials makes it budget-friendly. It's gonna be a fun chase!
Also, you don't have to worry about if it will harm your pup or will last for a substantial amount of time because the toy is safe and sturdy. The dog tug toy makes it possible to play both tug and fetch with your dog. No sewing needed, so you don't need rocket-science kind of skill to hack this one.
2. Rope Ball
What dog wouldn't love this rope ball with a surprise treat inside? It uses a stuffed monkey's fist knot to hold the treat, so if your dog unravels it, you can simply redo the knot. Smart! Least we forget, the goal of toys is to keep our four-legged friends entertained and happy. This toy does just that and adds icing to the cake by introducing a reward after the entertaining struggle.
While this is a good toy, it may not be perfect for all dogs. When trying it out on your dog, you need to observe if it achieves its objective, which is to entertain the dog. In some instances, some dogs may find it hard to unravel the toy to the point of finding the treats.
Related Post: If you have a kitty at your home, then do check out these awesome DIY cat toys.
3. Easy Sew Dog Toys
You don't need to be an expert seamstress (Thank goodness!) to make these easy sew dog toys. After all, your pooch will be chewing and gnawing on them often… all that matters is a sturdy stitch. Even though the previous toys did not require any sewing skills, with some sewing skills up your sleeves, you can become creative and experiment a little more. So grab some thread, needle, a pair of scissors, and check out this tutorial!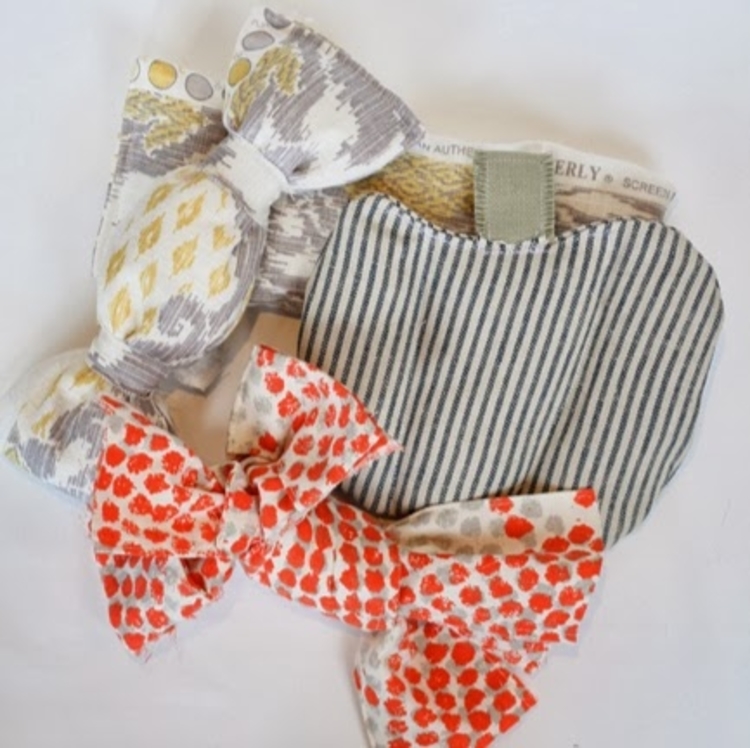 4. Plastic Water Bottle Dog Bone
Our dog loves water bottles, but a plain bottle isn't very cute, is it? If it hasn't hit you yet, its a good idea to make a toy out of the same water bottle. Get the same crinkly fun by inserting the bottle into a bone. Isn't this empty plastic bottle dog bone adorable? In addition to improving the aesthetics, taking time to make a toy from the water bottle makes the play time more safer for the dog. Need I mention that this option enables you to save on your hard earned cash that would have otherwise been spent on dog toys.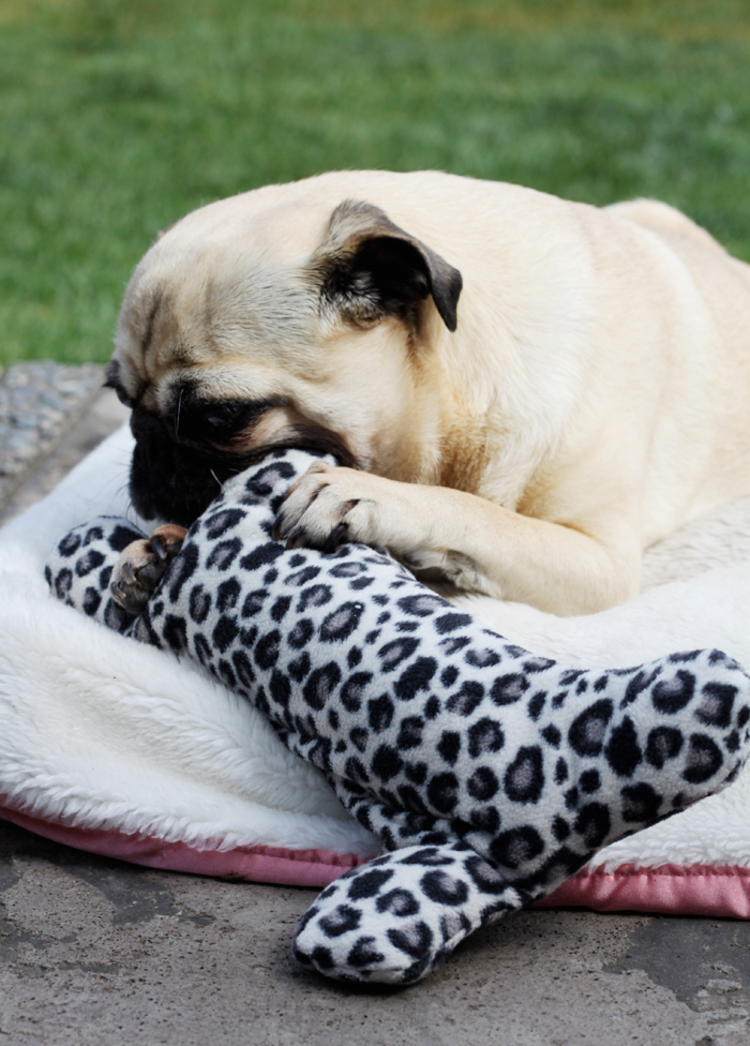 5. Sock Water Bottle Dog Toy
Here's a simpler version using on a sock and a water bottle. This won't hold up to tough chewers, though, and should be used with dogs with a gentler bite. I guess I leave you to evaluate your dog's character and decide which one will serve better. It's a creative way to save some dimes for that expensive stuffing!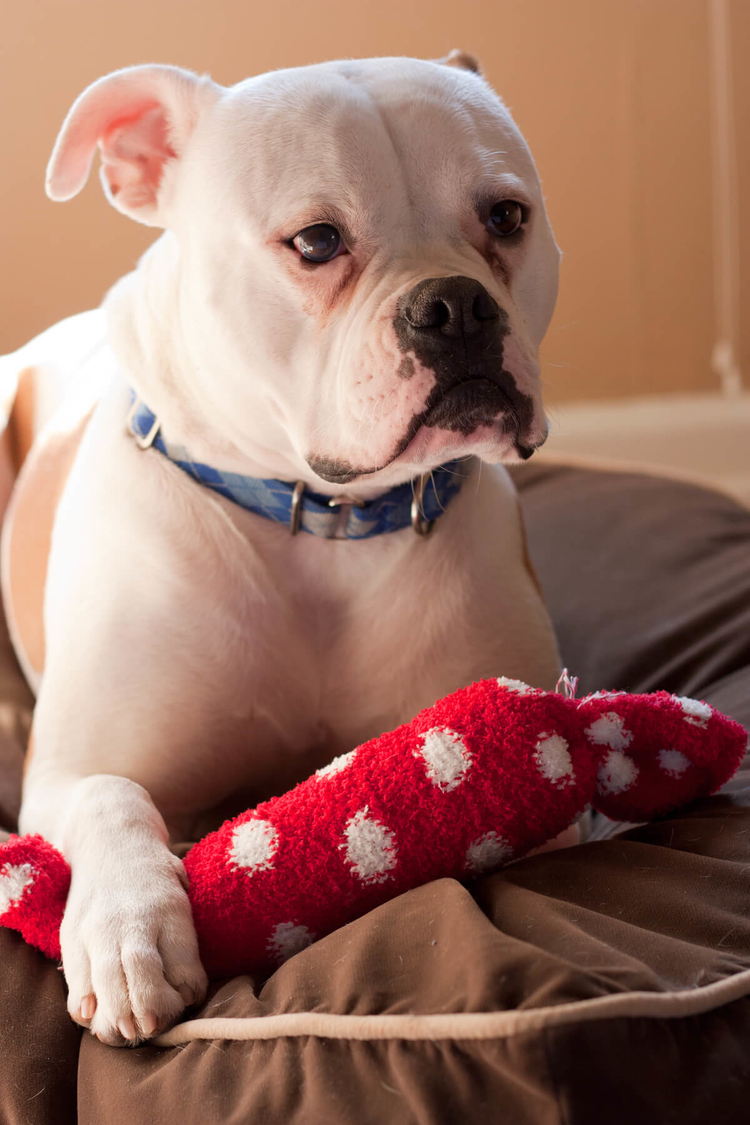 6. Stuffed Stocking Toy
Santa would never forget a good dog! Make your pup a fun stuffed stocking toy this Christmas. While the toy can be bought in stores as a gift for your dog, you can improvise with a few items and arrive at the same end result. Take it from me, making your own at home is better especially when you consider the fact that you can make it using a fabric of your choice. For dogs that are a little bit rough with items, denim would be a good choice.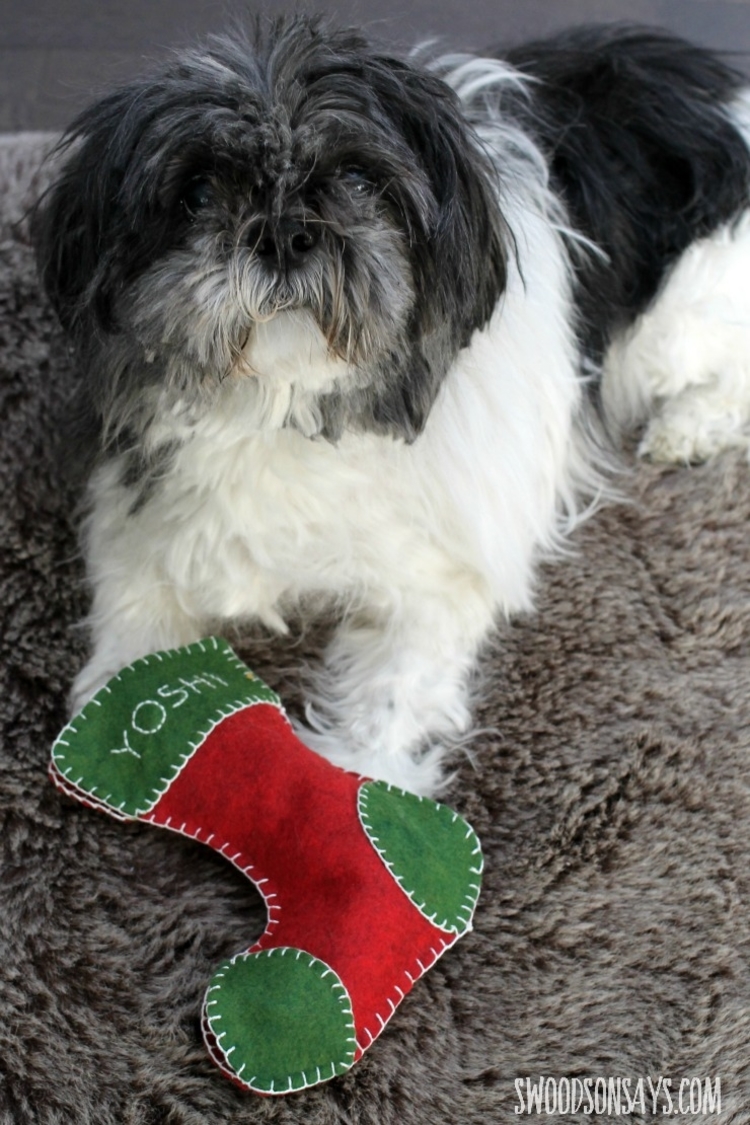 7. Doggy Donuts
Or how about so-me festive doggy donuts to celebrate the holidays? Sincerely, DIY projects don't get any easier and enjoyable than this. This DIY toy provides an interesting way to manage worn out socks because it makes them useful in several ways.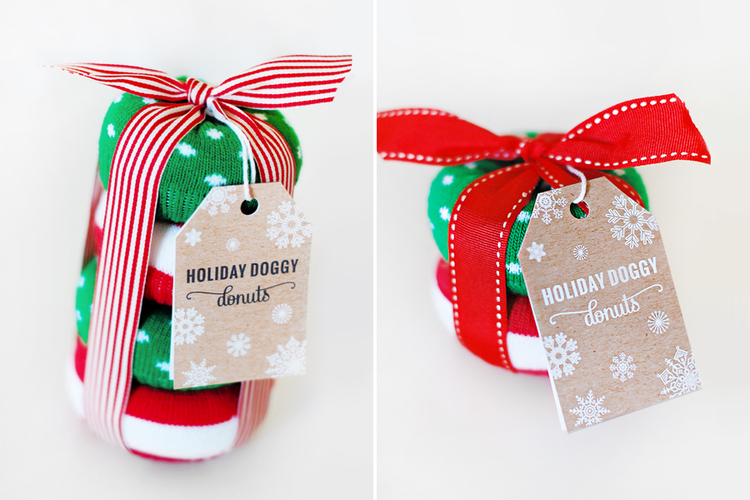 8. Tug DIY Dog Toy
T-shirt yarn is perfect for dog toys. Look how happy this pooch is with his tug toy! Wouldn't it be good to hit two birds with one stone, the tug toy does just that. In addition to entertaining the dog, you could as well facilitate the improvement of its hunting skills with this toy.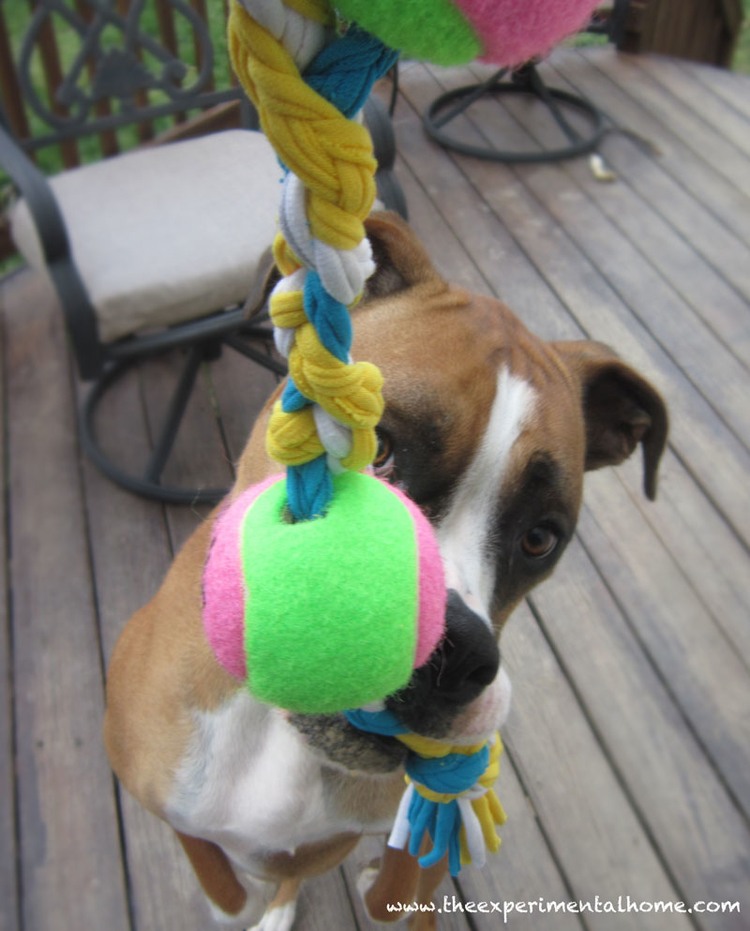 9. Ball-less Tug Toy
And here's a version using t-shirt yarn but without the ball. What a fun diy dog toy! I guess that by now you have found numerous uses for your worn out t-shirts. However, for this toy, there may be need for some skill and patience to come with a perfect one.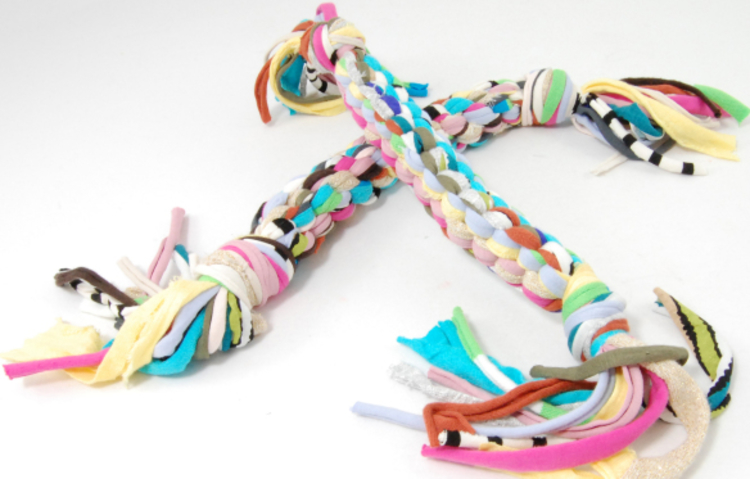 10. Tennis Ball Toy
If you have no braiding/knitting/crocheting skills at all, you can still make a fun tennis ball toy with a ball and a sock! Just tie a long sock at both ends. Easy peasy. This adds to the list of diy dog toys that is multipurpose because it works for both fetching and chewing. You can use two layers of socks to achieve a little bit more wear.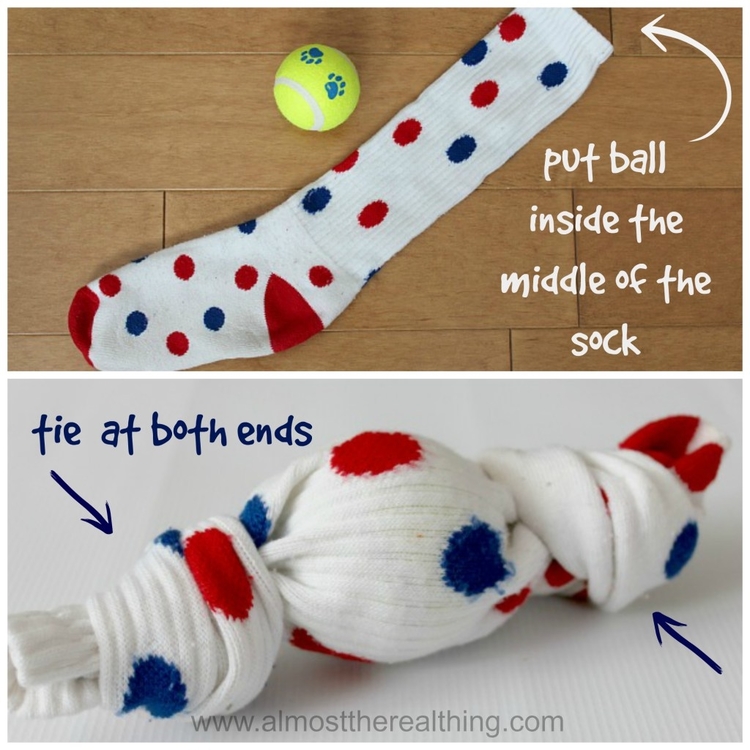 11. Indestructible DIY Dog Toy
Dried sweet potatoes and rope were used to make this nearly indestructible dog toy. If you have an aggressive chewer, this may be the perfect solution! With this, you can be sure that your dog will be occupied for a longer period of time before demanding attention. For dogs that shred toys in record time, it is expected that they may get rid of it a little bit faster.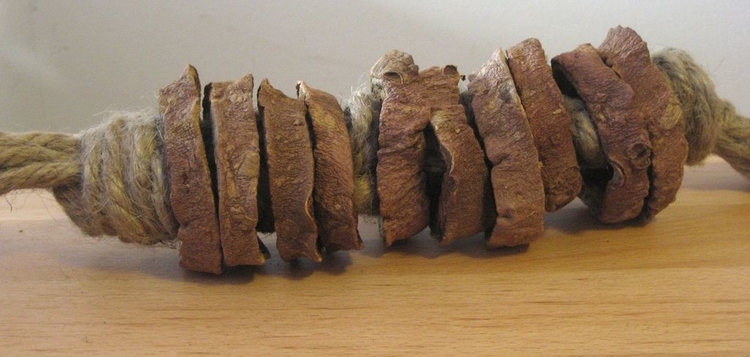 12. Woven Rope Bone
A woven rope bone stands up to lots of chewing, too. This size rope is perfect for large dogs, but you'll need to use smaller, softer rope for little dogs. By making this toy, you are bound to learn a new skill of tying knots. Over time, you are sure that you will be able to make toys that are better than those sold in stores.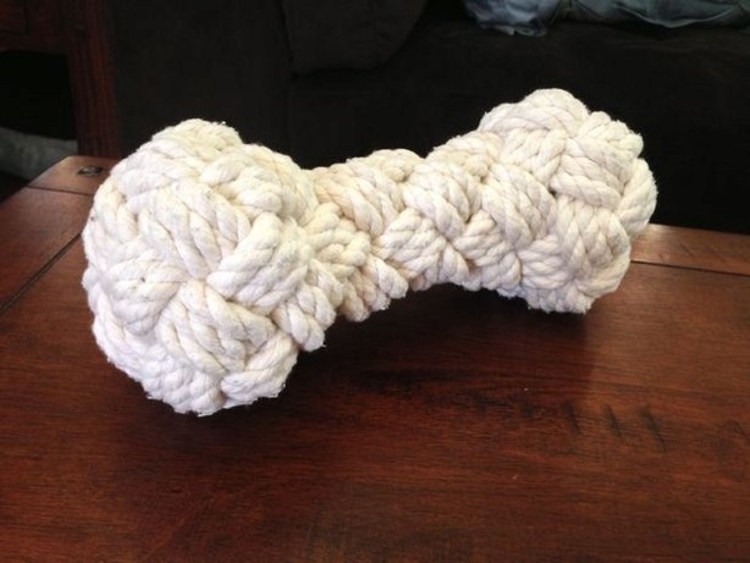 13. Dog Enrichment Toy
I'm totally loving this dog enrichment toy. It's made with pvc pipe and dog treats, and it's a fun little puzzle for your pooch to work out to get the treats out. The toy does not just have it's name for nothing. It is among the few dog toys that can challenge your pet and enhance its growth mentally and physically. Also, different from the other DIY dog toys I have suggested, the dog enrichment toy does not make use of apparels.
14. Pull Apart Dog Toy
For the dog who likes to tear stuff apart, this pull apart dog toy is GENIUS! This would have saved lots of shoes and furniture when my German Shepherd was younger if only I had thought of it. This toy is ideal because dogs have a natural tendency to tear things apart. Now imagine a toy that is meant to meet that very need. However, it is important to supervise your pet as it plays with the pull apart dog toy to prevent it from swallowing fabric.
While working on this, it would be good for you to consider the material used. From my research and trials, I found Hol-ee Roller to be a good option because of its durability and the minimal damage it cause during play.
15. Soft Chew Toys
Recycle your old sweaters to make some soft chew toys for your dogs. Similar to some of the toys suggested above, this one requires some flexing of the sewing skill. This project uses only the sleeves, leaving you the rest of the sweater to try one of these recycled sweater projects.
Here's another way to make them, too!
Someone once said that creativity does not get exhausted when used, instead, it advances. While these tips may not be all there is in regards to improvising with home items, they are a great nudge to the right direction. In fact, it is very possible that while implementing some of the ideas, you could find yourself coming up with new ones. I guess it's a win-win because you become better and our furry friends become happier.
Did you enjoy these DIY dog toys? Want more ideas for showing your pet some love? Check out these posts!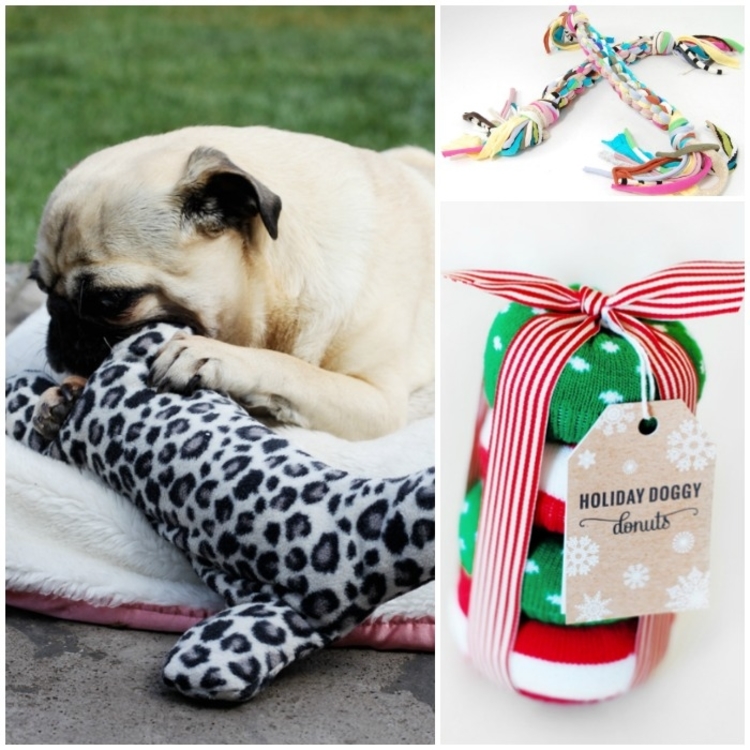 Which DIY dog toys are you making for your pooch?