If dogs are truly man's best friend (and we think they are), we should reward our furry companions for their love and loyalty. But you don't have to break the bank for expensive dog toys. No, you can use materials around your home to come up with fun, creative diy dog toys that are sure to please even the pickiest pups. Don't miss our pet hacks for even more fun ideas!
DIY Dog Toys to Spoil Your Pooch
Don't toss your old t-shirts. Use them to make toys for your furry friends. This t-shirt and ball tug toy is sure to be a hit with your pup.
What dog wouldn't love this rope ball with a surprise treat inside? It uses a stuffed monkey's fist knot to hold the treat, so if your dog unravels it, you can simply redo the knot. Smart!
Related Post: If you have a kitty at your home, then do check out these awesome DIY cat toys.
You don't need to be an expert seamstress (Thank goodness!) to make these easy sew dog toys. After all, your pooch will be chewing and gnawing on them often… all that matters is a sturdy stitch.
Our dog loves water bottles, but a plain bottle isn't very cute, is it? Get the same crinkly fun by inserting the bottle into a bone. Isn't this water bottle dog bone adorable?
Here's a simpler version using on a sock and a water bottle. This won't hold up to tough chewers, though, and should be used with dogs with a gentler bite.
Santa would never forget a good dog! Make your pup a fun stuffed stocking toy this Christmas.
Or how about some festive doggy donuts to celebrate the holidays?
T-shirt yarn is perfect for dog toys. Look how happy this pooch is with his tug toy!
And here's a version using t-shirt yarn but without the ball. What a fun diy dog toy!
If you have no braiding/knitting/crocheting skills at all, you can still make a fun tennis ball toy with a ball and a sock! Just tie a long sock at both ends. Easy peasy.
Dried sweet potatoes and rope were used to make this nearly indestructible dog toy. If you have an aggressive chewer, this may be the perfect solution!
A woven rope bone stands up to lots of chewing, too. This size rope is perfect for large dogs, but you'll need to use smaller, softer rope for little dogs.
I'm totally loving this dog enrichment toy. It's made with pvc pipe and dog treats, and it's a fun little puzzle for your pooch to work out to get the treats out.
For the dog who likes to tear stuff apart, this pull apart dog toy is GENIUS! This would have saved lots of shoes and furniture when my German Shepherd was younger if only I had thought of it.
Recycle your old sweaters to make some soft chew toys for your dogs. This project uses only the sleeves, leaving you the rest of the sweater to try one of these recycled sweater projects.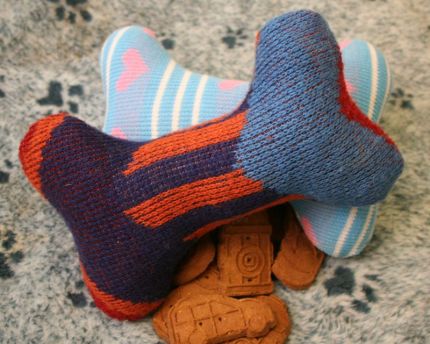 Did you enjoy these diy dog toys? Want more ideas for showing your pet some love? Check out these posts!