Every fall or winter, you pull out your old sweaters and probably buy some new ones. Do you toss the sweaters that are coming unraveled? The ones with holes or snags? Repurpose sweaters that you don't use anymore with these fun and fab ideas! Now, you don't have to feel bad about not wearing your favorite sweaters anymore!
Before it hits the trash can, consider the many ways you can recycle old sweaters. From new throw pillows for your couch to super cute leggings or a scarf, you can still get plenty of use out of your old threads.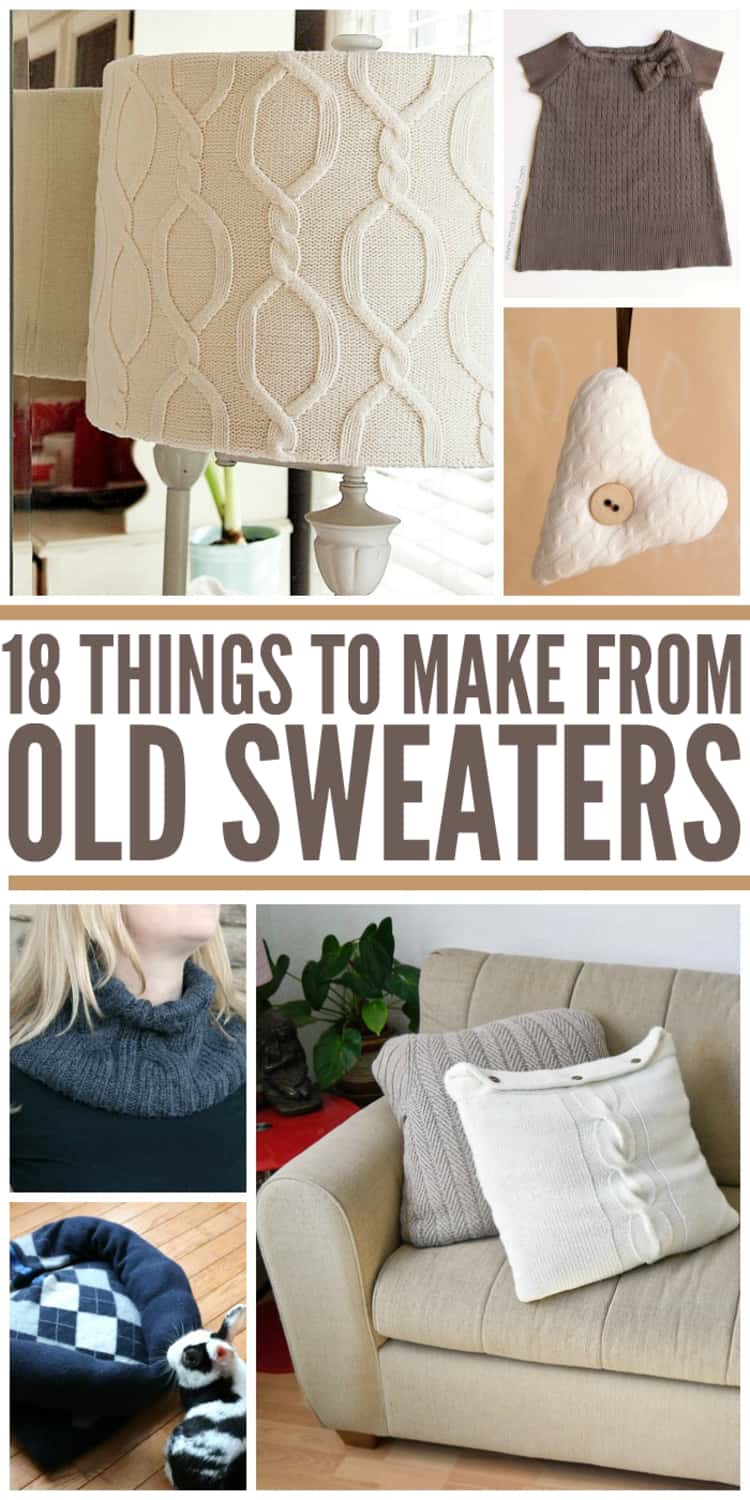 18 Creative Ways To Recycle and Repurpose Sweaters
1. Upcycle Your Old Sweater Into A Cozy Sweater Pillow
Nothing compares to some cozy pillows on a cozy sofa after a long day. You might have that favorite comfy sweater with soft blend of nylon, natural fibers, and wool blend that will make a great cozy sweater pillow! Even without great sewing skills, you can use your old sweaters to make these nice and comfy sweater pillows. All you'll need is:
A few throw pillows
Old sweaters to recycle
A needle
Scissors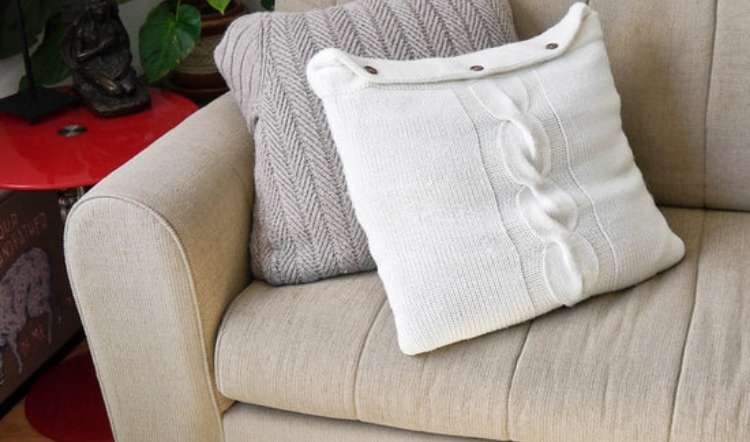 2. Remodel an Old or Worn Lampshade
This recycled sweater project if chic , easy, and you don't need a sewing machine to make one. If you have a lampshade that could use some work, either because it has a hole or a bit of dirt, don't use up money remaking it or getting a new one. This hack is a triple threat: remodel your lampshade, customize it to fit your space, and recycle old sweaters while at it! Has there EVER been a better deal? Give your lamp a makeover with a sweater-covered lampshade. You can even go the extra mile and make a matching sweater pillow while at it!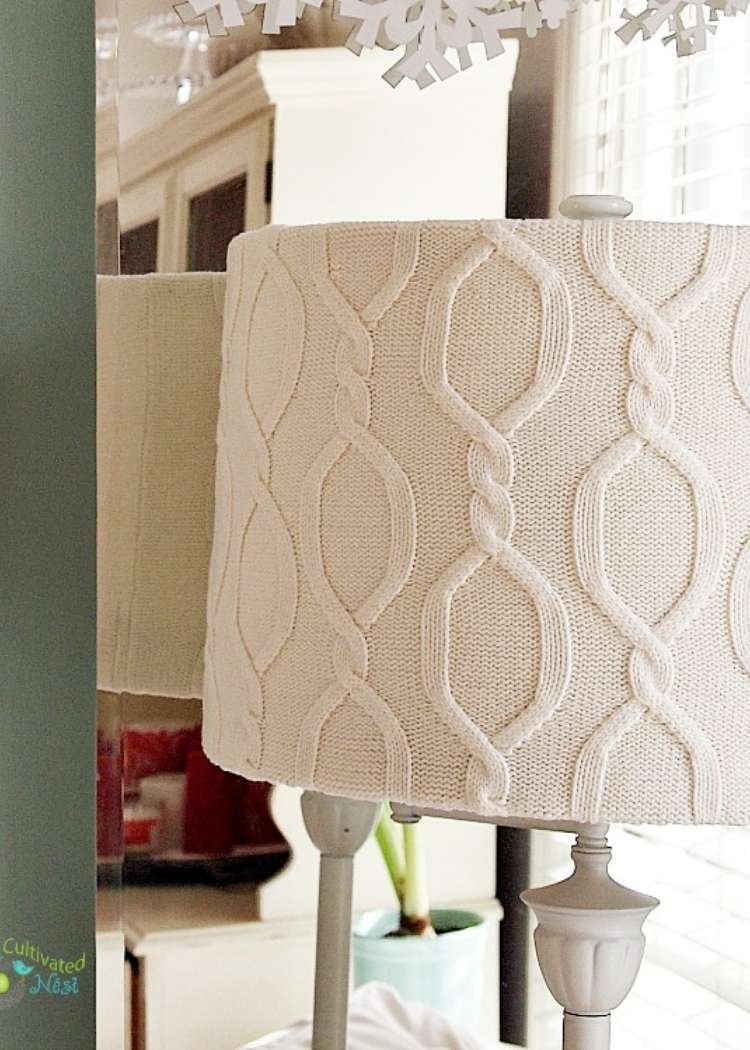 3. Make Your Home Smell Like Spring With These Cute Scented Sweater Satchels
Spring is never too far away and you'll soon have to decide which sweaters have overstayed their welcome in your drawers. These heart-shaped satchels pattern pieces filled with potpourri are just what you need. They are super easy to make and have multiple uses. Whether you're gifting a loved one, hanging them up in the house, or throwing them inside your clothes drawer, they fill up the place with sweet spring-like fragrance.
For a no-sew project, simply cut out a square or circle, put your potpourri inside and tie a ribbon around it.
4. Recycle Old Sweaters By Making DIY Pet Beds
If you own a furry friend, you can understand the pain of having to clean their fur from your couch. With this trick, you give your pet a place to sleep and chill AND save yourself the hustle of cleaning fur every time from your couch. Turn one of your old sweaters into a cozy pet bed for your furry friend and they'll thank you for it!
5. Become Elsa, But With Sweater…Craft!
Do you wanna build a snowman? (It's okay to sing lol) Christmas is the season for snowmen and I can't think of a safer, cozier, and no-flu way to keep kids occupied than with this sweater snowman. I don't need to state the fact that it won't melt and is, therefore, a lasting decoration AND…yes, you get to use all those old sweaters you have no idea what to do with. An added bonus is that this hack requires ABSOLUTELY NO SEWING!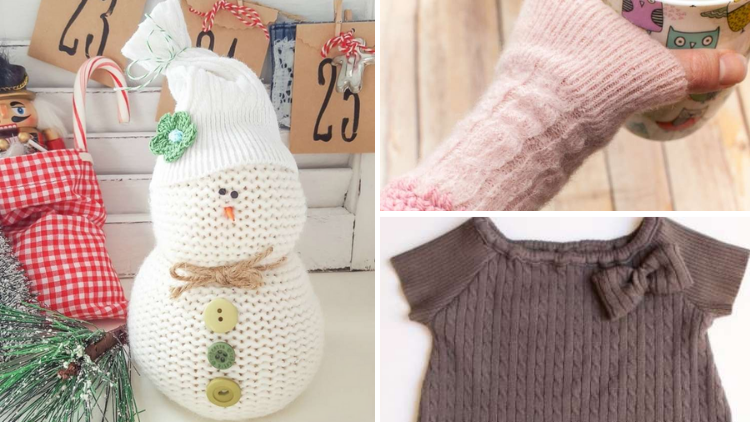 6. Glam Up Even In The Cold With These DIY Wrist Warmers
It's never too cold to look good! This trick works best with that felted cashmere sweater that's so shrunken it won't fit anyone at home. However, it still works with a normal old sweater whose arms you wouldn't mind remodeling into some cozy wrist warmers. With a few easy-to-find tools, make some cute wrist warmers to stay snuggly all winter long. This way, the cold won't bother you!.
The cold never bothered me anyway. – Elsa
7. Recycle Old Sweaters AND Give Your House Plants A Personality
I think that giving your plants a personality would give your house a nice finish. With a few old sweaters, a glue gun, and a pair of scissors, you can transform those dull-looking pots for your plants into cozy, stylish, sweater-covered pots that go with your home decor. This is a great way to put that old sweater with a cute DIY pattern to use.
8. Gift Your Little Ones With Cute Sweater Dresses Made from Recycled Old Sweaters
The best part about being an adult is the fact that you can ALWAYS find a tiny human to fit into your clothes once you grow out of them. Sweaters are no exception, and possibly the coziest of clothes for babies due to their stretchy nature. This short-sleeve peasant-style dress made from an old sweater will look adorable on any little one. Seriously cute. You can also leave the sleeves on and gift it as a sweater dress. Cuddly and Comfy!
9. Repurpose That Colorful Sweater Into a Beautiful Throw Blanket
You'd be surprised at how much fabric vintage sweaters have. Here's a vintage sweater that was repurposed into a nice throw blanket. If you don't have any vintage sweaters around, you can use old sweaters with different patterns and make a nice colorful throw blanket for Netflix and chill!
10. Recycle Old Sweaters And Make Woolly Crafts For a Winter Party
This hack here is for interior designers or moms who have a knack for design. It also allows you to repurpose more than one item! If you have more wine bottles than you'd prefer to, upcycle them into lovely sweater vases and give your house that wintery feel. Sweater vases are super easy to do. All you need are sweater sleeves, glue, twine, and a vase or bottle to cover. This has to be the easiest home decor project ever!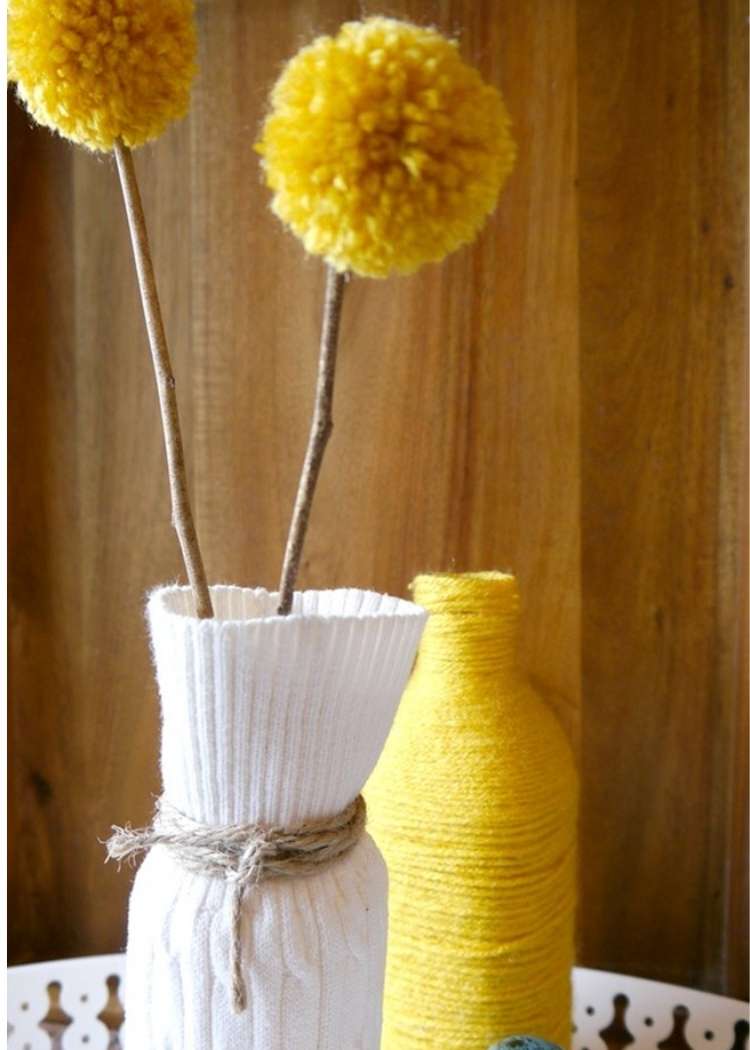 11. Gifts With a Touch Of Wool Craftiness
If you are a gifter like me, you dreaaaad giving out plain gifts. No worries, this tip is for you. Spruce up those gift jars with pieces from an old sweater and I promise the gift will feel a hundred times more personalized than plain store-bought jars. All you need is a few jars, twine, a sleeve from an old sweater, embellishments, and some color.
12. Recycle Old Sweaters To Make These Adorable Sweater Bottle Bags
You've gotta love how cute these wine bottles look! I am for anything but conventional gift-giving. Look classy while spending very little with these sweater sleeves over a bottle of wine that you're giving as a gift.  What a simple DIY solution that will be super well-received for a crafty gift!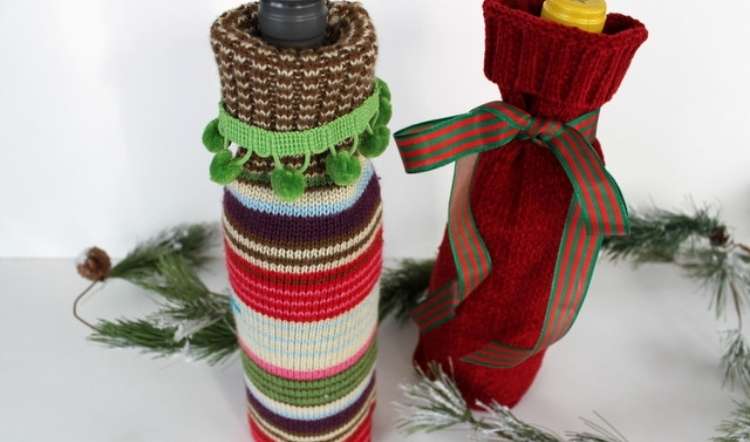 13. Decorate Your Christmas Tree With Sweater Ornaments
Tired of Christmas ornaments that break or get lost almost immediately after Christmas? Recycle your old sweaters and make some sweater ornaments… or use them as embellishments on your gifts. A simple button at the middle looks so vintage! These ornaments are child-friendly and can be used again and again without fear of breakage. They're also a creative way to keep kids busy as you make that Christmas dinner or to simply spend some quality time making handmade ornaments.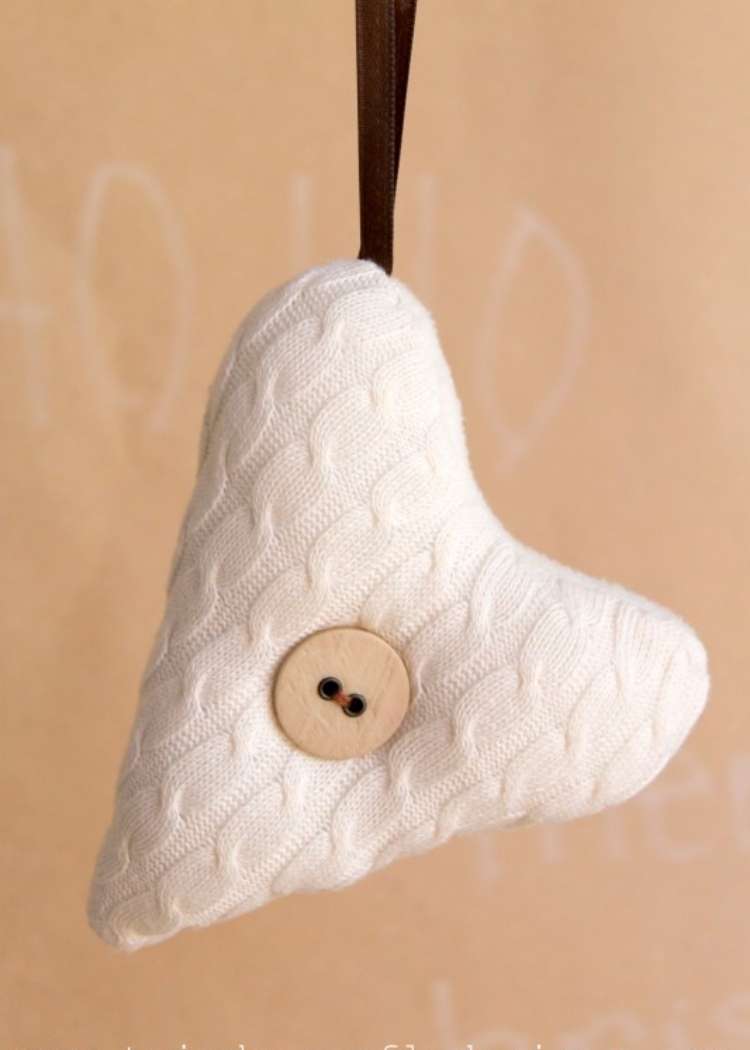 14. Simplify Life And Make Your Own DIY Infinity Scarf
Scarves! Such a life-saver. You can never go wrong with a scarf (except when it's summer) and since scarves come in different shapes and sizes, you'll get off easily with this DIY infinity scarf. Use the cowl from an old cowl neck sweater to make this incredibly stylish scarf. What you can do with sweaters, huh?
15. Turn That Sweater Into DIY Leggings
If it's that time of the year when you're in-between seasons, this hack is a must-try. It works best with machine-woven sweaters or ones that are tightly woven as they won't unravel much or have holes in them. Remake those old sweaters into super fuzzy leggings for kiddo, or for yourself. Adorable!
16. Stay Warm and Able To Lick Your Fingers With These Awesome Fingerless Gloves.
If you love gloves but wish you still had your fingers to allow you to scroll through your phone, your wish has come true. These DIY fingerless gloves are just what you need to stay warm and able to use your fingers. And no sewing mastery is required.
17. Sweater to Sling Bag- Make Your Own Magic
This is something close to magic. A few stitches here and a few trims there and voila! A sling bag from an old sweater. It can't possibly get better than this. Although this hack is for those who understand sewing a bit better, there's nothing a few video tutorials can't fix. Give that old sweater new life and make it into a cute sling purse. 
18. Recycle Old Sweaters And Make Beautiful Beanies
Kids love beanies during the cold season. Instead of buying them from the store, clean out your sweater drawer and make a few beanies to wear at home or give as gifts. Turn your old sweaters into some warm DIY beanies to wear this winter.
A Few More Tricks Up The Sleeve
1. Recycle Old Sweaters And Make Cute Mittens
Whether you're making them for people at home or as gifts, mittens are always welcome. They require little stitching to make and depending on how many old sweaters you have, you can make A LOT of pairs. That way, there's enough for everybody and extras to gift!
2. Old Sweater, New Hat
This snowy day hat is guaranteed to get heads turned your way. And possibly a few 'I want one' requests. It is unbelievably easy to make and costs you nothing. You'll love having repurposed your sweater this way.
Don't throw out those old, worn-out sweaters. Cut off the sleeves or the neck or the body of the sweater, and turn it into something fabulous!
Amazed By How Many Ways There Are To Recycle Old Sweaters? Check Out More Cool DIY Hacks:
Have more ideas to repurpose sweaters? Share them in the comments below!