Looking for ways to create space in your garage? Here is our collection of BEST garage organization ideas and tips. We can't wait to transform our garage with some of these garage hacks and tricks and if you like this post we also have a post with garage organization solutions and inspiration, with products that will help you find space and USE your space more effectively!!
Your garage doesn't need to be a dumping ground, you CAN make it a usable living space.
These ideas will not only help you save space, but they will also help you to save money! Tools, sports equipment, and other odds and ends in your garage need to be organized. These tips will help you to organize the chaos and mess, find peace, and help take back your garage!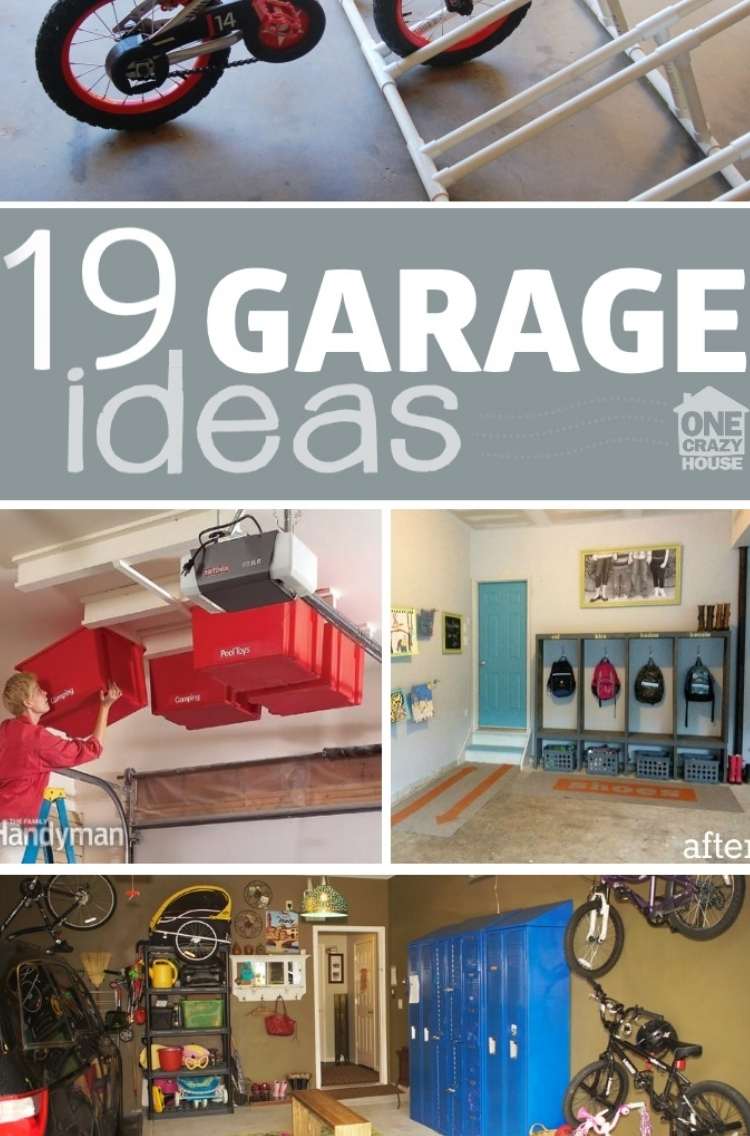 Make the most and organize the garage space you have!
 Start where you are. Use what you have. Do what you can. ~ Arthur Ashe
*This post contains affiliate links*
Garage Organization Ideas to Save Space
Don't let bikes take over the garage. Make your own bike storage rack using PVC parts – it only took an afternoon! This is an awesome storage solution that is easy on the wallet but brings massive organization to your space. You can make a vertical bike rack or however you want it for easy access. The kid's bikes everywhere will be a thing of the past. Be sure to take a look at the video for instructions on how to make a stellar bike rack that your family will love! 
1. Make Your Own Bike Rack
Video: How to Make a PVC Bike Rack
Here's a short video I made to show you how to make a PVC Bike Rack that will help organize your garage.
2. Install Garage Cubbies
This mom gave her garage a makeover by installing cubbies for each kid and a message board. Cubbies are a great way to keep all the garage stuff organized and in one place. Tool storage for batteries, bungee cords, screwdrivers, and other power tools? This tool rack hack is the answer! Keeps all their stuff right where they can grab it on their way out the door. This is a true time-saver and awesome storage tip! 
3. Sliding Garage Storage System
Saving storage space? Utilize ceiling space in your with this sliding garage storage system! Sometimes our garages are so filled with our favorite things we run out of room. When we run out of room on our floor, the only way we can go is up. Use this storage solution to find loads of space you didn't even know you had!
4. Garage Organization Lockers
Here's one of the best DIY projects out there: Half-garage, half-mudroom. Help your kids be organized with this make-over. I love the addition of the lockers! These lockers can act as cubbies for all your children's toys, school clothes, play items, and whatever else they need to store. This will keep these things off of the floor in the entryway of your home. This is a perfect storage solution for a busy family that needs more space!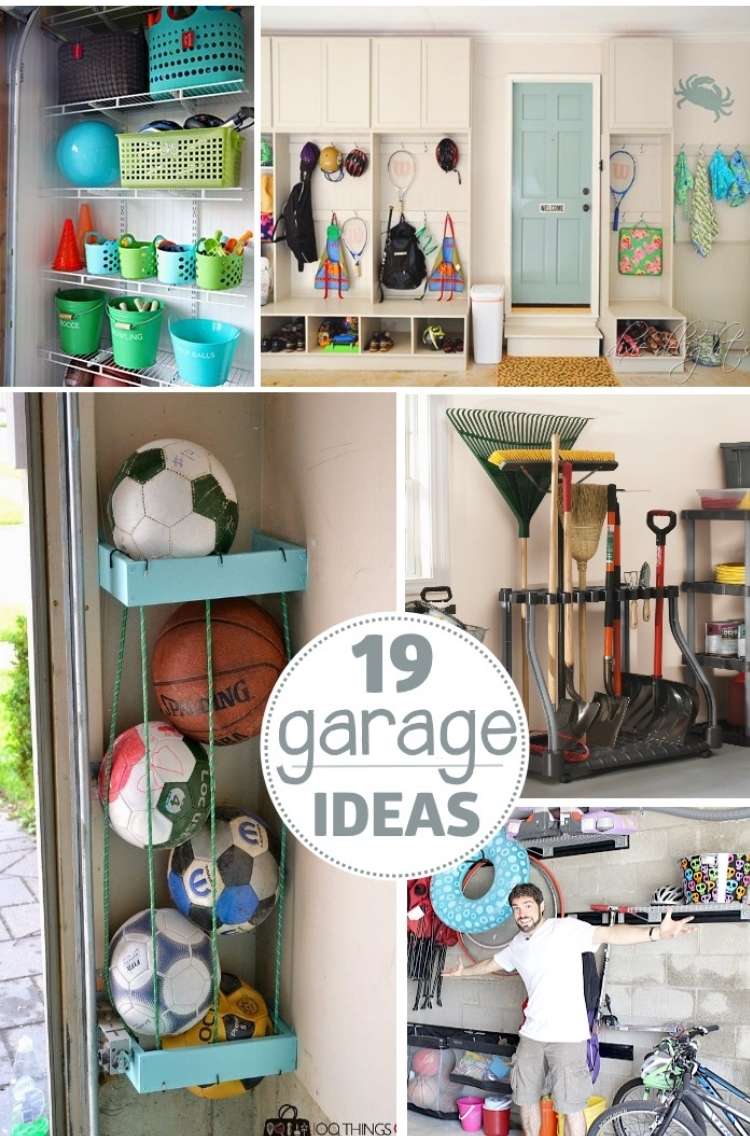 5. Open Wire Shelving
 Organize the garage and all the kids' toys by putting up some wire shelving and adding some fun labeled bins! This is a cost-saving DIY way to store some of your smaller items that can get lost. Create cute labels for each bin making finding your items easy. Never lose another thing in your garage with this storage idea. 
6. Have a Garage Tool Cady
If you don't have a lot of wall space for whatever reasons you will love this garage tool caddy. It keeps all your rakes, shovels, broom, hammers and weed eaters contained. Yard tools can often get lost in your garage among the clutter. Keep all your yard items in one place and easily accessible. This tool holders idea will make you the envy of your neighbors!
7. Create a Garage Storage Bungee Cage
Make this super simple bungee cage to keep all the balls from rolling around the garage and under the car! Kids with various sports equipment (especially basketballs, soccer balls, tennis balls, and the like) can turn your garage organization efforts upside down! Take control of the chaos by adding this simple storage solution to your garage. You will be so glad you did!
8. Add storage overhead!!
Go vertical and consider adding an overhead garage organization system! Genius! This will help you to be able to store more in your garage without it looking more cluttered. Over the year we collect so many things that we do not want to part with. Going vertical allows us to save space. Try this tip out, you will be glad you did!
9. Add Garage Shelves on Cement Walls
The man and his plan. He has grand garage ideas and tells you how to put shelves up in cement walls. Thanks, Man! This one might take some elbow grease, but the result is well worth the effort. This shelving will be sturdy enough to hold all your garage supplies without a problem!
10. Kitchen Magnet Strips
Pegboards? Who knew that kitchen magnet strips could be used for so many things! Use kitchen magnet strips to organize various items on your garage wall. This will work well for tools or any hand item that needs to be easily found. Keep your smaller garage items neatly organized and readily accessible. This idea is a timesaver!
11.  DIY Fishing Rod PVC Organizer
Here is a bonus tip! Do you love fishing? If you are a person that fishes you already know that your fishing rods can get disorganized. Take some PVC pipes and create this easy fishing storage solution. Use this clever idea to organize your fishing gear. This is a budget-friendly idea that will keep your equipment organized for years to come!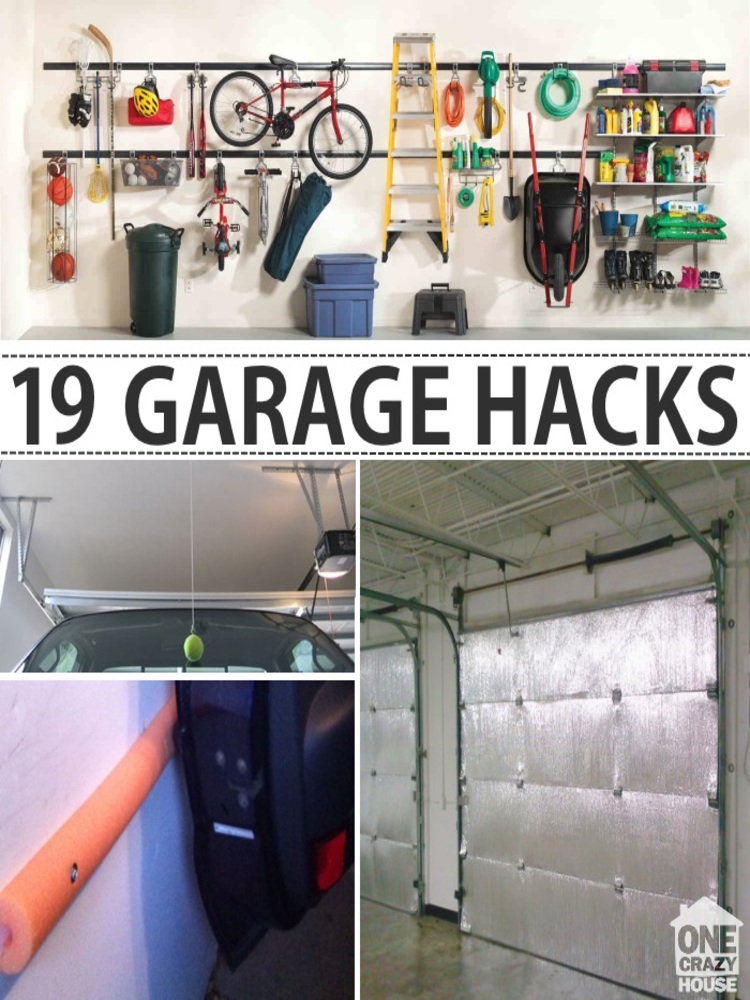 12. Save Money on Electricity – Insulate Your Garage Door
Your electricity bills will thank you for this electricity-saving Tip.  Especially if you are in Texas, where the August heat is BRUTAL on A/C bills (my bet is this will also help in cold climates in the winter, but we live in Texas – someone needs to test it and let us know.
So what do you do: add insulation to your garage door with a radiant barrier, you can get it on Amazon.  It takes literally minutes to install.  All you need to do is measure, cut, and then press into the garage "slats".  Here is a tip, if you are concerned with the insulation staying in place (most of ours stayed in place without tape). On the door, you use the most use duct tape to keep it in place.  We literally paid for the barrier in our first month after installing it!
13. Protect your Car Doors in Tight Garages – With A Pool Noodle
So simple, it's BRILLIANT.  If you have a "tight and cozy" garage – and struggle fitting your car in, instead of constantly worrying that you will ding your doors opening them into the wall, screw a pool noodle into the wall to avoid door dings. This dollar store tip will save you undue headaches about your car!  And probably save you an auto insurance claim or two!
14. Tiny Garage Trick – Park with a Tennis Ball
In our last house, it was nerve-wracking to park our minivan.  We barely had enough space to park and close the door.  I saw this garage parking trick on Lifehacker.  You hang a tennis ball or stuffed animal from the ceiling, at a spot where your car is clear of the door. Suspend it in the air at the point where you are perfectly pulled in, no more guessing. Pull forward until you hit the tennis ball.  You'll never worry again and it will help you park faster too.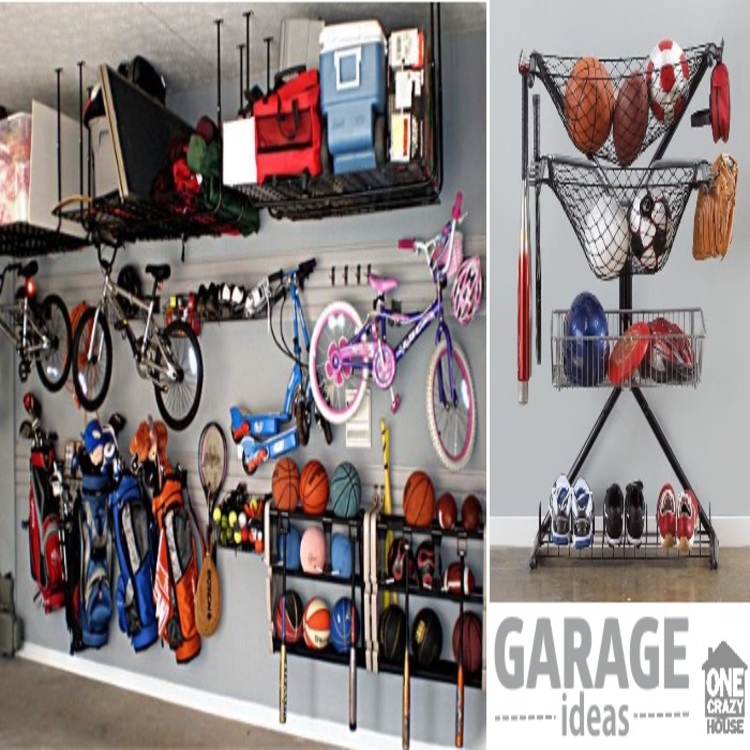 15. Install Overhead Shelves.
You can go to your local hardware store and get shelving units that are installed from your ceiling!!  They are a little complicated to install, for ours, we had to bolt them through the ceiling beams – we have an attic above our garage so that made it easier.
When you have the shelving unit installed properly it can be load-bearing, allowing you to open up LOADS of floor space!!  We love how nothing is on the floor. Garages can be so dusty! Terrific.
P.S. Keep sports equipment organized and accessible with a ball rack. Hold all of your sports items in a place where they can be clearly seen and easily accessible.
16. Use Wall Hooks
They are SO versatile!  They say it isn't organized unless it has a home.  And too often there is a smattering of random things that you need to keep but can quickly become a pile without a "place".  I guarantee even in the smallest garages, you can optimize your wall space to organize and store more of those "things"
What can you hang in a garage?  These!!  
Bikes/Helmets
Shovels/Rakes
Fitness Equipment
Ladders
Extension Cords
Backpacks
Hoses & garden supplies
Shoes!  Yup!!
Fire Extinguisher
AND MORE!!
17. Transform Your Garaged into a Screened-in Porch
Transform your garage into a living/working space without bugs! Add a screen over your garage door. This gives added square footage to your home that you didn't know you had! It is also a great spot for relaxation on those nice summer nights.
Using this trick, your garage could become a game room, a TV room, even a craft or hobby space!!  And STILL, be a garage!
18. Organize Your Cars
If your garage is becoming a dumping ground, it could be that you need to start in your vehicle first.  We created this car organization "station" – perfect for an on-the-go family! Your days of clutter and kids' stuff all over your car are over with this storage solution. One of the unexpected side-effects of my car station??  My garage!!  All those things that we were dumping on the table beside the fridge, now they are in the car!!  We cleaned up both the car and the garage!
Note: Only thing missing… a car document box.  We need a place to put our auto-insurance receipts, salvage title claims (yay for Texas hail y'all) and proof we paid off the car loan, etc.
Hopefully, you were able to find some storage ideas which you can use to organize your garage. These ideas are simple ways (some even DIY) that you can use to take control of the chaos in your garage.
You can never have too many useful solutions for your garage organization.
Using these tips will truly cause your garage to transform into a useful and uncluttered space that you and your family can enjoy. These ideas will make your neighbors wish they knew your secrets to "garage clutter freedom"!
Are you looking for more ideas for your garage to make your neighbors envy you?
Check Out Some of Our Other Garage Organization Tricks:
Which of these garage organization ideas have you tried?