If you are looking to add more storage space in your garage, you might benefit from this list of DIY garage cabinets. You can build them yourself for a fraction of the price of buying pre-made ones! If you find that you are pretty handy with a hammer and nails, you might also enjoy making some cabinets yourself!
6 Genius Tutorials for DIY Garage Cabinets
Garage cabinets are a great way to get some of that junk off the garage floor and create some organization in the garage. These DIY garage cabinets are the perfect way to add some order to your chaotic garage! Plus check out this post on how to organize your garage with ease!
Wall to Ceiling DIY Garage Cabinets
This is a really nice looking set of DIY garage cabinets from Sugar Bee Crafts. They start at the floor and go all the way up to the ceiling, to really utilize your space. You can then tuck in bins or boxes full of the items you are wanting to put away. Add a fresh coat of paint or stain, and it will really add character to your garage.
Minimalistic Garage Storage Wall
Place of My Taste has a simple yet beautiful garage storage wall that will keep your things organized. I love the different ways you can customize this design from color to storage bin organization.
Garage Shelving System
This is a little bit different than cabinets, but it still offers a great way to store your belongings. You use your walls to create space to hang items like saws, bikes, garden equipment, and more. Maximize all the space you can with another Family Handyman tutorial! 
Giant Sliding Door Cabinets
This is a great option for when you have quite a bit of space where you can make some cabinets. These have sliding doors, which makes opening and closing a breeze, you don't have to worry about hitting your head on open doors since they slide back and forth! You can fit bins or containers inside the cabinets to help organize your belongings. Thanks, Family Handyman for another great tutorial.
Storage Cabinet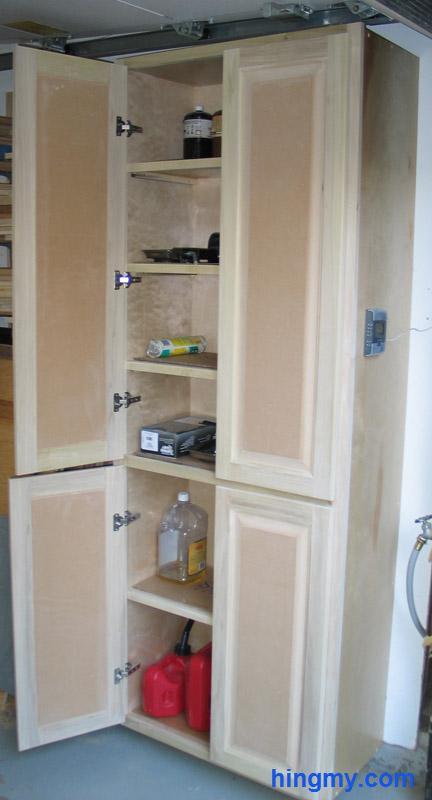 This affordable cabinet tutorial by Hingmy Power Tools & Woodworking might be a great option if you're on a budget. This is a full-length storage cabinet, which means from floor to ceiling! You can tweak the length of cabinets to fit items that you are wanting to be stored. 
Affordable Cabinets On a Budget
Man Made DIY has a great tutorial on how to make affordable cabinets on a budget. You can tweak the cabinets to fit the size you need in your garage.