Discover the different uses for baking soda! It is awesome because it's cheap and can be used in a multitude of ways. From removing stains and residue to doing the laundry and dishes to removing grime and functioning as toothpaste, you'll be mind-blown!
These 40 uses for baking soda are just the tip of the iceberg when it comes to this wonderful product!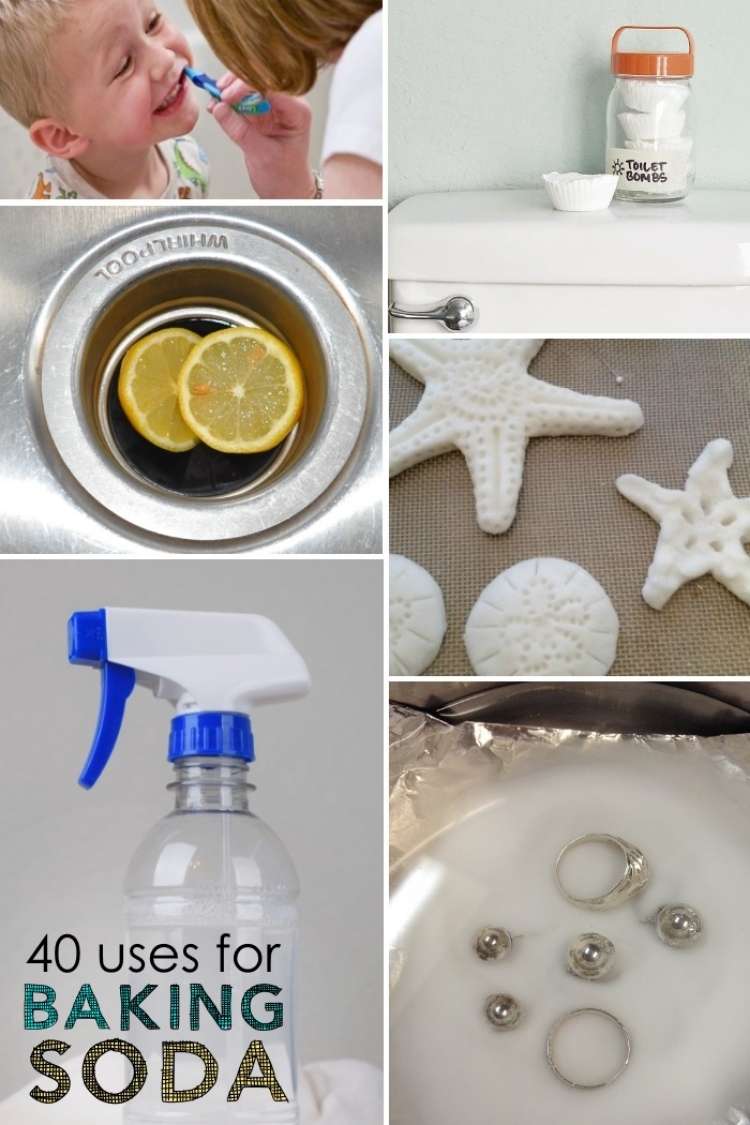 Uses for Baking Soda: Cleaning
1. Ditch the Chemicals and Create your own Deep Cleaner
Cut back on the use of harsh chemicals and try using baking soda – it is a great ingredient for DIY deep cleaning. It's a simple mixture of baking soda, lemons, and water. Use it instead of harsh chemicals in these cleaning recipes (unavailable) for your home. Baking soda is so versatile!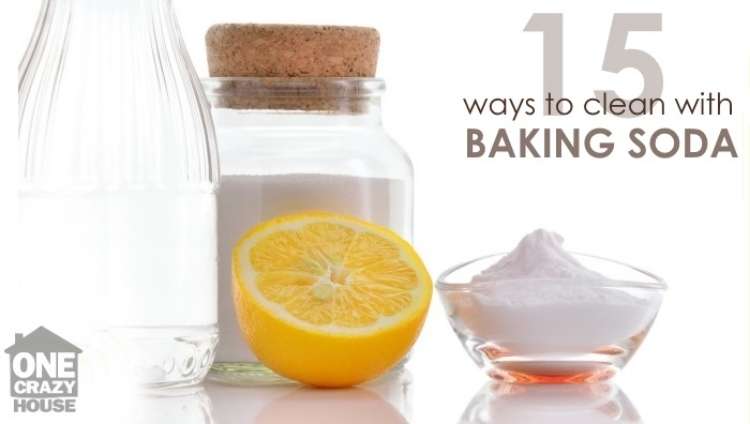 2. Wash Your Grill Grates
Scrub down your grill grates with baking soda and then wipe clean with a damp rag to keep it shiny all summer long. You should have known by now how baking soda and lemon juice work very well together in cleaning not just your grill grates, but also your pan, oven top, pot, and many more.
3. Remove Pesticides and Waxes from Produce
Avoid the heartburn caused by stress with those pests that keeps coming back. Here's a simple baking soda solution: Sprinkle a bit of baking soda on a sponge and scrub produce to remove pesticides and waxes.
4. Clean Baked-On Messes
Clean baked-on messes from your cookware without the elbow grease! Simply sprinkle on some sodium bicarbonate (that's baking soda!), mist with warm water, and let sit for 30 minutes. Wipe up and rinse with clear water. For extra baked-on messes, you can also use vinegar instead of water for extra cleaning power. Better than dish soap!
5. Use Baking Soda to Shine Silver
Want to polish silver stuff? Shine tarnished silver by combining 3 parts baking soda to one part water. Scrub, and then rinse and let dry. It also works well with aluminum!
6. Wash your Bathtub
Remove those dirt not just in the shower curtain but the the whole bathroom! Scrub up your bathtub with 1/4 cup baking soda, 1/4 cup vinegar, and 1 T of liquid detergent.
7. Unclog the Toilet with DIY Toilet Bombs
Tired of sprays? Add 1/4 cup of baking soda to your toilet and scrub to get it clean and shiny again! Or you can make toilet bombs – these make cleaning a breeze.
8. Easily Clean your Microwave
Microwaves can get so dirty! And the baked-on food can be so difficult to clean up! Make the job simple with baking soda. Clean the inside of your microwave by sprinkling baking soda on a damp sponge and wiping it out. Once you have wiped it down, rinse with water.
9. Remove Crayon and Marker from Walls
Remove crayons and markers from the walls by scrubbing lightly with a damp sponge and baking soda.
10. Easily Clean Brushes and Combs
Clean brushes and combs by soaking in a solution of 1 tsp. baking soda and 4 cups warm water. Rinse and let dry. Make sure to remove all of the hair from the brush before washing.
11. Use Baking Soda and Vinegar to Actually clear drains
Unclog drains by pouring 1 cup of baking soda followed by 1 cup of hot vinegar into the drain. This works in the toilet, as well as the sinks, and can work better than name-brand harsh chemical solutions.
12. DIY Carpet Freshener
Give your vacuum a breather. Mix baking soda and a few drops of orange essential oil together to create your own DIY carpet freshener to shake on the floors before vacuuming. This will help leave your carpets feeling and smelling fresh and clean!
13. Use Baking Soda and Tin Foil to Clean Silver
Clean tarnished sterling silver jewelry using baking soda and tinfoil.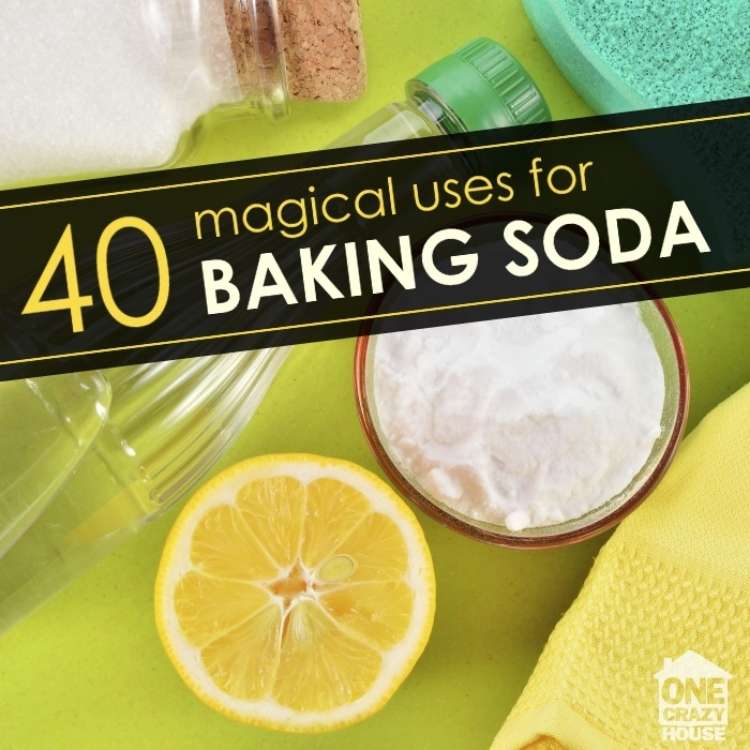 More Ways to Use Baking Soda – in Life
14. Freshen Up Sweaty Sneakers Overnight
Freshen up sweaty sneakers by sprinkling a teaspoon of baking soda in them and letting them sit overnight before dumping them out.
15. Use Baking Soda to Pamper your Toes
Soak your tired feet in a basin of warm water (not hot water, okay?) and 3 T of baking soda after a long day.
16. DIY Kitty Litter Odor Neutralizer
Sprinkle baking soda in your kitty's litter box to neutralize odors.
17. DIY Baking Soda Air Freshener
Make your own mason jar air freshener with baking soda and essential oils. All you need for this cute and fresh craft project is a canning jar, a piece of scrap fabric or scrapbook paper, baking soda, your favorite essential or fragrance oil, and your craft supplies like scissors, a pen, and a needle). It's important to use a canning jar and not a regular mason jar so that the top part can be left open for the smell to disperse, while still being held in place.
18. Amazing Uses for Baking Soda: Emergency Grease Fire Suppressor
Extinguish grease fires by pouring baking soda on them. Make sure to stay safe while cooking, and don't forget to check fire extinguishers. This should only be used as a last resort option, but it's still good to know!
19. Use Baking Soda to supercharge your shampoo
Add a bit of baking soda to your hair along with your shampoo to help get rid of product buildup.
20. Get Rid of Callouses
Remove callouses by rubbing 3 parts baking soda to 1 cup of water on the callous
21. Bathroom Hacks with Baking Soda and Vinegar
22. Baking Soda to De-Ice Walkways
Sprinkling baking soda on your frozen walkway and steps can help melt the ice and provide traction. This is an inexpensive way to stay safe when walking around after snow!
23. Make fluffier Omelettes
Get fluffier omelets by whisking in 1/2 tsp baking powder to every 3 eggs.
24. Relieve your baby's diaper rash
Relieve baby's diaper rash by adding 2 tsp of baking soda to the bathwater at bath time.
25. Clean stuck-on food from silverware and cookware
Soak oral appliances in a glass of water with 2 tsp of baking soda to freshen and loosen stuck food particles and then brush clean with a paste of baking soda and water. This is also a great way to deep clean your silverware and cookware during Spring Cleaning!
26. Soothe Bug Bites with DIY Baking Soda Paste
Baking soda isn't just good on the teeth. Help soothe bug bites and itchy skin by applying a paste of baking soda and water to the affected area.
27. Freshen your cat's litter box
Sprinkle some baking soda in the bottom of your kitty litter box for a fresher scent. Baking soda will help keep odors at bay.
28. Quickly and Easily Get Rid of Splinters with Baking Soda
Get rid of a splinter, without a needle and pinching. Use a baking soda paste over the affected area.
Splinters can sometimes be removed with baking soda and a bandaid. You will have to clean and dry the area with a clean cloth, and then apply baking soda to the splinter. Place a bandaid over the splinter and then remove it after a few hours. The splinter should come out. Make sure to use antibiotic ointment to prevent an infection and see a doctor if a splinter becomes infected. A splinter may put you at risk of a tetanus infection. Make sure your Tdap immunization is up to date.[1]

-Wikihow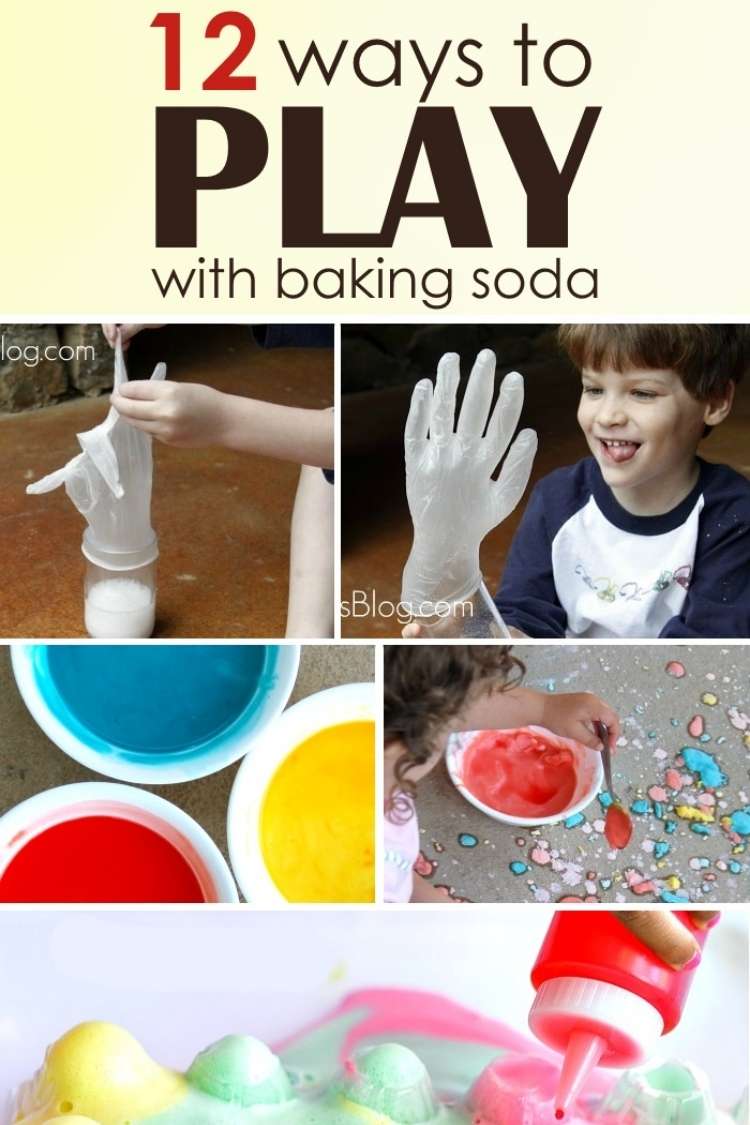 Crafting with Baking Soda
Baking soda isn't just for baking and cleaning! Check out these fun crafts and art projects you can make with the kids.
29. The Classic Volcano Project
Make a super fun baking soda volcano with the kids! All you need for the amazing lava reaction is baking soda, vinegar, and food coloring if you want to get really creative. The volcano can be as simple as a beaker, or you can go all out and have the kids create volcanoes from paper mache. This could make for a fun and educational afternoon.
30. Create Cute Decorations for your Home
These starfish are made out of baking soda clay – they are a fun way to add a beachy feel to your home. Create your dough by heating up cornstarch, water and baking soda, then shape and decorate with needles or pencils. Make sure to lay down some newspaper to protect your working surface, and don't forget to use a sealant to keep your new art piece intact. You can paint your creations, or you can leave them the white that it comes out.
31. DIY Fizzing Sidewalk Chalk Paint
Create fizzing baking soda and water paints
32. Create Your Own Snow
Make cold Frozen-themed snow out of baking soda and shaving cream. This is so much fun for when you want to play in the snow, but don't have any! This is also a great project if you live somewhere without snow.
33. Explosive Science Kit
You can make a science kit full of explosions – with baking soda!
34. DIY Chalk Paint
If your looking for an antiqued and distressed look to re-purpose your furniture this DIY chalk paint is perfect!
35. Make Your Own Modeling Clay
Cook up a batch of this super fun modeling clay for the kids to play with.
36. Colorful Experiments: Amazing Uses for Baking Soda
Your kids can explore baking soda reactions – all you need is some vinegar and food coloring! The best bonus from this awesome craft is that when you pour it down the drain, it doubles as an amazing drain cleaner!
37. Simple Science Experiment: Blow up a Balloon
Blow up a balloon, or even a glove – with the science of baking soda.
Add a few tablespoons of vinegar to the glass, and add some baking soda to the fingers of a glove or the end of a balloon. Attach the balloon/glove to the glass, and then allow the baking soda to drop onto the vinegar, and watch as your balloon blows up with the gases that are created from this experiment!
38. DIY Sensory Activity
You can also use leftover egg cartons and baking soda for an afternoon of sensory play.
There you go, folks! 30 ways to utilize baking soda around your home and cut down on all those nasty harsh chemicals. Have fun!
For more awesome ways of cleaning naturally, check out these articles, too!