Dorm room ideas decor and organization are essential (and fun!) if you are moving into a dorm room soon! Although it used to be difficult to decorate the walls, desks, cork boards, and more, that's no longer the case thanks to command hooks, Blu Tack, and a few of these handy tricks.
Where were those things when I was in college? Anyway, you can make your room your own with these super cute, super girly dorm room ideas decor, and organization ideas. Send us a picture of yours when it's done! And don't miss out on our post, Dorm room essentials and Hacks They Didn't Teach You in College Life 101 — it's a must-read!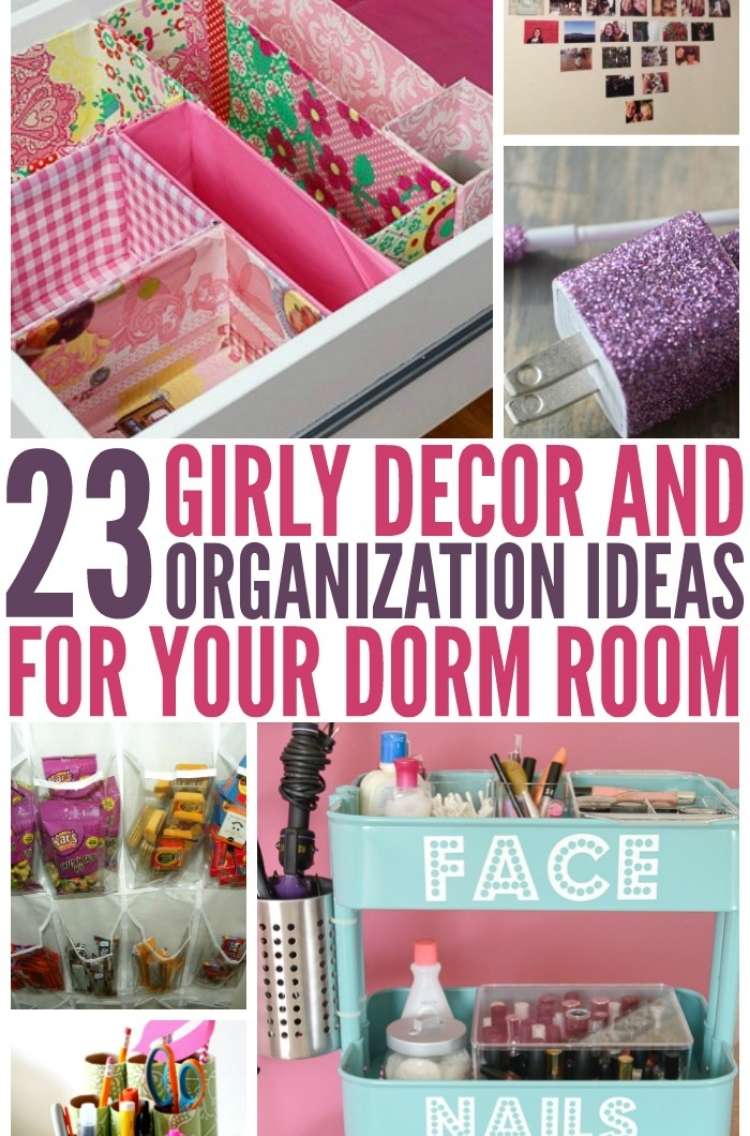 Awesome Dorm Room Ideas
1.  Washi Tape your Keyboard!
Washi tape your keyboard to add a little color vibe to your desktop. But the fun doesn't have to stop there! There are so many things that you can decorate with Washi Tape! Have a hard time differentiating your journals apart? Add a stripe of Washi tape for a color scheme! You can also use Washi tape to DIY some cute paperclips to use as bookmarks, or pretty up some coasters or a pencil jar so you don't forget to use them!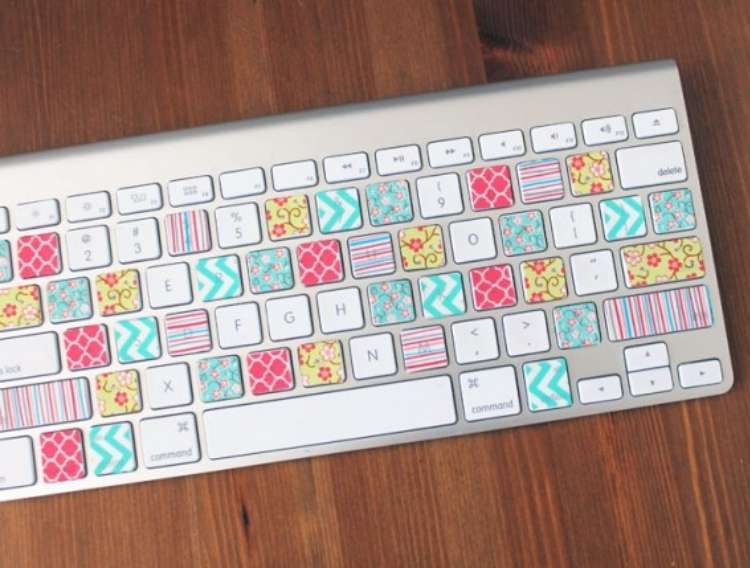 2. DIY a Cell phone charging station to save valuable counter or table space
Keep up with your charger and your phone with this easy cell phone charging station made out of an old lotion bottle. See more charging station ideas with adhesive strips here. This saves precious counter or table space, and saves you from constantly having to be looking for it! You can just cut out the shape from an old lotion or shampoo bottle, or you can get fancy and Mod Podge some fabric on there. 
3. Dorm Room Decor and Organization: DIY a book charging station
This is also a great idea that doesn't detract from the room décor dresser: a book charging station! Cut out the pages from the book so that your phone can fit snugly inside, and don't forget to cut a notch for the charging cable. This is a great hack if you would like to cut down on your screen time since you don't have to be looking at it. Out of sight, out of mind, right?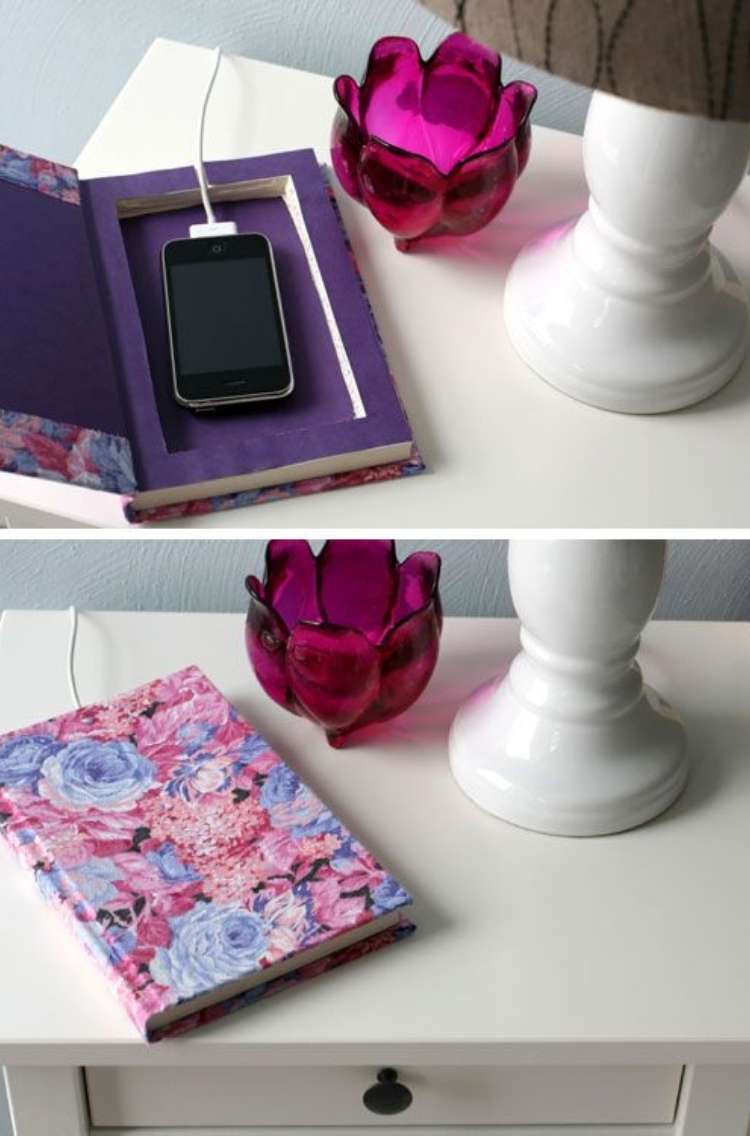 4. Save space in your dorm room by hanging your snacks on a door
Hang your snacks on the door to keep them out of the way. If you have a small space, here are a bunch of other ways to use shoe organizers, too! There are so many ways that you can use this hack! Some ideas that you could store in this handy organizer other than shoes:
Office Supplies
Cleaning supplies
Kitchen Supplies (that are allowed in college, like plasticware, and cups)
Hairstyling tools and accessories
A vertical herb garden
small posters
5. Video: Simple Dorm Hacks to know before you head to college
Want the best dorm room in the hall? Check out this short video to see some super helpful best dorm room ideas you'll love!
6. Learn to properly fold shirts: Roll T-shirts instead of folding them to save space and add additional storage in your drawers
Learn how to fold t-shirts to save space in your drawers. The shirt you need will be in a handy little ball – no more digging through a pile to find the one you're looking for! 
7. Dorm decor Room Hack: Customize your charger with glitter so you always know which one is yours
Never mistake your roommate's phone charger for your own again. Glitterize yours to make it stand out. If your friends love this idea, make sure that they use different colored glitter than yours! Don't forget to cover the ends in tape so that the glitter doesn't get on the prongs. And make sure that the USB hole is covered, as well.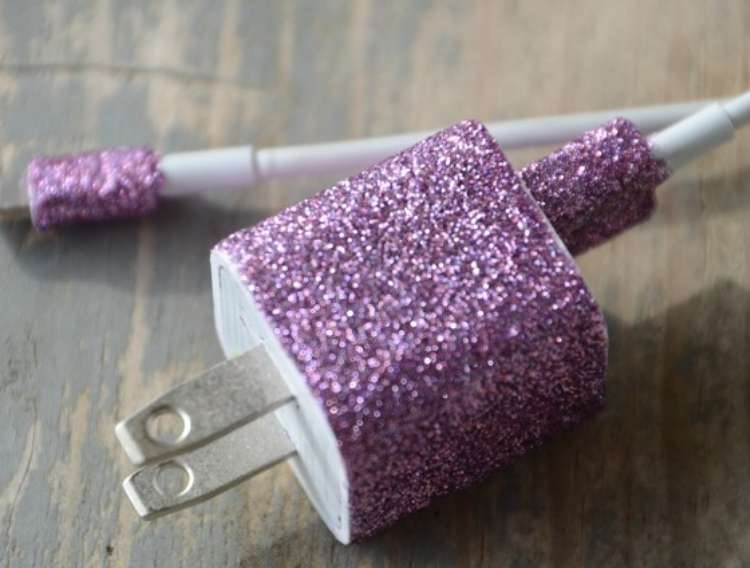 8. Dorm Room DIY Decoration: Turn Twinkle lights into flowers to brighten up your space
Turn ordinary twinkle lights into flower string lights using simple cupcake liners. Isn't that a pretty addition to your collage wall and a nice accent to dorm beds?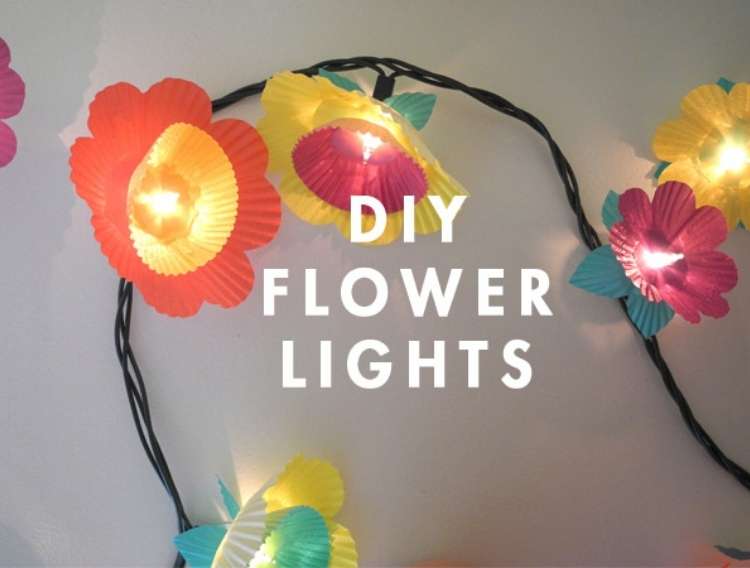 9. Dorm Room Organization DIY: Recycle Toilet paper tubes into a pretty desk organizer
Create a pretty desk organizer for your college dorm room out of cardboard tubes, wrapping paper, boxes, and burlap. It's amazing what a little creativity can do.  This dorm room decor is pretty and inexpensive to make, showing much for storage space!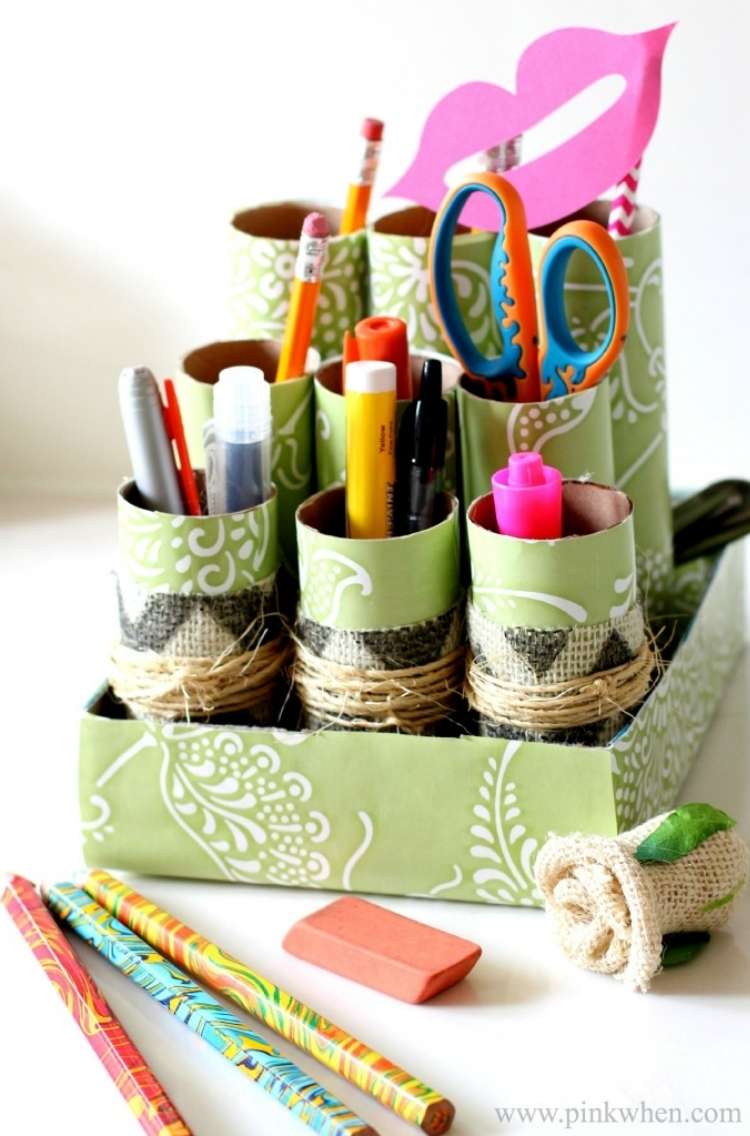 10. Schedule Organization Hack: Make an (almost) free calendar with paint chips from your local home improvement store and a frame.
Clutter and keep up with assignments, tests, and social activities with a dry erase paint chip headboard calendar. Make one for your roomie, too! Head to the dollar store for some inexpensive frames and dry erase markers. You can also find some great inexpensive frames at a thrift store.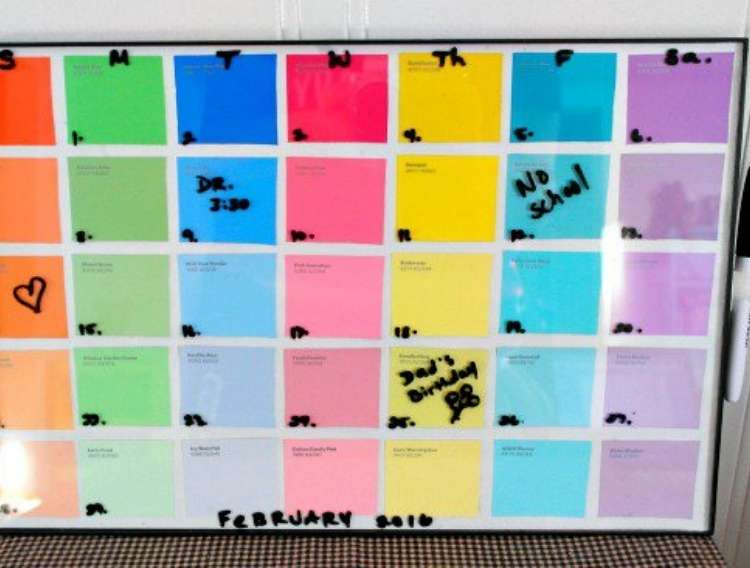 11. DIY Dorm Room Decor Ideas: Personalize your closet space with a picture clothesline.
Add string between two thumbtacks or command hooks and stick wallpaper to create a picture clothesline (or three) to display pictures of you and your friends. You can have these as shower curtains as well, unique!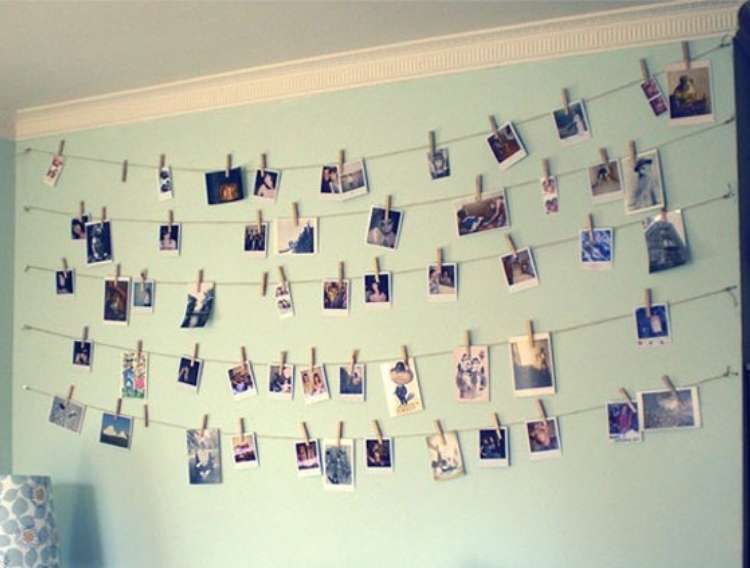 12. DIY Dorm Room Decorations: Make an inexpensive wreath to show off your school pride. 
Show your school spirit with a fun and easy wreath inspiration! This one is made out of plastic tablecloths, and area rugs, so it's incredibly cheap to make.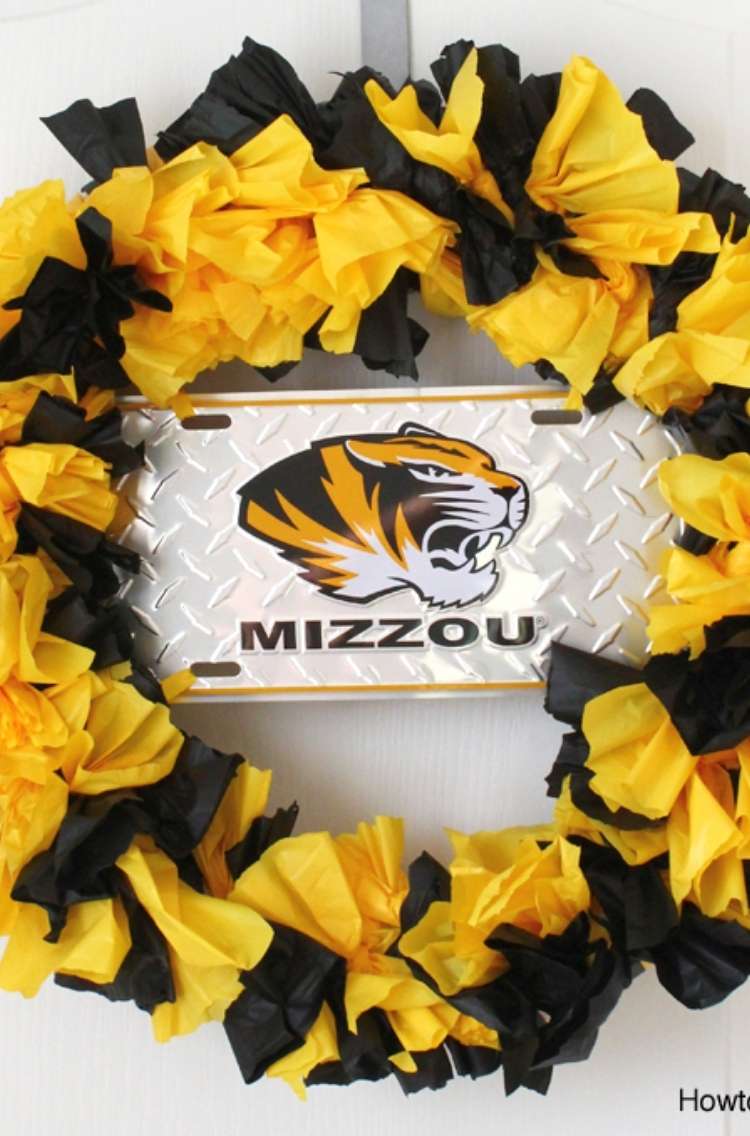 13. Dorm Room Organization: DIY Desk Drawer Organizers
Keep your desk drawers organized with dividers made of pasta boxes or cereal boxes. It's so easy to design a system that fits your space!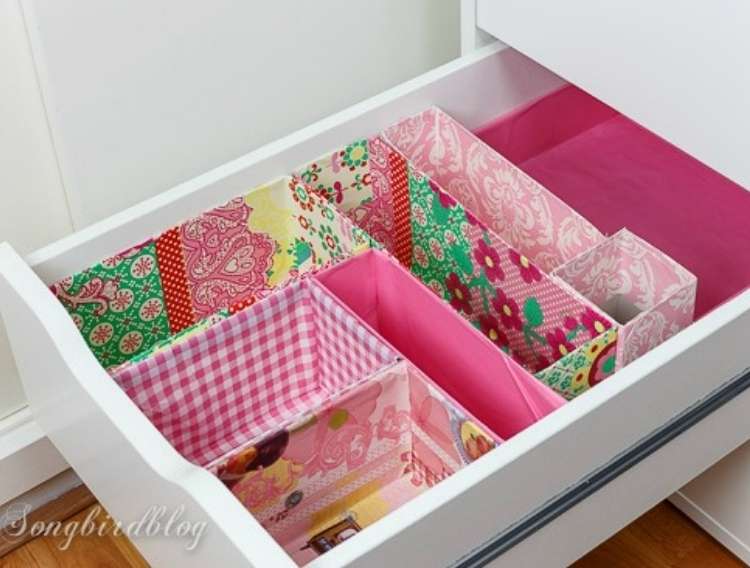 14. Dorm Room Organization: Create a bathroom space in your dorm with a rolling vanity
Create a rolling vanity that you can take with you from your dorm room to the bathroom (if you're lucky and live in a suite). Even if you don't, it's a great idea to have an area in your dorm room dedicated to your bathroom accessories to make getting ready a breeze. 
15. Spruce up your dorm room with easy to remove Washi Tape
If your roommate will go for it, create an accent wall using washi tape. You can go with stripes, of course, or chevrons, but these crosses are super cute.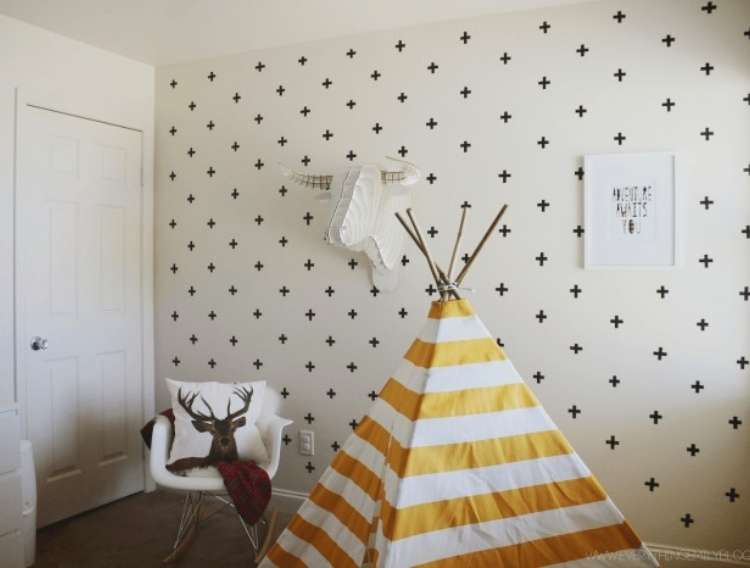 16. Maximize Dorm Room space with a loft bed (if allowed)
If your school will let you switch out your beds, a loft bed or storage ottomans is a total life and space saver. Put extra seating underneath, or your desk… or additional clothes storage. Add throw pillows for a more comfortable look!
17. DIY Dorm Room Decoration: Liven up your space by creating a confetti wall decor
Make a confetti wall! This is actually pretty easy. Just use a template to cut out your circles. Scrapbook paper in lots of different coordinating patterns and colors will do just fine. Then use Blu-Tack (affiliate) to put all the circles on the wall. It comes right off, so you don't have to worry about wall damage.
Here's another way to make it! 
18. Use Washi or Decorative Duct Tape to spruce up plain office supplies like dry erase boards
Jazz up an ordinary dry erases board or corkboard with washi tape or duct tape. This can also work for your binders or even to protect your laptop from scratches.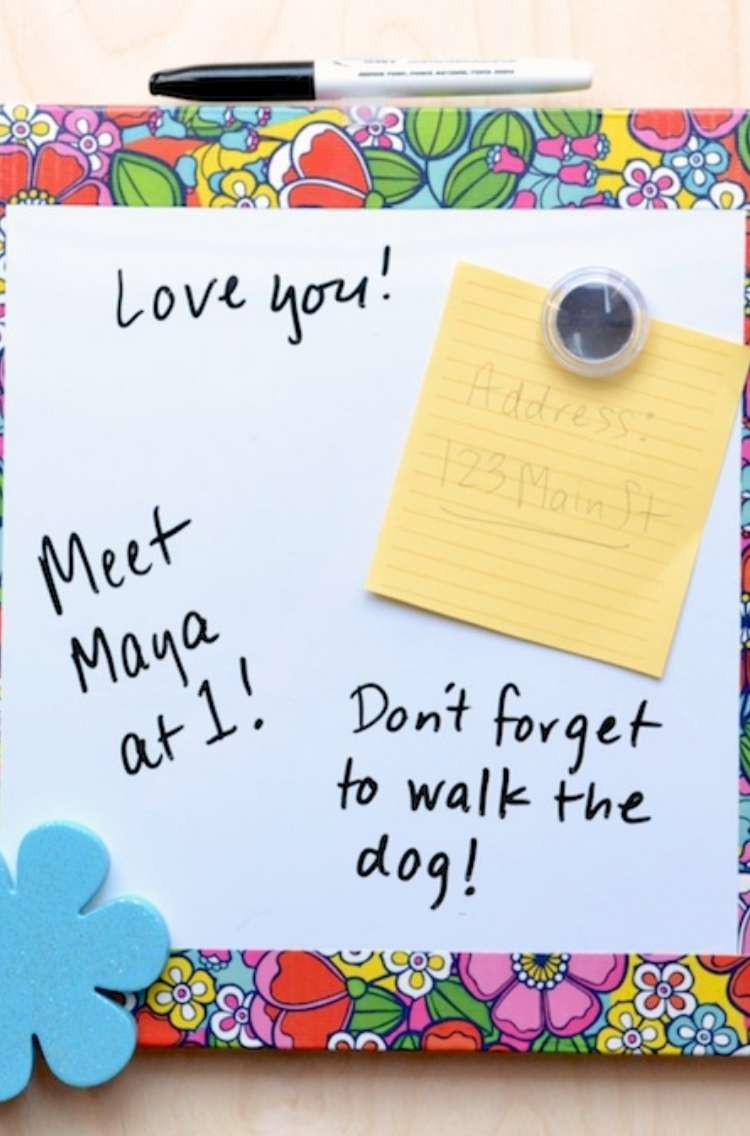 19. DIY Dorm Room Decor: Print out your pictures to create a heart collage on your wall
Create a heart photo display for your wall. Use Blu Tack or a similar reusable putty to make the photos stick.
20. Create a Dry Erase board for your dorm room using a frame.
Make a dry-erase board out of a simple photo frame. It's great for leaving notes for your roommate, writing shopping lists as you run out of things, or displaying your latest inspirational quote. You can also create a chalkboard by painting the glass with black chalkboard paint. You can use a small frame to create a cute reminder or quote board, or use a large frame and hang to create a large board for homeschooling, brainstorming, or writing out long to-do/grocery lists. Repurpose a frame that you already have, or hit a local thrift store for some great bargain frames.
21. Use washi tape to decorate other areas of your dorm room, like light switches.
Decorate light switches and outlet covers with washi tape to add a little color and fun in unexpected places.
22. Add a pop of color to your dorm without touching the walls: Glue flowers to a mirror and rest it on the wall
Dress up your dorm room mirror with fake flowers! If you don't want to use a glue gun, try Blu Tack here as well.
23. Decorate your dorm room with a DIY photo banner
Hang a photo banner above your desk or bed… All you need for the gorgeous and festive decorations are your pictures, cut into triangles, some ribbon, and hot glue.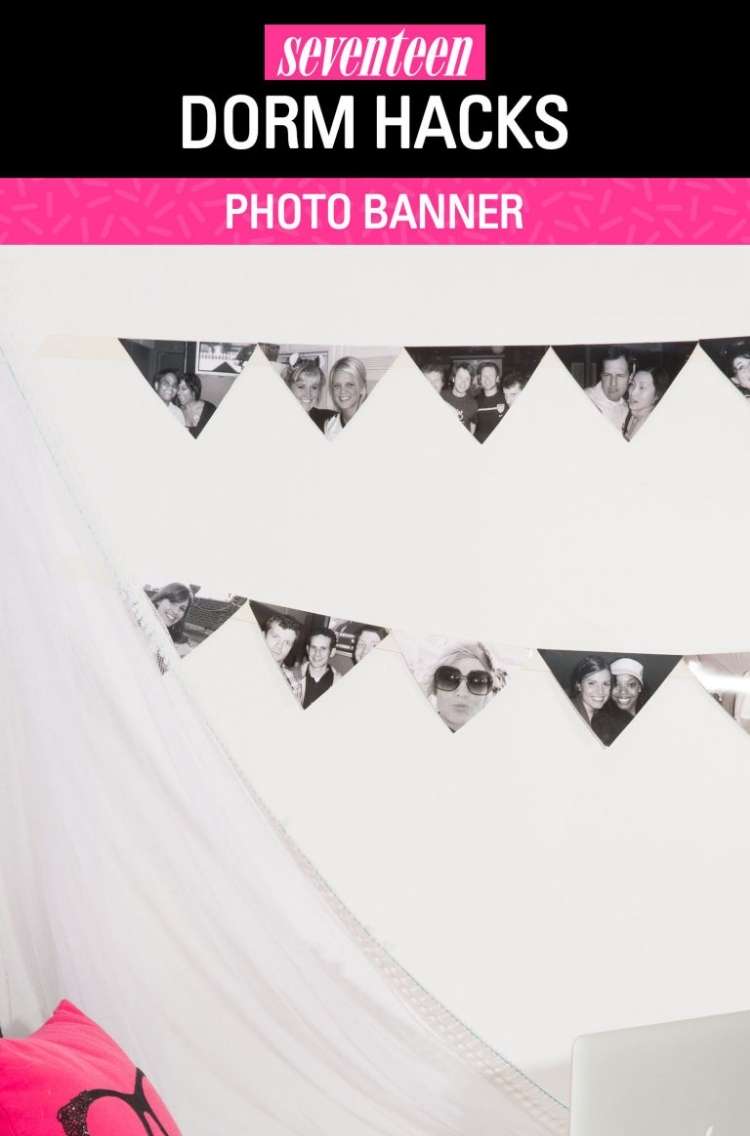 If you loved these dorm room decoration and organization ideas, be sure to check out our other organization and DIY posts for small rooms like dorms!
Which of these awesome dorm room ideas do you like the most? Let us know in the comments!