dorm room decor
and organization ideas. Send us a picture of yours when it's done! And don't miss out on our post,
Dorm Hacks They Didn't Teach You in College Life 101
— it's a must read!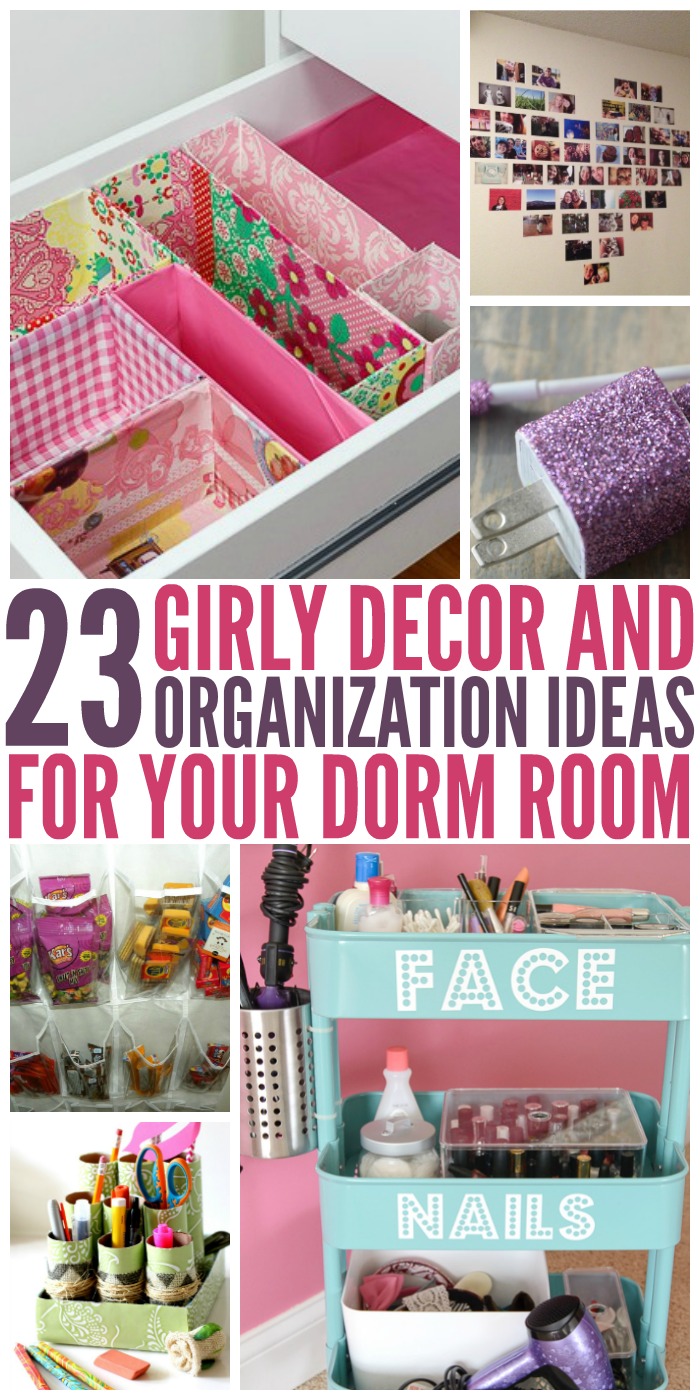 Decor and Organization Ideas for Your Dorm Room
Washi tape your keyboard
to add a little color to your desktop.
Keep up with your charger and your phone with this easy
cell phone charging station
made out of an old lotion bottle. See more charging station ideas
here
.
This is also a great idea that doesn't detract from the room decor: a
book charging station
!
Hang your snacks on the door
to keep them out of the way. Here's a bunch of other
ways to use shoe organizers
, too!
Video: Simple Dorm Room Hacks
Want the best dorm room in the hall? Check out this short video to see some super helpful dorm room hacks you'll love!
Learn how to fold t-shirts to save space in your drawers. The shirt you need will be in a handy little ball – no more digging through a pile to find the one you're looking for!
Never mistake your roommate's phone charger for your own again. Glitterize yours to make it stand out.
Turn ordinary twinkle lights into flower lights using simple cupcake liners. Isn't that a pretty addition to your windows or walls?
Create a pretty desk organizer out of cardboard tubes, wrapping paper, boxes and burlap. It's amazing what a little creativity can do.
Keep up with assignments, tests and social activities with a dry erase paint chip calendar. Make one for your roomie, too!
Add string between two thumbtacks or command hooks to create a picture clothesline (or three) to display pictures of you and your friends.
Show your school spirit with a fun and easy wreath! This one is made out of plastic tablecloths, so it's incredibly cheap to make.
Keep your desk drawers organized with dividers made of pasta boxes or cereal boxes. It's so easy to design a system that fits your space!
Create a rolling vanity that you can take with you from your dorm room to the bathroom (if you're lucky and live in a suite).
If your roommate will go for it, create an accent wall using washi tape. You can go with stripes, of course, or chevrons, but these crosses are super cute.
If your school will let you switch out your beds, a loft bed is a total life and space saver. Put extra seating underneath, or your desk… or additional clothes storage.
Make a confetti wall! This is actually pretty easy. Just use a template to cut out your circles. Scrapbook paper in lots of different coordinating patterns and colors will do just fine. Then use Blu-Tack (affiliate) to put all the circles on the wall. It comes right off, so you don't have to worry about wall damage.
Jazz up an ordinary dry erase board or cork board with washi tape or duct tape.
Create a heart photo display for your wall. Use Blu Tack or a similar reusable putty to make the photos stick.
Make a dry erase board out of a simple photo frame. It's great for leaving notes for your roommate, writing shopping lists as you run out of things or displaying your latest inspirational quote.
Decorate light switches and outlet covers with washi tape to add a little color and fun in unexpected places.
Dress up your dorm room mirror with fake flowers! If you don't want to use a glue gun, try Blu Tack here as well.
Hang a photo banner above your desk or bed… Make sure you have digital or physical copies of your photos before you cut them into triangles, though!
Organize your hair tools without cluttering up your sink top. Add command hooks to the inside of the cabinet to hang your hairstyling tools from.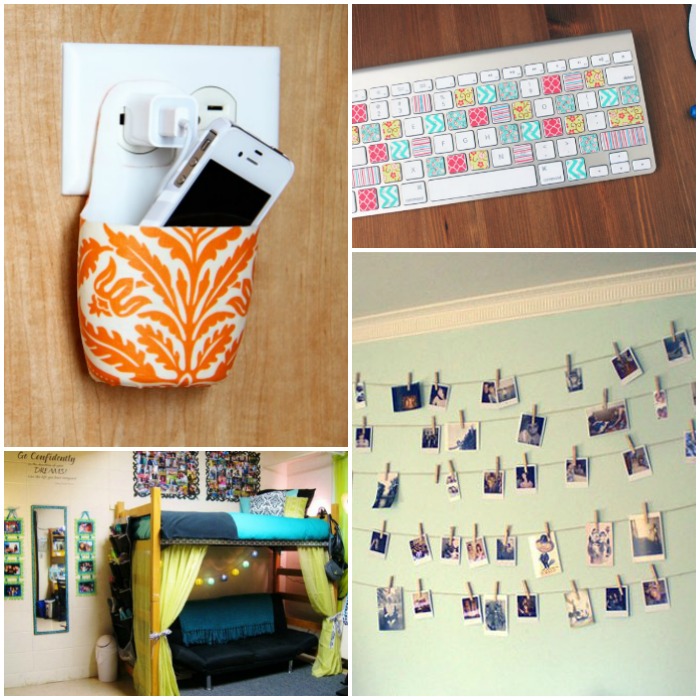 Moving into a dorm room soon? Although it used to be difficult to decorate the walls, desks, cork boards and more, that's no longer the case thanks to command hooks, Blu Tack and a few of these handy tricks. Where were those things when I was in college? Anyway, you can make your room your own with these super cute, super girly