We've covered lots of tips that will change the way you use your fridge, but we forgot one thing… what to do about a stinky fridge! That's right… We've all been there. You open up the fridge looking for a snack when WHAM… that smell hits you right in the face. Not so appetizing, right? Get rid of bad odors in a flash with these tips.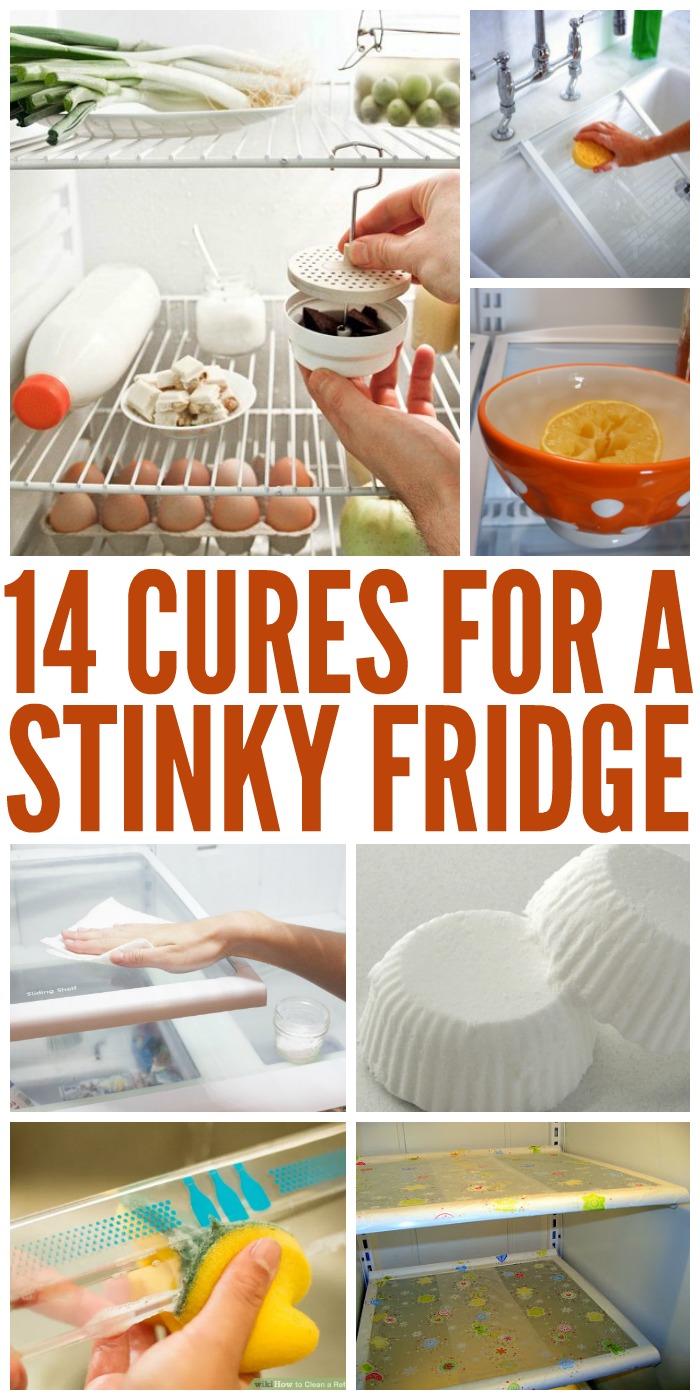 How to Get Bad Smells Out of a Stinky Fridge
We've all heard that you should keep a box of baking soda in the fridge to keep odors at bay, right? Try this idea for even more odor-fighting effectiveness: put the baking soda in a shaker jar. More baking soda is exposed to the air this way, allowing it to absorb more odors.
Alternatively, put some baking soda in a coffee filter, tie it up, and put it in your fridge. This allows for plenty of circulation and absorption of odors, too. (Take a look at our coffee filter ideas for more ways to use them!)
Charcoal is a great odor absorber, too. You can put a few briquettes in a bowl in the fridge or use one of these handy Fridge-It cubes to hold charcoal and hang it out of your way. (Get it here!)
When the power goes out and food has gone bad in the fridge, it can take several days to get the stink out. In addition to the charcoal idea above, clear out all the food and stuff lots of newspapers inside. Repeat for a few days until the odors are gone.
One way to prevent smells is by cleaning up messes FAST. Make cleanup a breeze by applying Press 'N Seal wrap to your refrigerator shelves. Have a spill or a mystery sticky substance? Just pull up the wrap and replace.
Make your own refrigerator deodorizers with baking soda, essential oils and a bit of water. They're super easy, and you don't have to worry about boxes or containers.
Want a powerful cleaner that naturally eliminates odor? Vinegar is where it's at! Make your own with heated vinegar and water (1 cup vinegar to 2 parts hot water). Add some essential oils to make it smell better.
Deep clean your fridge whenever you have a super stinky mess on your hands. Use baking soda and water (or baking soda and vinegar) to clean the shelves and drawers after you've removed them. Here's a detailed refrigerator cleaning checklist if you're really in the mood to clean!
Really get in the nooks and crannies of the drawers and shelves, as sometimes mold can hide there. And a moldy fridge is a smelly fridge, my friends.
And you'll never get rid of bad odors if you don't find the source. Look through the food items in your fridge to find spoiled produce, rancid dairy products or anything else that could be causing a funky odor.
Don't toss those lemons after you've squeezed the juice out of them! Place them in a bowl in the fridge to give your refrigerator a fresh, citrusy scent. Mmm.
If you love the smell of coffee, reuse those old coffee grounds as an odor absorber in the fridge. You can use this fancy gadget or just put them in a bowl.
If you're all out of the above solutions, one thing almost everyone has on hand is oatmeal. That's right, just put a bowl of dry oatmeal in the fridge to absorb that stinky smell. Throw it out once the smell is gone, though. Who'd want to eat that?
Of course, if you're not into DIY refrigerator deodorizers, you can buy some really effective ones for fairly cheap. This activated charcoal purifier is a popular choice, and you can stash it just about anywhere in the fridge.
Want more tips for your fridge? Check out these posts!