You know those few household products you can't live without… the ones that pull double or triple duty around the home? Bar Keepers Friend is one of those things. It cleans, it polishes, it brings old stuff back to life. Seriously amazing. Here are 14 Bar Keepers Friend uses that you need to try immediately.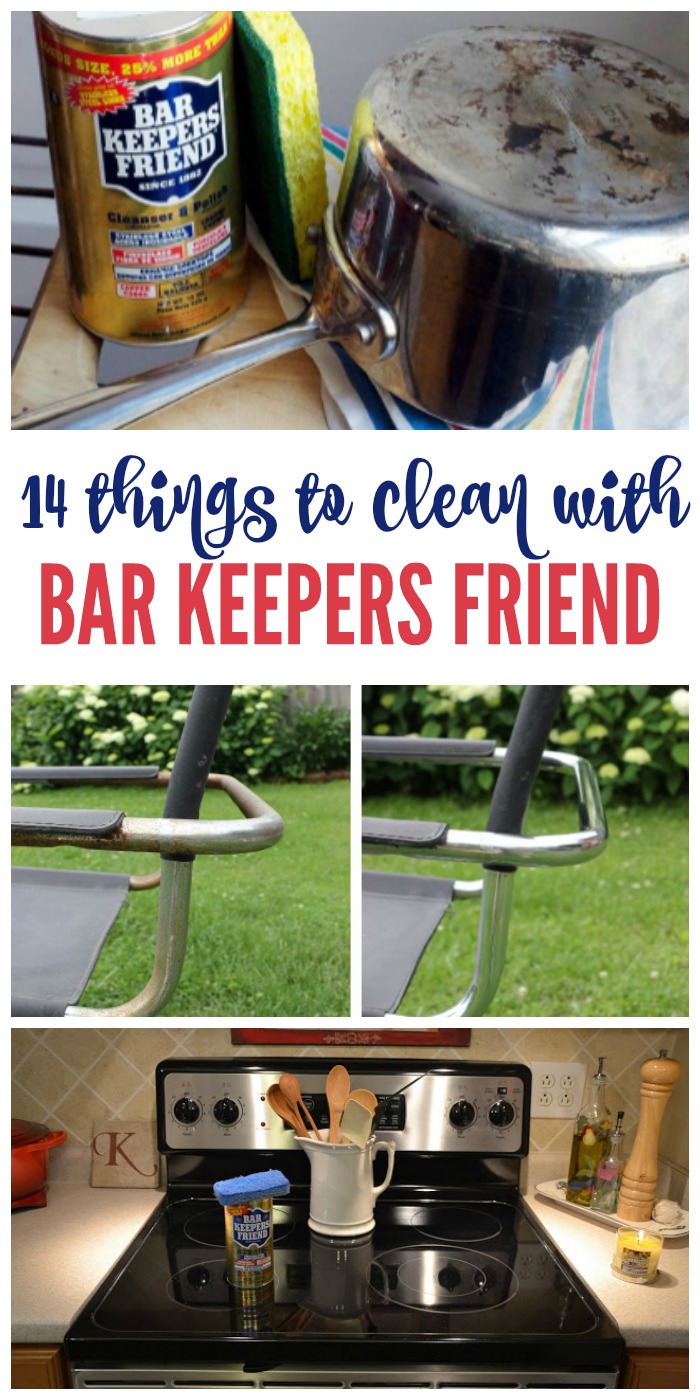 If you haven't tried this stuff yet, you can get it HERE. Seriously, folks, it will change the way you clean.
Bar Keepers Friend Uses You've Probably Never Thought Of
Vintage Pyrex is gorgeous, but after years of use, those scratches really show. Clean and polish it with Bar Keepers Friend to make it look like new again.
Remove grease and grime from tools in the tool shed. Then coat them in a light spray of WD-40 to protect them.
I love my stainless steel appliances, but you really can see every fingerprint and smudge. Bar Keepers gets rid of it all!
I've tried so many tricks to make my rusty knives shine again. I wish I had tried this first. It would have saved me a lot of scrubbing!
Make your glass cooktop sparkle. I've had mine for 9 years now, and it really needs some TLC. Think I'll try it.
You'll never believe how stained and scratched this porcelain sink was until you look for yourself. What a miracle product!
Remove utensil scratches from white dishes. I know we kind of covered this with the pyrex, but I can't believe the transformation here. Amazing.
Fill your dishwasher detergent dispenser with BF, set it to the hottest setting, and watch it work on your dingy dishwasher. If that doesn't work, try our dishwasher cleaning trick.
Stainless steel pots and pans get notoriously dirty on the bottom. Wouldn't you like to see it shiny and pretty again?
Nothing I've tried works better on brass than Bar Keepers Friend.
This metal chair was a yard sale find, and she was considering ditching it. Not anymore! All the rust is gone.
Remove tarnish from hardware. This is a great idea if you find some ornate or antique pieces that you'd love to use on your furniture.
Make a paste of Bar Keepers Friend and water to remove dark stains from wood furniture. It works on water rings, too!
When you're at your wits end trying to get your tile and grout clean, try this stuff.
What do you clean with Bar Keepers Friend? Let us know on our Facebook page!
For more posts like this, check out: