Do you find it difficult to get your bathtub clean? There is nothing better than climbing into a sparkling clean bathtub.  You can have that brand new, shiny clean, smooth as silk bathtub, too. Learn how to clean a bathtub like a pro with these simple hacks and solutions, using products you can easily find in your house!
Cleaning a dirty bathtub is no one's idea of a good time (I hope), but it has to be done. Do you know what's worse than cleaning a dirty bathtub? Bathing in one. Ick!
With that in mind, we've compiled a list of sure-fire ways to clean a disgusting tub so that it sparkles again.
Whether your problem is rust, dirty jets, or a clogged drain, here are the best bathtub cleaners for nearly effortless cleaning.
There must be quite a few things a hot bath won't cure, but I don't know many of them. – Sylvia Plath
Top Bathtub Cleaning Tips For Disgusting Tubs
When you need to get your grimy bathtub, surrounding tile, grout, and drains clean, only the best bathtub cleaners will do. We've rounded up the best tips  and most effective best way to clean bathtubs.
1. How To Clean Bathtub Caulk That Has Black Mold
Black mold can cause health issues, so you don't want to let it hang around.  The good news?  It's not hard to get rid of.  You can remove mold from your bathtub caulk without scrubbing. No, really!
Just soak cotton balls, cloth strips, or cotton coils (used for perms) in bleach water, apply it around the edge of the bathtub and let it sit overnight. Gloves are a good idea here.  When you wake up, your bathtub will be mold-free and you don't have to worry about making anyone sick.  It is nothing short of miraculous.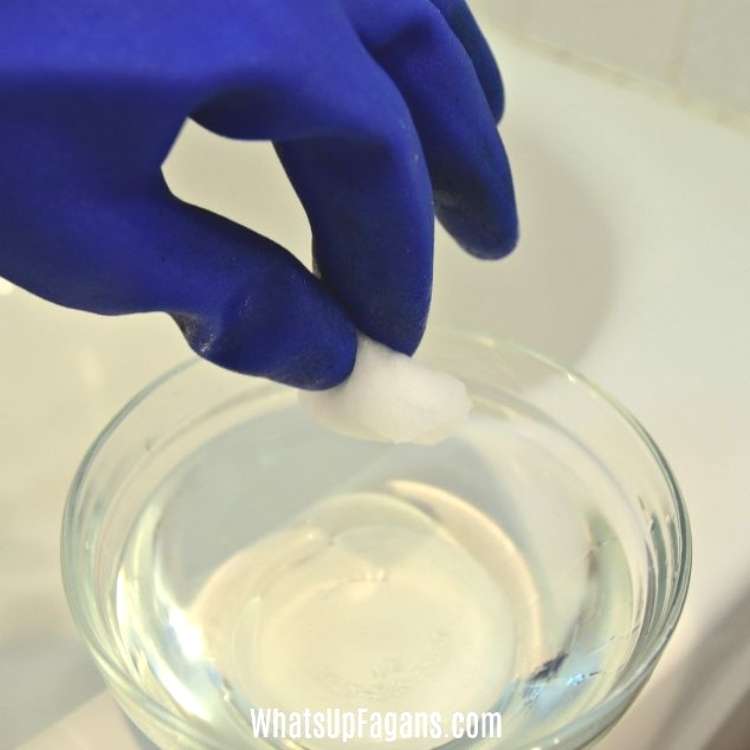 2. How to Clean Bathtub Drains 
Usually, my husband cleans the drain, which is awesome. Then I had to do it myself for the first time and I had no idea how to unclog it.  Staring at it and wishing it would unclog itself didn't work, try as I might.
I found this tutorial on how to clean a bathtub drain. It is really clear and helped so much. It's a little gross but thankfully doesn't take long.
What can I say? Hair clogs happen to the best of us.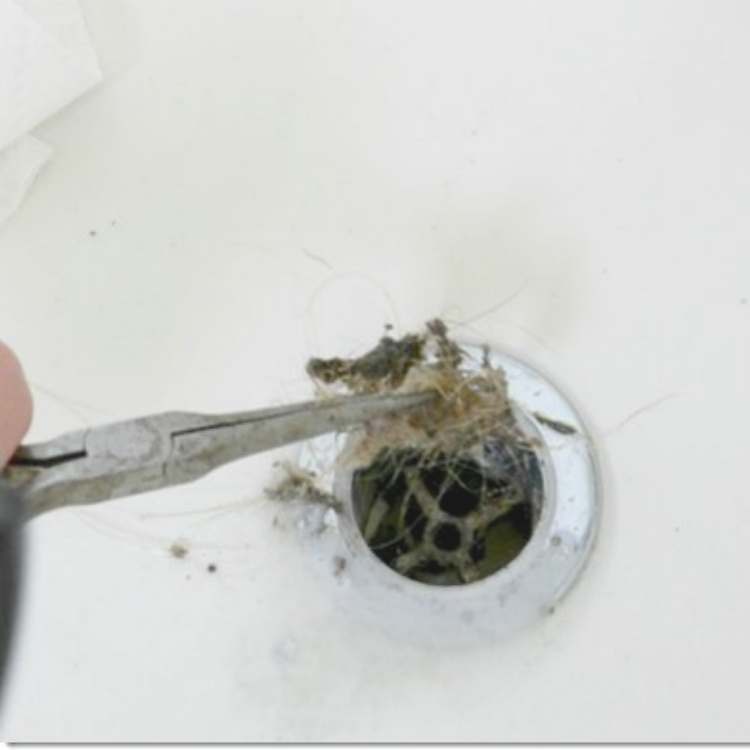 3.  How To Clean Bathtub with Homemade Cleaners
There are so many cleaners on the market that it is overwhelming.  But spending a bunch on cleaners isn't necessary.  If you don't want a cabinet full of cleaners you never use, this hack is for you!
For the best ever bath and shower cleaner, you have to try this Dawn dish soap and vinegar mixture. Simply add equal parts of dish soap and vinegar to a spray bottle, shake it up, and spray it on.
You don't need to let it sit long unless you have really tough stains. When you wipe it away (no scrubbing required), you're left with a sparkling clean bathtub!
I have used this method for years and love it, I'm sure you'll love it too!
Check this one out too 17 Genius Uses for Dawn Dish Soap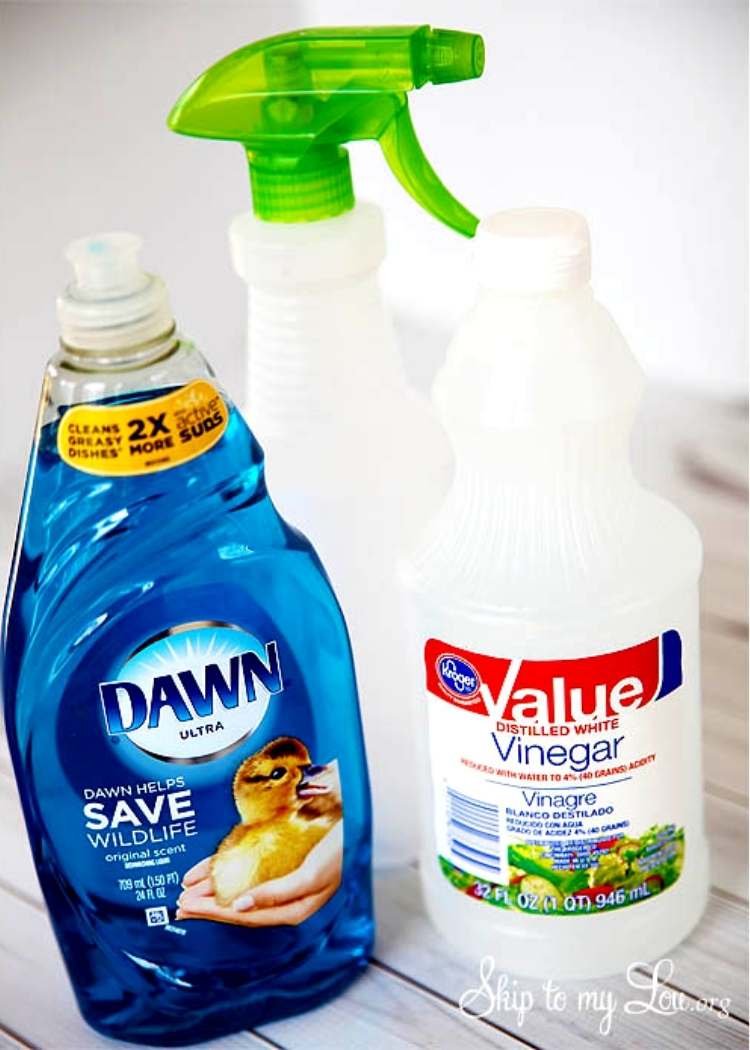 4.  How to Clean Bathtub With a Jacuzzi 
As lovely as they are to sit in, jetted tubs present their own challenges — how do you get the gunk out of those jets? 
Oh Yuk cleans the slime and grime from the plumbing of the jetted tub, making cleanup a breeze. You'll be surprised at the icky stuff that comes out of your jets!  And you'll be delighted when it's clean and you have sparkling water swirling again.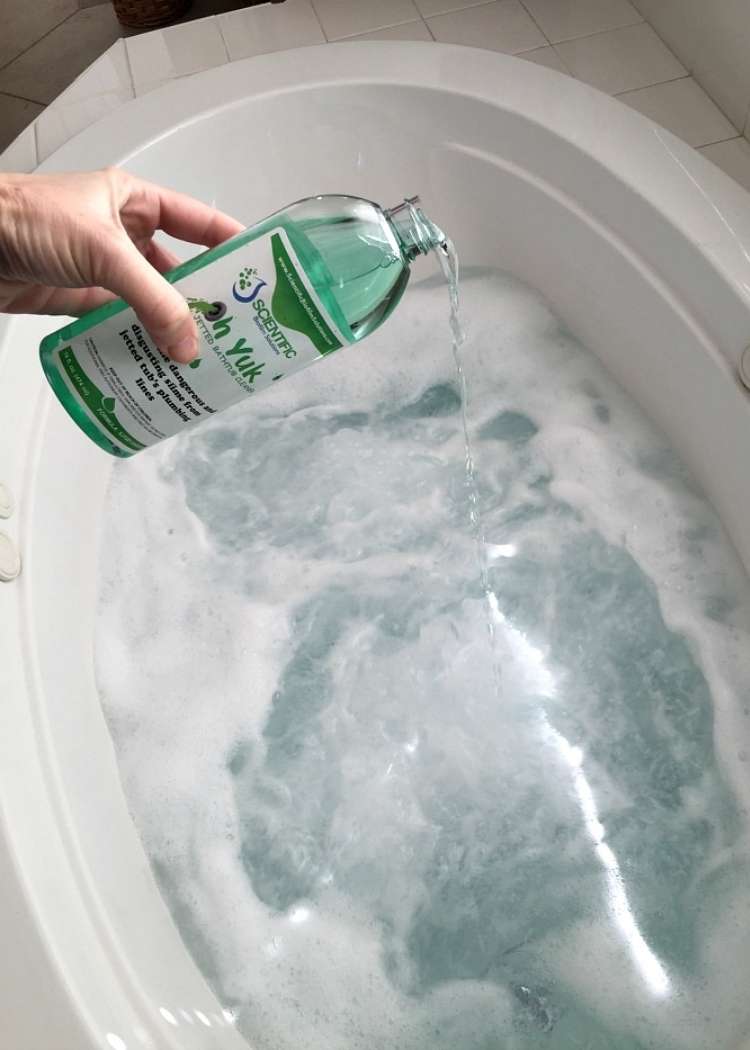 5. Disgusting Rust Remover – How to Clean Bathtub & Shower 
If you've ever lived in an older home, you know the tubs are not usually perfect when you move in. The tubs and showers in this home were covered in rust – stains would likely scare most of us away. But you can clean them up with a little elbow grease.
However, using the combination of the Dawn and vinegar mixture from above (to the rescue again!) followed by a magic eraser, the homeowner was able to remove rust from the bathtub once and for all.
Which one would you feel cleaner after showering in?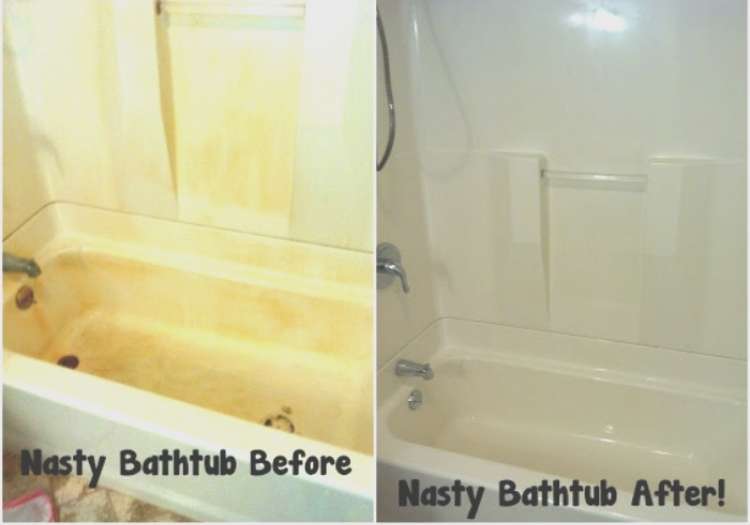 6. How to Clean Bathtub With Magic Eraser 
Sometimes you don't need a full cleaning make-over, but just a little cleaning pick me up.
A magic eraser, alone, will do the trick if your bathtub isn't too dirty (and if you don't mind a few minutes of elbow grease). It works great on drain rings, tub rings, and more.
It's what we use on ours 90% of the time, and it leaves the tub sparkling white. We like this method best because there are no messy, goopy, harsh cleaners to wipe up.  All you are left with are mirror-like finishes and a feeling of pride for a job well done!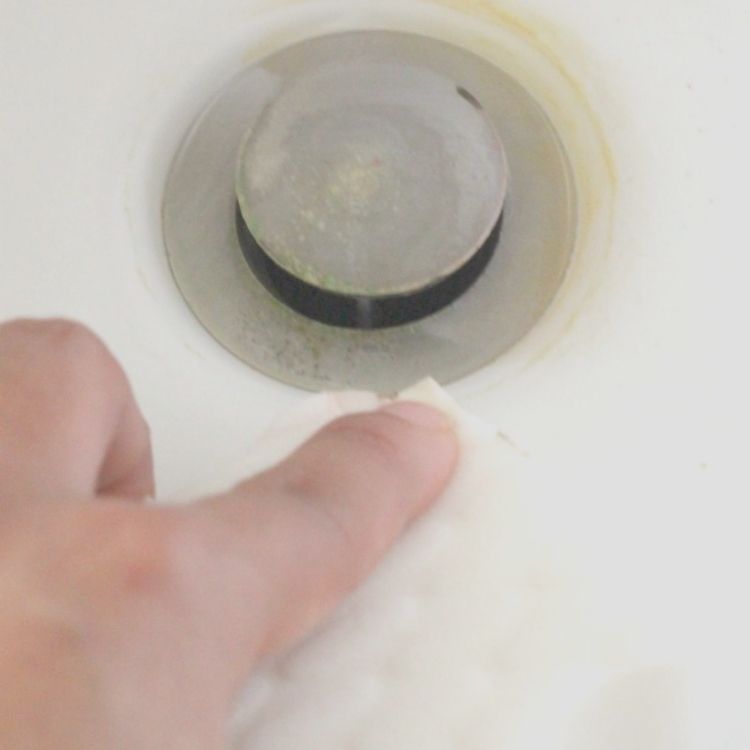 7.  How To Clean Bathtub with DIY Bathtub, Tile & Grout Cleaner 
If you only clean the bathtub it won't feel very clean if you don't clean the surrounding areas too.
Tile & Grout can be a pain to clean, but  this DIY mixture gives great results.
Make a simple tub, tile & grout cleaner out of hydrogen peroxide, baking soda, and dish soap. It is eco-friendly (anyone who has their septic field will appreciate that) and it won't damage your lungs or make your eyes burn when you're using it. 
Who knew you could do so much with those three common ingredients?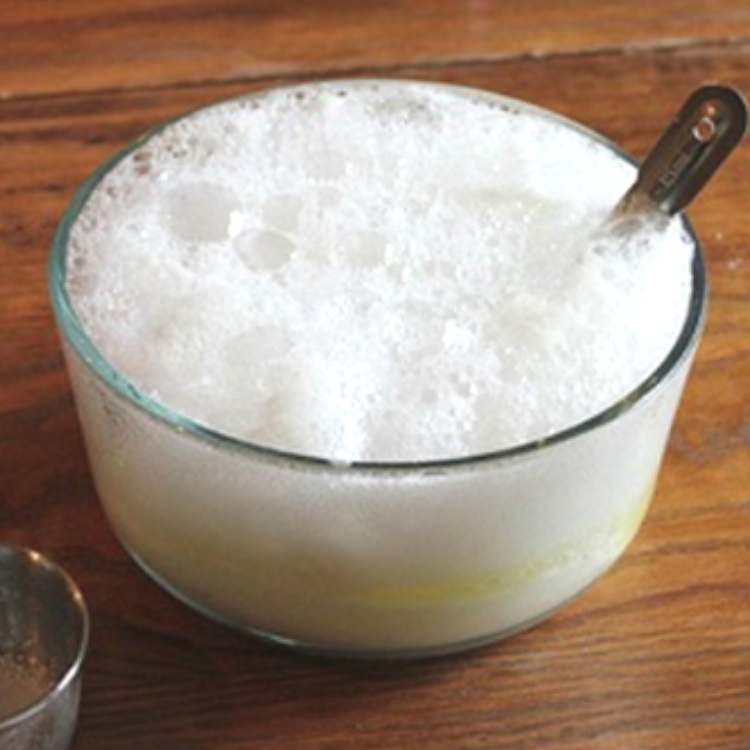 8. How to Clean Bathtub with Powder Dish Detergent 
One thing you already have in your kitchen can get your jacuzzi tub sparkling clean. Can you guess what it is? Dishwasher powder!
Simply fill your tub until there are at least 2 inches of water above the jets. Add a 1/4 cup of the powder dish detergent and run the jets for at least 15 minutes.
The jets do the work for you.  You can put your feet up and watch the little cleaning army do all of the work.  You will be amazed at how much cleaner the water is when you fill the water up to rinse it.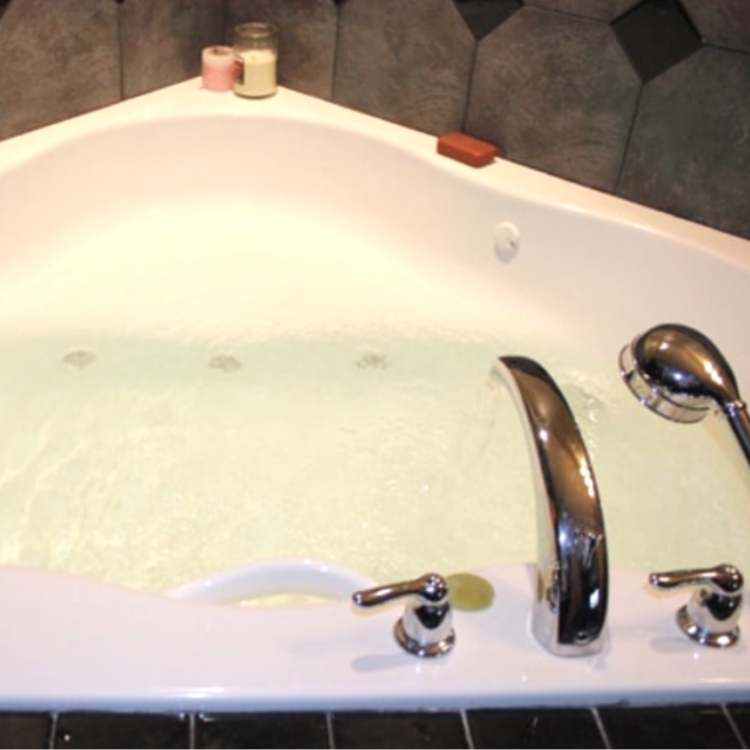 While the previous tip used any dishwashing powder. One Pinterest user filled the Jacuzzi with hot water and 2 cups of Cascade Complete. Then, ran it for 10 minutes and got a super clean tub, so if you aren't sure if your specific brand will work and just want a no-fail solution, go ahead and use Cascade Complete.  You won't be disappointed.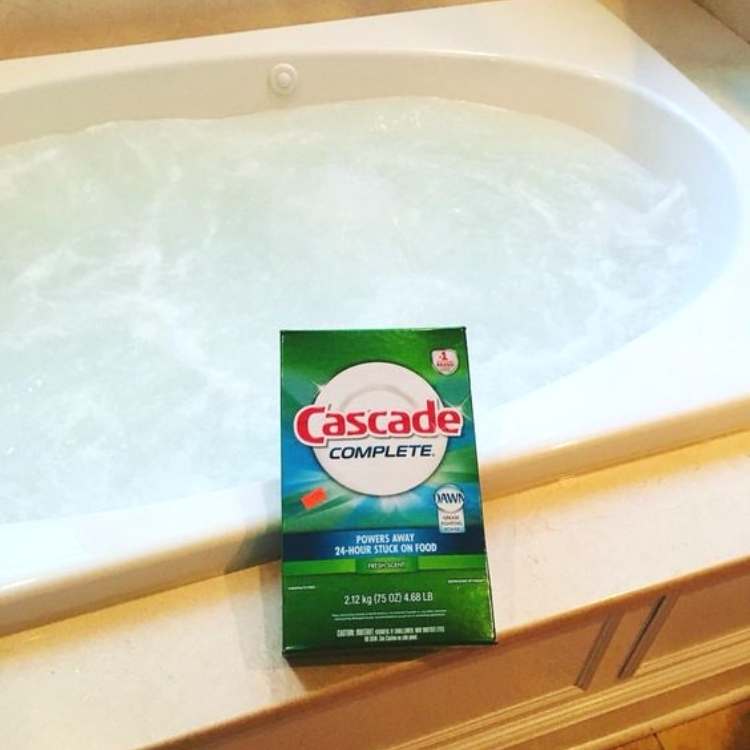 10. How to Clean Bathtub with Vinegar and Baking Soda 
Did you ever make volcano's in school with Vinegar and Baking Soda?  That bubbling fun experiment is going to come in use when you're cleaning your bathtub.  And it's going to delight you to reminisce about your childhood days – maybe you can even get the kids to help!
Baking soda and vinegar alone will get your jetted tub clean, too. After scrubbing the tub with baking soda, fill it with water and add a few cups of vinegar before turning on the jets.  So many great options for getting your tub clean!
Happiness:  A freshly cleaned house. – Unknown
If you like this you will also like 40 Magical Ways to Use Baking Soda
11. How To Clean Bathtub with DIY Bathroom Cleaner 
Looking for a spray to clean with?  You can make your own and choose a smell that perks you up.
This an all-purpose all-natural bathroom cleaner that smells great!   You simply mix a combo of water, baking soda, Castille soap, and essential oils. AND, it works wonders on your bathtub.  The great thing about using essential oils is that you can choose a new scent every time!
Sprinkling drops of lavender and clary-sage oil into a bath is a totally simple yet complex pleasure. – Isabel Gilles
12. How to Clean Bathtub with Grapefruit and Salt 
Some say that a grapefruit dipped in salt is a great bathtub scrubber. It didn't work on ours when I tried it, but we have hard water.
I think if your bathtub just needs gentle scrubbing, this would work just fine, and it's bound to smell fantastic. I love the smell of citrus, it smells so clean.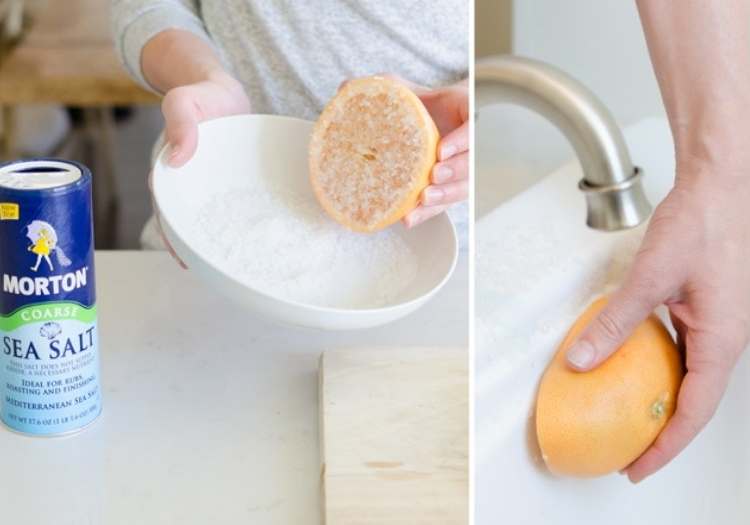 13. How to Clean a Bathtub with Scrubbing Bubbles 
Scrubbing Bubbles has never failed us when it comes to removing bathtub gunk. I love that when you let it sit for 5 minutes or so, all you have to do is wipe it off, no scrubbing required, and anything that bubbles has an element of fun to it.
Warning: this should be used in well-ventilated bathrooms, though, because the scent is rather strong.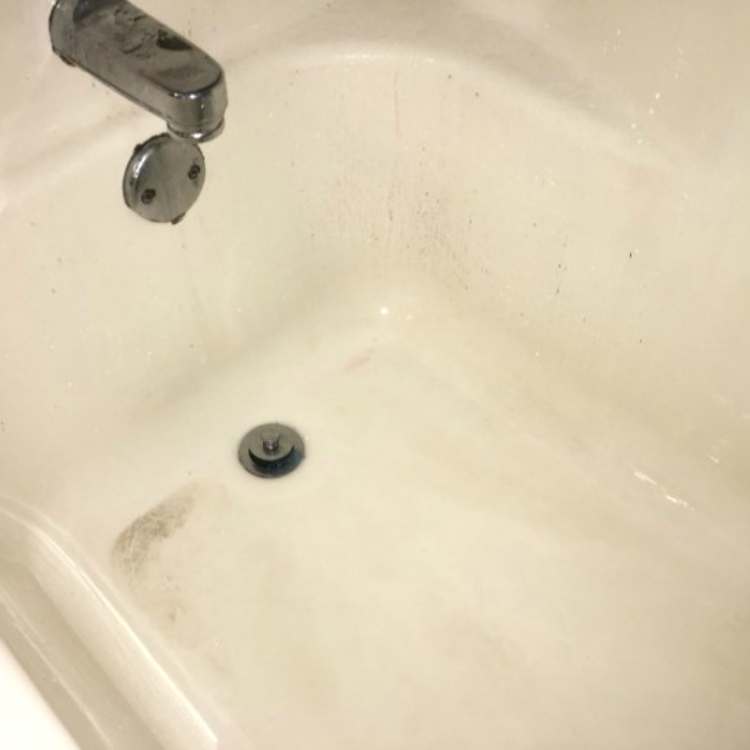 I hope these tips help you get a sparkling tub with less time and effort! Do you have any additional miracle bathtub cleaning tips you'd like to share? Send them to us or let us know on our Facebook page!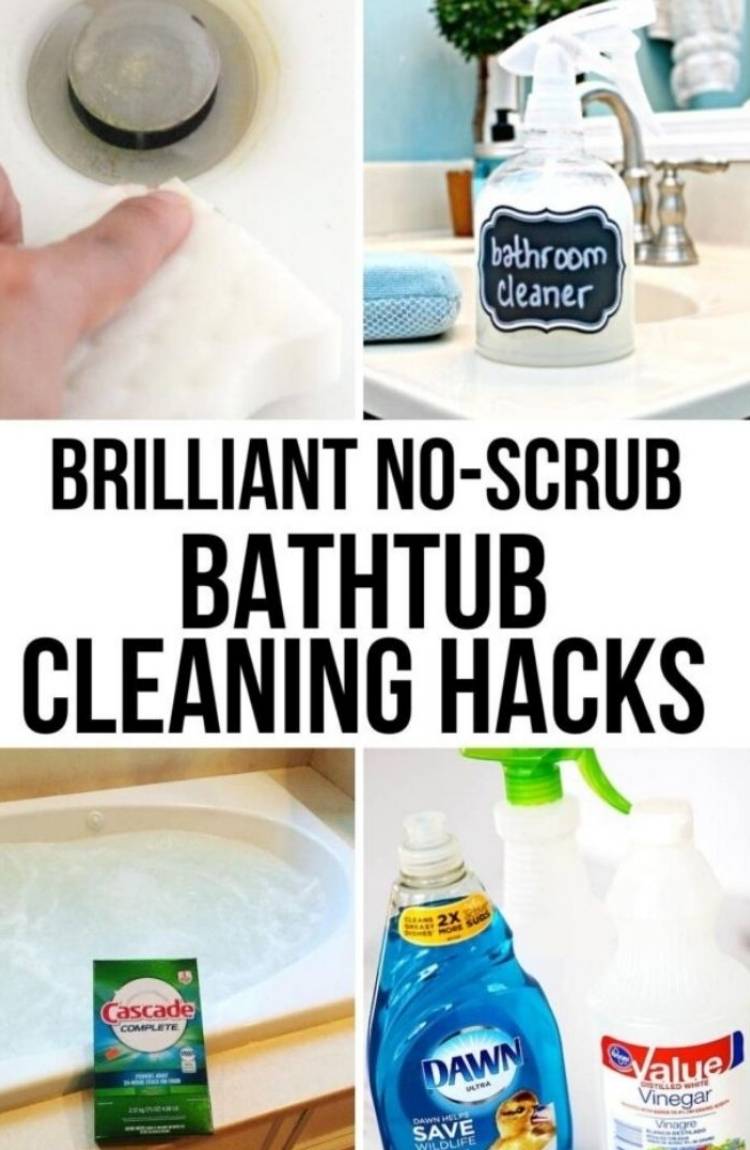 For More Effortless Cleaning Tips & Tricks, check out these posts: