One of the coolest tools in your house cleaning arsenal is one you probably don't think to use to its fullest potential. Learn how to use a magic eraser in more ways than you've probably ever thought of!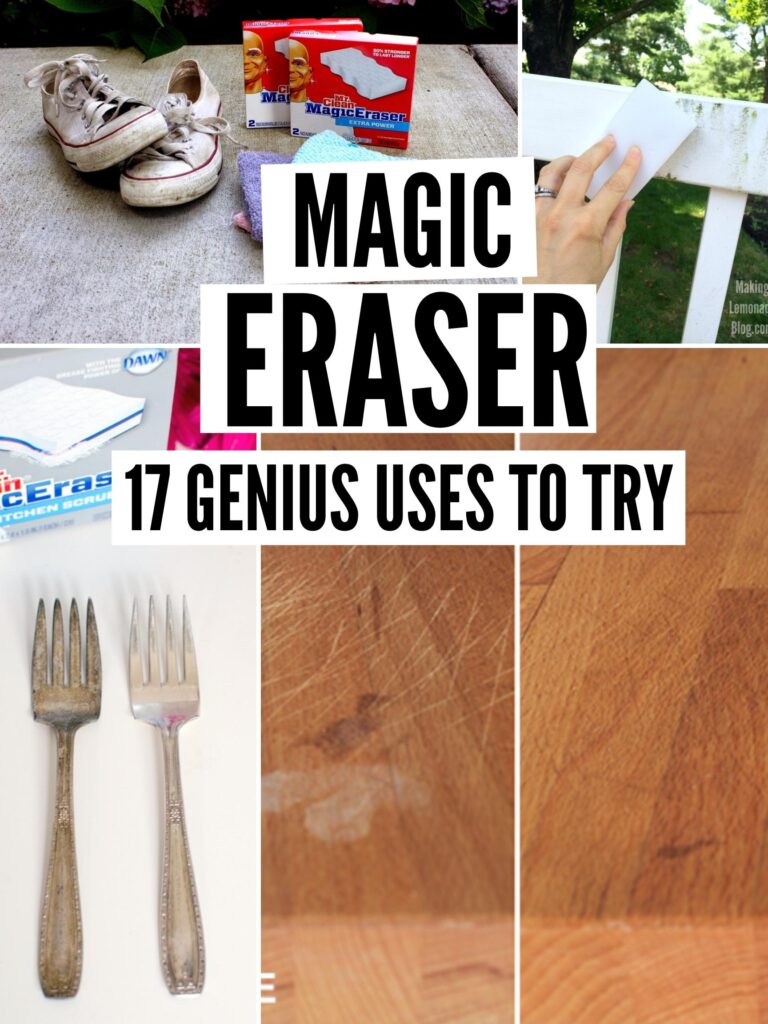 One of the most versatile tools in your cleaning arsenal is the Magic Eraser.
You probably use it for a lot already — like removing your toddler's crayon marks from the wall, for example. In this post, I'll show you some incredible ways to use this economical tool throughout your home.
How to Use a Magic Eraser: Uses You've Never Thought Of
It's time to think bigger because I'm positive that you aren't using that one handy tool to its fullest potential. Here are some very cool magic eraser uses you've probably never thought of.
Let's start cleaning!
1. Clean a Keyboard
Remove dirt and grime from your computer keyboard. It can get into hard-to-reach places between the keys, so it works a lot better than a cloth. And, it removes oil and other grime a lot more effectively!
By the way, the other magic tool I recommend to get your keyboard sparkling is canned air. Here are 15 different ways to use canned air while cleaning!
2. Remove Rust Stains
We all have experienced that moment of picking up a can of shaving cream from the bathtub ledge only to see a dreaded rust stain underneath it. Never fear – a few scrubs with the magic eraser will have your tub back to sparkling!
3. Remove Adhesive
If you've ever lost a fingernail or two trying to scrape a label off a bottle or container, you'll appreciate this as much as I did! Simply use a Magic Eraser to remove all the extra gunk and glue.
4. Make White Sneakers Shine
There's a very clear reason why I won't buy white sneakers for my kids: they look grimy and very lived in all too quickly.
White sneakers are the worst dirt magnets around, but thankfully a magic eraser can have them looking like new again in no time.
5. Freshen Up Outdoor Furniture
Over time, your outdoor furniture gathers a layer of caked grime from the elements, and cleaning it can be a real pain.
Brighten up your outdoor furniture easily with this hack!
Clean it with a magic eraser to make it look new again. It works wonders – and takes out a large part of the workload!
6. Remove Floor Scuffs
Get rid of floor scuffs in a flash with a kneadable eraser. Wondering how to use a magic eraser to remove scuffs? Just scrub it away – it takes hardly any effort at all!
7. Freshen Up Your Wood Cutting Board
Not only does the magic eraser remove scuffs from your wood floors, but you can even use it to minimize scratches on your favorite wooden cutting board or butcher block counter top.
8. Tackle Those Baseboards
This is one I've been using for years! Baseboards constantly get scuffed up, marked up, and things spilled on them.
Finally get your baseboards clean! The Magic Eraser will remove scuffs, dirt, and grime with ease.
9. Clean Your Flat Iron
Why didn't I think of this before? My flat-iron needs a serious cleaning, and this handy eraser is just the ticket for removing all that hair product build-up. Genius!
Another super simple way to clean your flat iron is with toothpaste! Here are 17 must-try toothpaste uses for your home – some of these will blow your mind!
10. Get Squeaky Clean Windows
Looking for a simple way to get your windows to shine? The Magic Eraser is just the ticket!
Want more tips for cleaning? Check out these 16 Window Cleaning Tips for the Cleanest Windows Ever!
11. Clean Windowsills
Really get in the nooks and crannies of your windowsills. It doesn't matter how clean your windows are. If your windowsills are dirty, your windows just don't look as good.
12. Make Anything Vinyl Look Like New
From vinyl fencing to vinyl siding, the magic eraser can remove years of grime. This works so well – and so easily – you'll wonder why you didn't try it sooner. Your home's exterior never looked better!
13. Remove Hard Water Buildup
If you live in an area that has hard water, you know what that buildup looks like in your shower, tubs, and toilets. We all know it can be very difficult to remove. Until now!
14. Clean Your Glass Stove Top
My glass stove top never looks clean enough. I'm definitely going to try the eraser to remove stuck-on food and grease from now on. Worth a try, eh?
15. Use a Magic Eraser on Glass Shower Doors
Remove tough soap scum from shower doors. The magic eraser will clean up that glass good as new!
By the way, if you have a bathtub, these no-scrub bathtub cleaning tips will help you make it sparkle!
16. Clean Your Faucets
Have more soap scum? No problem! Get those hard water stains off your faucets. They'll shine like new again for the first time in ages!
17. Clean Oven Glass
How does oven glass even get so dirty? After all these years, I still don't know. But, I do know this product will take care of it, even if you haven't cleaned your oven in a few months years.
18. Clear Cloudy Headlights
My car is notorious for cloudy headlights. I'm going to try the magic eraser on them ASAP. This woman did, and it's a world of difference.
19. Dry Erase Board Cleaner
Do you have a dry erase board with writing that just will not come off? Now it will. Finally, a clean board again!
How Does a Magic Eraser Work?
The secret of the magic erasing cleaning tool is in the type of sponge used. As you may have noticed, these aren't your typical kitchen sponges. This foamy, dense material is made from melamine sponges.
Because it's less airy than a typical sponge, a melamine sponge has a bit more abrasiveness to it. Think of it sort of like a very gentle fine-grit sandpaper!
The sponge itself is only part of the magic, however. The melamine is soaked in a cleaning material rumored to be made largely from borax and baking soda.
After it's soaked, the erasers are dried. This way they are "magically" activated with water. Fascinating!
What Should I Not Use a Magic Eraser On?
Now that we've talked about all the amazing ways you can use this handy tool, let's quickly cover what you should NOT use a magic eraser on:
Your car. Remember, this cleaning tool is abrasive. Just like you wouldn't run a piece of sandpaper over your car, don't use the magic eraser either.
Marble or other soft stone. If you have lovely marble countertops, the last thing you want to do is scratch them with a magic eraser!
Granite counters. Similarly, granite can easily become scratched.
Pots and pans. Again, you don't want to scratch the surface of your pan. This is especially true if you are using non-stick, stainless steel, or cast iron.
I hope that you found some cool new uses for your magic eraser on this list! If you're wondering how to use a magic cleaner in ways other than getting the crayon off your walls, you'll definitely want to try these other ideas.