We all have days filled with endless rounds of errands and hardly enough time to cook a nice homemade meal for dinner. But what if I told you that there was an easy way to make delicious home cooked meals that would make your mom and grandma proud in the midst of your crazy schedule? I have four words for you: cast iron skillet recipes.
The beauty of cast iron skillet meals are that they can easily go from the stovetop to the oven, to the grill and beyond without missing a beat. (Let's be honest, they also taste WAY better than meals cooked in regular cookware).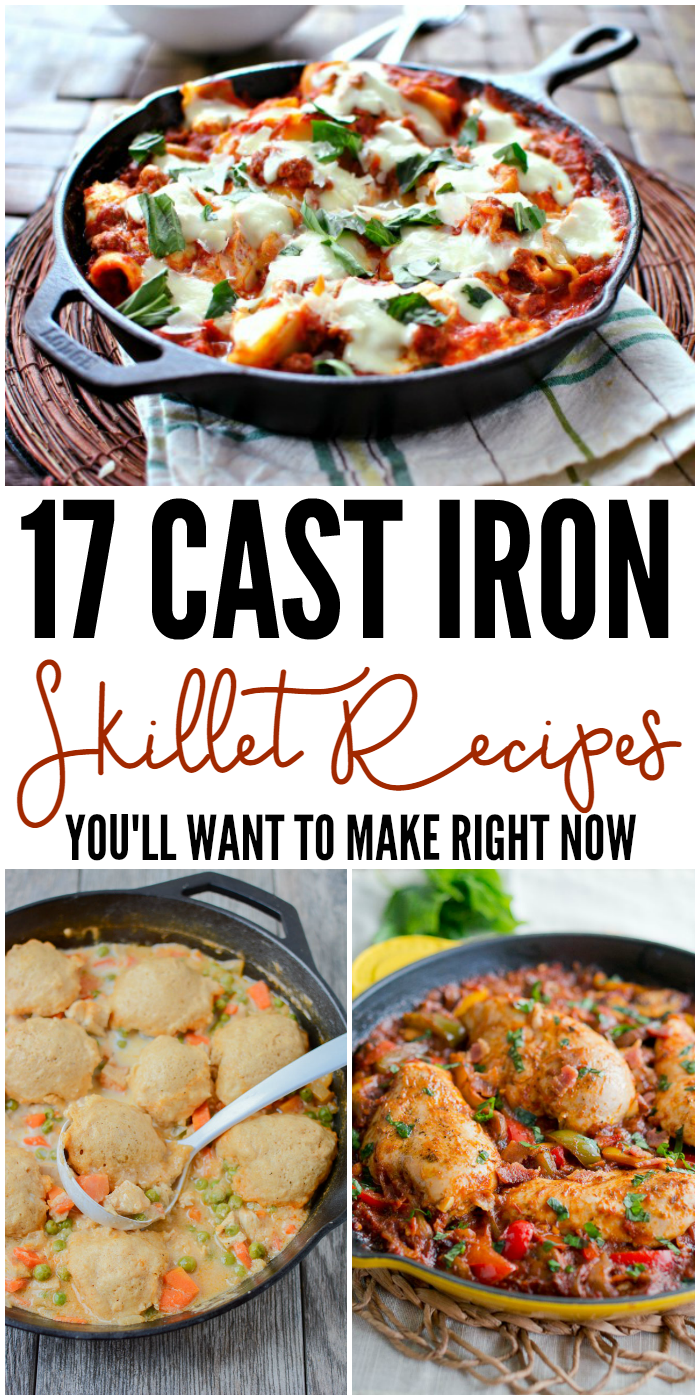 If I had to choose one essential kitchen tool, a good cast iron skillet would be it. So whether you're new to cast iron cooking or you're a seasoned pro, break out that hearty piece of cookware and prepare your tastebuds because you're going to love this collection of 17 hearty, delicious, and oh-so-easy to make cast iron skillet recipes!
Easy and YUMMY Skillet Recipes
1. Cast Iron Chicken Pot Pie Skillet
Who doesn't love one-pan meals? They're little to no hassle, hot and steamy portions of goodness that bring back fond memories and fills your belly with savory warmth.
This chicken pot pie with cheddar crust is comfort food at its finest, just like grandma used to make! The filling is made on the stovetop – with chicken, peas and carrots and onions… lots of goodness (hint: you can even make this with pre-made filling, its the crust that makes it!!), and then it goes into the oven to get the crust flaky and golden brown. Yum!
2. Cast Iron Skillet Lasagna
Mamma Mia!  Most one-pan lasagna recipes I've found are not truly one pan. But this one is. Cast iron skillet lasagna will be your easy and new go-to when you want the tasty comfort of lasagna without all that awful cleanup.
All you need to make Skillet Lasagna is:
Cooked Lasagna noodles
Diced peppers and Onions
Italian Sausage
Marinara Sauce
Olives
Mozarella Cheese (Fresh is BEST)
Top with Basil
3. Cast Iron Chicken and Dumplings
Couldn't get enough of that savory and creamy cast iron chicken pot pie recipe, but looking to change things up just a little bit?
Skillet chicken and dumplings are part chicken pot pie, part dumplings all cooked in your cast iron skillet. This meal is always a big hit with my family, so I'm sure it will be with yours as well!
Bon Appétit!
4. Pizza: Cast Iron Skillet Style
What's everyone's favorite food? Pizza, of course! If it isn't yours, I forgive you, but… we need to have a serious talk. Pizza is a classic dish that kids and adults alike will devour as you try to wind down from a busy day.
This cast-iron skillet pizza recipe is a super easy and versatile weekday meal that is great for making all of your favorite pizza styles whether it be 5-cheese, meat lover's, Italian combo, veggie, chicken BBQ, Hawaiian BBQ, and especially, of course, classic pepperoni.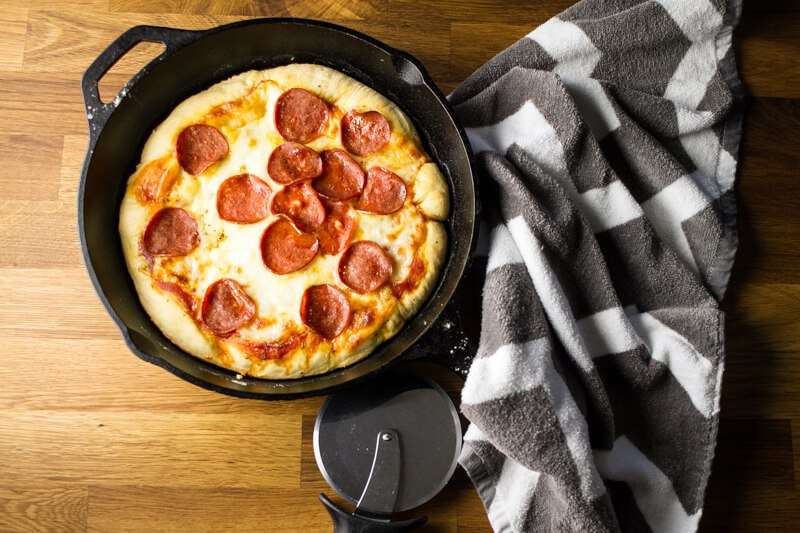 5. Cast Iron Chicken Fajita Pasta Skillet
This creamy chicken fajita pasta is a dish that I honestly make at least twice a month. You just really can't go wrong with chicken OR pasta!
Ingredients you can mix to make Fajita Pasta Skillet:
Pasta noodles
Cooked Pork or chicken fajita style
Diced bell peppers – the more colorful the better
Onions
Olives
Black beans
Top with avocado or green onion
Garnish with salsa and sour cream
Seriously though, follow the recipe and let that cast iron skillet work its magic. I guarantee you'll love how easy, affordable, and tasty this meal is!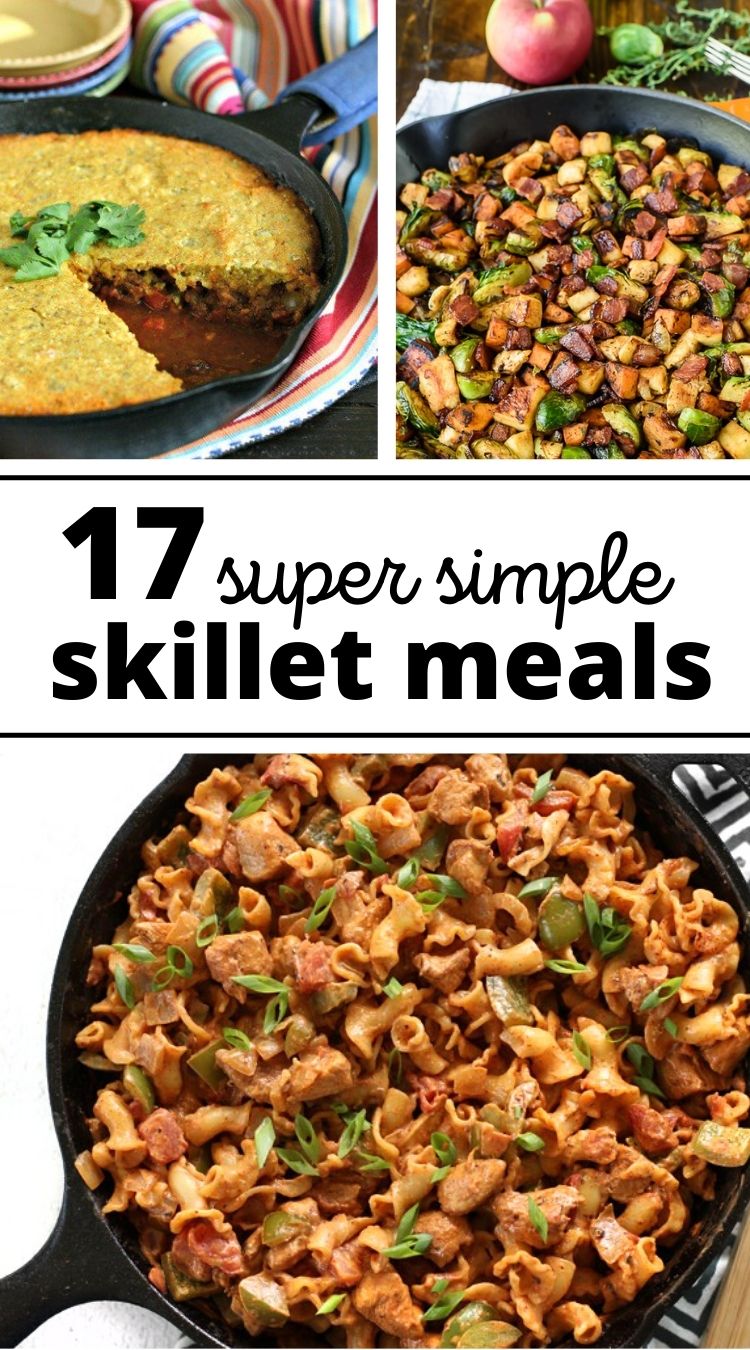 6. Cast Iron Harvest Chicken Skillet
I crave this particular recipe every time I see the leaves beginning to shift from summer to fall.
This harvest chicken skillet with sauteed apples and Brussels sprouts is the perfect dish for the fall season. Add bacon and a tiny bit of maple syrup!!  The flavors blend together so beautifully, you and your family won't believe how healthy, easy, and delicious this recipe is and you'll all be coming back for more!
7. Cast Iron Chili Pie Skillet
Looking to up your chili game that your husband will love? Try out this cast iron skillet chili pie recipe!
The name just screams "manly meal" doesn't it? But don't worry, this tasty meal is not just hearty and easy to cook and serve, its also very diet friendly (at only 8 weight watchers points per serving) and it even has a DELICIOUSLY golden cornbread topping that really hits home.
Hearty, healthy, AND delicious? How's that for a new winning meal?
8. Cast Iron Cheeseburger Pasta Skillet
Craving burgers on a Wednesday? Skillet cheeseburger pasta is made in the cast iron skillet in under 30 minutes, making it the perfect weeknight meal for a busy family. What more could you ask for to satisfy that intense burger craving and simultaneously manage your time wisely on a busy Thursday night?
Did I mention she tops it with waffle fries? Because she definitely tops this skillet pasta with waffle fries and it is oh-so delicious!
9. Cast Iron Loaded Smashed Potato Skillet
Loaded smashed potatoes would make a yummy appetizer, but who are we kidding? You're probably just going to eat those golden delights right out of the cast iron skillet because of how insanely tasty they are, so make sure you have enough to share!
Pro tip: Or you could just do what I do and break out a second cast-iron skillet to double down on this heavenly recipe, I promise that you and your family won't regret it!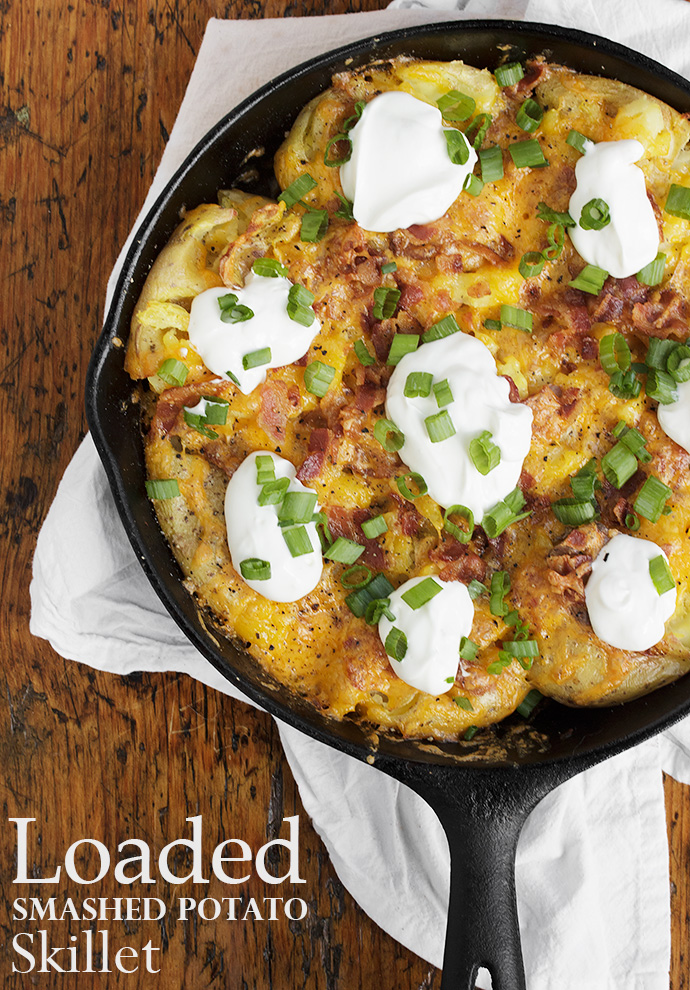 10. Enchilada Casserole Cast Iron Skillet
I love enchiladas, but they just take too much time to cook some weeknights, which always bummed me out…
…Until I found this amazing cast iron skillet enchilada casserole recipe!
This recipe is great with beef, chicken, turkey or whatever meat you happen to have in the freezer. It's a really versatile and easy cast iron skillet recipe that's just begging to be placed front and center on your home's menu!
(P.S. – If you don't know which meat to start with, I recommend shredding up some chicken because chicken enchiladas are the BEST!)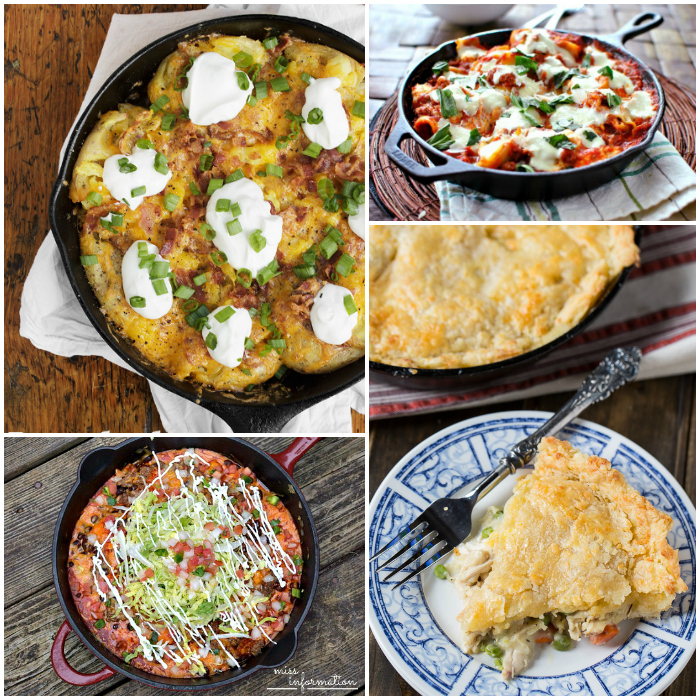 11. Easy Cast Iron Skillet Meatloaf
I don't know about you, but when I make meatloaf in a loaf pan, it always ends in disaster. But an easy skillet meatloaf? Perfection. It turns out great every time! Nothing like a classic Amish cast iron skillet recipe to fill your belly with warm and satisfying goodness.
Also, barbecue sauce on meatloaf? Whoever thought of that is a genius in my book.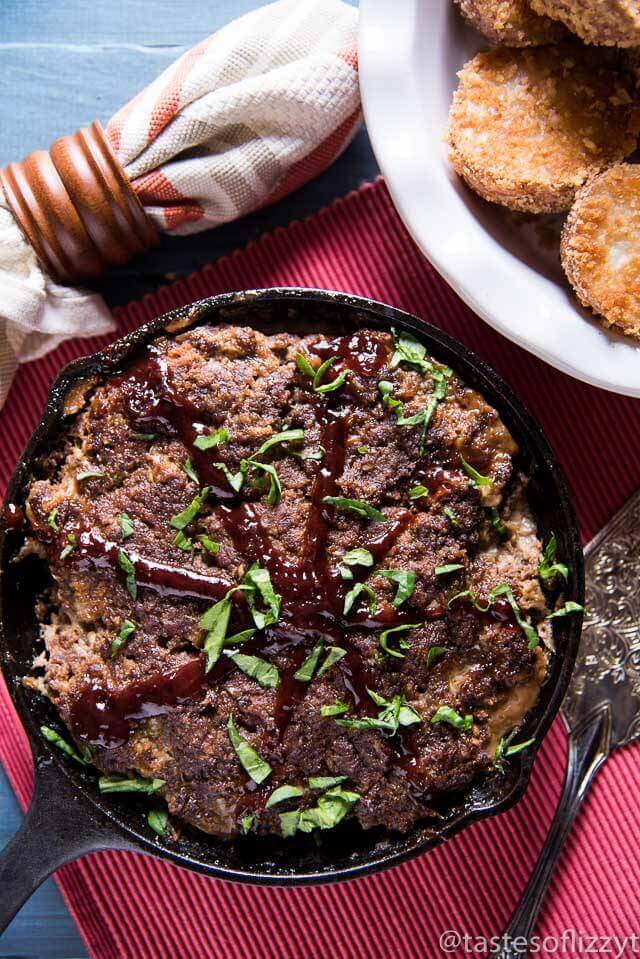 12. One Skillet Chicken Cacciatore
One skillet chicken cacciatore is another wonderful weeknight meal if you and your family are looking for something comforting and hearty to eat. If this healthy and tasty Italian dish's tomato and sweet basil sauce isn't enough to convince you, this meal is on the table in about 40 minutes from when you start cooking, leaving you plenty of time to wash dishes afterward.
Oh, wait. There's only one pan to wash. Hooray!
13. Steak and Potato Nachos Cast Iron Skillet
Yes, you read that title right!
You haven't been living if you haven't cooked up a serving of this cheesy, goo-y, bad boy! I want to make these steak and potato nachos over the campfire, but I'll make do with the kitchen and cast iron skillet (which we also use when we camp!).
Now please excuse me while I pick my jaw up off the floor.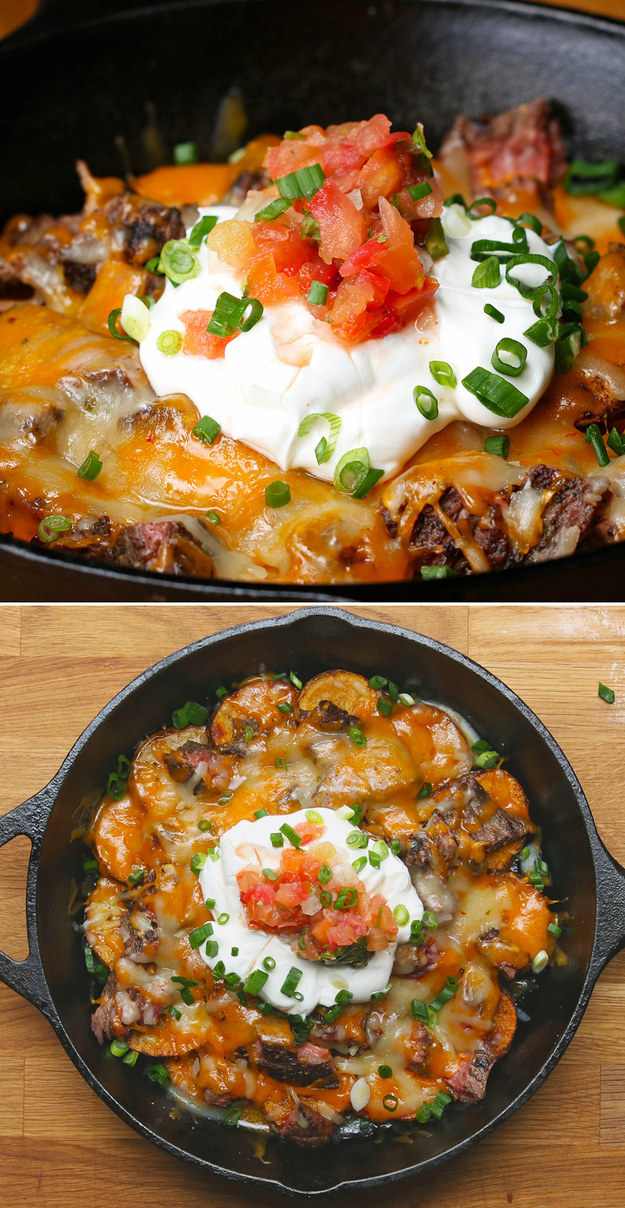 14. Chicken Fajitas Cast Iron Skillet
Nothing smells better than a sizzling pan of chicken fajitas at the end of a long day. Prep and serve this meal on a bowl of Mexican rice or on a few tortillas in just 20 minutes!
This is even great as a pit-stop lunch if you are taking an errand break and looking for a simple and yummy mid-day meal to serve that the entire family will enjoy!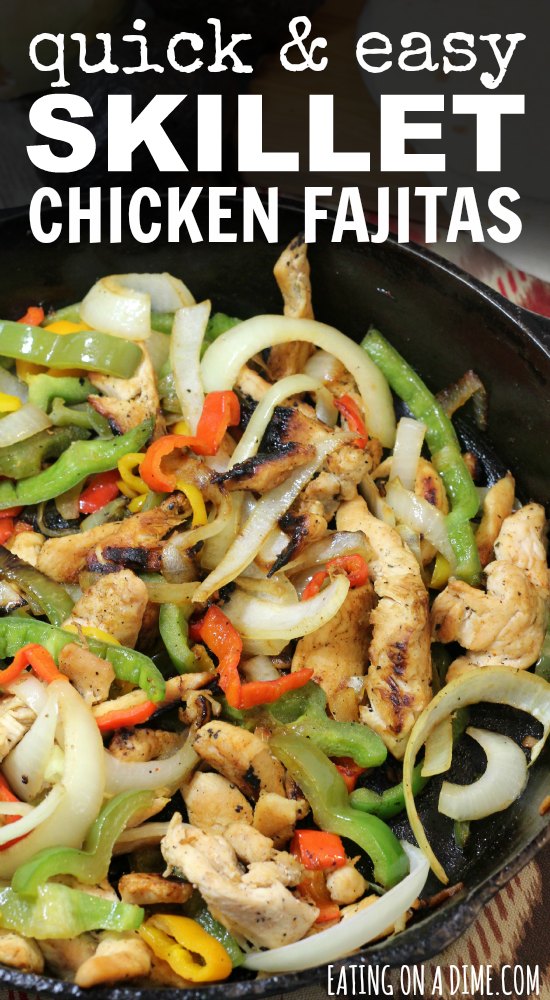 15. Backed Spaghetti Skillet
Those Italians sure knew what they were doing when they invented pasta. Who doesn't love a nice warm plate of spaghetti?
And let me tell you, if you haven't tried cast iron baked spaghetti, you are missing out. What's not to love about soft pasta and big, hearty meatballs covered in sauce and lots of cheese?
16. Creamy Tomato Basil Pasta Bake
I know what you are thinking: "Wow, another pasta recipe?"
Trust me, this cast iron skillet recipe is just that tasty and I got five words for you to describe this mouth-watering dish: creamy tomato basil pasta bake.
Oh yeah! This savory meal is another delicious and home-y choice that everyone loves. It's easy. It's filling. It'll make you drool while you wait for it to come out of the oven. Or is that just me?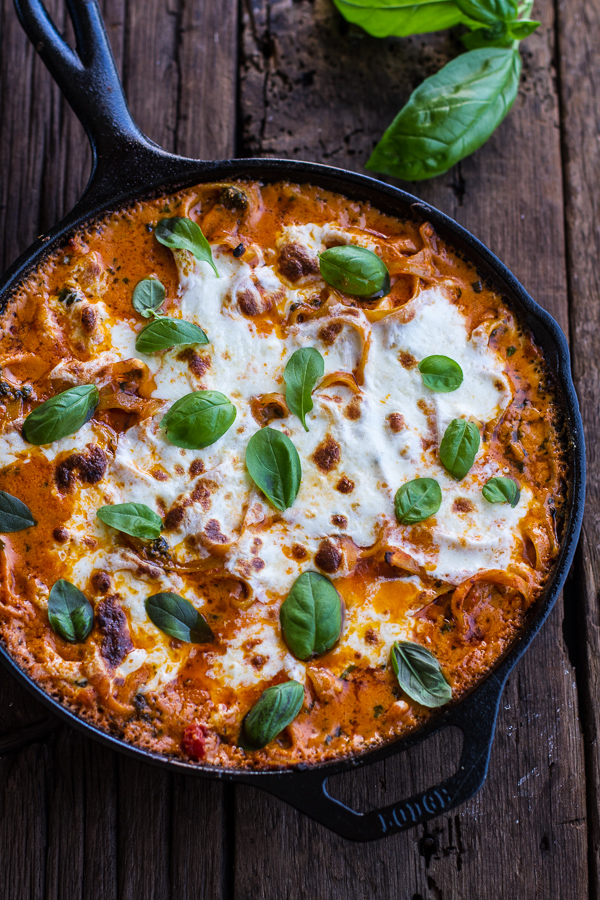 17. Roasted Chicken Breasts with Carrots and Potatoes
I don't know about you, but there are times where I just crave something wholesome. If you ever feel the same, I recommend keeping it healthy and simple with this cast iron roasted chicken breasts with carrots and potatoes recipe. In fact, this recipe is so delicious, it doesn't even require you to use butter or oil!
You seriously can't go wrong with this one, its a tasty classic that is satisfying to eat and clean up after!
What are some of your favorite cast iron skillet recipes? Do you have any that are particularly special to your family?
For More Easy and Delicious Recipes: