Don't throw out your old nail polish. Even if you no longer like the color on your nails, you can use colored polishes for all sorts of crafts around the house. And clear nail polish can be a real lifesaver in a pinch. Here are 21 clever uses for nail polish that don't involve your nails.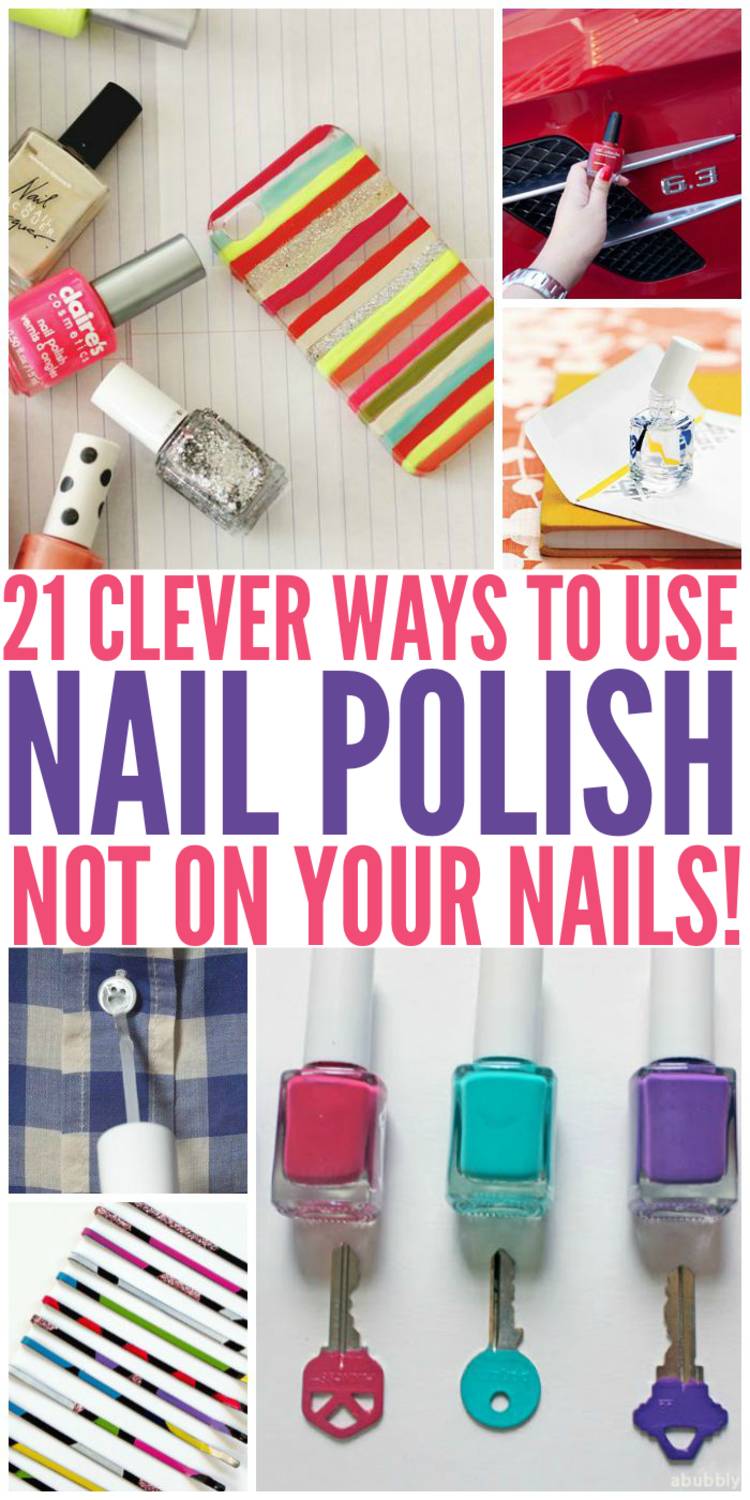 Best Ideas for Non-Nail Use of Nail Polish
1. Use nail polish to seal an envelope when the flap just won't stick.
We've all had those moments when the adhesive is nonexistent on the envelope, or when you have 30 Christmas cards that just make your tongue hurt looking at them… This simple trick is great because you don't have to go out and buy a special tool just to seal envelopes, and you are saving yourself from eating gross glue or using unattractive tape to seal your envelopes. Just grab that bottle of clear nail polish you don't use anymore and make an easy job of it!
2. Color code your keys to make them easier to find on your key ring.
It only takes a few minutes to color-code your keys, it's waterproof and will last forever, and you can create some fun designs while you're at it!  Ones with texture would also make it easier to find the right key when you're fumbling to unlock your door in the dark.
3. Create some marbled art for your walls using nail polish in water.
After the pages dry, put them in frames along with a mat, and you have original artwork for your walls!  Want to create beautiful, frame-worthy art for your home but don't want to spend a ton of money on art supplies? Grab that nail polish! This art project only takes a few minutes and you'll love it for years to come. You'll need:
An old baking pan or tray lined with tin foil
Water (enough to cover the tray by about an inch)
Cardstock or scrapbook paper
A few different colors of nail polish (at least two, but I find that 3-5 work best)
Somewhere for the paper to dry- a drying rack or clips to hang work well
You have to work quickly because the nail polish will dry. Start by drizzling nail polish onto the surface of the water. You can experiment with different swirl designs or dropping clear or glitter polish on top of solid colors. One trick is to use a toothpick to move the nail polish around for a marbling effect. Different types of nail polish do different things, and it's exciting to see what they will do! After you've added the nail polish, place the paper on the surface of the water. Peel it off to reveal the design you've created! Place your new artwork somewhere to dry. Also, if you have more than 1 or 2 pieces of paper, you will want to replenish your water, so prepare accordingly.
4. You can use a similar technique to create a marbled coffee cup
This DIY marbled coffee cup is such a great gift idea! Create a marbled coffee mug is pretty simple, and like the last, just uses water, nail polish, a tray lined with tin foil, and a dollar store ceramic mug or 2.
Also, because nail polish is not food-grade, we suggest dipping the bottom of the mug at an angle for a pretty, modern flair, and you'll still be able to drink from the rim! Then you just dry upside down. Try this technique with ceramic jewelry trays or pencil holders!
5. Coat earring posts in clear polish to prevent allergic reactions in sensitive ears
Now you don't have to throw away those cute earrings an unknowing loved one gave you for your birthday! Apply two coats of a basic clear polish, letting dry completely between coats. Any part of the earring that touches the ear should be painted.
7. Make Sewing Easier with polish
Apply some clear polish to the end of the thread to make it easier to put it through the eye of the needle.  You can use this hack for any kind of thread. If you're using yarn or thicker string with children, this would be a great way to teach them to thread a needle without adding too much frustration to the experience. Just cut off the end after you thread it!
8. Make some pretty color-blocked bobby pins for your hair.
Colored bobby pins are great hair accessories when you have super short hair or when you use several together instead of a hairclip. This project is great because you can get really creative, and you don't really need any extra supplies. Just apply the nail polish directly to the flat side of the bobby pins while they're on the card!
9. Use nail polish to create pretend makeup for your kids
It's super easy to make using empty makeup containers and nail polish. Just clean out any old makeup left in the pans, clean in hot, soapy water, and let dry overnight. Fill with fun nail polish colors and let them cure for a few days.
10. Repair a rattan chair using permanent markers and clear polish
Instead of buying special pens and lacquers, just use what you already have from around the house to tidy up your rattan furniture! Find a marker that's the same color as your furniture and seal it with clear polish.
11. If you're tired of seeing naked Barbies lying around, paint some undies on her
How fun is this?? Get your kiddos in on the fun and have them pick out the colors you're going to use!
12. Use nail polish to label and color code silverware and dishes
For your little ones with severe food allergies (such as gluten or dairy), you can use this hack to separate what they use every day. Just make sure to use the polish on the parts that won't touch food or go in their mouths.
13. Find a nail polish shade that's close to the color of your car to repair minor nicks and scratches in the paint.
Rather than pay an arm and a leg on service fees, just use what you have! If this one seems strange, think about the fact that nail polish is basically the same stuff automotive paint, so this quick fix actually makes a lot of sense.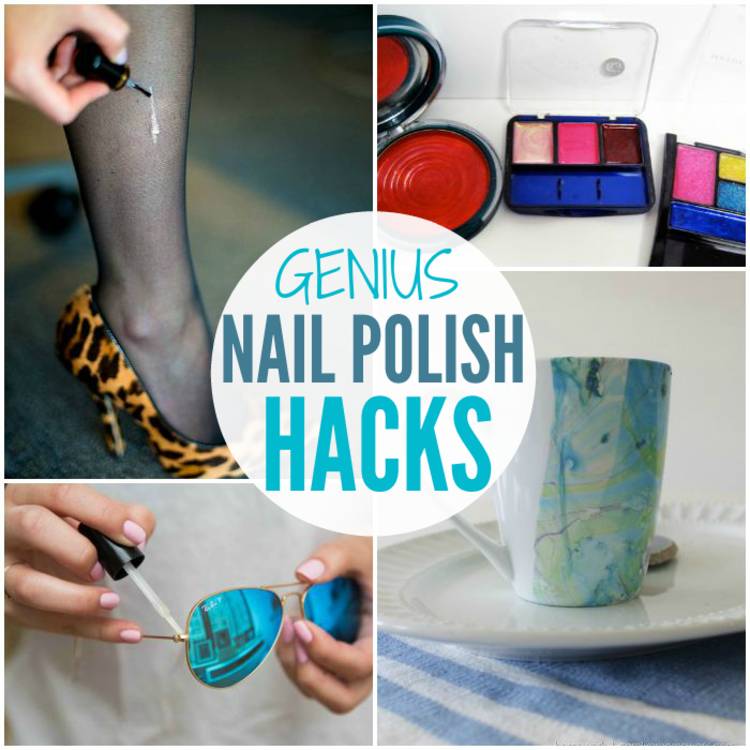 More Ways to Use Nail Polish
14. Paint bottle cap magnets as a fun craft with the kids.
Just grab those bottle caps, nail polish, your hot glue gun, and magnets, and get creative! What a fun way to spend the afternoon. These make great presents or make a great, cheery facelift for your fridge!
15. Color the bottoms of your heels with nail polish for a fun fashion statement.
If you love the idea of colored soles but don't want to go with the classic red look, DIY with your favorite nail polish color. Start by wiping down the bottoms of your heels with rubbing alcohol and priming with white nail polish. Then just paint and dry upside down, and you're ready to go!
16. Coat costume jewelry to prevent them from turning your skin green.
We all did this as children, and it works perfectly. Do 2 coats, just to be safe. It also prevents tarnishing.
17. Stop a run in your stockings from getting worse by applying clear nail polish to the tear.
It works great for your kids' tights, too. Just apply clear polish at the top and bottom of the run. I find this works better when you're wearing them- you don't want stockings stuck to themselves!
18. Dab clear polish on your sunglasses if they're feeling loose and you don't have a screwdriver on hand to tighten them.
This temporary fix works great in a pinch! There's nothing more annoying than loose sunglasses when you're out for the day!
19. Customize your phone case with nail polish.
Love the stripes! Use as little or as many colors as you want, and just add more layers if you want the color to be more opaque. Seal with a clear topcoat after it dries.
20. If you keep your polish in drawers, paint some circle labels to add to the tops of your bottles!
Instead of picking up 5 different bottles just to find the 1 you want, and label the tops–
Paint one Avery label sticker for every nail polish you have. Let dry.
Use a hole punch or scrapbook paper punch to create cute stickers in fun shapes.
Remove label backing and stick to the tops of your bottle lids!
21. Have a problem with buttons coming loose? Apply clear polish to the center over the threads to secure them.
What an easy fix! Just make sure to apply the lightest dab of polish so that you don't accidentally get some on your shirt as well.
Now that you've read all of our clever uses for nail polish, check out, even more, hacks using other favorite beauty products!