Don't throw out your old nail polish. Even if you no longer like the color on your nails, you can use colored polishes for all sorts of crafts around the house. And clear nail polish can be a real lifesaver in a pinch. Here are 21 clever uses for nail polish that don't involve your nails.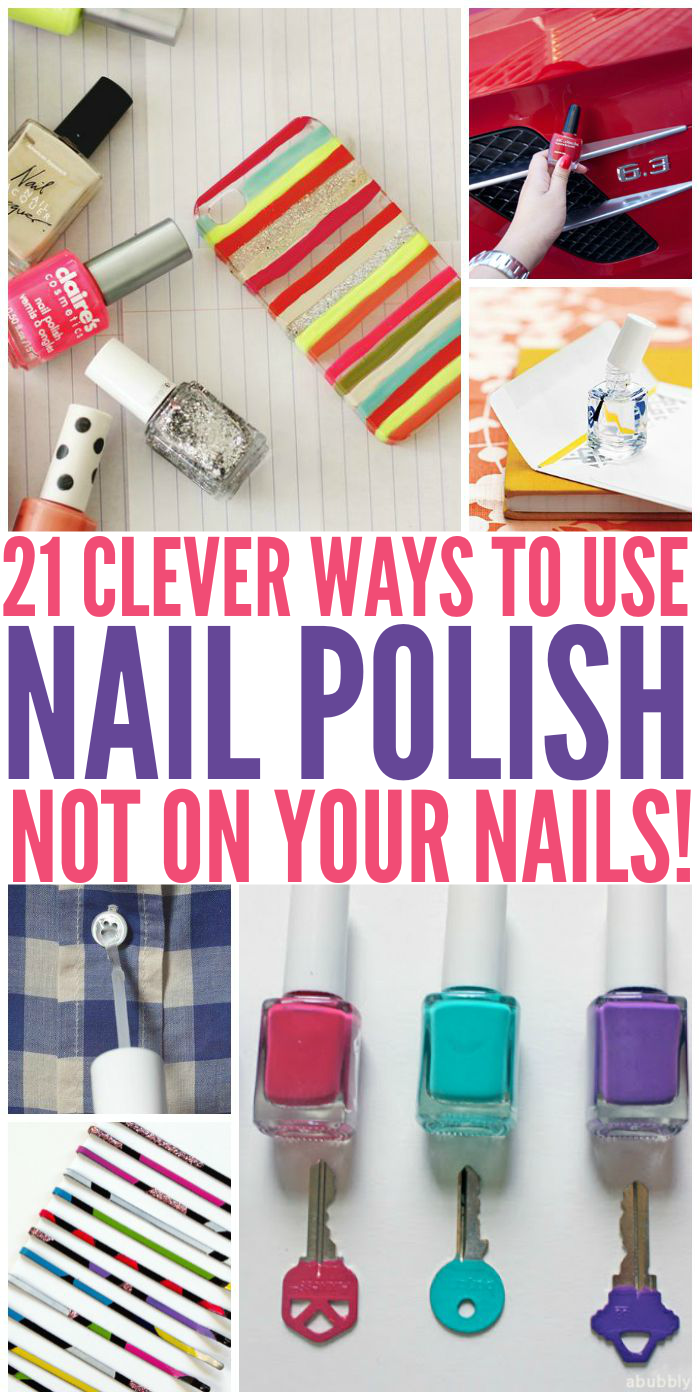 21 Clever Uses for Nail Polish
Use nail polish to seal an envelope when the flap just won't stick.
Color code your keys to make them easier to find on your key ring.
Create some marbled art for your walls using nail polish in water. After the pages dry, put them in frames along with a mat, and you have original artwork for your walls!
You can use a similar technique to create a marbled coffee cup. Great gift idea!
Sensitive ears? Coat earring posts in clear polish to prevent allergic reactions.
Check out the video below for a cool tutorial on using old nail polish to make really awesome cracked stones for jewelry.
Apply some clear polish to the end of thread to make it easier to put it through the eye of the needle.
Make some pretty color blocked bobby pins to rock in your hair.
Do your kids enjoy playing with your makeup? Give them their own pretend makeup instead! It's super easy to make using empty makeup containers and nail polish.
Repair a rattan chair using permanent markers and clear polish.
If you're tired of seeing naked Barbies lying around, paint some undies on her.
For your kiddos with severe food allergies (such as gluten or dairy), you can use nail polish to label and color code silverware and dishes.
Find a nail polish shade that's close to the color of your car to repair minor nicks and scratches in the paint.
Ways to use nail polish
These bottle cap magnets would make a fun craft for the kids.
Color the bottoms of your heels with nail polish for a fun fashion statement. Paint will probably go a lot faster, but polish works in a pinch.
Coat costume jewelry to prevent them from turning your skin green. It'll also prevent tarnishing.
Stop a run in your stockings from getting worse by applying clear nail polish to the tear. It works great for your kids' tights, too.
Dab clear polish on your sunglasses if they're feeling loose and you don't have a screwdriver on hand to tighten them.
Customize your phone case with nail polish. Love the stripes!
If you keep your polish in drawers, you'll need a way for seeing which colors you have quick. Paint some circle labels to add to the tops of your bottles!
Have a problem with buttons coming loose? Apply clear polish to the center over the threads to secure them.
Do you have other amazingly clever uses for nail polish you'd like to share? Leave a comment in the post, we'd love to hear them.
Want a Daily Dose of Hacks?