With so much trash taking up space in landfills, it's important that we do our part to keep what we can out of them. One way you can help is by upcycling your old jars. They're so handy to have around the house! Use them to store things in your pantry, make a pretty vase or create some jar gifts for your friends. If you need more ideas, here are 17 ways to upcycle old jars. Never throw them out again! (And check out our list of ways to reuse oatmeal canisters, too!)
Ways to Upcycle Old Jars
Make a cloche to add to your decor.
Add drawer knobs to any lid for a decorative touch. These are great for storing crafts supplies!
Turn your empty candle jar into a manicure gift in a jar! They make terrific bridesmaids or hostess gifts. (Get more gift-in-a-jar ideas and cookie in a jar ideas.)
Create pantry storage jars out of just about any type of jar that you have. If you want to make them match, add a coat of chalkboard paint, a couple layers of varnish, and a pretty label.
Create monogram vases for gifting fresh cut flowers.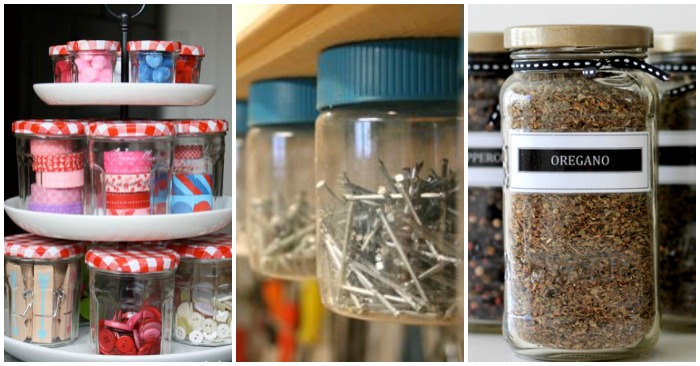 Ways to Reuse Food Jars
Organize screws, nails and other hardware in your garage or basement. Bonus points if you hang the jars under the shelf so they don't take up counterspace!
Isn't this tiered craft tray gorgeous? It's made with jelly jars!
Convert your old pasta jars into spice jars. Great idea if you buy your dried spices in bulk.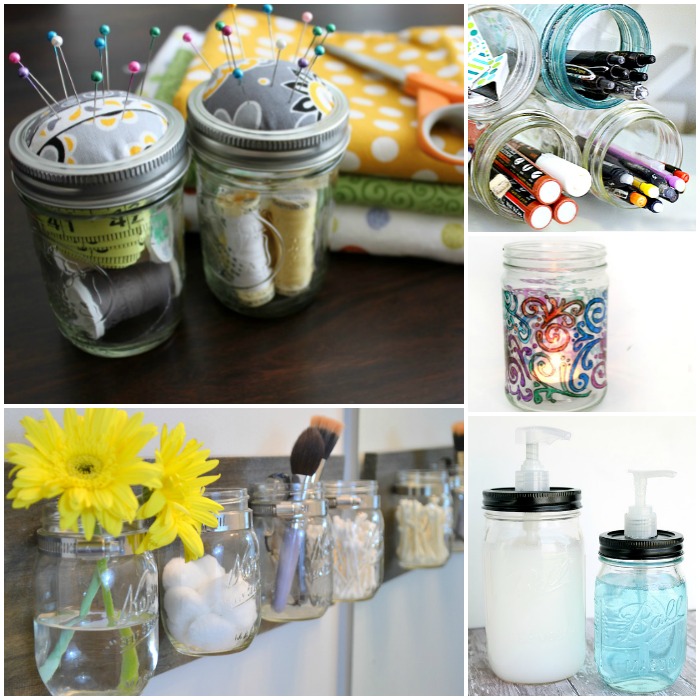 Ways to Recycle Mason Jars
Doodle on them to make pretty luminaries for your candles.
Glue several together to make your own desk organizer. Totally going to try this!
Make little sewing kits by adding pincushions to the lid.
If you're not afraid of a little more diy work, try your hand at this super cool bathroom wall organizer.
Make some country chic soap dispensers.
Ways to Upcycle Baby Food Jars
Fill them with a homemade salt scrub, and give them as gifts!
Add some paint and use them as bathroom organizers for q-tips, makeup brushes and cotton balls.
Make an I-Spy Jar for your little one to enjoy during quiet time.
Drill some holes in the lid, add a pretty painted border, and you've got yourself some nifty diy salt and pepper shakers.
More Jar Ideas
…and if those just weren't enough, Our Pal, Jackie, over at Happy Hooligans has a whole new post with over 50 things you can do with baby food jars!