Christmas time is literally right around the corner and boys and girls all over the world will be wondering if their names have found their place on Santa's naughty or nice list.
For many families around the world, Christmas is a time to start fun Christmas traditions rather than focus on presents and gifts. The great part about starting a new holiday tradition is that once you start it and implement it into your family, it's something that everyone will look forward to each and every year!
If you're looking for some super fun Christmas traditions to start with your kids, here are some great ideas to get started!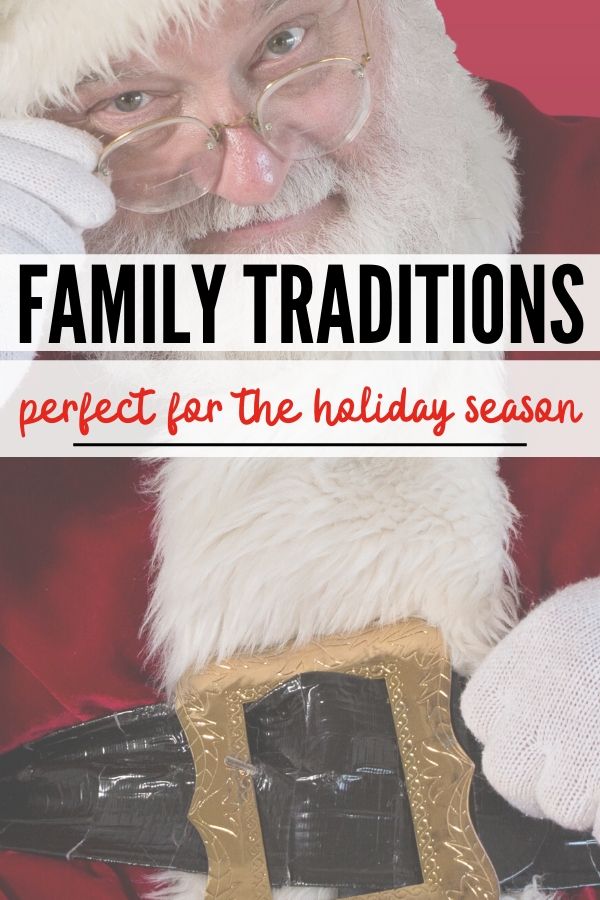 Super Fun Christmas Traditions to Start with your Kids
These Christmas traditions are fun and simple! Also, if you can't be with your family this holiday season, here are ways to celebrate when long distance.
Have a month of December Book fun
I love this idea! For the entire month of December, wrap up 24 different books
and have your child open one each night. Then for that night, that's your bedtime story to read together to talk about the upcoming Christmas holiday.
Not only will it expand their vocabulary and help their love of reading, but it's also a great bonding moment for you both as well. (Don't break the bank of this one, either. Books can be found in Little Free Libraries around neighborhoods or even at local thrift stores.)
Bake and decorate cookies for Santa
While it may be tempting to buy cookies for Santa, where is the fun in that? Instead, create a baking workshop right in your own home! Take your kiddos with you to the store and let them be a part of choosing over everything for the cookies. From sprinkles
to flavors, they are the cookie creators!
Choose one present to let your children up on Christmas Eve
It's so hard to contain the excitement and wait until Christmas morning! No matter how many gifts or presents you have for your child, letting them open up one the night before is always a ton of fun!
You may want to do the choosing of which one because they will head right for the biggest one under the tree…so plan ahead and decide which one that they'll get to open up early!
Make your own Christmas Cards to mail out
Let's be real…The Christmas cards in the store aren't always the most appealing so why not take the initiative and have your kiddos helping in creating some truly unique and festive holiday cards? The great part about letting them create is that each and every card will be 100% unique, and the receivers of them will love the creativity! Plus, it gets their imagination running wild!
Light a fire and sit around talking
Is there anything better than a wonderful fire by the fireplace? If you're asking me, the answer is no. Sitting around the fireplace and talking about the day is a wonderful way for families to bond during the holiday season.
And in all reality, the conversation doesn't have to be about anything in particular. As long as the fire is lit, the words will flow!
Binge watch the Christmas movie classics
You know what I'm talking about, right? You'll need to watch Elf, A Christmas Carol, The Christmas Story, and so many others to be able to get through them all!
Just make certain that you have your popcorn handy and all the Christmas snacks that you can eat so you can easily hibernate while watching amazing movies.
Go caroling around your neighborhood
If you and your family love to sing, share that joy with others. You don't have to have a huge group to make it a fun caroling experience so head out the door to the neighbors and let them hear those tunes! It's a great way to share the love and spirit of Christmas and also give your kiddos the change to really shine as well! Bundle up, stay warm and have fun singing to your family and friends.
Give back to your community
Nothing says "holidays" more than finding a way to spread kindness and joy. What this means is that you and your family can donate your time, or money to those in need.
Talk to the local shelters in your town and find out what they're needing as far as products or services. Some places may need physical help while others just might need food or money.
Create a Secret Santa drop off at the local nursing home
There are a lot of people that live in a nursing home that don't get many visitors. What this means for you and your family is that you have the ability to make their day and the holiday special, too.
Head to the store and buy some gifts that you can easily drop off "secretly" to the nursing home. The staff can then easily hand them out to the residents to make certain that they have something to open on Christmas day.
Creating a new and exciting Christmas tradition for your family is actually really simple! Make it be something that you all have fun doing, and then make it happen! You'll love being able to make them smile and showcase the spirit of love and happiness to others.
And remember, Santa's always watching. He sees you when you're sleeping, he knows when you're awake…so be good for goodness sake!
These are just a few fun traditions that you can easily start with your family. But remember, there are always more options!
Do you have a family Christmas tradition that you do each and every year?