Use this huge variety of fudge recipes to find just the right variety to make for your next handmade food gift.
If you have a sweet tooth like me,  you know that fudge is a fabulous gift to give at Christmastime (and even better to receive)!
I love giving tins of cookies, bark candy, and fudge to friends and neighbors around the holidays. And while this idea makes an excellent holiday gift, fudge is special in that you can easily gift it any time of the year. And did I mention, that fudge is super quick and easy? And can even be made using just 2 ingredients as I'll reveal to you later on. 
But, if you're a little bored with the same old fudge recipes you've been using for years, take these best fudge recipes out for a spin for great results! From smooth and chocolatey to chunky, fruity, or rocky road fudge, you'll find something to suit every palate.
See our list of DIY gifts for more homemade gift ideas.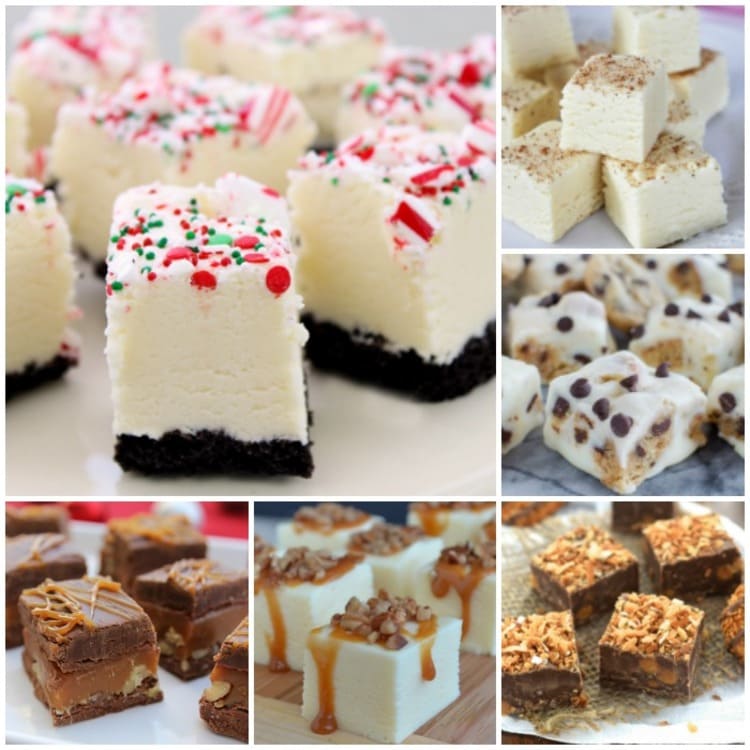 Fudge Recipes For Gift Giving
The versatility of fudge recipes makes them ideal to make and give as food gifts. In addition, since you can make many varieties quickly and easily, you can create a flavor (or two!) and gift them any time of the year.
1. Delicious Samoa Delights
Semi-sweet chocolate chips and caramel bits are mixed together and topped with toasted coconut for an out-of-this-world Samoa Fudge dessert. That has only five ingredients, is amazingly easy to make, and tastes incredibly delicious!  Get more Samoa-inspired recipes!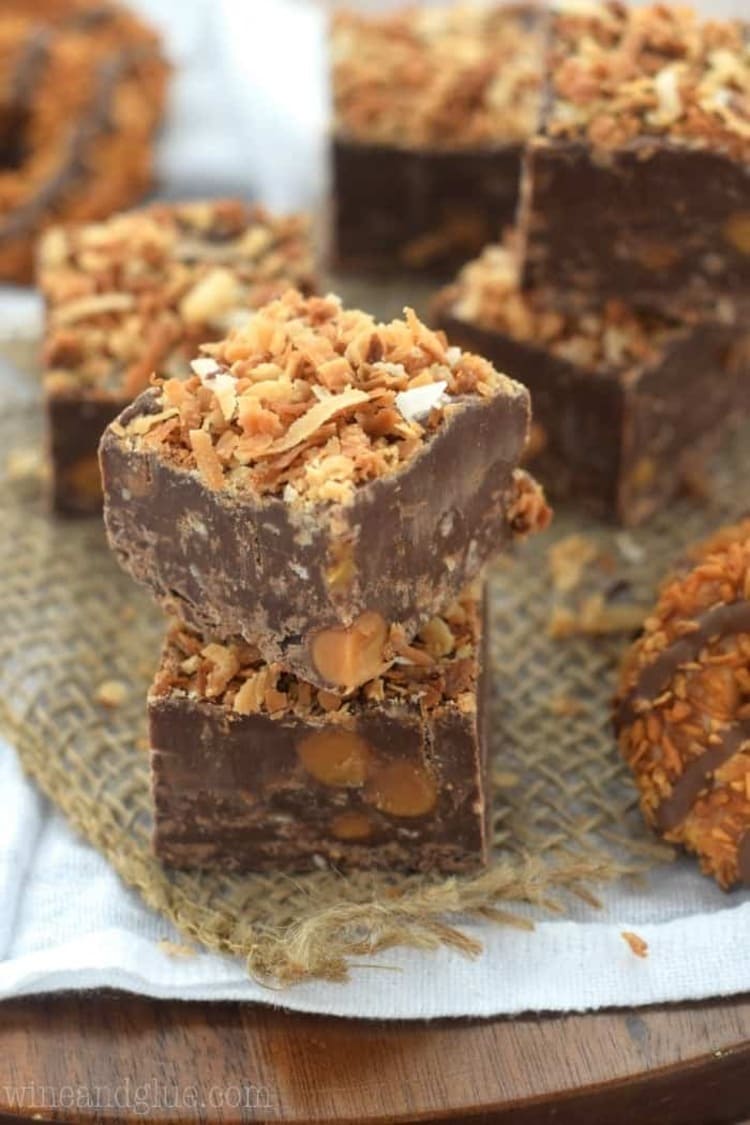 2. The Flavors Of The Holiday Season Fudge
Think Delicious Eggnog Fudge! Creamy eggnog and warm nutmeg in a pan.  It's your favorite holiday drink in fudge form. Does it get any better than that? I don't think so!
3. Dreamy Creamy Cookies and Cream Delight Fudge
A simple Oreo fudge recipe that's so dreamy and creamy that no one can resist it. It's a perfect no-bake recipe for any time of the year and makes a terrific DIY gift idea!  Scrumptious Oreo fudge that's packed with bits of crushed Oreo cookies in delicious sweet white fudge milk chocolate that melts in your mouth. Have them by batch and store them in a freezer. With only four ingredients, this super easy recipe is great for gift giving.
4. Easy Turtle Cheesecake Fudge
I'm telling y'all… this Turtle Cheesecake Fudge is heaven on earth. It's made with sweetened condensed milk and topped with diced pecans. Make sure you give it as a gift because you will not. stop. eating. it.
Seriously.  This super easy fudge recipe made from white chocolate chips and instant cheesecake pudding mix is so good, that you'll get requests for more!
5. Cotton Candy, Please
Here's a simple fudge recipe that's a big hit with kids. And since I love cotton candy-flavored things, too, I can't wait to try this one!  Try this cotton candy fudge recipe to please both kids and adults alike any time of the year!
6. Butterbeer Goodness
Calling all Harry Potter fans! If you like the sweet, creamy, butterscotch flavor of butterbeer you will love this Butterbeer fudge! It's the perfect gift for any serious Harry Potter fan – or anyone who loves butterscotch. Make sure to follow the instructions above!
7. Zesty Orange Swirl Fudge
This fudge recipe is a family favorite! My sister-in-law makes a variation of this every Christmas, and I can assure you, there's none left when she leaves.
This Fool-proof Orange Swirl fudge will have everyone thinking you slaved over it! Microwave in medium heat this super simple, creamy, flavorful fudge today.
8. Nothing Is Better Than Cake Batter Fudge
Get layers of flavors of a birthday cake in bite-sized pieces with yummy Cake Batter Fudge. Don't forget the sprinkles, of course! 
This Cake Batter fudge is so good and every bite literally melts in your mouth.
9. White Chocolate Pumpkin Spice Fudge Recipe
Fall brings pumpkin spice to everything! And this White Chocolate Pumpkin Spice Fudge will definitely satisfy your pumpkin spice craving.
Made with real pumpkin, a graham cracker crust, and is topped with a white chocolate drizzle – perfection and it's gluten-free!
10. White Chocolate & Peppermint Fudge Recipe
Nothing says Christmas like peppermint, and this White Chocolate Peppermint Fudge really hits the spot with its minty flavor and cookie crust. Forget the calories! Yum. Plus, it's super easy to make if you have a peppermint extract ready- just as fudge should be!  Perfect for the holiday season. It also makes a super cool homemade gift idea!
11. Really Easy Two-Ingredient Caramel Apple Fudge Recipe
You only need TWO ingredients to make this super simple Caramel Apple Fudge recipe. Stir melted chocolates, and dulce de leche, with dried apples. Pour the mixture into parchment paper, let it chill, and enjoy! What a quick and easy food gift idea for your neighbors! Really easy, takes minutes to prepare, and is crazy delicious!
12. Make Your Taste buds Dance With Blueberry and Lemon Fudge
This recipe is amazing. Blueberries and lemon were just meant to go together, right? The secret to this super-soft Blueberry & Lemon Fudge is creamed coconut! 
A yummy 'must try' alternative fudge freezes recipe using creamed coconut, blueberries, lemon, and maple syrup. Creamy, zesty, and sweet!
13. Gooey Coconut-Pecan Perfection Fudge Recipe
German Chocolate Fudge is sinfully chocolatey and delicious. It's genuinely a decadent fudge, so a little goes a long way. This is a crowd-pleaser.  Add walnuts if you want. This German Chocolate Fudge will be the talk of the holidays! Thick chocolate fudge topped with a gooey coconut pecan icing!
14. Cookie Dough for the Win!
Chocolate Chip Cookie Dough Fudge is just as good as eating cookie dough straight from the bowl. It's a hit with everyone, and this is one fudge that is meant to be eaten all year long! Play along with dark chocolate evaporated milk in a saucepan.
Also, this easy chocolate chip cookie dough fudge recipe is perfect for your Christmas cookie tray!
15. A Different Take on Cookie Dough Chocolate Fudge Recipe
Here's a different way to make cookie dough fudge – with chunks of cookie dough all throughout! Santa would love a belly full of this Milk and Cookies Fudge. Why not put out a plate of these for him on Christmas Eve?
No-fail Milk and Cookies Fudge is a fun take on everyone's favorite treat – milk and cookies! Chewy chocolate chip cookies swirled throughout creamy fudge!
16. Old-Fashioned Candy Fudge Recipe
This Butter Pecan Fudge is an old-fashioned holiday treat that young and old alike enjoy. This fudge recipe gives you a taste of making fudge candy without the marshmallow fluff.
This butter pecan fudge recipe is made with basic ingredients and does not require a candy thermometer. Ready in under 30 minutes, it's quick and easy!
17. Chocolate Turtle Candy Fudge
Chocolate Pecan Turtle Fudge contains all your favorite things… chocolate, caramel, and nuts. It's like eating those pecan turtles in fudge form. You really can't go wrong!
Caramel Pecan Turtle Fudge is traditionally known as Turtle Fudge. It's one of my favorite sweet treats; it doesn't have to be the holidays to enjoy this. It's great all year round!
18. Bright Lemon Sweet Spot
Lemon Fudge is another 2-ingredient fudge recipe that you have to add to your holiday candy-making list. But don't just make it around the holidays… It's perfect in spring and summer, too!
Must-try for real!  The sweet and tangy lemon taste is awesome & couldn't be easier as just 2 ingredients are needed! Plus, it's a lovely bright sunny color that will make you happy as well as your taste buds happy.
19. A Match Made in Heaven: Chocolate Peanut Butter Fudge Recipe
Nothing goes better together than creamy peanut butter and chocolate, so this easy Peanut Butter Swirl Chocolate Fudge is a recipe made in heaven.  Scrummy and super easy. What's not to love?  With only a few minutes of prep, a few hours of chilling & 5 ingredients, this fudge is a simple, easy treat!
20. Mix Candy Into Your Fudge Recipes
Take your favorite fudge recipe, add your favorite candy bars, and you have a winner like this Homemade Twix Fudge (Twix just might be my favorite candy!). Crunchy, fudgy, delicious!
21. Caramel Decadence
Have you noticed a caramel theme in a lot of these? Caramel is just… perfection. And Jersey Caramel Fudge packs a lot of caramel into each chewy bite.
If you have a sweet tooth, this is the recipe is just for you! This delicious three-ingredient Jersey Caramel Fudge will satisfy your sugar cravings.
22. Super Easy 3 Min Chocolate Fudge
Here's an extra recipe for those of you who want a sugar hit and chocolate hit fast! Who knew that you could rustle up a tray of fudge in 3 minutes and using just 3 ingredients? Well, you can with the 3 Minute Fudge.
Fantastic results in minutes. Great for last-minute homemade presents. All you need is:
condensed milk
your favorite chocolate chips (I like super-rich bittersweet chocolate chips) 
some vanilla extract (or swap out the vanilla for a flavoring of your choice. Almond, orange, or mint would work well)
Fudge Recipes: Final Thoughts
That was an impressive list of delicious fudge recipes, right? No matter what flavors you enjoy, you're sure to find something you love (or love to give as gifts) here.
Plus, fudge makes a delightful food gift for birthdays, holidays, and other special occasions!
More Gift Ideas From One Crazy House:
So, which of these yummy fudge recipes is a crowd favorite? Let us know in the comments!