Getting on a ladder to string Christmas lights or wreaths at the front doors or around the outside of my home isn't exactly my thing. I'm afraid of heights. But that doesn't mean that I pass on the twinkly lights and Christmas decorations that the season is so well known for. No, I bring the lights indoors and put them everywhere like icicles. If you'd like to add a little sparkle to your interior, check out these bright indoor Christmas light ideas.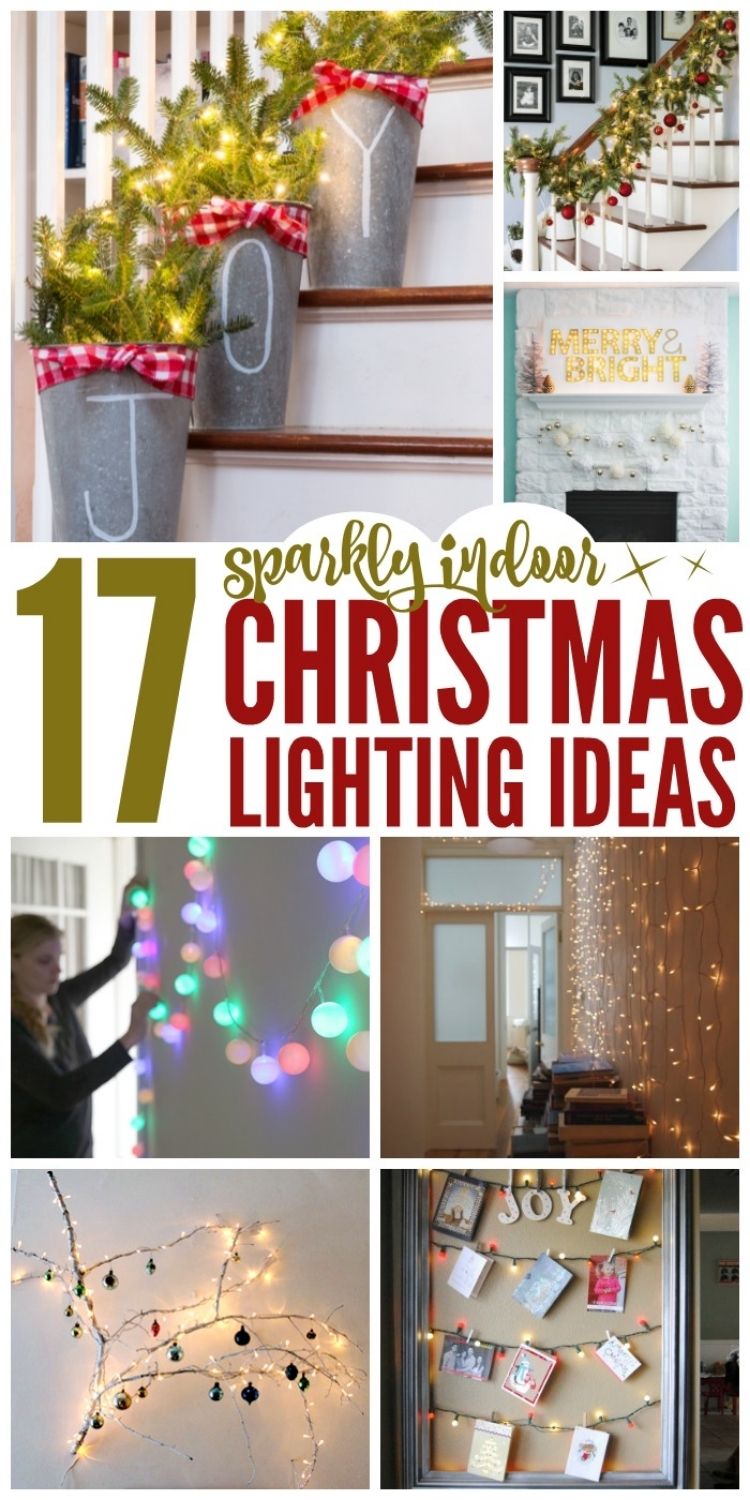 Shimmering Indoor Christmas Light Ideas
The most obvious place to add Christmas lights during the holiday season is on the Christmas tree, but that isn't all the magic that you can spread around the house.  Twinkle lights are special and festive and can be added to so many other places than just the evergreen tree.
1. Brighten up your walls with a lighted Christmas tree
Why not hang a string light Christmas tree up on the wall? This is an amazing and classic way to save space in a small apartment or dorm room where a Christmas tree is impractical. Use some adhesive hooks to create the shape, add some felt star ornaments to spruce it up, and use some twinkle lights and bulbs to create a warm Christmas ambiance in your room.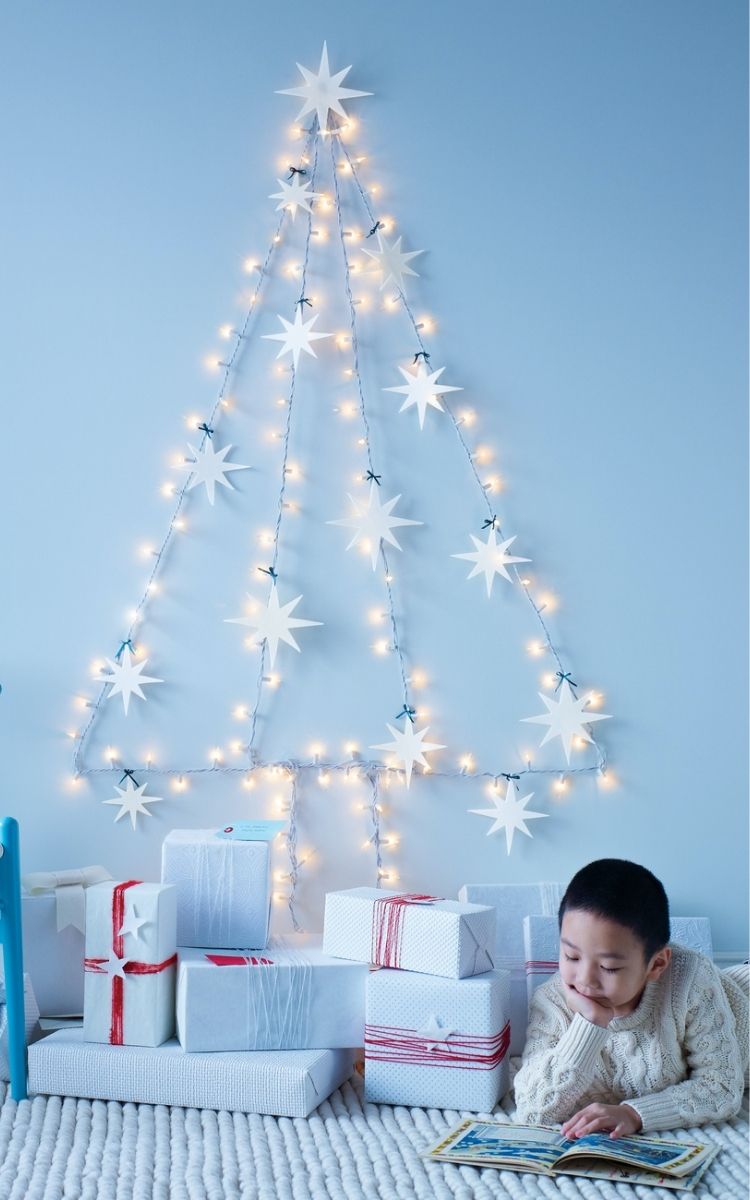 2. Lighted Christmas Card Display
We still all love the personal touch that Christmas cards communicate, don't we? I love displaying Christmas cards, but I have to admit that my snowman Christmas card holder isn't cutting it anymore. I can't even see the card covers! This lighted card display is simply genius. Repurpose an old frame, string the fairy lights up, and use clothespins to hang the cards. Adding a feature phrase (Joy) gives it a focal point, don't you think?  Not only do you get to see those beautiful Christmas scenes and family pictures, but the twinkling lights really get you in the holiday spirit.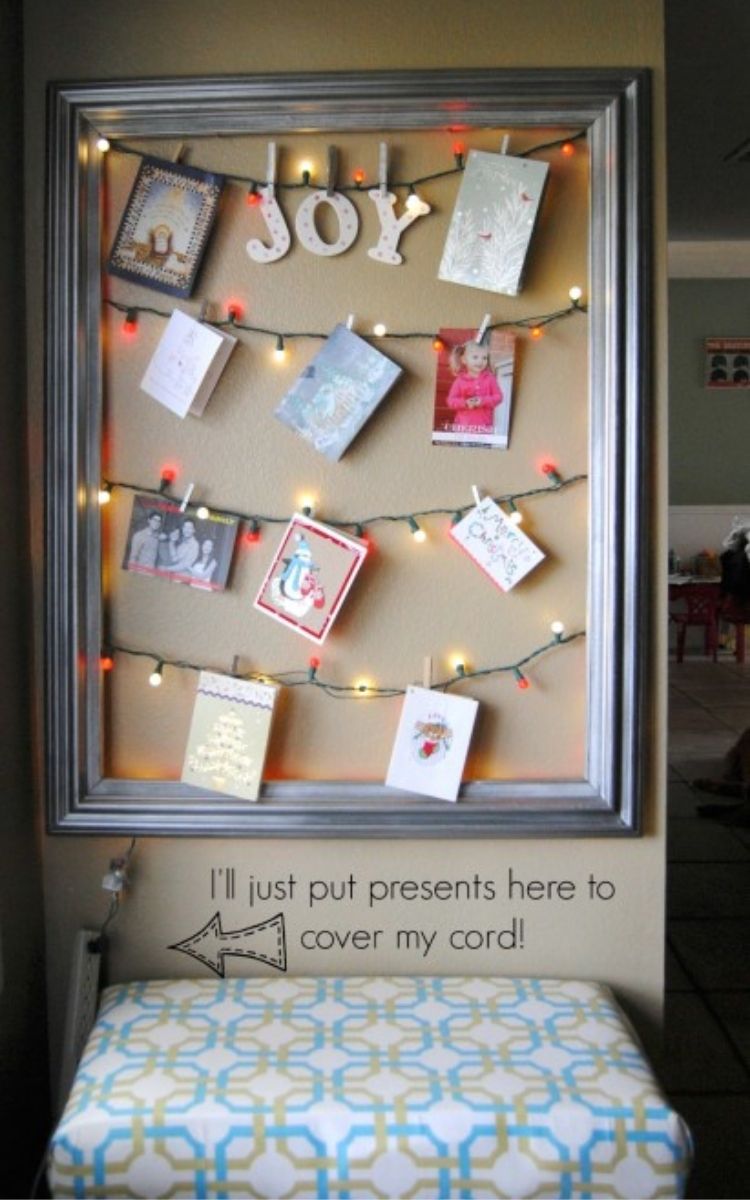 3. Lighted glass vases
The reflection of the lights in these clear glass vases really adds sparkle and is such an attractive indoor Christmas lighting idea. I love the collection of three varying sizes of glass jars or vases. All you need is to Fill containers with some ornaments, pine cones, snowflakes, greenery, and lights and you will create a simple holiday display you can put anywhere in your house. Add red bows to accent it.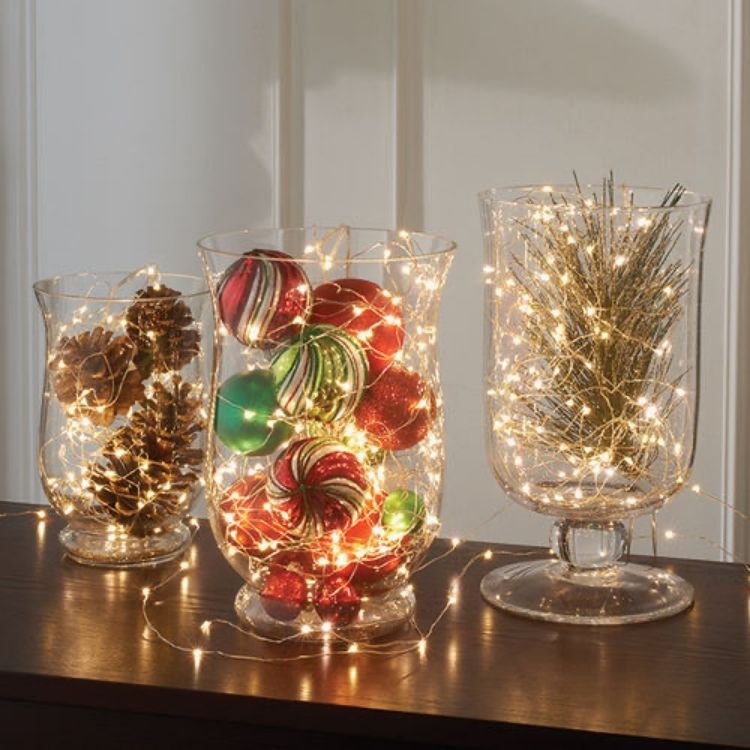 4. Add some Indoor Christmas lighting with this burlap garland
Want to add a new garland to your indoor Christmas lighting decor? All you need is mini lights and burlap! Yup, it's that simple. Tie strips of colored burlap around the wire. Voila! You can use it to decorate the mantle, tree, front yard, front porch, or door frame with a lighted burlap garland. This is surprisingly easy and would make a wonderful gift that even your kids could help make!
5. Lighted branches on the wall
Lighted branches can add such uniqueness to a wall. And it's double the fun because first, you get to go on a hike to find some interesting-shaped branches. Then, come home to paint them white and wrap lights around them to make your own diy lighted branches for so cheap. Use the lights with the white wires rather than the green ones to help them blend in better. And of course, add some ornaments to complete the wall decor!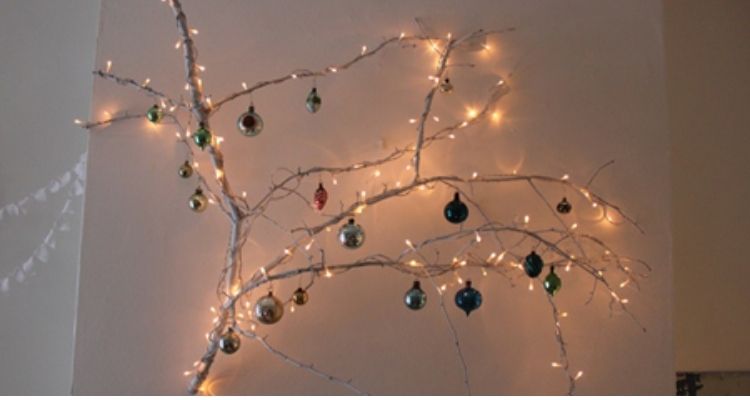 6. Add these galvanized buckets to your staircase
Any pathway, driveway, and staircase is a welcoming spot for these charming galvanized buckets, decorated with greenery and indoor Christmas tree lights. Of course, the gingham ribbon adds the perfect punch of color.  I love the pop of light coming from the porch steps!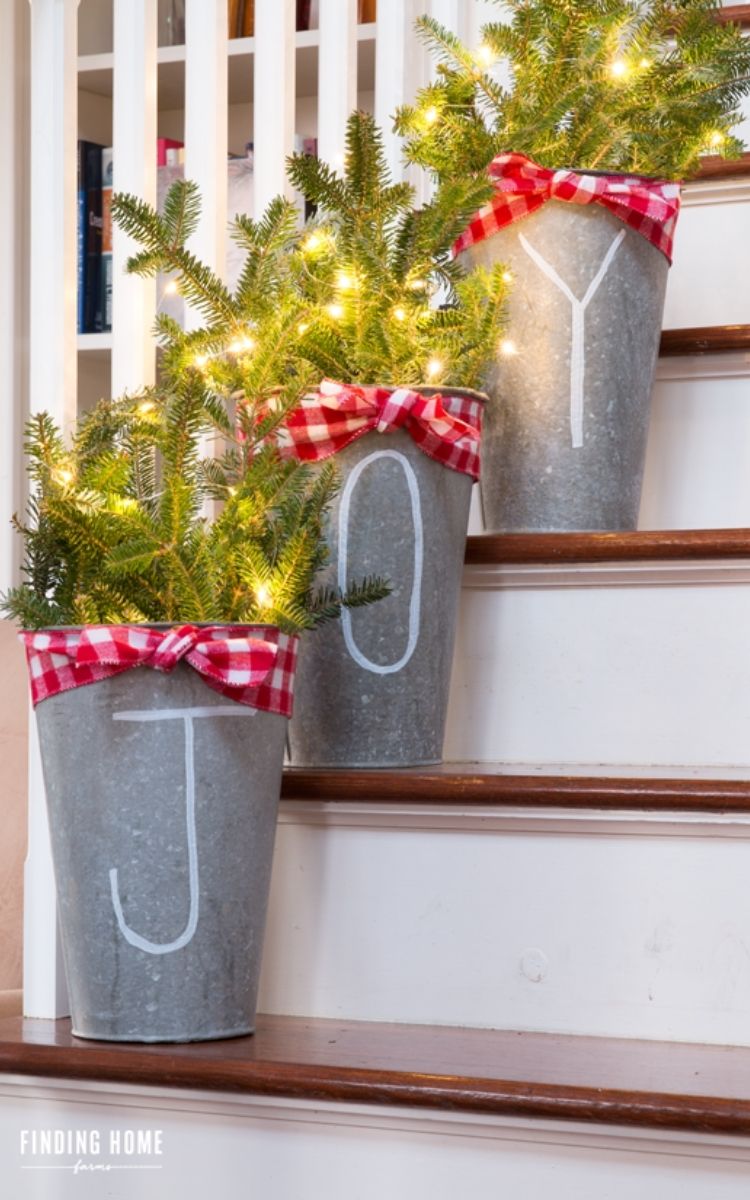 7. Twinkle lights will brighten up any hallway or bedroom ceiling
The simplest Christmas traditions can make memories that last a lifetime. Add twinkle lights to your hallway or to your kids' bedrooms during the holiday season. It's amazing how something so simple can create a magical ambiance that the kids will ask for year after year!
8. Build your own Christmas star of wonder
Traditional Christmas Carols still fill our homes with wonder and beauty during the Christmas season. As we listen to Christmas music, with the lights dimmed and the lighted star shining brightly, we are reminded of the very first Christmas. Imagine the serene atmosphere in your home as you gather near the star to sing the carols and reflect on the true meaning of the season. 
O  Star of Wonder. Star of Night. Star with Royal Beauty bright.
You can build your own lighted star. It is so easy that it's a great project to involve the kids in. Use paint sticks, rulers, yard sticks or trim to make the star, and simply wrap the lights through it. I think the bigger the better! More lights always creates more atmosphere. Don't you agree? 
9. Basket full of lights
In my opinion, indoor Christmas lighting should be scattered everywhere! Because…why not? You can find fun old baskets and put them to good use. The more lights the merrier! Place a package of gold glittery ornaments or even just greenery into the basket. Add some twinkling lights and you will have a lovely display for the hearth. Just plug it in and you're lit up!
10. Merry and bright Christmas marquee
What isn't to love about the soft glow of candles and indoor Christmas lighting?  Wouldn't it be fun to make a merry and bright Christmas marquee for the mantle? All you need to do is make a wooden back board, purchase chip board letters and paint them glittery gold, drill holes for the string lights to insert from the back and tape the string of lights into place from behind! I had no idea it was this easy… this is on my holiday DIY list for sure!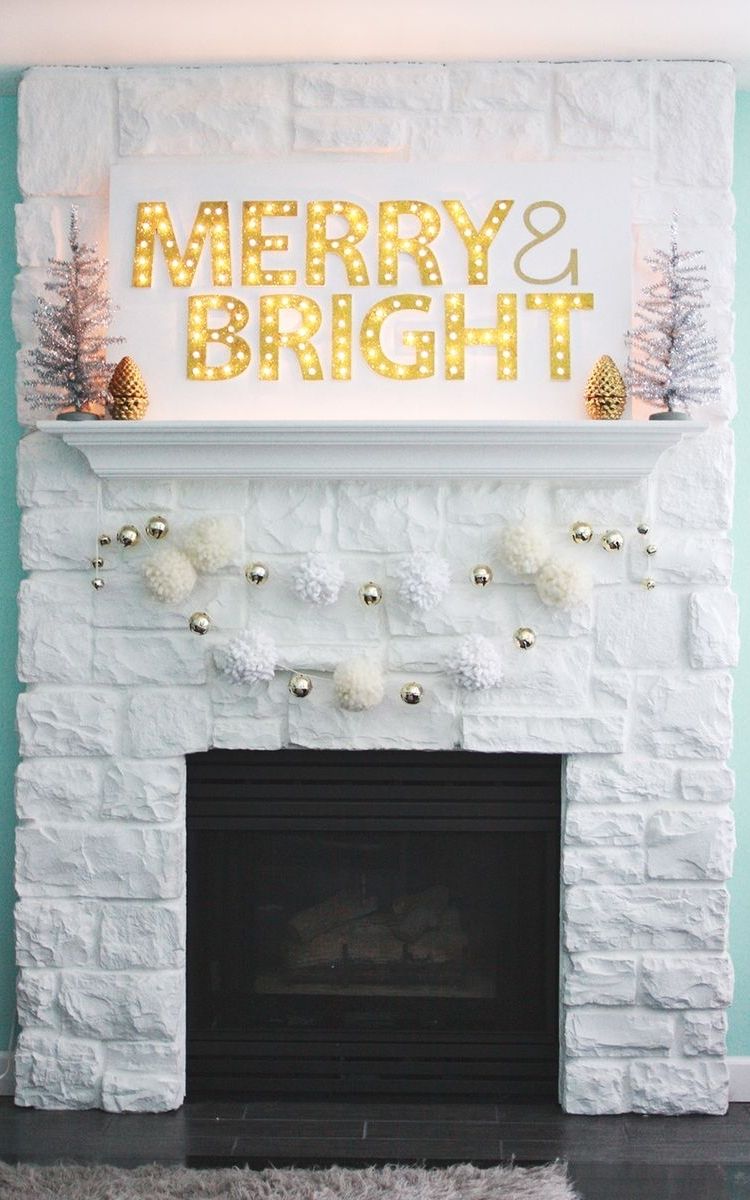 11. Lighted reindeer centerpiece
Your kids will love this! Let's bring the reindeer indoors and light him up. This lighted reindeer centerpiece is adorable and super easy to recreate with a glass vase, some fake snow, warm color lights, and the reindeer accessories (curvy branches, jungle bell and jute cord)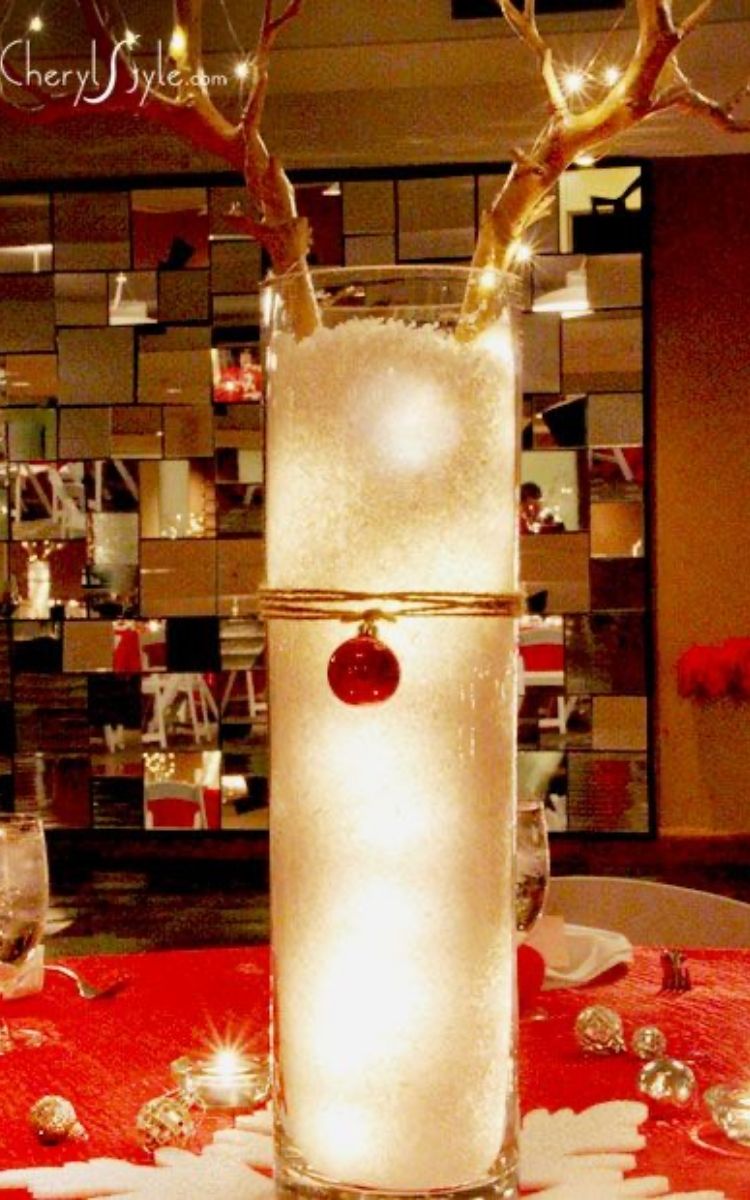 12. Add some colored Christmas lights inside your wine bottles
Now here's a good way to recycle wine bottles. Use paint and stencils or vinyl to decorate wine bottles, and then add a string of mini colored lights to give that bottle that beautiful holiday glow. Don't need proof of age for this bottle! I'm thinking a collection of these on a shelf would add such sparkle and warmth to my holiday decor.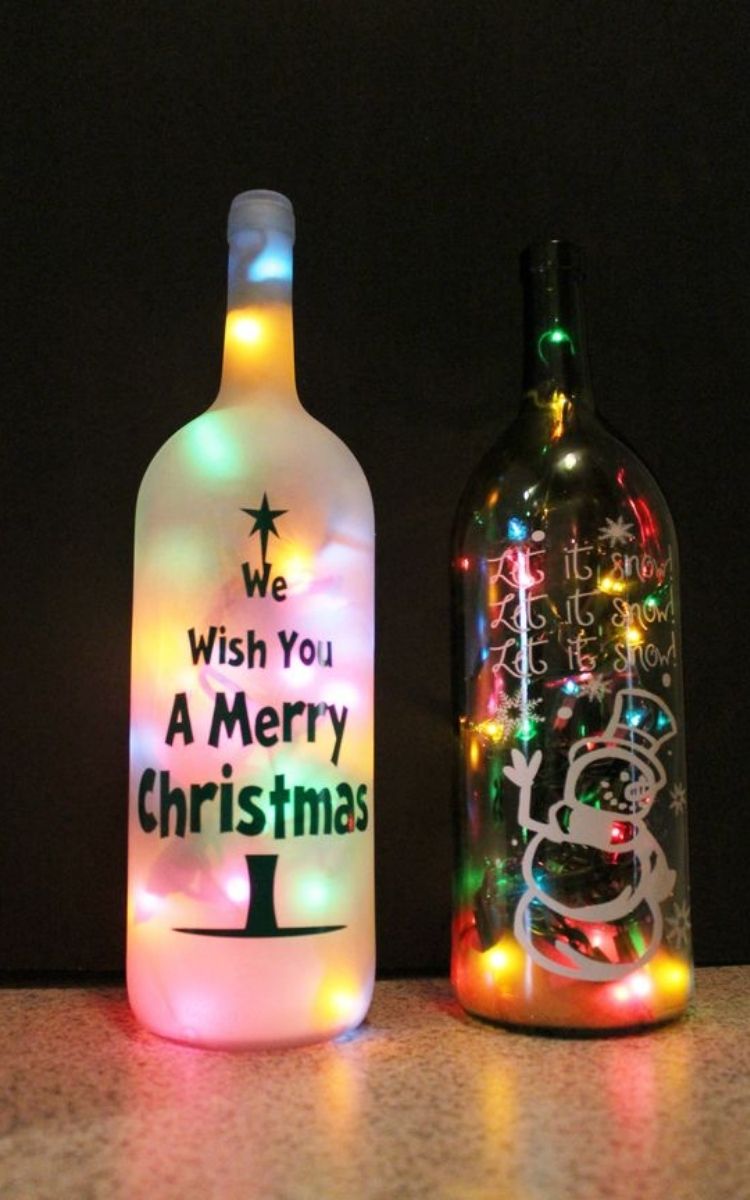 13. Soft glow ping pong ball lights
Create a soft glow using ping pong balls over multi-colored LED lights. The LED part is very important so it's safe to attach the plastic balls.
You just need to make a cross cut about 1/4 inch wide on the seam of the ball in order to fit in the little light bulb. Be gentle so you don't squish or dent the ball.
This is another option I'd leave up year round… perfect for a kids' room.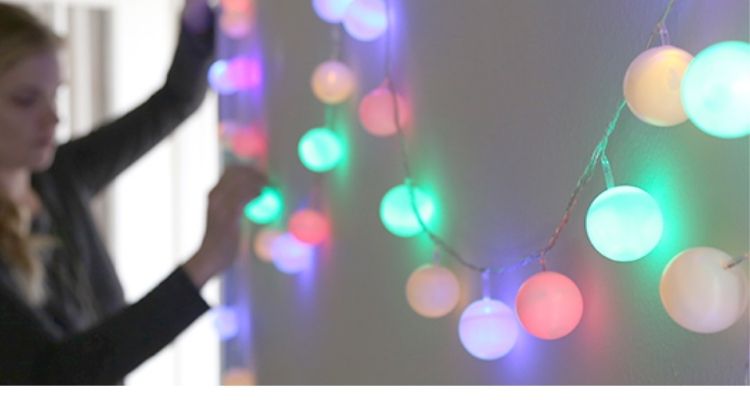 14. Iridescent tin can lighting
The kids will want to make many different versions. All you need is tin cans, some paint and some mini lights! Drill holes in a tin can, paint it, and add a string of lights underneath for a gorgeous lamp that creates pretty patterns of light on the ceiling and walls. You can get creative and punch holes to make interesting shapes and even string them together to hang from your mantle. More magical moments to add to your indoor Christmas lighting ideas.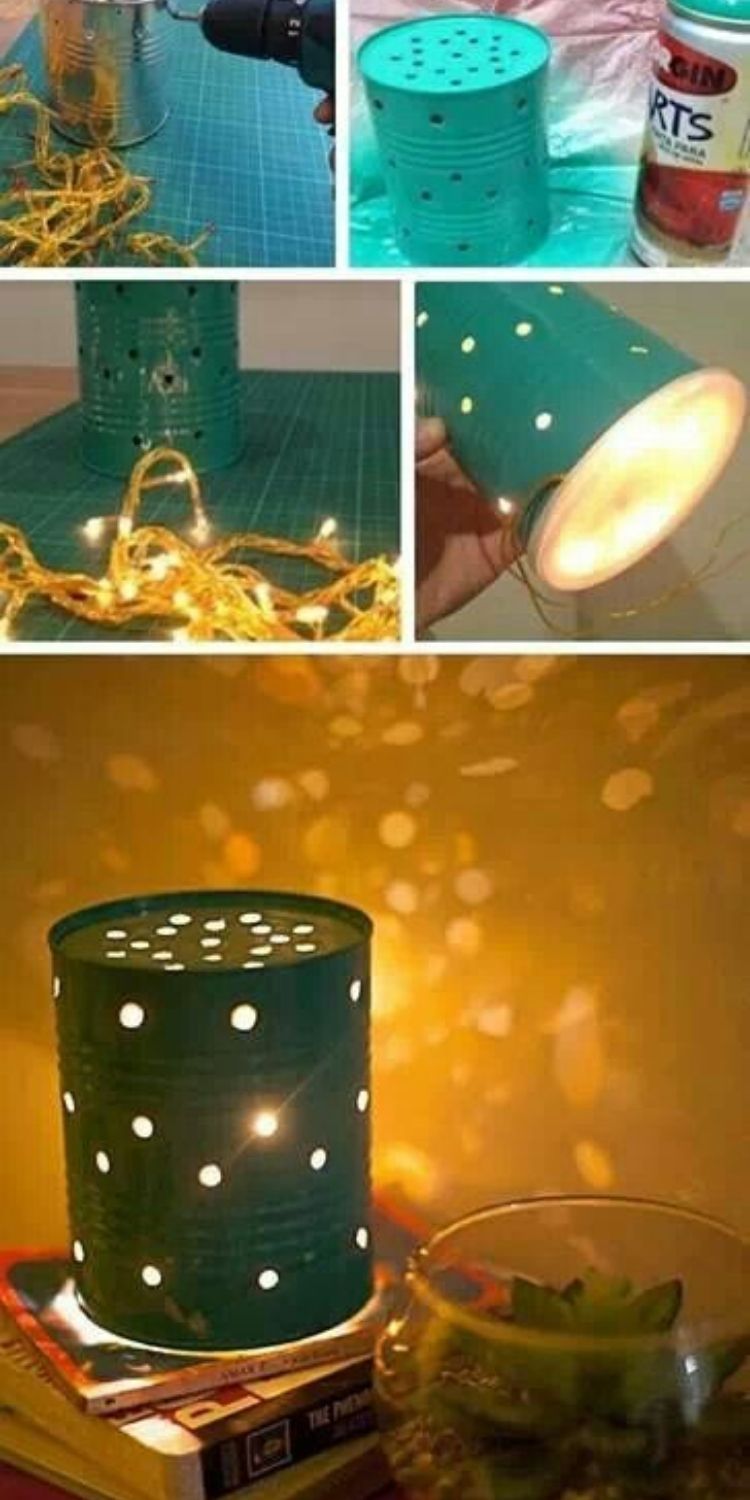 15. Decorate a wall with indoor Christmas lights
Welcome your guests to your home this Christmas with a light display as they enter your foyer or especially to light up a college dorm room! Nothing is more inviting than the twinkling of lights at this time of year. And why not Dedicate a wall to lights.?
Hanging Christmas lights in your room is an inexpensive, simple way to make a room instantly feel classy and inviting. As an added feature, you could put up some fun, old  black and white photos which is sure to invite laughter and memories. A great conversation starter.
16. Tulle firefly lights
These tulle or lace firefly lights look so romantic! You can leave these up all year long. They'd even make a great addition to a teen girl's room. All you need is some tulle and the lights. Cut 7-8″ squares of tulle and tie them in between the lights. So elegant and exquisite. And yes, this is safe with LED lights!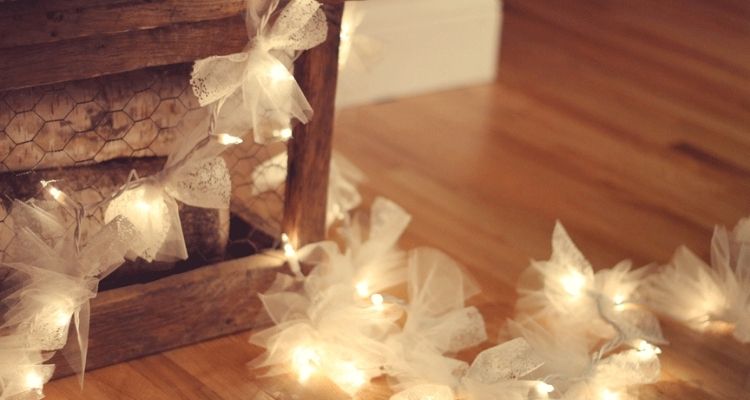 17. Decorate bannister with evergreen garland and lights
Bannisters are made for Christmas garland, don't you agree? Pair a string of lights with evergreen garland and drape them loosely on the railing down your stairs. Add some red ornaments and some gold ribbon and your Christmas decor is well underway.  Simple, but gorgeous!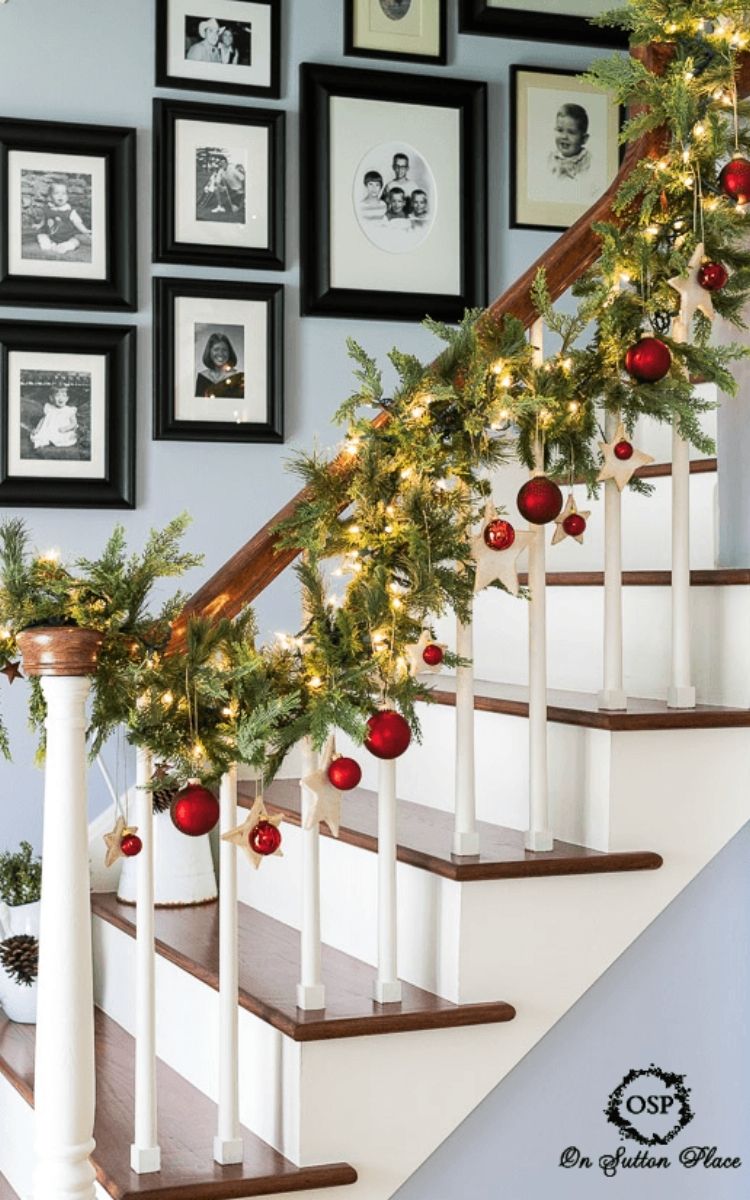 Indoor Christmas lighting definitely adds to the warmth of the season
Any and all of these ideas will help you create that welcoming atmosphere that will make your house a home this Christmas. These simple, affordable indoor Christmas lighting ideas will transform your home and create an ambiance that will welcome your friends and family. Enjoy the season!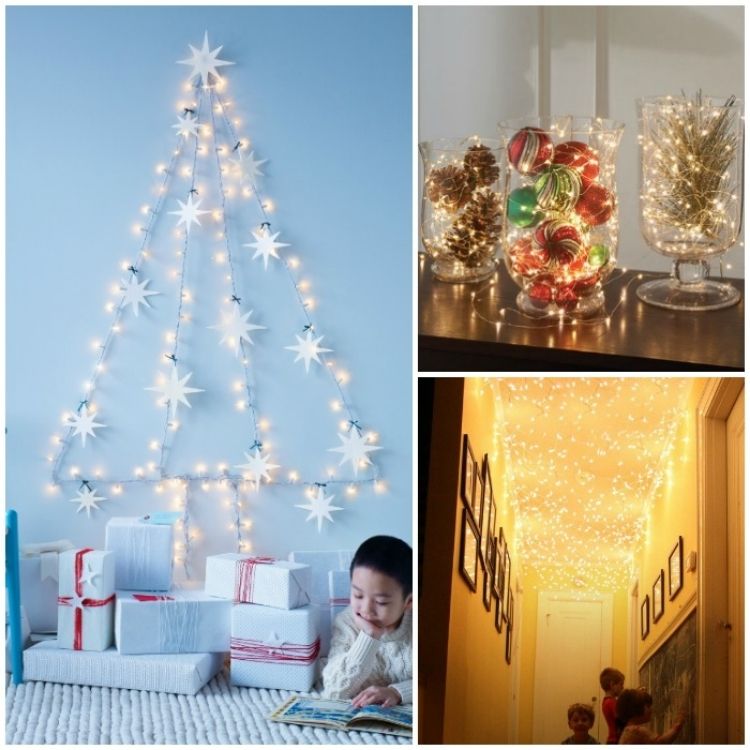 Need some more Christmas tips and tricks? If you're like me, there's always room to add more Christmas decor! Check these out:
Which of these sparkling Christmas light ideas do you like the most? Let us know in the comments!