Baking Christmas cookies is a time-honored tradition that many families love to participate in. Check out this terrific variety of Christmas cookie recipes that I know you'll love!
What is it about the holidays that makes us want to bake? Whatever it is, I love it!
Baking can be such a sweet family activity when the cool weather comes and the tradition of making Christmas cookies and dipping them into homemade hot chocolate is one I adore.
I am always on the look-out for a new fun recipe to try, and this year I've found a lot of new ones I'm excited to try!
25 Christmas Cookie Recipes You'll Love
This collection contains the best Christmas cookies out there, and there are only 25 recipes so it's not overwhelming. In this list, you'll find every holiday flavor you have come to love and expect.
Happy baking!
Stained Glass Cookies 
These look like real stained glass! All you need is your favorite sugar cookie recipe and jolly ranchers to create this easy-to-make, but complicated-looking cookie.
White Chocolate Dipped Ginger Cookies
Combining classic ginger cookie with white chocolate? Yes, please! These are soft and chewy and totally festive- and one of the best Christmas cookies around!
Candy Cane Kiss Cookies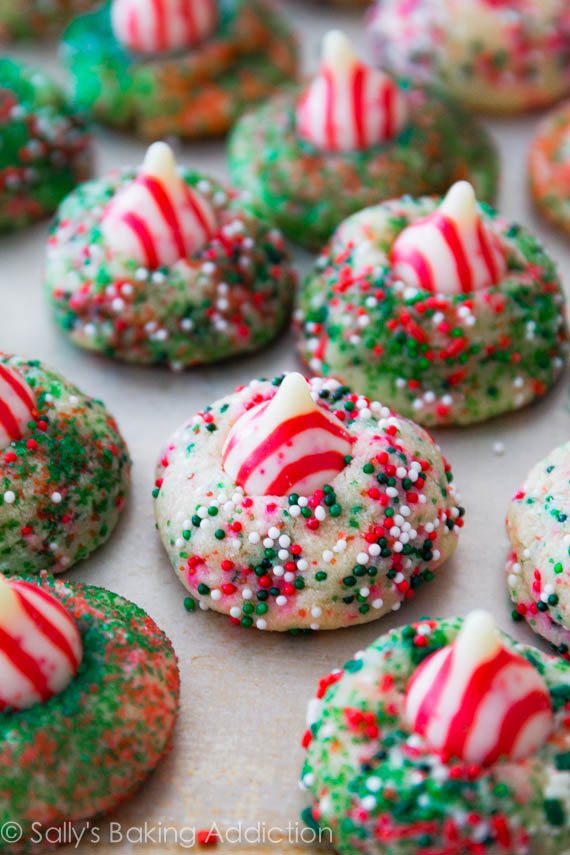 Yummy red and green cookies with a peppermint Hershey kiss to top it off. Aren't they so festive and colorful?
Christmas Tree Meringue Cookies
I can't get over just how much these look just like Christmas trees! They may look like trees, but they taste incredible.
Grinch Cookies
Who doesn't love The Grinch? These adorable green cookies with a red heart in the middle are so fun.
Best Marbled Christmas Cookie Recipe
Why choose red OR green when you can pick both! Mix two batches of sugar cookies together for this fun combo.
Snowy Pinecone Cookies
These look just like pinecones! They look so realistic that no one will believe their eyes and think they are actually edible.
Melted Snowman Cookies
Aww, these are some of the best Christmas cookies – and so adorable! They look just like tiny melted snowmen and make a fun conversation piece.
Santa Hat Oreo Cookie Balls
These cookie balls are soooo good. The fun Oreo surprise in this fun-looking Santa hat Christmas cookie recipe is the best!
Christmas Cookie Bars
Indulge in those fun Christmas-y colors! Bright red and green and overflowing with M&Ms – these bars are totally easy.
Fruitcake Christmas Cookie Recipe
Love fruitcake but hate to make it? These easy drop cookies will give you everything you love about fruitcake but eliminate the hassle.
Christmas Wreath Cookies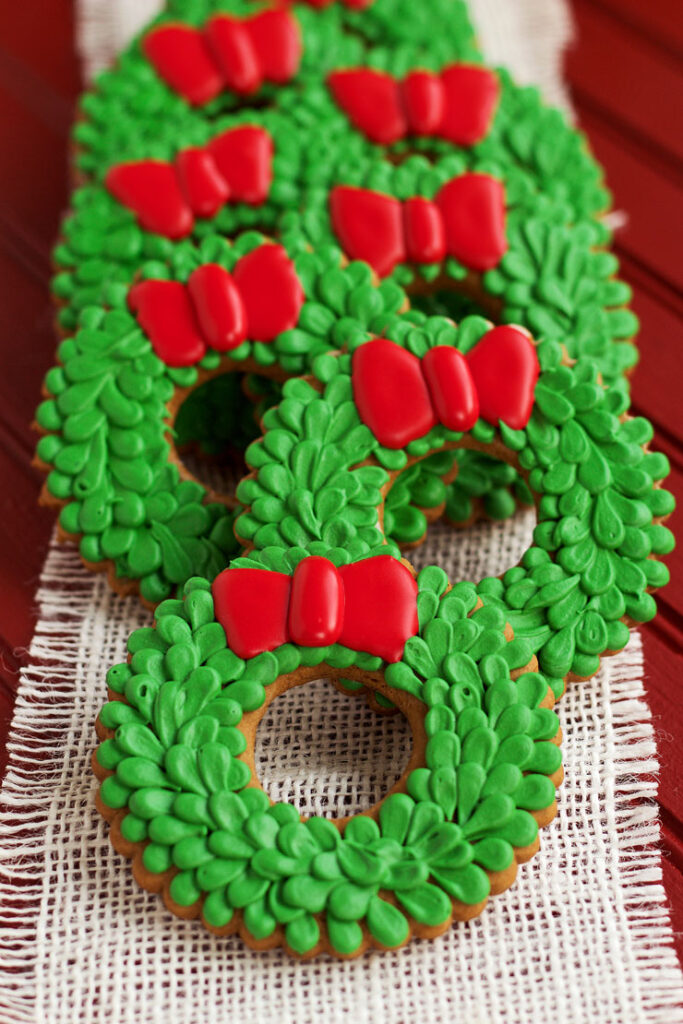 Aren't those so sweet? I love a good Christmas wreath. Follow this great tutorial to make your own wreath Christmas cookies. They're perfect for cookie tins or holiday dessert spreads.
Slice & Bake Christmas Tree Cookies
Make your own cookie rolls just like you buy at the store! Couldn't be easier and they're perfect for gifting to your family, friends, and neighbors.
Homemade Gingerbread Cookies
If you've struggled with making the perfect gingerbread cookie, check out this amazing tutorial to help you get it right.
Hot Cocoa Cookies
It's a cookie-hot-chocolate hybrid! It's one of my favorite Christmas cookie recipes. A melding of two of my favorite things…yep, total yum.
Reindeer Cookies
I am not remotely an artist, so at first glance, these look way out of my league. However, you won't believe how much easier these are to make than they appear.
Christmas Tree Cookie Recipe
Use green meringue to make these adorable miniature Christmas tree cookies. They look almost too good to eat!
Stuffed Present Cookies
Presents are predominant during the holidays, and these cookies, while no exception, are unique! Open these cookies up to find a Christmas surprise.
Pecan Pie Cookies
Why make a whole pie when you can have pecan cookies? Pies take so much work, unlike these cookies. Enjoy all the things you love best about pecan pie in cookie form.
Whoville Cookies
Full of Christmas spirit, try these fun and delicious Whoville cookies. They're perfect for a Grinch themed party or get together!
Eggnog Cookies
Love holiday eggnog? Don't just drink your eggnog, make cookies. Now you can enjoy one of your favorite holiday flavors in a new way!
Eggnog Snickerdoodles
One more eggnog cookie you'll love! The prominent eggnog flavor in these soft and chewy cookie is really festive for the holiday season and won't last long!
Christmas Peppermint Patties
These homemade peppermint patties are super easy to make, so delicious and totally festive. A hit with everyone who tries them. These holiday treats are the perfect addition to cookie trays!
Peppermint Meltaways
Another peppermint cookie you will love. I love the crushed peppermint candy pieces on top.
Star Cookies
Gorgeous star cookies to celebrate the beautiful north star. How about those edible pearls – aren't they gorgeous and very chic?
I hope you love this huge variety of Christmas cookie recipes! Covering everything from eggnog to fruitcake, merengue, sugar cookies and more, these recipes deliver all the holiday flavors you love and expect.
More Christmas Inspiration From One Crazy House