It's cold and flu season and my husband gave our kiddo, his cold. Not his fault, he insisted it was "just allergies" the day before. Long story short, we now have a miserable, snuffly child and I have a seriously long day ahead of me trying to keep him content. If any of this sounds familiar, read on because I'm gonna give you a few tips on how to survive your child's cold and get your little ones feeling better fast.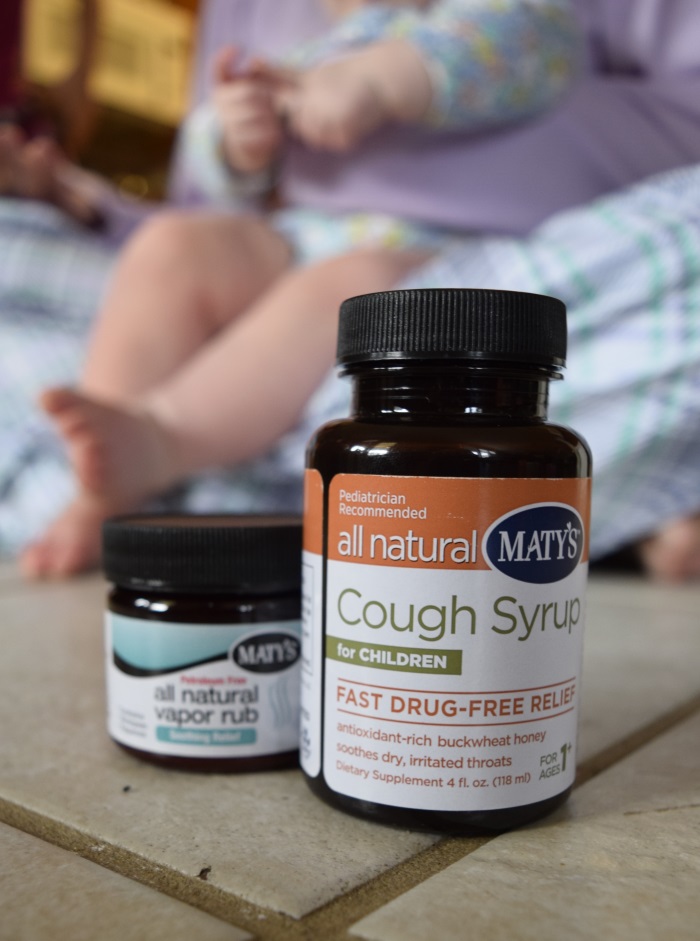 Thanks to Maty's Healthy Products.  As a family with allergies to many chemicals, I am *thrilled* to have found a safe, natural and healthful replacements for staples in our medicine cabinet. Maty's sent us their Petroleum-Free, Paraben-free Vapor Rub. It smells amazing! No metalic chemical scent at all! Loads better than the previous brand we had used! And their all-natural cough syrup – which has no side effects or drug interactions!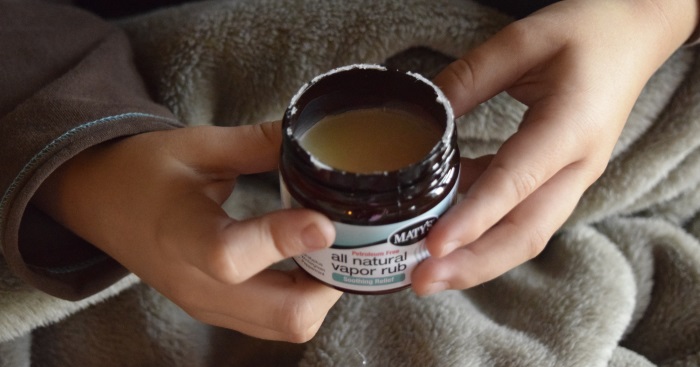 Children's Cold Survival Must-haves
First off, give your immune system a boost with extra antioxidants and Vitamin C. All Natural Cough Syrup from Maty's Healthy Products comes with antioxidant-rich honey as well as ten other immune boosting ingredients to help nourish your kids. Safe enough for one-year-olds and older!
Power-pack your calories. Often when we are sick, we either don't want to eat, or we eat all the wrong things. Try whipping up a batch or two of morning smoothies. These soothing and nutritious foods to help you get better.
Stock up on soft tissues. There is nothing worse than wiping your nose with a tissue that has the texture of sandpaper!
Be sure to breathe! Maty's All-Natural Petroleum-Free Vapor rub is safe and gentle enough for 2-year-olds and powerful enough for grandpas! It gently relieves cough and congestion.
Make life a little bit easier on yourself by having easy breakfast options available to you and your family.
Baby saline drops are a life saver! No, your little one will not enjoy it, BUT it does help to clear out all that nasty gunk clogging up their little nose.
Now, I am not a huge fan of using Netflix as a babysitter, but I will say when you have a sick little one, it is definitely something worth taking advantage of. Sometimes, you just gotta do what works especially when you have more than one kiddo to care for.
Spill-proof sippy cups. I don't care if you're one or twenty-one, spill-proof cups are AWESOME when you're sick and wrapped up in blankets on the couch.
*And now she is asking for the rub even though she is well! It smells so good!*
I hope this list helps you on your way to aiding your little one in recovering from the sniffles. Stay warm and stay well! Our little girl is already better!
Want to learn more about Maty's Healthy Products? Follow them on Facebook, Instagram or Pinterest.