These make-ahead breakfast ideas will help you start even the most rushed day with a healthy meal. Breakfast is knowns as the most important meal of the day, since it restarts your metabolism, and fuels you. These menu suggestions can be prepared in advance, and will save you critical time during the most frenzied mornings. You'll love that they are quick, easy, and hearty enough to keep you and your family full until lunch! 
Breakfast is the most important meal of the day and yet so often, we just don't have time for it (anyone else sleep in as late as possible?).
These great make-ahead breakfasts solve that problem, since they're so easy to throw together for you and the kiddo–even on the busiest of mornings. 
Easy Make-Ahead Breakfast Ideas For Busy Mornings
I don't know about you, but I am not very bright-eyed and bushy-tailed in the mornings (especially before the sun rises!). I barely have enough time to brush my hair in the morning, forget about standing at the stove and cooking!
That's why I needed to come up with amazing, quick meal ideas that I could make ahead of time. The list I discovered was so good that I had to share it with you, too! These tips help you make breakfast speedy and reduce time by helping you:
Prepare breakfast in advance to save precious time in the morning.
Create customizable breakfasts your whole family will love.
Come up with ideas for how to modify most of these meal suggestions.
Fill your freezer full of make-ahead meals that you can quickly heat up during the chaotic morning rush.
Use these make-ahead breakfast ideas to help you feed yourself and the kids faster throughout the week and eliminate nearly all prep and clean-up time. There may be nothing more satisfying during a rushed morning than being able to grab a delicious, nutritious meal you made in advance! Bonus points if it can be reheated for a simple hot breakfast! 
Who doesn't love the fresh aroma of fresh cooked peaches mixed with French toast? This Peach French toast casserole recipe will be a hit! You can make it ahead of time, and then cook the next day. This is great for the holidays or your next brunch gathering over mimosas. Your friends and family will love the flavors!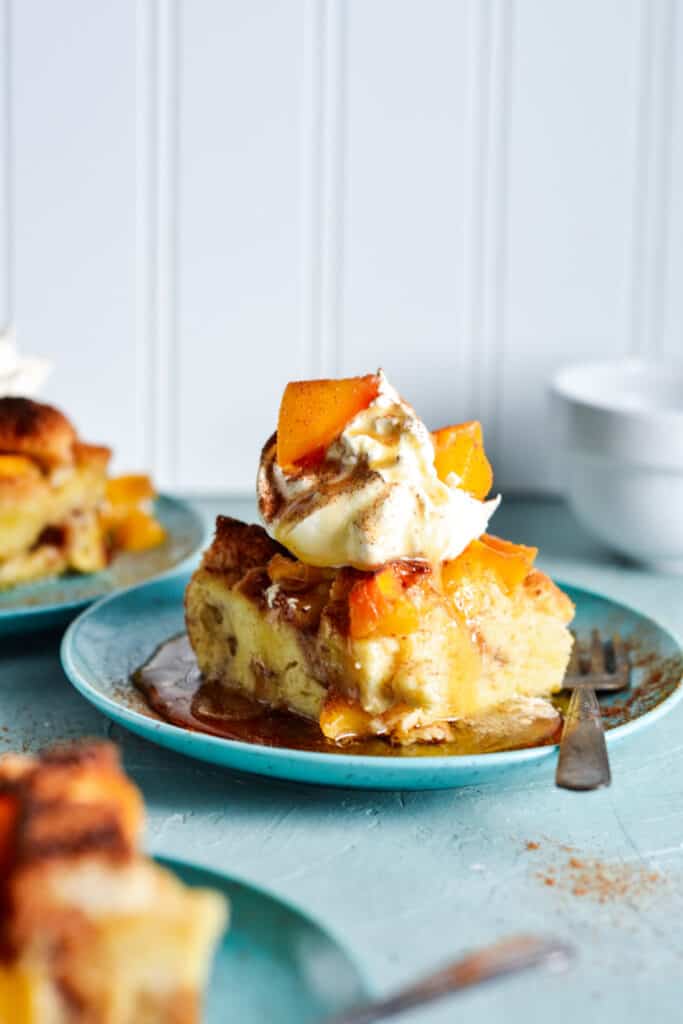 The most versatile zucchini bread recipe, ever! Buttermilk and full-fat yogurt help to make this the richest, fluffiest zucchini bread. Best of all, this recipe can be adapted into many other shapes including cupcakes, mini-loafs, or muffins. It also freezes well, so you can make it in advance and defrost the night before for a wonderful treat the next day. This is sure to become a breakfast favorite in your home! 
Homemade granola bars with M&Ms and raisins? Forgeddaboutit. Homemade granola bars are always a hit with the kids! This recipe is infinitely adaptable by substituting tasty ingredients. You can switch chocolate chips for M&Ms, or add your family's favorite dried fruit. These work just as well for an after-school snack as they do for a grab-and-go breakfast.
Create your own frozen yogurt and fruit discs for a quick and healthy on the run meal. They look so colorful and cheerful, and they will brighten even the greyest of mornings! Like the homemade granola bars, this make-ahead recipe also works well for a healthy after-school (or anytime!) snack.
Related Post: After School Snacks Kids Will Beg For
Here is one of the quickest hot-meal-on-the-run breakfast ideas. Once made up and frozen, these egg sandwiches can be heated and ready to eat in as little as 2 minutes. Since you assemble them in advance, these are a perfect school-day breakfast solution for busy families! This delicious sandwiches elevates "fast food" to a whole new level–while keeping it healthier and cheaper than actual fast food!
Whip up a healthier alternative to the traditional Pop Tart just once, and you'll never go back to those pre-packaged toaster pastries again! With less sugar, and a healthier white spelt flour crust, this breakfast tart will make both you and your favorite sleepyhead happy.
These blueberry breakfast pastries are killer, and so much fun to assemble! Beautiful and delicious, these little pastries will be a hit with your whole family every time you make them. Smaller kids will love placing the fresh blueberries onto the triangle of cream cheese before you bake them.
Cookies for breakfast? You bet! Surprisingly healthy (gluten-free, vegan, and low sugar)–and your kids will love the fact they're getting "cookies" for breakfast! These wholesome cookies are freezer-friendly and very easy to customize. Add dried cranberries, raisins, pecans, sunflower seeds, pumpkin seeds, chocolate chips–the possibilities are as endless as your imagination! 
9. Bacon and Egg Morning Muffins | Creative Juice
Make these bacon and egg muffins ahead of time, and freeze them for a quick and easy school-day breakfast. Savory and nutritious breakfast muffins will remind you of a hearty casserole meal, while giving your family a nice energy boost to start off the day! 
Let the eggs bake for this mouthwatering breakfast sandwich while you chase the kids around, getting everybody ready to head out the door. So much easier than pan frying, and clean up is a cinch! These can be individually wrapped and frozen for faster serving during the morning mayhem!
No time to cook in the morning? Assemble honey vanilla parfaits the night before, and grab them as you run out the door in the morning. This is easily adaptable so it can become everybody's favorite make-in-advance breakfast just by switching up the fruit layer. A healthy win for any busy parent!
Simple and fun, pancakes roll ups are the perfect weekend treat. Personalize your pancake roll ups by using chocolate, Nutella, or peanut butter for the pancake topping. Satisfying, fun to make, and even more fun to eat, mini-sized pancake bites are sure to become a family favorite!
Eggs, potatoes, cheese, and veggies all in little bite-sized "muffins" that you can eat on the run. Fast and delicious = a hit with the kids and hubby. For quickest preparation, use frozen prepared hashbrowns or tater tots. Add bacon, sausage, or ham to get a little more protein. These freeze really well, too!
Oatmeal smoothies are perfect for when you need a grab-and-go meal that will really fill you up. You can choose the options suggested, or create your own creative concoction–the possibilities are infinite! Bright, nourishing smoothies are so easy for on-the-run meals, and they are a great way to increase fruit and vegetable consumption–especially for picky eaters! You know the drill by now, right? Yes, these are freezable, as well! 
Fast and delicious burrito cups are a great make-ahead breakfast idea for brunch or a speedy, low mess breakfast. This recipe takes a little prep, with almost no cleanup!
DIY granola bars are a great snack option! Full of flavor, and without any nasty processed sugars, as an added bonus to being more inexpensive that store-bought. Flax and chia seeds add hidden nutritional value, and the family won't even suspect a thing! Of course, these bars are freezable for maximum convenience. They are sure to become a new favorite!
Baked oatmeal is one of my go-to's for morning entertaining, or a lazy Saturday brunch. Delight your tastebuds with a simple, but indulgent recipe. Oh, did I mention there's chocolate in it, too?! You can make it in advance, and refrigerate it overnight, so in the morning, you can just pop it into the oven, and fill your home with irresistible smells. Make ahead and freeze for an even easier solution!
Here's a fun make-ahead breakfast idea. Yummy granola balls that you and the kiddos can make and stash ahead of time for a quick on-the-go breakfast. With almonds, cashews, and dried fruit, these breakfast balls also power up your family's energy for the day ahead!
Since oatmeal is so hearty and versatile, here's another version of baked oatmeal that's sure to please.Easy to make, with just a touch of sweetness, and filled with apples, peaches, and blueberries.
Chocolate banana bread can double as your morning meal–or even dessert on busy days. Be creative and add nuts, chocolate chips, or vanilla chips for a wonderful color contrast! This banana bread keeps well in the freezer, and you can freeze it in whole loaves or sliced for individual serving sizes.
This super easy casserole can be assembled the night before. In the morning, just toss it in the oven for a filling meal that always hits the spot. It's super simple to modify this dish by trying different cheeses, or changing up the vegetables! 
You are not going to want to miss out on these bacon-wrapped muffins. They are super versatile, and can be adapted to whatever you have in your fridge.
The kids love to help with assembling these, too. Be creative! 
There you go! Twenty-two enticing breakfast ideas that the entire family will love–and YOU will love even more, when you get back all of that time in the morning!
I hope you found a few recipes in this list that will become new favorites for your family and make your mornings a little easier.
Whether you prefer make-ahead breakfast burritos, make-ahead breakfast casseroles, or something else, this list has you covered. What are you going to prepare next for breakfast?
Easy Breakfast Recipes: