Are you looking for the secrets to decorating on a budget? If so you are in luck, as I am going to share some great decorating on a budget tips and tricks that you will want to keep in mind for future projects! Our homes are a dwelling place and they represent our style so why not decorate how you want!
Not all of us have an endless budget to where we can buy furniture that is overpriced or decor pieces that cost a few hundred dollars. Consider these decorating secrets to get your house looking like you want, with minimal money spent. I have learned over the years to really think outside of the box, and keep an open mind when I come across furniture, decor items, and other household goods.
Tips and Tricks For Decorating On A Budget
Look at budget shops, yard sales, and even auctions and more for pieces that are highly discounted. If you see a decor piece like a ceramic bunny, consider grabbing a can of spray paint and painting it all white to give it a modern upgrade. Spray paint can become your best friend, and transform so many things. I do this a lot with picture frames, as well as buying plain wood shelves and then I paint them and distress them. No one will ever know that it cost a quarter!
Goodwill and yard sales are a great place to find big pictures, check out this video above where you can change the colors to make the painting work in your home. I love how easy this DIY is and look at how it transforms the painting!
For larger projects, search for local charities like Habitat for Humanity. They have outlets that sell donated doors, cabinets, fixtures, and other home improvement materials.
Here are some wonderful tips if you want to redecorate your bathroom in the home. This is one room that pretty much all the guest you have will see, as most use the restroom if they are over for an extended period of time. Having it look bright and clean is the goal, and her tips can help make that happen with a few changes and a little money.
Try mixing less expensive finds with some quality pieces. Sometimes buying an item that is higher price will give you an item that last and has a good quality to it. Then you can pair with some thrifting finds or discounted pieces that can bring the display all together perfectly.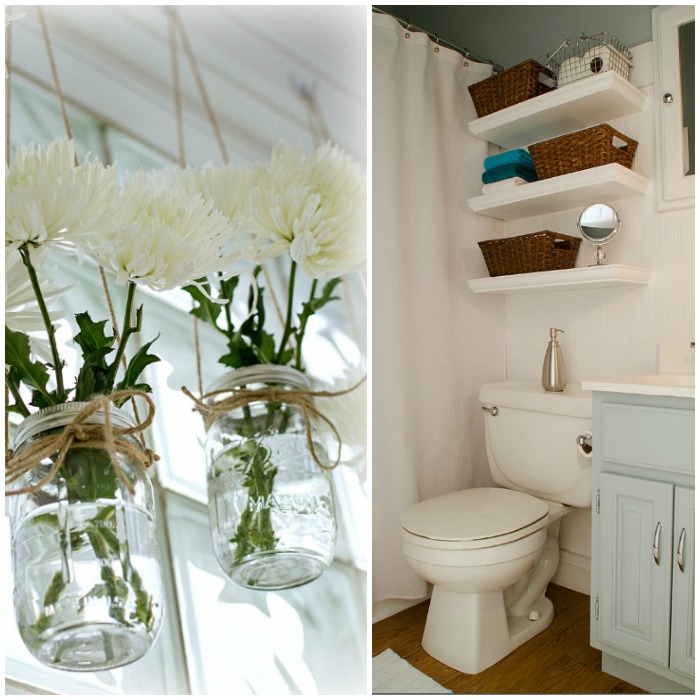 Have fun with a little home DIY! Check out these simple DIY home decor ideas.
If you are due soon and want to get your nursery in order, or looking at doing a makeover, you might enjoy this nursery on a budget tips.
Can't forget one of the most popular places in the home, the living room. From rearranging your furniture, new paint and more can really breathe fresh air into your living room. I love the tips, they are simple to do but really can offer a huge new look to your home. I know just moving our couch and chairs can really transform ours into looking like a brand new room.
Don't forget about the home office. Rethink simple pieces like cork bulletin boards or even lighting. Minor tweaks using paint or finding inexpensive shades can change the look of a room dramatically.
One huge tip I always recommend is taking your time. Don't rush and buy stuff because you want it done, keep your mind open and don't set a short time frame for a completed project. That is a good way to overspend or buy items that you will end up not liking so it becomes wasted money.
Renovate your home by using affordable and cheap pieces that add a pop to any room in the home. Here are 9 affordable and trendy home makeover ideas.