I have a secret to share. I'm addicted to DIY home decor! I spent countless hours on Pinterest or Instagram looking at all the lovely DIY ideas and inspiration. I love doing makeovers in the house to dress things up. You know, like to give the bathroom a makeover so it fits a more modern look. Or spice up your kitchen with a few tweaks to make it more organized and speed up your dinner-making. So, I made a list of amazing projects you can do all by yourself and tremendously uplevel your home's decor game big time!
If you like to craft and do home makeover artwork or simple projects, you're going to fall in love with quite a few of these ideas below. These are impressive DIY crafts home decor ideas that have great tutorials and instructions to help walk you through the process. If you are new to doing DIY projects I recommend starting with something small to see if you can master the task and then work your way up.
Must-Try DIY Home Decor Ideas to Dress Up Your Home
If you're like me, you like to keep it simple. Keeping it simple means keeping it uncomplicated and easy to do. This is my main criterion, when I look for projects to do around the house, too. That's why I know you'll find something on this list of craft ideas to inspire you to make changes in your home decor, too!
1. Add A Little Ocean Feel To Your Home Bathroom With A Makeover In Blue And White
Do you have favorite colors for certain rooms? You know, the colors that make you feel certain emotions, remember specific places, or just take you to a different place, different time? For me, that's the colors of the ocean in the bedroom.
This blue and white bathroom makeover made their bathroom look like a totally different room. As you can see the mix of colors on their towels, and their tray really makes the room stand out. If your bathroom is feeling dated, consider adding some fresh paint to give it that wow factor.
2. A Mason Jar Home Decor Window Treatment To Make Your Windows Prettier
Flowers are a lovely addition to every room. From the bedroom to the bathroom, a beautiful flower can do miracles for your interior. And the best place to keep them is by the window. This could make a pretty centerpiece too!
A mason jar window treatment might just be what your home needs. I love the simplicity of the look, and it was pretty easy to make. You could add any color of flowers to the jar to add a pop of color. This would look really nice in a living room, home office, or even kitchen.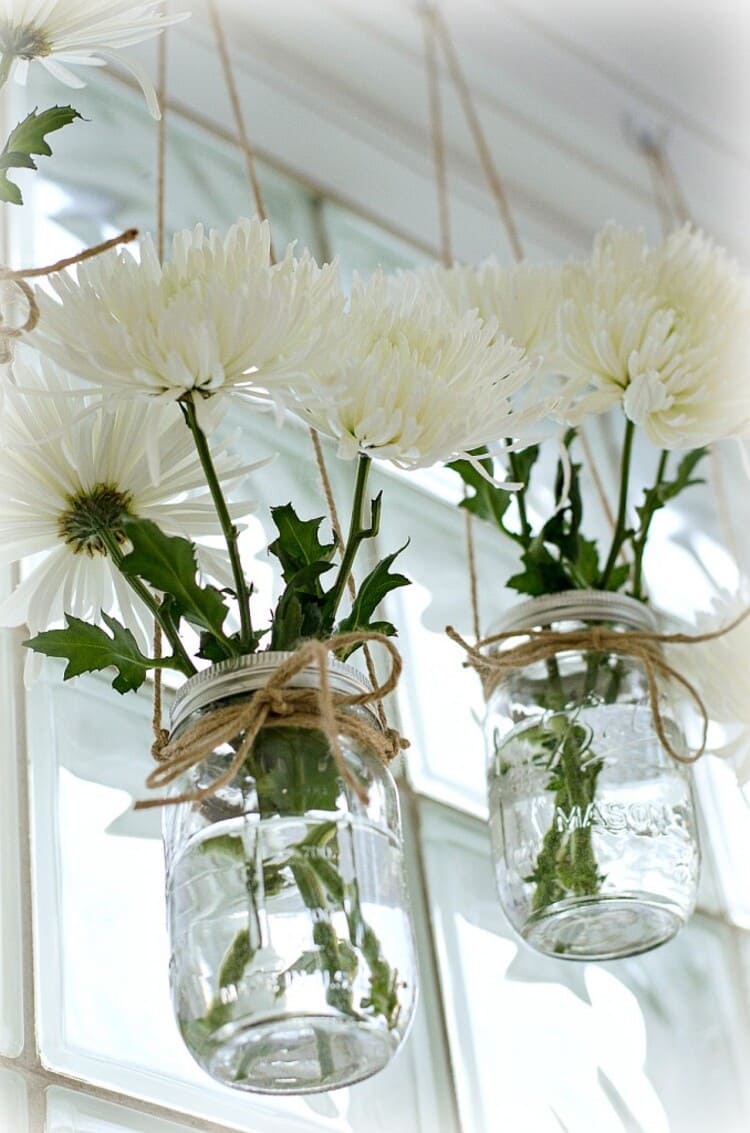 3. Kitchen Upgrade On The Cheap: Make Your Own Home Decor Concrete Countertop
Is your kitchen in desperate need of a makeover you can't really afford right now? Well, there's a cheap improvement you can try doing all by yourself, that will feel like a complete kitchen makeover.
If your countertops have seen better days, you might be on the hunt for an affordable option to change them out. This is a great DIY concrete countertop tutorial with self-leveling cement. Concrete countertops are very popular right now and are a pretty affordable option.
4. Turn A Pile Of Old Jeans To… A DIY Denim Rug
Do you have a bunch of old jeans that you don't wear anymore? What if you can put them to good use and actually improve your home decor?
If your home goes through jeans as fast as ours does, you could save them and make a fun denim rug out of the jeans you were planning to toss out. These are really fun to make and kids love them.
5. A DIY Magnetic Chalkboard Wall To Keep Your Kids Busy And Save Your Sanity
Keep your kids busy with this magnetic chalkboard wall. This is a great way to let them use their imagination to draw and spell out words and more with magnets. Free up your refrigerator from magnetics and give your kiddos a new place to play. They will love it, and so will you.
What You Need:
Sheet Metal (size will vary depending on what you want)
Chalk Paint
Paint Roller
Screw & Anchor's in Black
Drill
A basket or two to hold chalk and magnets (optional)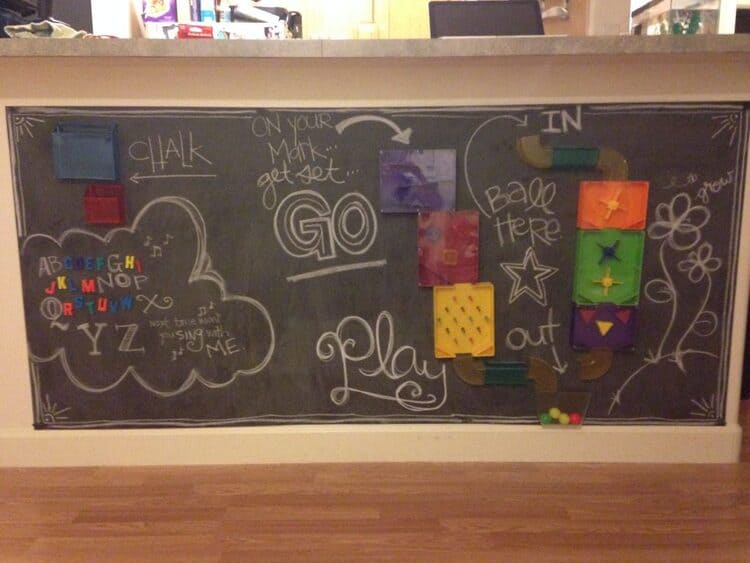 6. DIY Home Decor Project Improvement On The Budget: Have Your Own Navy & White Living Room
This navy and white living room color scheme is a beautiful combination. It adds so much richness to the room. Don't be afraid to add color to a room and keep your decor items more neutral.
7. Display Photos or Canvas In A Beautiful Way By Using Mason Jars Home Decor
If you have a farmhouse-style theme in your home you might like these DIY photos in a mason jar or vases that give your photos a vintage feel. This is a pretty easy DIY that will really give your pictures that fun classic look.
DIY Home Decor Ideas for the Bedroom
A bedroom should be a place to go and relax and a safe haven. Spray paint a blank wall with a new wall art decor, gather pieces of wood to diy new shelves, transform old candle holders, or change the bed wooden board or anything you want. I have gathered some awesome step-by-step tutorial bedroom decor ideas to get your bedroom looking like a fresh and organized room. When everything is where it should be and the floors are freshly cleaned I find I can decompress after a long hard day a lot easier.
If you are like me when you sit down and see piles of clothes in the corner, boxes of shoes you bought on clearance, and blankets that need a home in the closet, it can make your mind race. With the new year, new life here, I think it is great to get each room in the home organized, so when you find the time to relax you can not look around at the house and see ten things you need to do.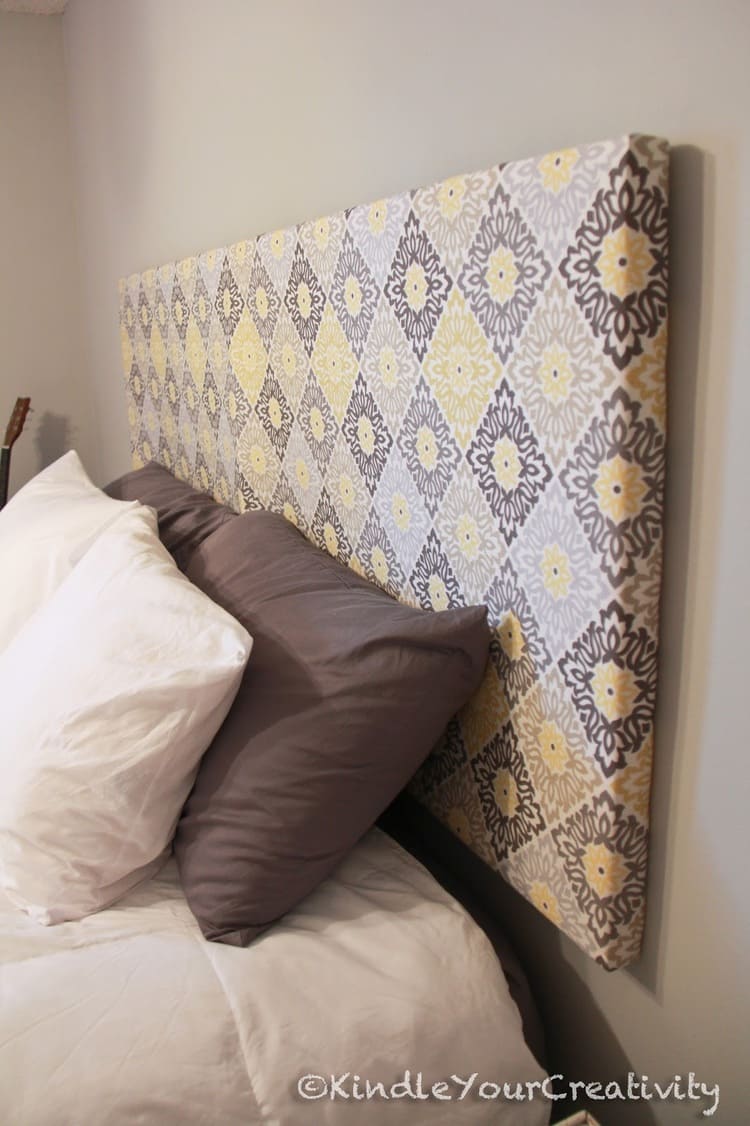 8. Change The Look And Feel Of Your Bedroom With A New DIY Fabric Headboard
What is the quickest and easiest way to improve your bedroom without bringing handymen and all the mess inside the house? Well, you need a new headboard! Nails and wallpaper will do the trick.
Finish the bed off with this beautiful DIY fabric headboard! Customize it to your taste using colors and fabrics that fit you.
9. DIY Home Decor Hacks: Make The Best Of The Space In Your Closet By Organizing With DIY Shelf Crates
These DIY Shelf Crates are great to utilize space in your closet that you may not have used before. Toss in some of your shoes, extra tee's, and accessories, and free up space in other places. Also, grab a label for the shelf, so you and your family know what goes and where. These are great for kid closets as well. Dress them up with a little paint to fit the color scheme of the room.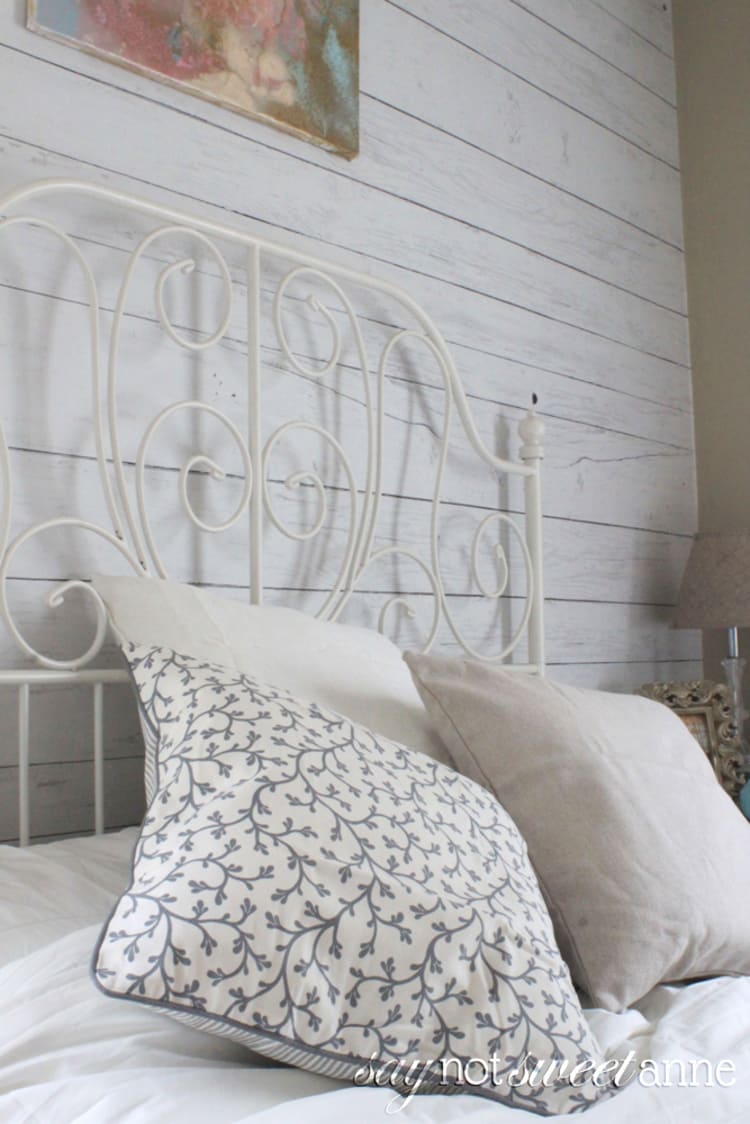 10. Quick Bedroom Transformations: The DIY Shiplap Wall You Can Make All By Yourself In One Afternoon
Fan of the show Fixer Upper? I'm guilty of having watched all the seasons several times. Then you have definitely heard about shiplap. Isn't it just beautiful? And it's a very easy way to add an amazing DIY home decor accent in your bedroom or kid's room very quickly.
Now you can use this easy DIY to make your own shiplap walls in about 2 hours' time. Score!
11. The Complete Guide To Bedroom Organization You Didn't Know You Need In Your Life
This is a great guide to give you an idea if you should donate or toss out that sweater or blouse in your closet you haven't touched in a while. I always struggle to know if I should keep an item or toss it. Most often after I donate it, I realize I hadn't worn it in so long I don't even miss it. But this post will really help you to go through a process of questions to see if it is worth getting rid of your clothes and more.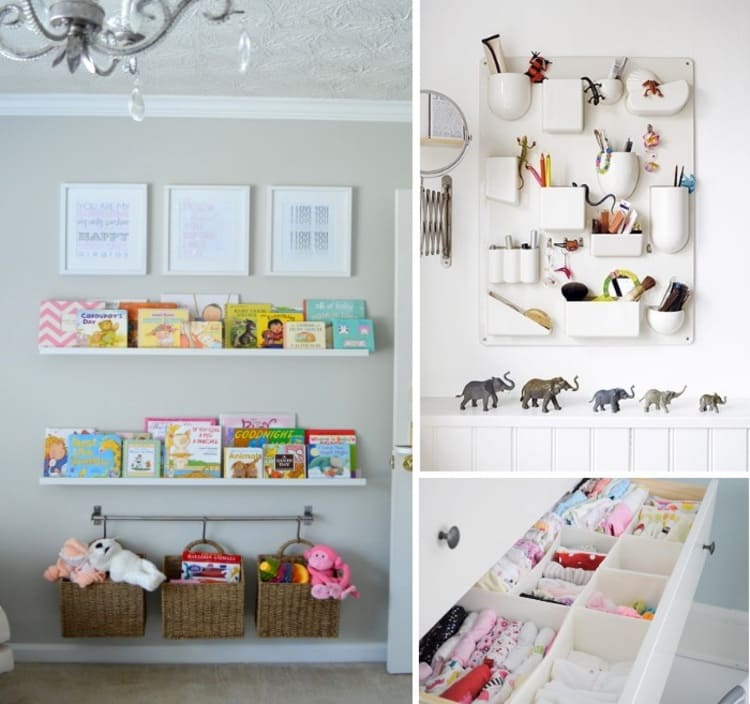 12. Nursery DIY Organization Tips All New Moms Should Need In Their Lives
Baby rooms tend to become pretty messy fast. Even though little humans are adorable, they come with a bunch of small clothes, small shoes, cosmetics, tiny socks, tiny adorable shoes… which clutter up pretty quickly. And when you're with a newborn, the last thing you need is chaos.
Check out this nursery organization post for great ideas on how to utilize all the space in your room, and create a space for all your baby's items.
In Conclusion
Who would have thought there are so many ways to organize your bathroom, bedrooms, kitchen, and laundry room without breaking the bank??
And you can do it all by yourself, in your color palette, in your style. It's stunning how a simple DIY home decor idea can change the whole room's look and feel. So many opportunities! I'm so excited to dive into idea number 7, I'm going to be making a few awesome mason jar photo frames.
Which one are you trying? I'd love to cheer up and discuss your projects! Let me know in the comments below.
Did you love these DIY home decor ideas? Then, you have to check out these project ideas, too: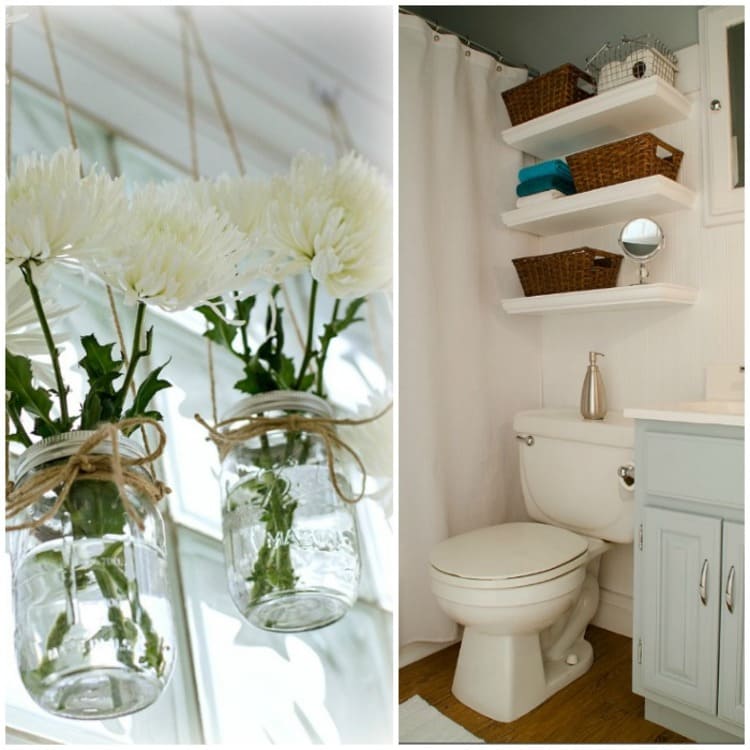 Which DIY home decor is your favorite?