I think I've spent way too much time watching HGTV over the summer that I went on a hunt for DIY storage ideas for the kitchen! Since new cabinets aren't in my budget, I thought why not hit the good ol' internet to find some practical and decorative organization inspiration?
Declutter Your Kitchen with These DIY Storage Ideas
These organization tips are great for large and small kitchens! I know that if you don't have much space to work with, it's important to utilize every square inch! Here's a great list to help you create some DIY storage spaces for your utensils and tools!
Canned Food Storage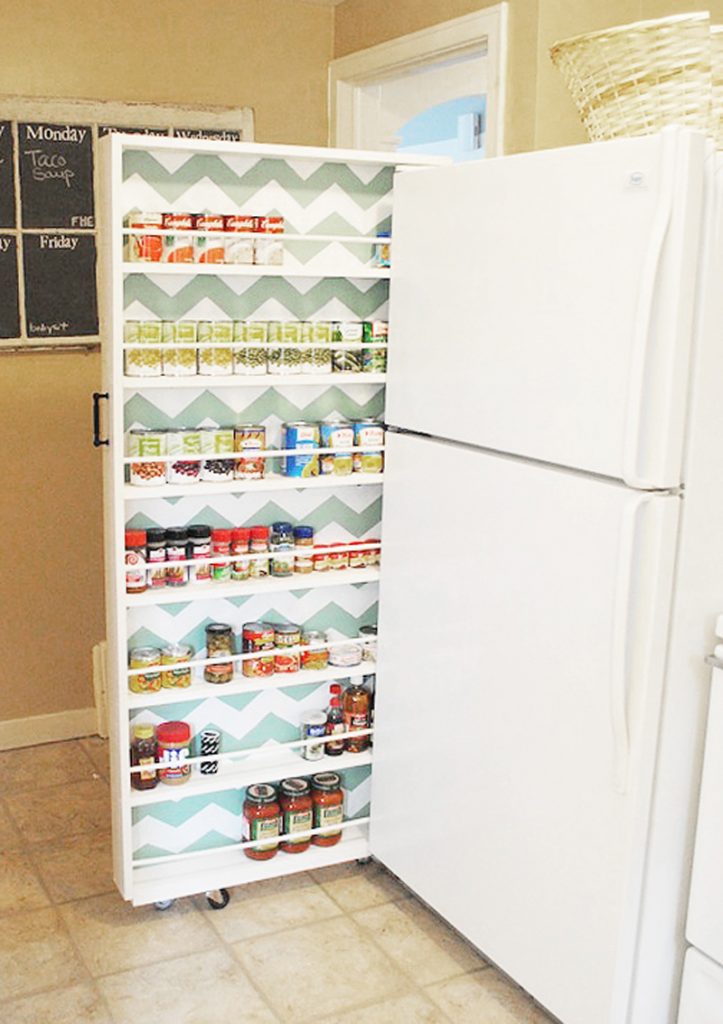 If you have a little bit of space between your fridge and wall consider making a DIY canned food storage like this one by Classy Clutter. This is unused space that can really save you tons of room in your cabinet or pantry! Want more ideas? Here are 17 Canned Food Storage Ideas for Your Pantry!
Kitchen Sink Organizer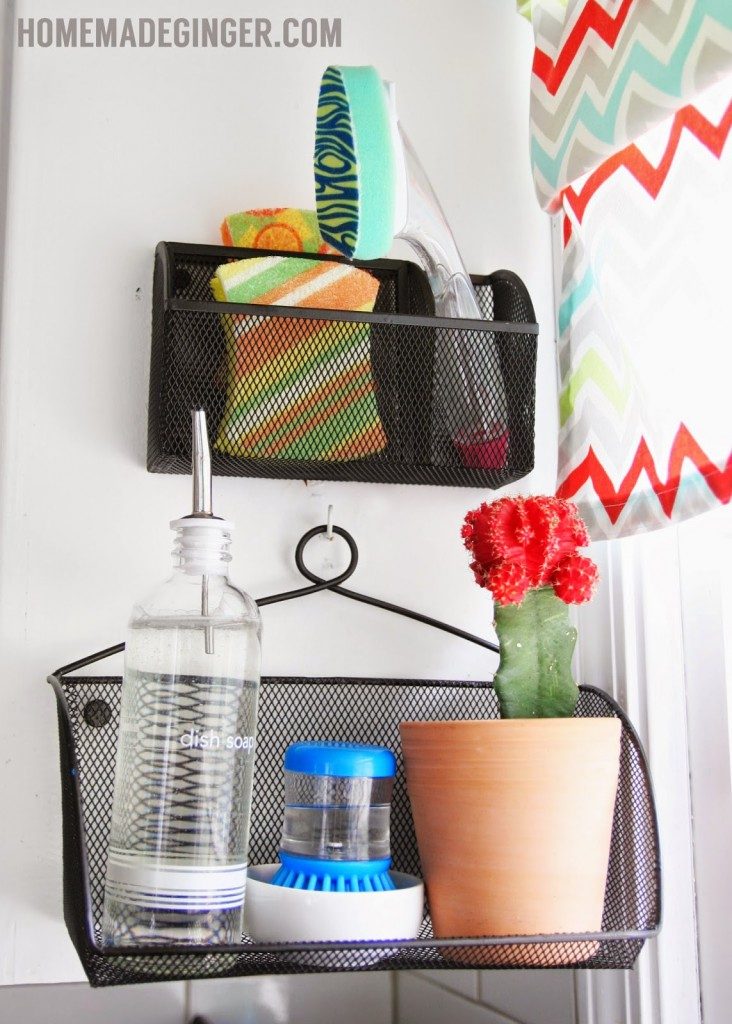 Homemade Ginger found a great way to repurpose desk organizers. This is a great DIY storage idea to free up space right by the sink, without spending a ton on cabinetry changes. This can free up and make your counter look less cluttered! Check out your local thrift stores, I bet you can find a few of these. Ohh, you could even repaint them to add splashes of color in your space!
Hanging Baskets Above Counter
I absolutely love No. 29 Design's idea of using hanging baskets above the counter. It is a great way to add some style and free up space on your counter! She gives a great tutorial, and shows you how to create this! You can store items like fruits, snacks, and more in these baskets.
Pantry Makeover
Consider doing a pantry makeover on a budget like The Organised Wife. Use inexpensive plastic bins and containers to organize and create more storage space.
Utilize Space On Top of Cabinets
If your cabinets don't go all the way up to the ceiling, and you have space above, consider using it. Grab neat decorative wire baskets, and place items inside. You will be able to see what is inside, and you can even add a label! Then if you need it, grab a step stool to reach. I love to put items I don't use that often up high!
Side of Cabinet
If you have space on the side of your cabinet, consider hanging some hooks for cutting boards, pans, and more. Far Above Rubies got creative with this idea, check out her farmhouse themed kitchen!
Hang Measuring Cups on a Door
Free up space in a drawer by hanging your measuring cups on the back side of a cabinet door! Plus you can go a step further and add a conversion chart like Infarrantly Creative, pretty awesome!
Finding Storage for Lids from Pots and Pans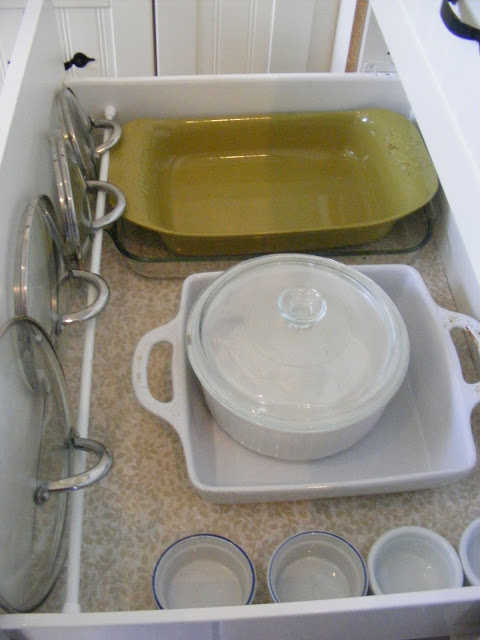 The Complete Guide to Imperfect Homemaking placed a tension rod at the front of the drawer and used that to stand her lids up, and then placed her pans in the drawer! She has more ideas in her post Organized Home Day 6!
Trash Bags Under Sink
Hang your trash bags under the sink. Then just like a paper towel roll, you can easily pull off a bag and it will help save space. Simply Organized has a full tutorial – Trash Bags on a Roll.
Hang Shelves
If you don't have space in your cupboards or cabinets, hang some shelves. Place mixing bowls, or your flour and sugar on these, it is a great way to create space, and make it look decorative!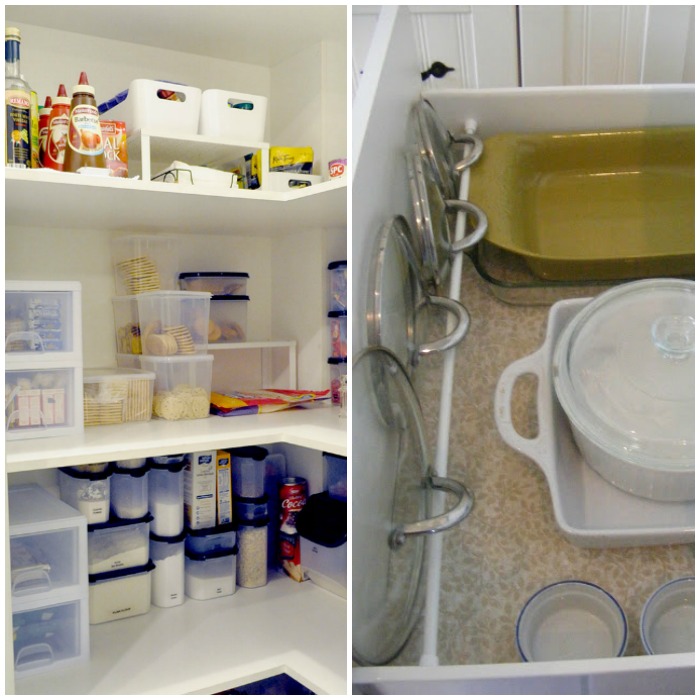 I can't tell you how refreshing it is to open up the cupboards and everything be organized and not overflowing onto the floor! Plus I have a great list of ways to keep your shower organized if you need help in that department as well! I absolutely love having an organized and clean home, it makes me feel like I can relax a bit easier!