Have you noticed how much space canned foods take up in your pantry (or kitchen cabinets)? And it's hard to find that one item you're looking for because all the cans are in the way? I hate when you are looking for a specific can and it is sitting behind about a 100 other pantry food items!  It is like a serious game of pantry hide and seek.
Not anymore! Here are 16 genius can organizer tips that will take your canned food storage from exasperating to dreamy.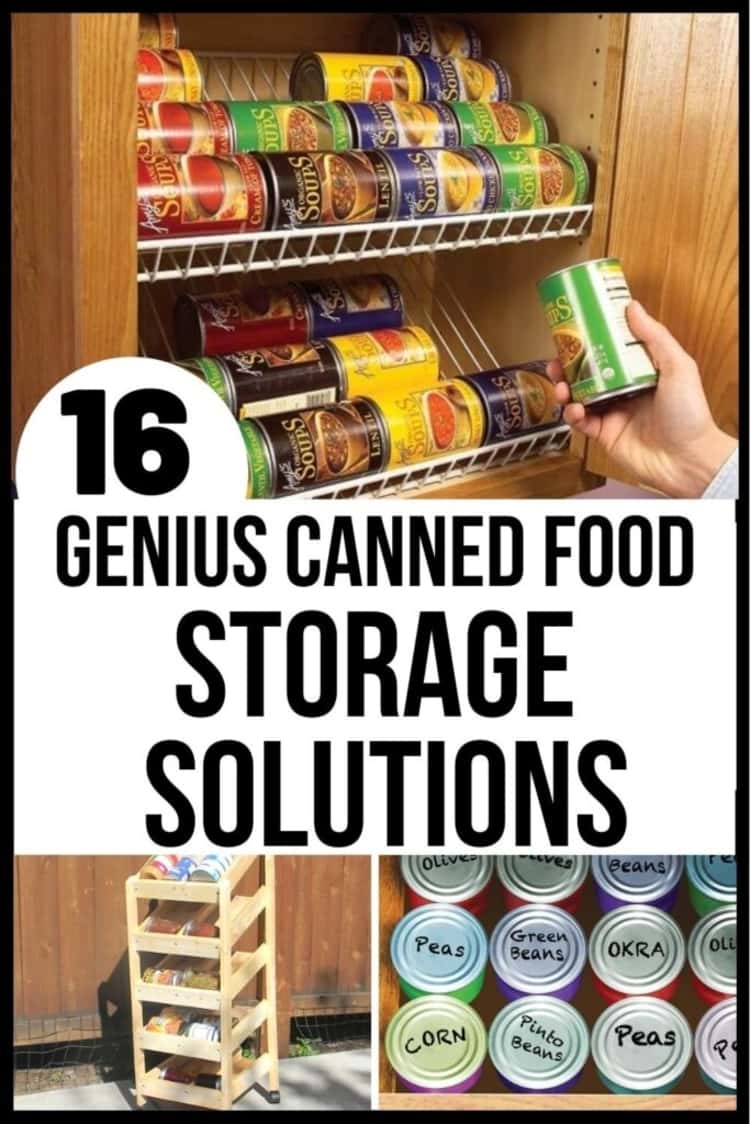 Top Canned Food Storage Ideas for a Well-Organized Pantry
Do you have canned food organizational problems? Every time I try to grab the mayo in the back, I'm knocking over the cans in front of it. There are very few things that frustrate me as much as that!  After the 150th time knocking down other cans to get to the one I needed in the back, I decided it was time to organize my can storage. Use these canned food storage ideas we've found to make grabbing that ONE can you need so much easier!
1. DIY Canned Food Organizer
Canned food can take up a lot of space in your kitchen cabinets and pantry – maybe even most of the room! Create a canned food organizer that slides between your refrigerator and the wall. What a great way to use (under-utilized) space for canned food storage! For about $100 or so, you can also have your own (custom) sliding canned food storage unit. How cool is that?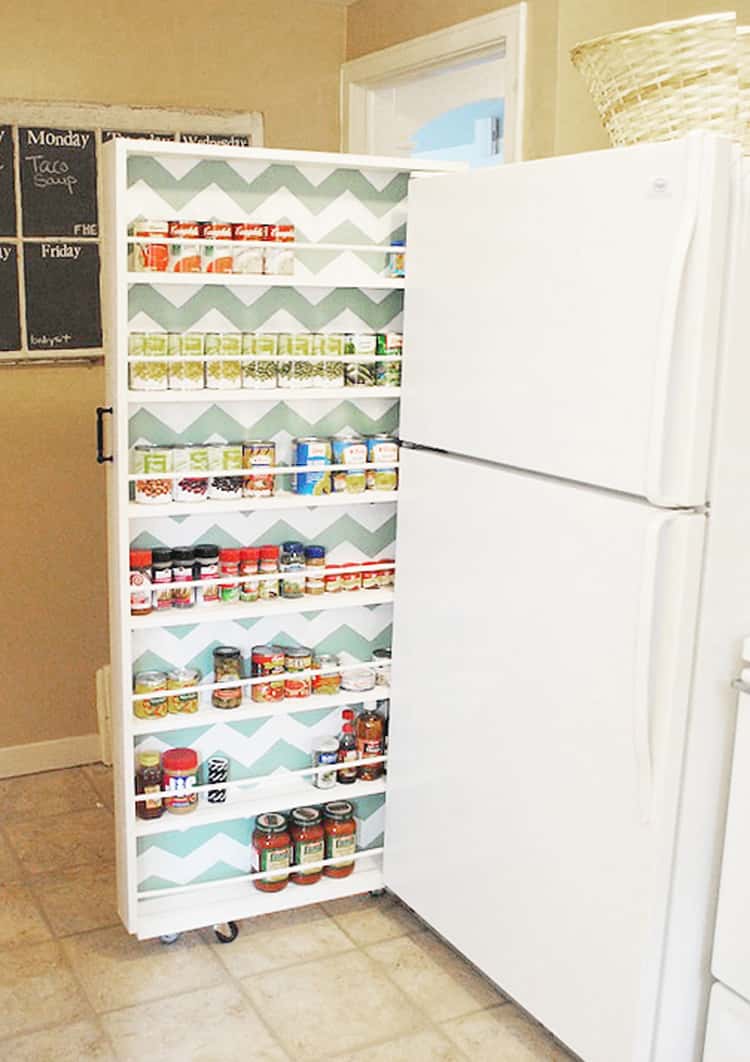 2. Canned Food Storage in Drawers
There are terrific and effective pantry storage ideas for your canned foods no matter what type of kitchen you have. Do you have an extra kitchen drawer or maybe two? If you keep your canned goods in drawers, this tip will blow your mind…write the contents of the cans on top so you can grab what you need in just a second. Why didn't I think of that? Pure genius!

3. The Container Store to the Rescue
These super cute, inexpensive bins (the medium size) from The Container Store, are perfect for storing canned foods. Also, they're clear, so you can see how much you have at a glance. They even have handy labels for the front, to help your pantry stay organized. I think this is so clever! Also, have a look at these crazy Pringles can crafts, to organize your other storage as well!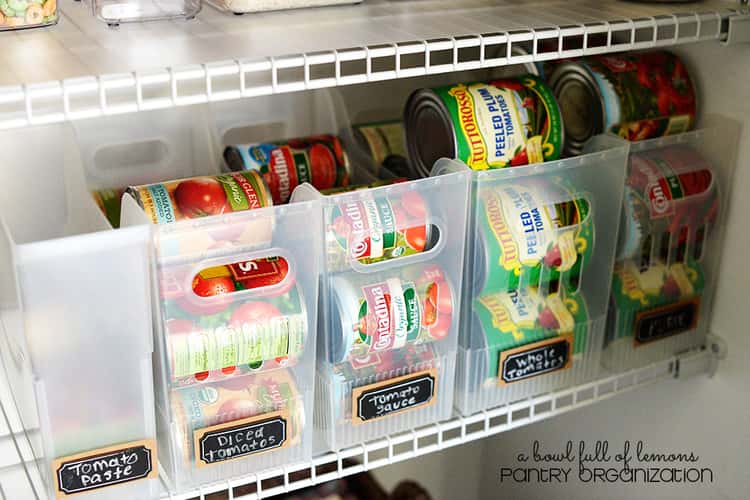 4. DIY Canned Food Storage Wall
There are many different canned food organizing options available from simple changes to more elaborate setups. Rather than wrap-around shelves in the pantry, this family opted for a single back wall of canned goods. This canned food storage wall is such a creative way to store your canned goods, don't you think? It's like the nail polish rack married the pantry closet and came up with this genius idea! Super cool!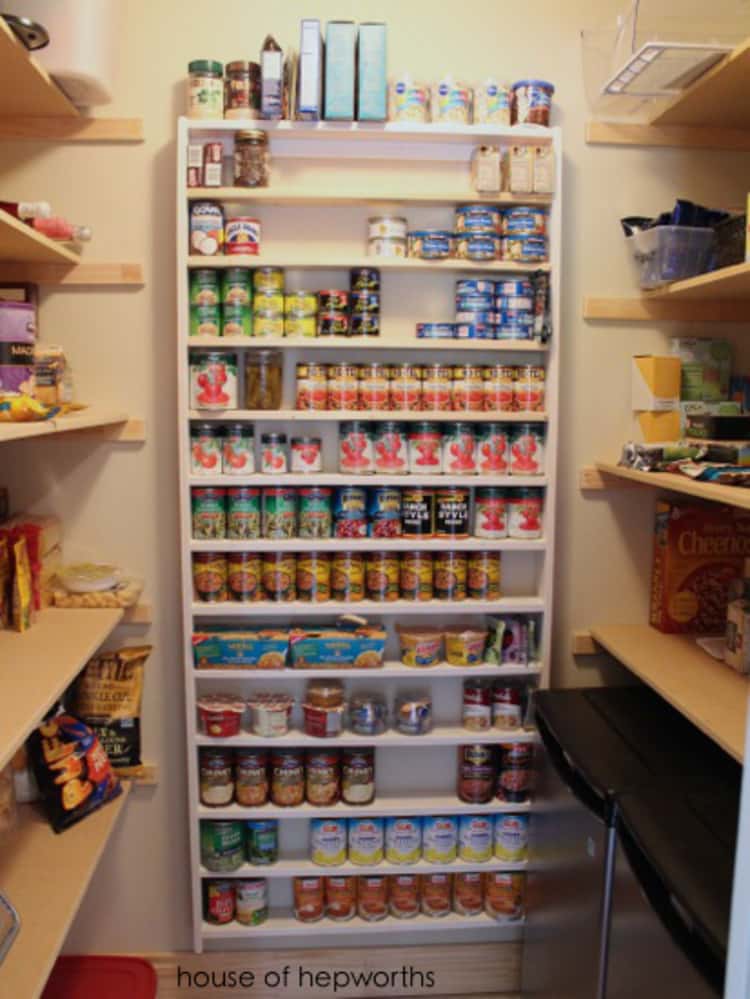 5. Closet Racks for the Win
Add closet racks to your cabinets to display your canned foods and see what you have at a simple glance. I must say, that's an amazing (and frugal) can storage idea! Getting those canned foods organized will reap rewards by saving you a lot of frustration, time, and money. Plus, no more expired foods! What a clever way to repurpose closet racks and fix your canned food storage problem at the same time.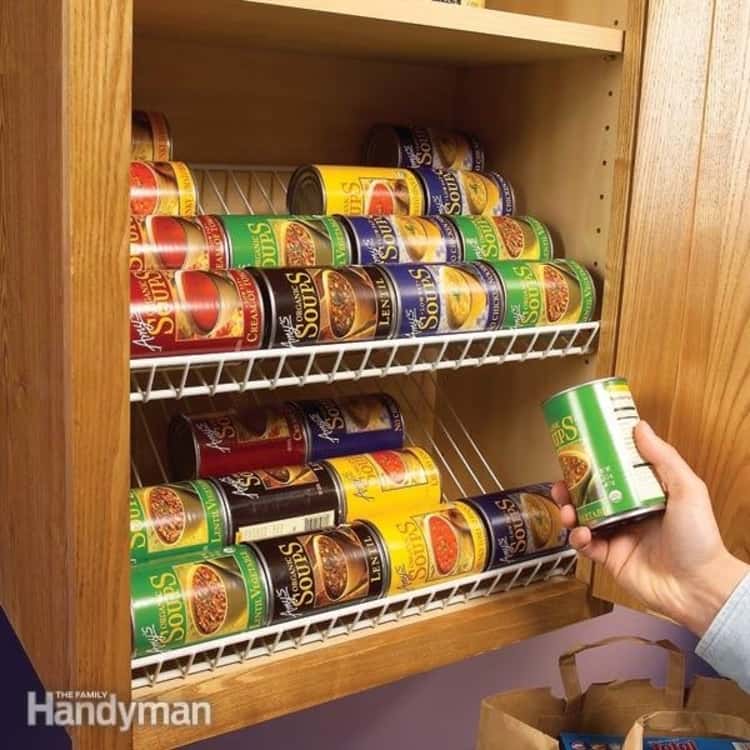 6. Pantry Lazy Susans
We've linked to these pantry Lazy Susans again and again because this pantry can organizer idea is so clever. Isn't this the coolest idea? Fit more into corners and be able to see everything you have with the spin of the wheel. I love how it pretty much doubles the storage space in the corner of your pantry and makes everything easy to find. This is a great DIY project!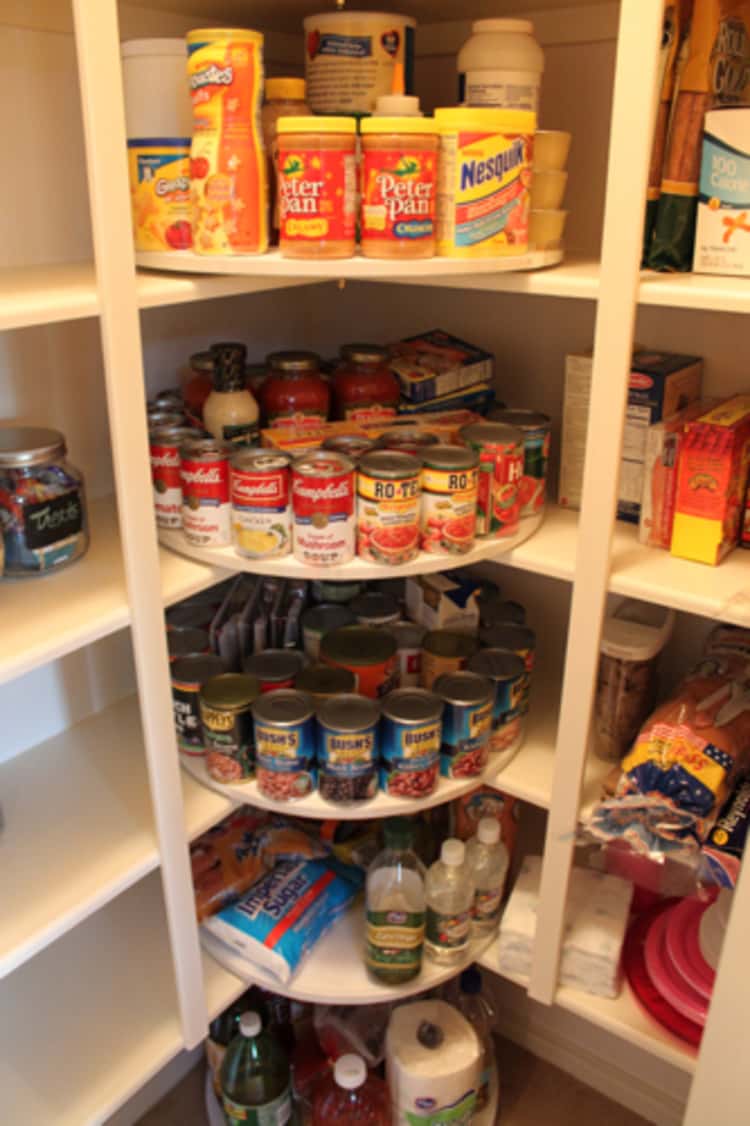 7. Use Dollar Store Bins for Cans
Shoe bins from the Dollar Store are an affordable way to group canned goods together. Go one step further by arranging the bins according to what's in your cans for an ultra-organized pantry. This is a simple and affordable way to keep your canned food items neat and organized. See-through bins are a wonderful way to know what cans are there at a glance so no more searching frantically. What a cool organizational tool!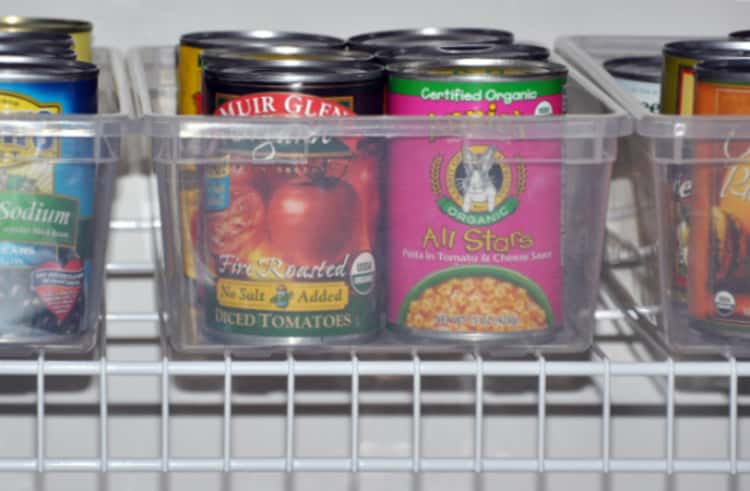 8. Use Photo Boxes for Canned Food Storage
With just a few slight tweaks, photo boxes make a perfect (and very affordable) canned food organizer. These boxes are (DIY assemble yourself), so they're very easy to make into storage boxes. Plus, they are also easy to label! It can be as simple as writing on the label with a black permanent marker. Such a simple project.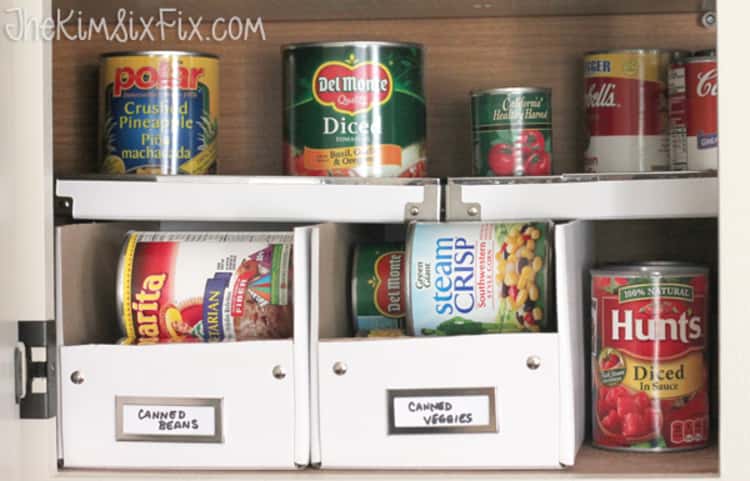 9. Behind the Door Organizer
If you have a modest amount of canned food and limited cabinet space, a behind-the-door organizer may be ideal for you. You can still fit quite a bit in there without cluttering up precious space elsewhere. This can be used for spices or for canned goods. Better yet, install one for spices and another (or two), for your canned food storage. What a great idea!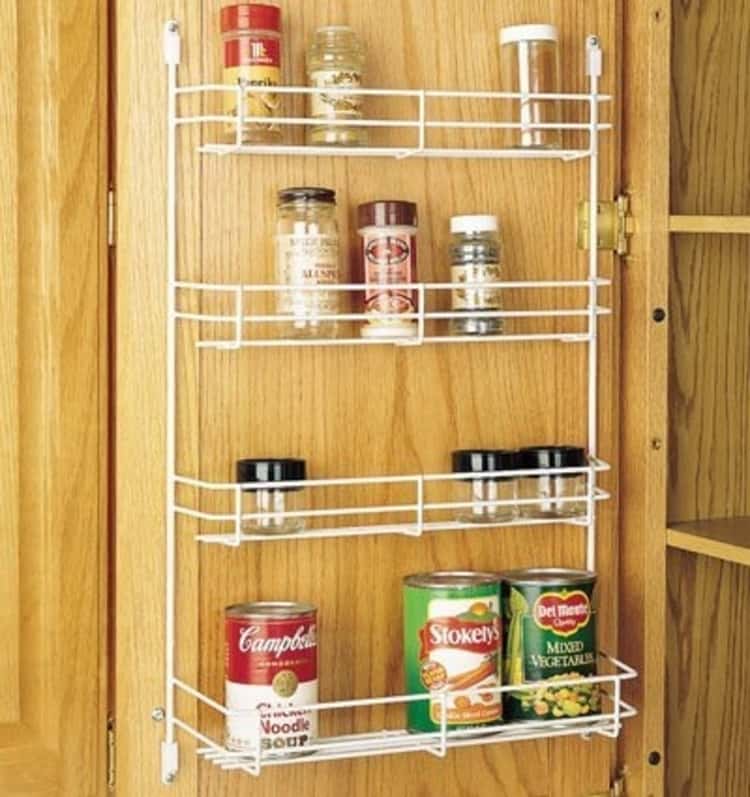 10. Two-Tiered Canned Food Organizers
Build your own two-tiered canned food organizers. You can even add labels to the front of each section to make it faster to find what you're looking for. They're easier to make than you'd think! This quick DIY project will yield long-lasting results. I've always wanted something to hold my canned goods just like this!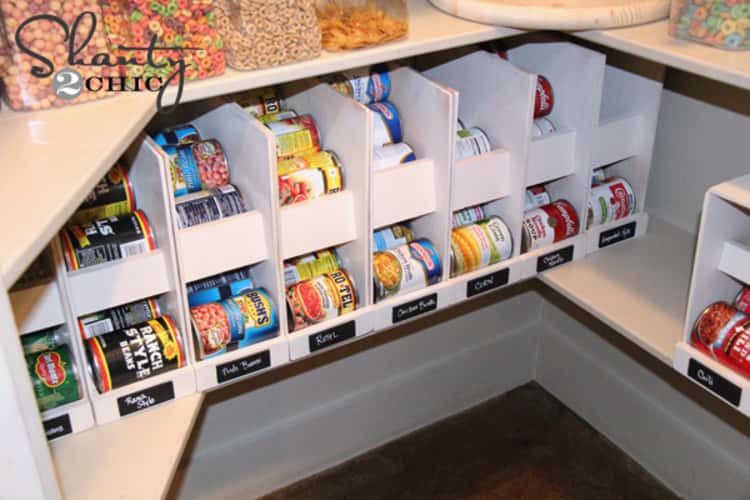 11. Wall-Mounted Canned Food Organizer
Want to free up shelf space? This wall-mounted canned food organizer will make a great addition to your pantry – or your garage. This is a genius way to organize your canned goods so you're always using the oldest ones first and the cans are kept in a neat row. Keeping an inventory of what cans you have and what you need to buy will be a breeze too. What an excellent way to store canned goods.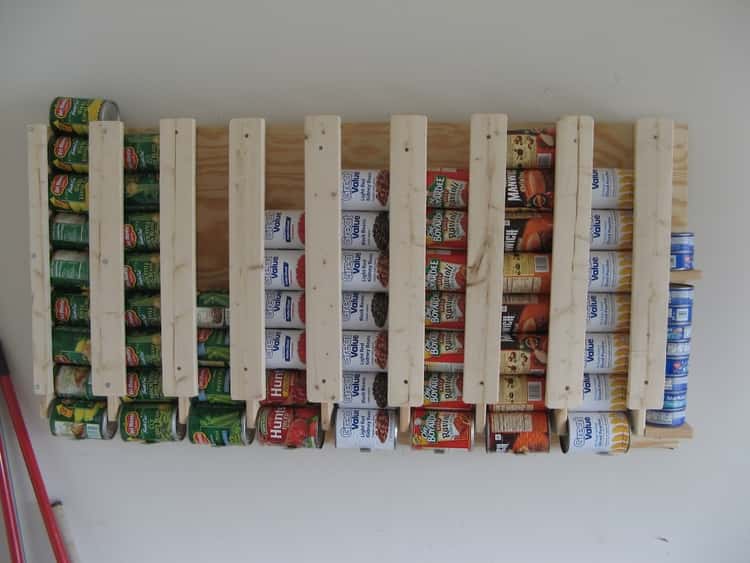 12. Rotating Canned Food Rack
What do you do if you don't have much space to work with? This rotating canned food rack can even fit in small kitchens. By creating a rotating can system, you make sure you're using your oldest cans first so nothing ever expires. The wheels make this (very portable) as well so it's easy to move from place to place. I love finding space-saving ideas for small kitchens!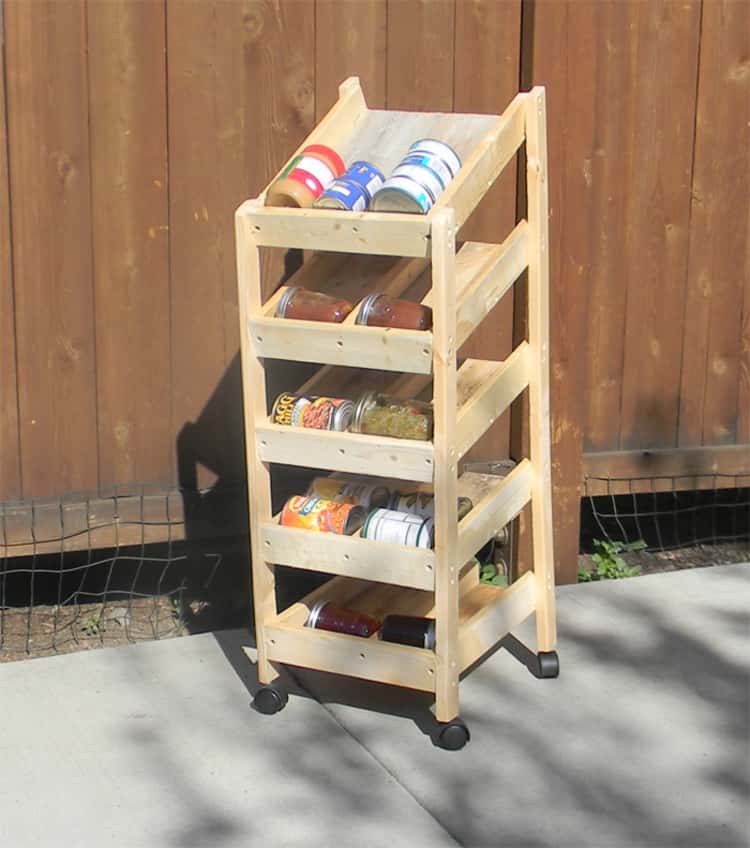 13. Maximize Your Pantry Space
Have you ever wondered why shelves are so far apart in most pantries? Measure and plan your pantry shelves to maximize space. Odds are, you can fit a few more shelves into your pantry and cabinet to make use of empty space that would otherwise go unused. It actually never occurred to me to add additional shelves to my pantry. This is such a great storage idea!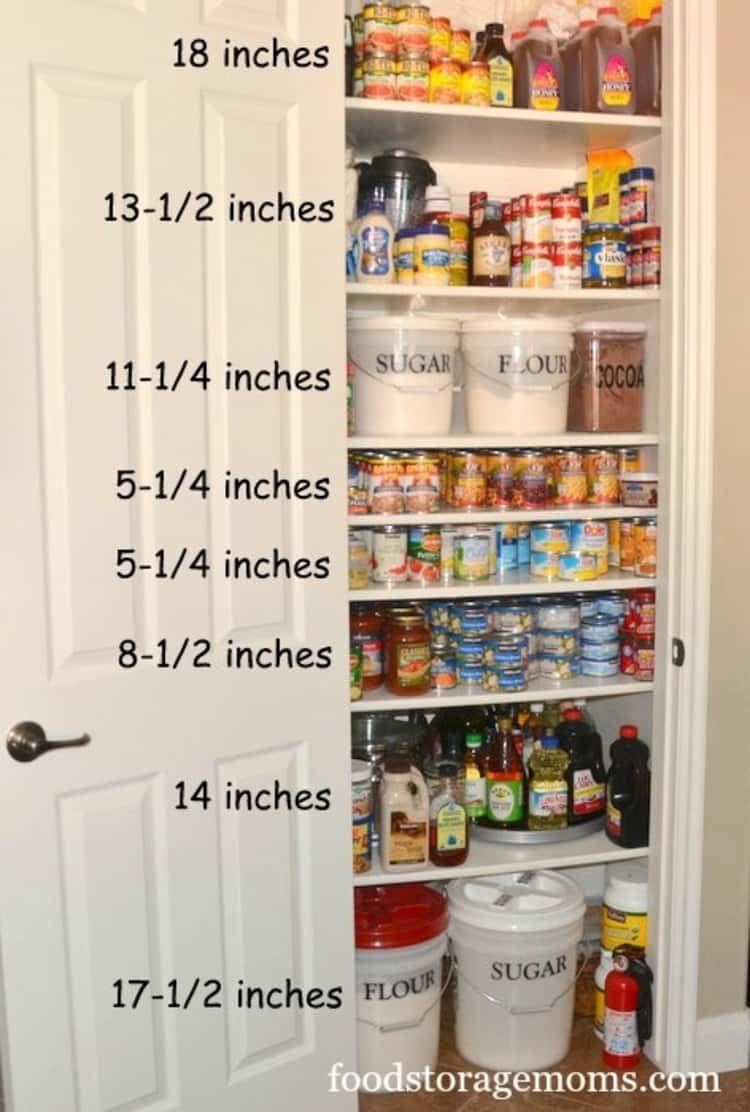 14. Magazine Holders
A magazine holder is an ideal size for smaller cans of food. You can stack them and maximize the space on your shelves. Isn't this a handy way to store your canned food? Another idea is to buy more than one magazine holder and organize your cans by type. The cool thing is that magazine boxes are available almost anywhere and are not very expensive. Genius!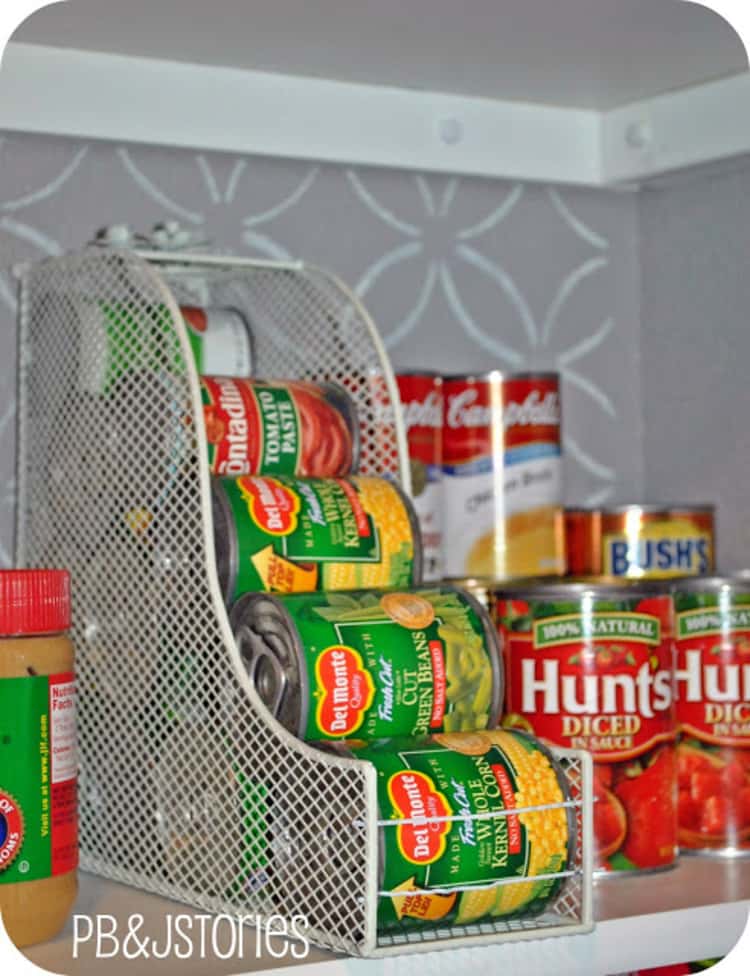 15. Woven Baskets With Labels
Organize your canned food by type of ingredient and place them into baskets. Here, you see canned fruits, canned soups, etc. grouped together. This system sure makes it easy to grab and go – smart! This is a great way to keep your shelves nice and organized so you find what you're looking for fast! You MAY even be able to turn the baskets the other way (and fit two per shelf) with the label on the end of the basket.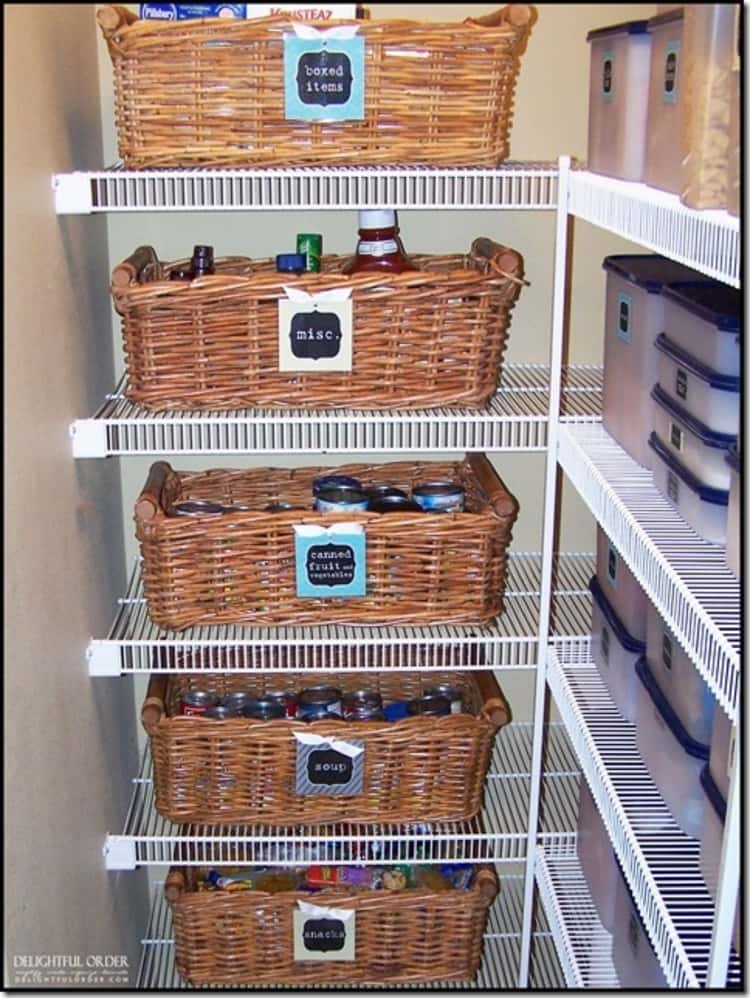 16. DIY Pull Out Shelves
Have you ever needed to get creative on storage space? This pull-out cabinet solution is perfect for cans that you just have to keep in the cabinets (rather than your pantry). No more sitting on the floor to see what you have because (the drawer slides right) out so you can see everything. I love this convenient idea! Plus, if you like, you can dedicate that drawer (only) to your cans, to make it even more organized.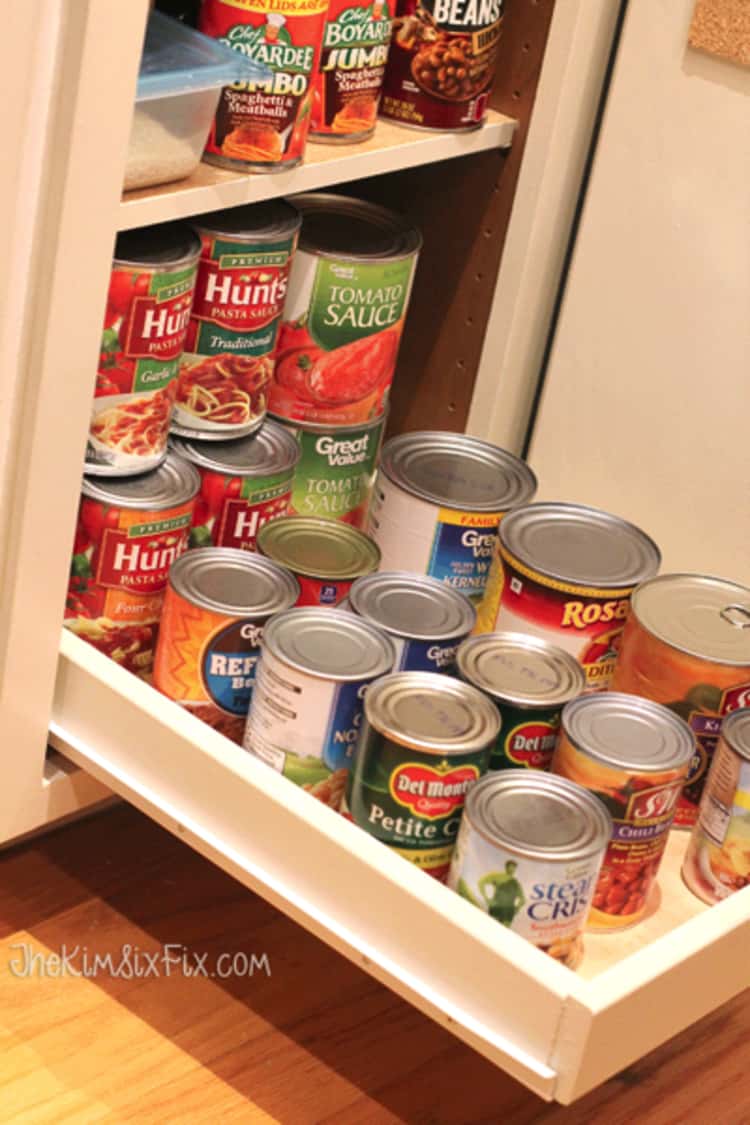 Which Canned Food Storage Idea do YOU Like?
Whatever your storage situation is, using one (or more!) of these pantry storage ideas is 100% worth your time. From DIY to store-bought and simple, to more complex, this list of storage ideas should take care of that canned food clutter problem. Now I'm rethinking the canned food storage in my kitchen and these ideas have me fired up! There are several that would work to free up space for me. Deciding which I want to go with is the only thing left.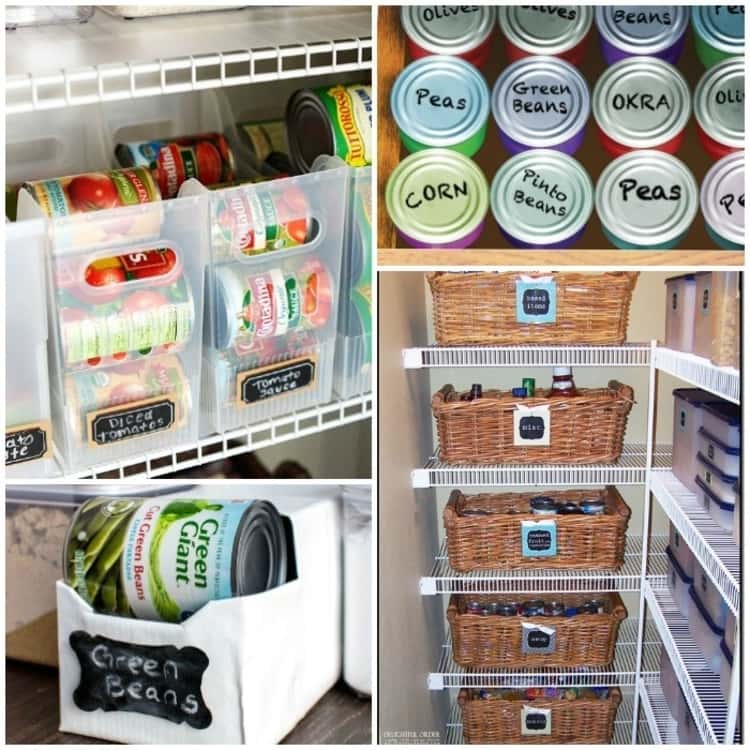 This list of pantry storage ideas has a can storage solution that will work for you! No matter what size kitchen you have, there's usually a solution that will work to maximize the space, when it comes to storage. Which canned food organizer idea helps you the most?
Food is the most primitive form of comfort.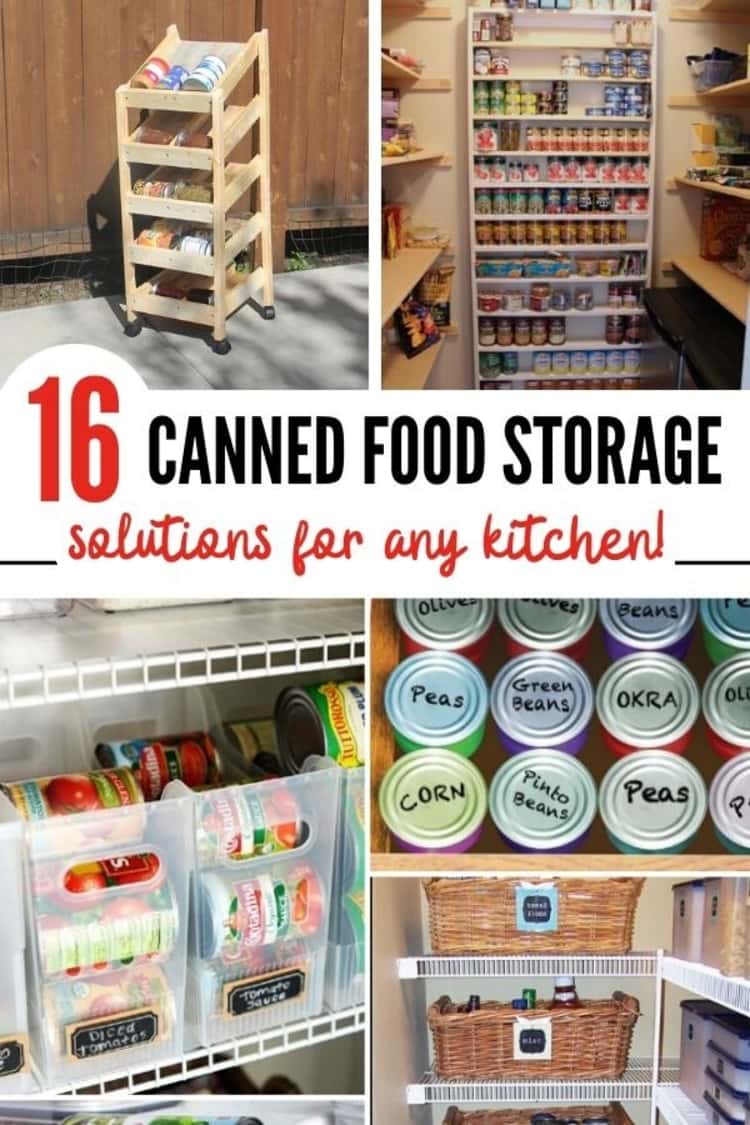 Check out More Clever Organization Ideas Here: