Mug cakes have become a very popular single-serving dessert option for busy nights or when you just don't want lots of leftovers. Grab one of these incredibly good mug cake recipes to try tonight!
Have you heard of mug cakes? They have become quite popular recently. Maybe you've heard of them but wondered what kind of a dessert tastes good when you make in a mug? And, a cake no less?
What is it really?
A mug cake is simply a cake "baked" in a mug. Although instead of being baked in an oven like most cakes, it's usually microwaved because the majority of mugs are not oven safe.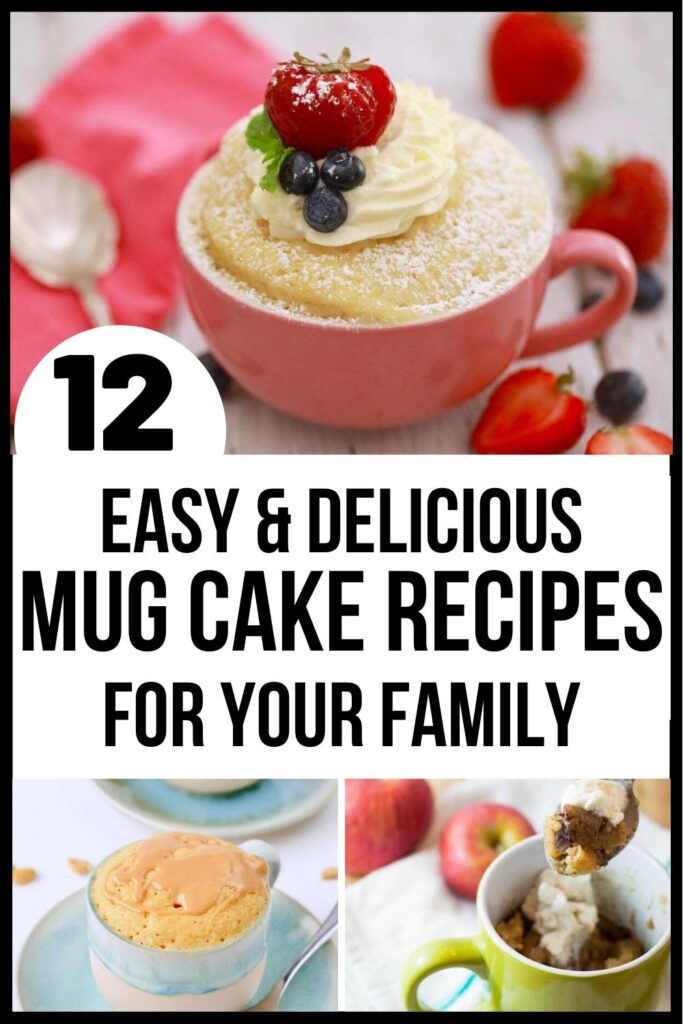 Why Are They Popular?
Their popularity stems from a couple of different things. For one, they are super simple to make and don't require much time or getting a lot of baking supplies dirty. Without needing to use the oven or your baking supplies, mug cakes are ready much faster than a normal cake.
Many mug cakes are ready to eat in just about 5 minutes!
The popularity of mug cakes also comes from the fact that they are a single serving – perfect for those times you want to satisfy your sweet tooth without eating too much or feeling guilty afterward.
Plus, they are a safe way to get the kids involved and start teaching them how to make their own food.
Can you see any downside to this kind of deseert? Me neither!
Can You Make a Mug Cake Without Eggs?
Yes, most mug cake recipes don't contain eggs. If you think about it, most full cakes contain only one or two eggs to make them light and fluffy while holding the cake together.
A single-serving cake certainly doesn't need to be held together, and adding an egg to the recipe has a tendency to make the recipe turn out with a spongy texture.
Do You Need to Use Baking Powder?
Like any other cake, you need a leavening agent in the batter to make it rise. Most recipes will call for baking powder, but a few may call for a very small amount of baking soda.
How Do You Make a Mug Cake With Cake Mix?
It's super easy!
Since cake mixes have all the dry ingredients you need already mixed together, you just need to add the wet ingredients at the proper ratio for an easy and satisfying treat.
12 Ultra-Satisfying Mug Cake Recipes To Try
Here are 12 amazingly easy mug cake recipes that you can make today to satisfy your sweet cravings. With flavors to satisfy any tastebuds, the whole family will be begging for another round of these delicious recipes.
Enjoy that classic cinnamon and sugar flavor in a light and fluffy dessert made from scratch in just minutes. Top with some vanilla bean ice cream for a true treat.
This classic made-from-scratch recipe is a chocolate lover's dream. Rich and chocolatey, it's wonderful on its own.
You can also introduce some variety by adding different variations of toppings.
Love the taste of lemon poppyseed muffins? Oh yeah…me too. What's not to love? Enjoy all that lemon poppyseed goodness in this from-scratch recipe that's ready in about 5 minutes.
While pumpkin may be the shining star of fall, there's no need to only enjoy pumpkin spice as the weather turns chilly! Enjoy your favorite flavor all year long with this delicious recipe.
This red beauty has a surprise hidden in the middle – Nutella! This super moist, chocolatey cake will disappear almost as fast as you can make it.
Eating Keto but still have that sweet tooth? Make yourself a keto dessert in a mug! You can enjoy this recipe quickly and without any guilt about going off your meal plan.
This light and fluffy recipe shines with a bit of almond extract and tastes amazing topped with some fresh fruit and whipped cream.
Full of flavor and color, this single-serving recipe will become the new favorite dessert for your kids (and the young at heart).
Enjoy the flavor of apple cinnamon anytime with this warm, juicy cake that will make your mouth water as you smell it cooking.
Add a scoop of vanilla ice cream to the top, and it's almost like having apple pie!
Want to get your warm, gooey chocolate fix with even less work? Use this yummy recipe to save time by not measuring and mixing dry ingredients.
Keto Peanut Butter Mug Cake | Sweet as Honey
It doesn't matter whether you follow a Keto diet or not, you'll love this Keto dessert recipe! It tastes so delicious that you'll forget you're eating low carb as you bite into its full-flavor, muffin-like texture.
My family goes ga-ga for carrot cake, but making an entire carrot cake is a ton of work (and mess to clean up). Enjoy all the yummy goodness of carrot cake – and cream cheese frosting – in this easy recipe.
When you're looking for a quick dessert option to enjoy without all the mess of making a full dessert, try making them in a mug. This list has mug cakes of all different types (chocolate, vanilla, sprinkles-even keto-friendly ones!) and flavors to suit any taste preferences.
More From One Crazy House: