If you're looking for essential camping gear to keep you dry during rainy weather, you won't want to miss out on these key items!
Camping is one of those summertime adventures that are truly epic. Camping requires some essential camping gear that makes the stay a whole lot more enjoyable. The sunsets, the beautiful sunrises and the ability to play outside long after those lightning bugs have come out signaling the night is over is a beautiful thing. But what about those camping weekends that threaten to get ruined due to the sprinkles and showers of rain from Mother Nature herself?
Don't let that rain get you down! You can still camp and have a great time doing so, even when it rains! All you need are a few essential camping gear items to help you get through, and you'll have fun and have many stories to tell about your epic camping trip!
Essential Camping Gear to Pack for Rainy Weather
1. Umbrella
Never go anywhere without your handy dandy umbrella! It is totally possible to sit outside and watch the rain falling all around you and stay dry thanks to your umbrella. Plus, if you don't happen to have a bathroom in your camper, you'll need that umbrella to walk back and forth to the bathhouse!
2. Tent
And if you are going to sit outside of your camper, why not pack an extra tent to have set up as well? It's a great way to have a little "getaway" to stay out of the camper and the rain and be able to read or take a nap away from it all. Think of it as a home, away from home when you are camping.
3. Plastic Bags
An item that often gets overlooked when planning for rainy weather is plastic bags. Rain is messy AND muddy, right? So what do you plan on doing with all those clothes and shoes that are drenched and covered in mud? You won't want those just hanging out in your car! By having a few extra plastic bags in your possession, you can keep those items secure and away from getting anything else wet and dirty in its path.
4. Camping Planner
Using a clever camping planner can help you make sure you have all the details sorted out no matter the weather. The worst thing is forgetting something.  Promise.  Been there.  Done that. One trip we literally forgot the toilet paper!! Never again!  The $7 spent on the Camping planner is well worth it!!  Your sanity is worth it!!
5. Rain Boots
Don't forget the rain boots! If you have children, don't even try to stop them from jumping in those rain puddles. It's part of the camping fun! Being outside and being one with nature ALSO includes jumping in every single puddle that they can find. And with rainboots, they can puddle jump all day long.
6. Towels
One word: Towels! No one wants to sit around in wet clothes, right? Pack a ton of extra towels to be able to dry off with during your camping trip.
7. Snack Options
And if the rain is keeping you from starting a campfire to cook over, make certain that you have alternate food items to eat as well. Lunch meat, popcorn, salad, veggies, and fresh fruit are all great items to have on hand if you aren't able to start that campfire.
8. Flip Flops
Flip flops or other shoes that you can slip on and off to get in and out of your tent or camper are a must. Plus, you want them to be shoes that can sit out in the rain and won't get ruined getting wet.
Must Have Essential Camping Gear
9. Water-Proof Matches
If you're determined to have a campfire one way or the other, then water-proof matches are a must as well! Once the rain stops, you may be able to find wood or use wood that you have if it can dry out, but if your matches are wet, that makes it a whole lot harder!
10. Entertainment
Games and books are absolutely essential camping gear to pack when it's raining as well. If you and your family can't get outside then having items to play indoors is a must. Always keep a couple of games on hand and take a trip to the library and stock up on some books for your camping adventure beforehand.
11. Tarp
And last but not least, a tarp. A tarp is a great thing to lay under your tent. The tarp keeps it off the wet ground so nothing soaks through.
12. Extra socks and shoes
You'll definitely want to be certain that you have more shoes and socks on hand. There's nothing worse than cold feet when you're doing everything that you can to try to stay dry. Plus, wet shoes rub on your feet and can cause blisters as well.
13. More blankets
Rainy weather is often quite cold as well. If you're wanting to stay as dry and as warm as possible, you need to pack up some extra blankets for your trip, too.
14. Hat
Don't forget to do what you need to do to keep your head warm! Rainy weather can make head colds happen so I always recommend packing up a hat to stay dry and warm as well.
15. Reading material
I don't know about you but when it's raining and I'm camping, all I want to do is curl up and read a book. Pack along some light reading material and magazines to get through all those long rainy nights.
No matter what, don't let the rain stop your camping plans! A little rain doesn't need to ruin your whole camping adventure. Embrace the rain and find fun ways to make your time camping fun! There is always a rainbow at the end of the rain, right?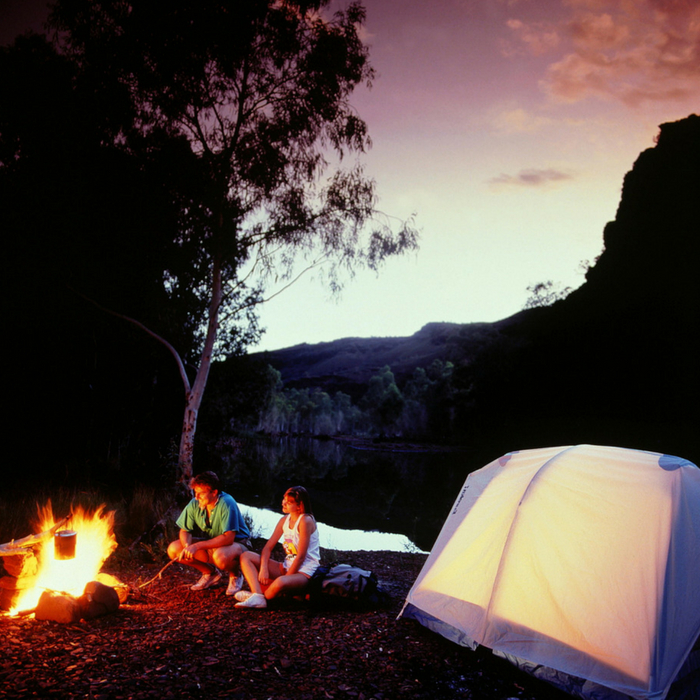 Do you have any essential camping gear that you like to take along in your tips?