Yes, there are simple and easy ways to declutter a kitchen. Here are 7 essential storage hacks and tips to tackle kitchen organization and keep it looking clean and clutter-free with minimal effort.
The kitchen is usually the center of the home and, because of that, it can also be one of the worst places to keep clean and decluttered.

When your cabinets are filled to the brim, the drawers have who-knows-what in them, and you have nowhere to store your pantry items, your kitchen becomes a frustration rather than an asset.

That means it's time to tackle your kitchen and arrange it so that it's up to the task of being the heart of the home. Organizing your kitchen doesn't require having elaborate systems in place. Find out how to organize your kitchen cabinets and other simple, effective ways to get your kitchen in top-performing order.
This post has affiliate links. If you make a purchase, we'll potentially earn a commission at no extra cost to you.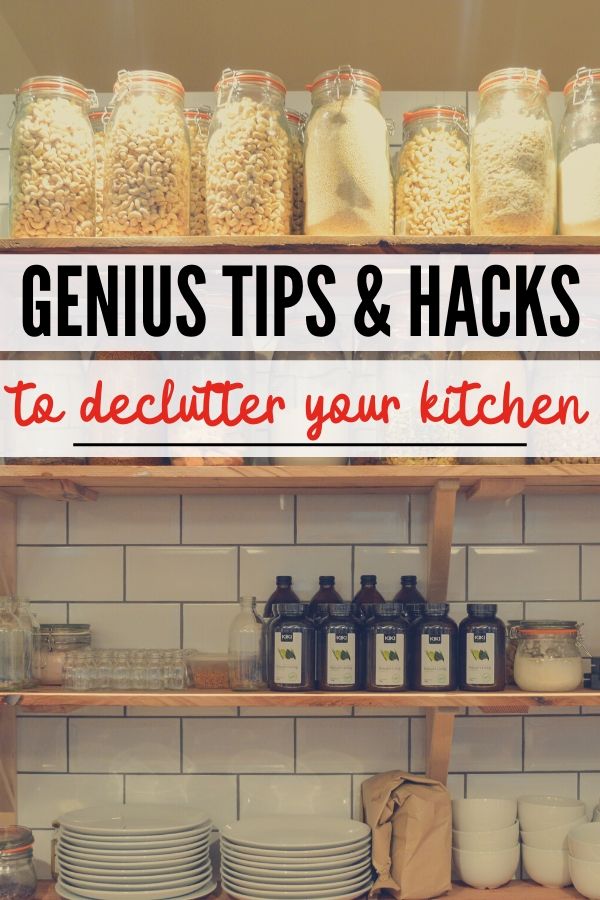 What is the Best Way to Organize a Kitchen?

If clutter and grime are taking over, they may have you wondering how to clean and organize your kitchen so that it stays in great shape even with all the use it gets.

When you are drowning in chaos, where do you even begin to clean out your space? Here are 7 easy tips and kitchen organization and storage hacks to declutter your kitchen.
1. Declutter Kitchen – Remove Items You Don't Use
Start by opening each cabinet and drawer and taking everything out of them, one item at a time.
Examine each item and keep the ones that you use on a regular basis. Put the items you hardly use off to the side so you can find a new space (or even a new home) for them.
As you go through your drawers and cabinets, ask yourself things like: when was the last time you used your bread maker? Or do you have dishes that you never use cluttering up prime space in your cabinets?
The more you can remove (keep it only if you use it), the tidier your kitchen will stay.

2. Keep It Simple
When organizing your kitchen, it's best to implement a simple system that makes sense.
Arrange your kitchen in ways that are logical and practical. For example, organize cabinets by category (dishes, cups & coffee mugs, baking supplies, etc). Do the same for your drawers and pantry (if you have one).

3. Give Everything A Home
Do you know where everything in your kitchen belongs? Assign a designated home for each item in your kitchen. This is the essential step to being (and staying) organized.
When you know where to put away the items that cause clutter, it's easy to tidy up your kitchen in just a few minutes!
By giving everything a home, all family members (and guests) can easily help in the kitchen. You can even consider labeling the spaces where items go to make it foolproof for everyone!

4. Organize by Task
My favorite way to do kitchen organization is to set it up according to tasks. When you have related things stored together, it not only helps you stay efficient with cooking and cleaning up, but it also makes it easier for family members and guests to help.
Create a dishes area, a food storage area, a baking area, and a pots and pans area, for example.
For example, do you find yourself asking "How do you arrange dishes in kitchen cabinets?" or "How do I organize plastic containers and lids?"
Start with designating your areas for these types of items. Then, create a simple but efficient way to organize them so you can quickly find what you need or put items away. For example, in the dishes area, stack the same size plates with each other.
For plastic food storage containers and lids, throw away any container that is stained, doesn't seal or has cracks. Then, stack by size. Use dividers to hold tops, sorted by size, for easy visibility.

5. Declutter Kitchen Countertops – Fast!
Your countertops are important workspaces for cooking, baking and more but also tend to be magnets for household clutter.
Remove every item from your countertops, including any decorations, appliances, food and random stuff. Place it somewhere else so you can take a good look at it.
While your countertops are empty, clean them.
As you look at all the items you took off your counter, carefully choose the appliances and items you use every day.
Items you might want to keep on your kitchen counter include:
Coffeemaker
Toaster
Cooking tools holder
Fruit basket
Microwave
Any items that aren't used every day don't need to take up your limited counter space.
Finally, find a convenient and logical spot for the chosen items to call home. For example, put the coffee maker under the cabinet of mugs. That helps keep items from spreading across your kitchen.

6. Create a System for Recipes
Recipes have a tendency to take over a kitchen. Toss any recipes you haven't used in ages (or that recipe for cheesecake that was a disaster).
Use the size of your recipe cards to determine which organizational system to use. Index cards work well in a labeled recipe box. Full sheet recipes do well in a three-ring binder. If you want room to grow, go with the binder and tape your index cards to larger sheets of paper. Organize your recipes by dish type with the help of dividers.

7. Tips and Tricks for Tiny Kitchens
What are tips to make a small kitchen work better? These storage hacks will help you get your small kitchen clean and organized quickly:
Use wall space as storage space to hang pans, spice racks, knives and more
Utilize risers to add additional space in cabinets
Use hooks to add extra space on the inside of cabinet doors
Find baskets to corral goodies on the tippy top shelf
Remember, cleaning and organizing your kitchen is easier than you may think! These important storage hacks and tips will help you declutter your kitchen (even a tiny kitchen) and keep it looking clean with minimal time and effort.

Other Organization Ideas To Help Declutter The Entire House:
Toy Storage Ideas That Will Keep You Sane
9 Brilliant Bathroom Organization Ideas