Don't fuss with the oven when you need a delicious dessert in a hurry. These no-bake ice box cake recipes are perfect for any occasion! From fruity flavors for spring and summer to chocolatey, decadent options for any time you're craving them, you'll find an easy dessert in this drool-worthy list.
You'll love the flavor combinations of the cream mixture, chocolate wafers, layer of graham crackers, and many more in this list!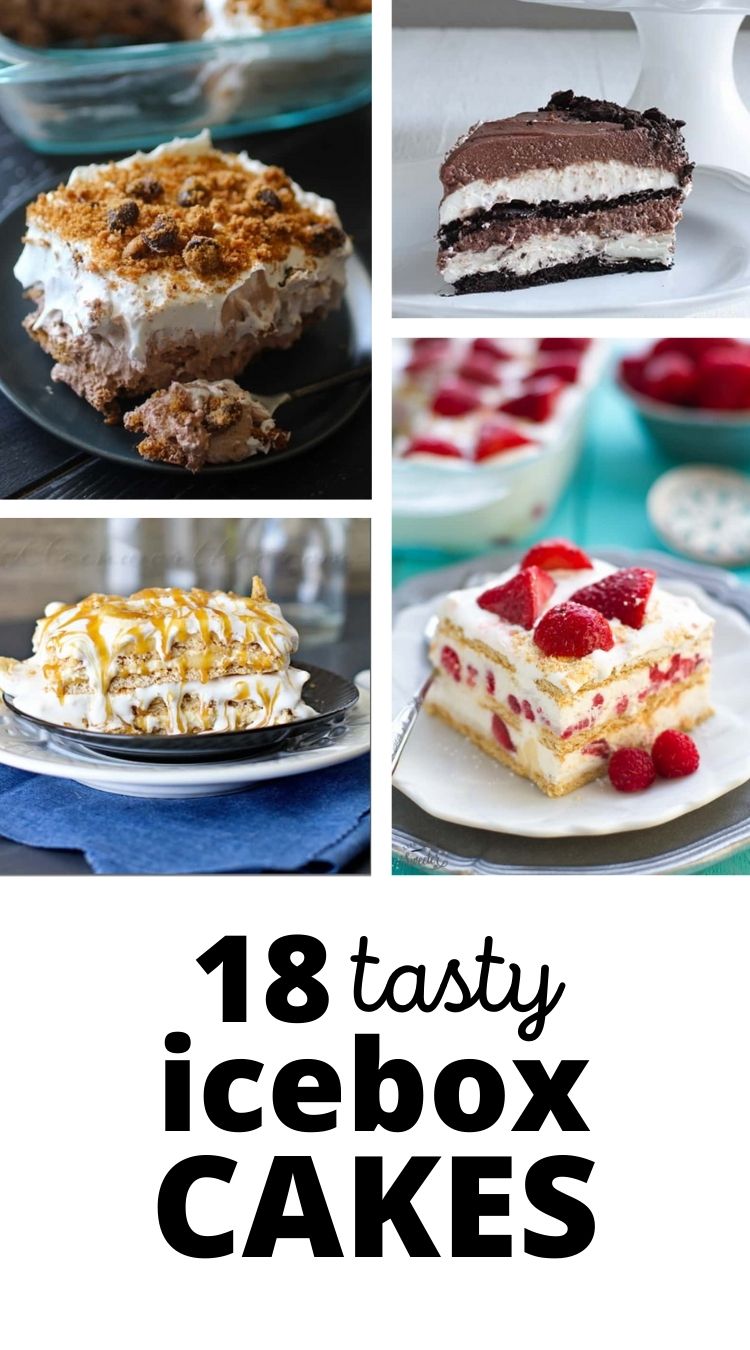 Easy No-Bake Ice Box Cake Recipes
1. S'mores Aren't Just For The Great Outdoors
With a crowd clamoring for dessert and you have none prepared beforehand, this deliciously fluffy S'mores Icebox Cake is all you need to bring s'mores inside.  Its layers of graham crackers, marshmallow cream, and chocolate ganache are a no-fail combination. This old-fashioned icebox cake is so delectable! No bake recipes are just so much easier! (Just watch those added saturated fat and calories you can gain in eating a slice. )
2. Have Yourself A Peachy Peachy Summer
Feeling fruity? Nothing beats sweet peaches in the summertime, so make a batch of peach pie filling (or buy some), and use it to make this sweet and light Peach Icebox Cake. You can also use fresh peaches and you won't regret it!  The sweet taste of peaches and cream make this easy recipe a family favorite. Put some whipping cream in a large bowl and whisk using a hand mixer (or stand mixer) with whisk attachment until stiff peaks. Welcome summer!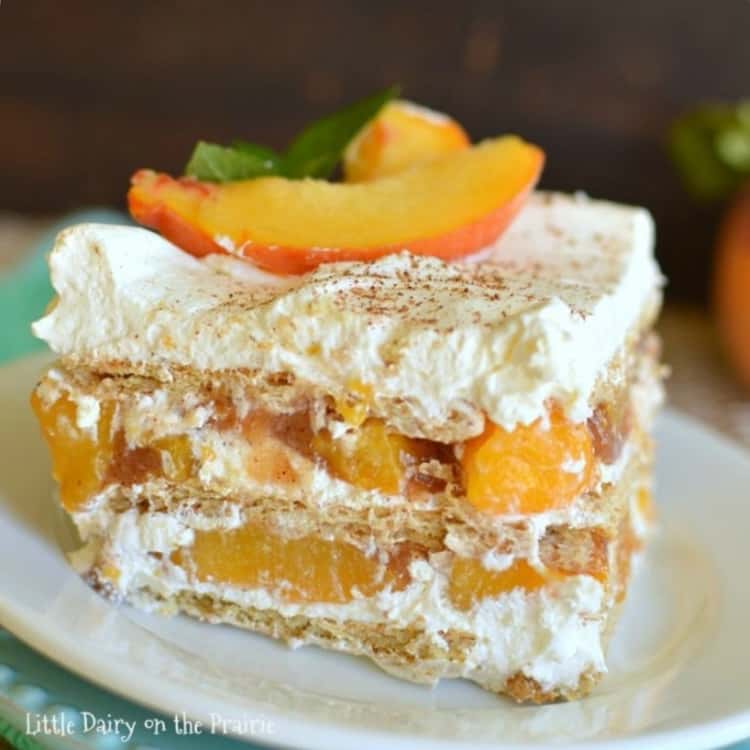 3. No Better Combination of Words Than Chocolate Icebox Cake
But seriously. Have you ever heard such a great combination of words? Chocolate. Cake. And Icebox, meaning it's no-bake! Chocolate mousse, chocolate ganache, and chocolate graham crackers to make this Death by Chocolate Icebox Cake that is ABSOLUTELY to die for! (See what I did there?)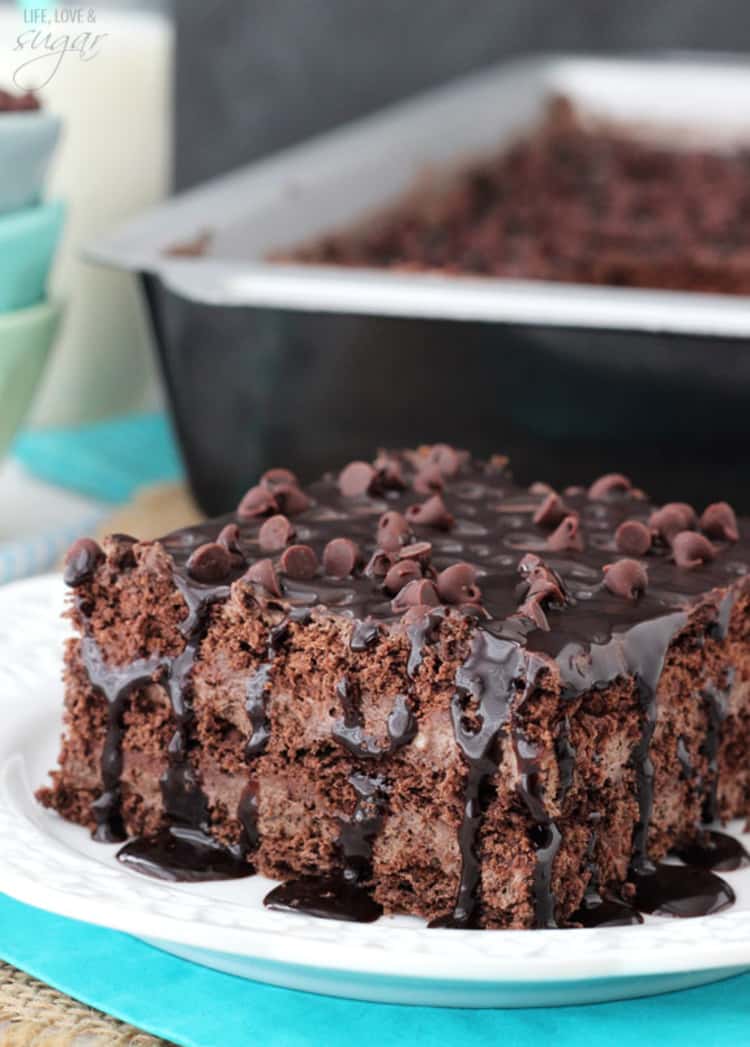 4. When Life Gives You Lemons, Make Lemon Icebox Cake!
Everyone in the house with a sweet tooth will want to make way for this tangy, tart lemon filling and a buttery cake you can make from scratch (if you prefer). This Lemon Icebox Cake is even better made 1 or 2 days ahead as it lets the flavors melt together. Also, you can easily change out the lemon pudding for your favorite flavor to create a new variation. A serving platter of this pudding mix is not enough.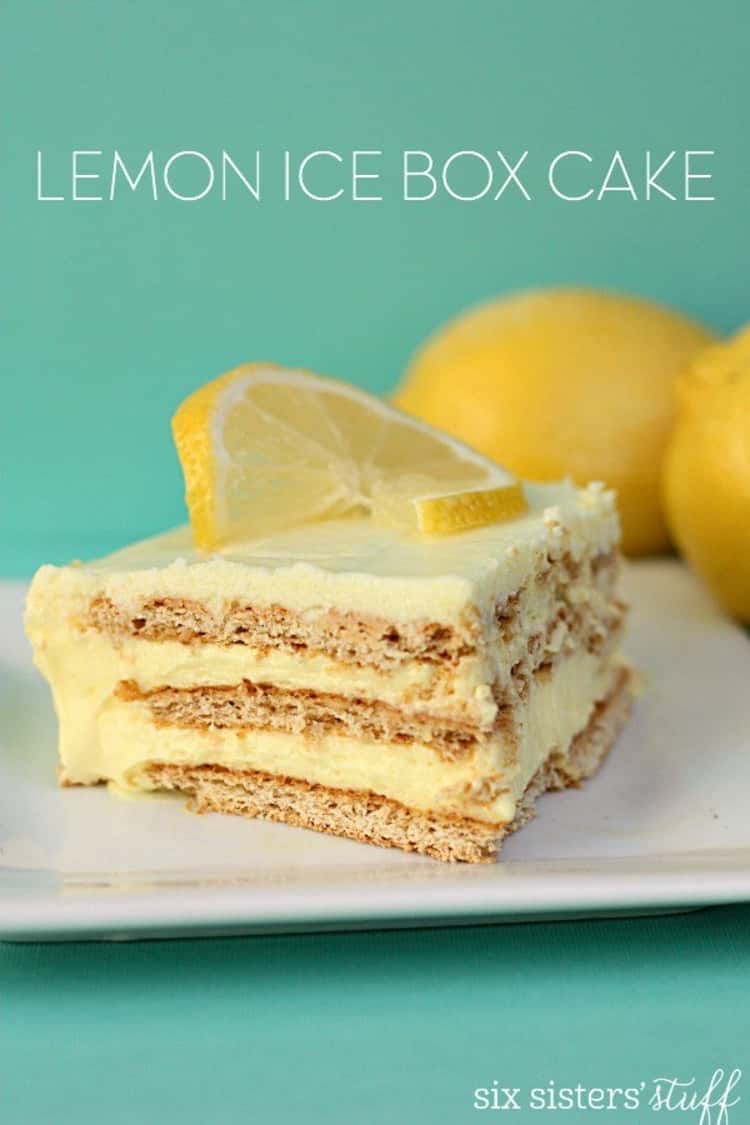 5. This Banana Icebox Cake Will Drive You Bananas
Want some vitamin B- Banana (but seriously, bananas have got lots of potassium)? I like to think of bananas as the melody in a harmony. They are a constant.  All year round, in any decent grocery store, bananas are always available. The best part of bananas is that few people dislike them. That way, you can hardly go wrong with this Banana Pudding Icebox Cake for any family reunion or potluck. It's sure to be a huge hit!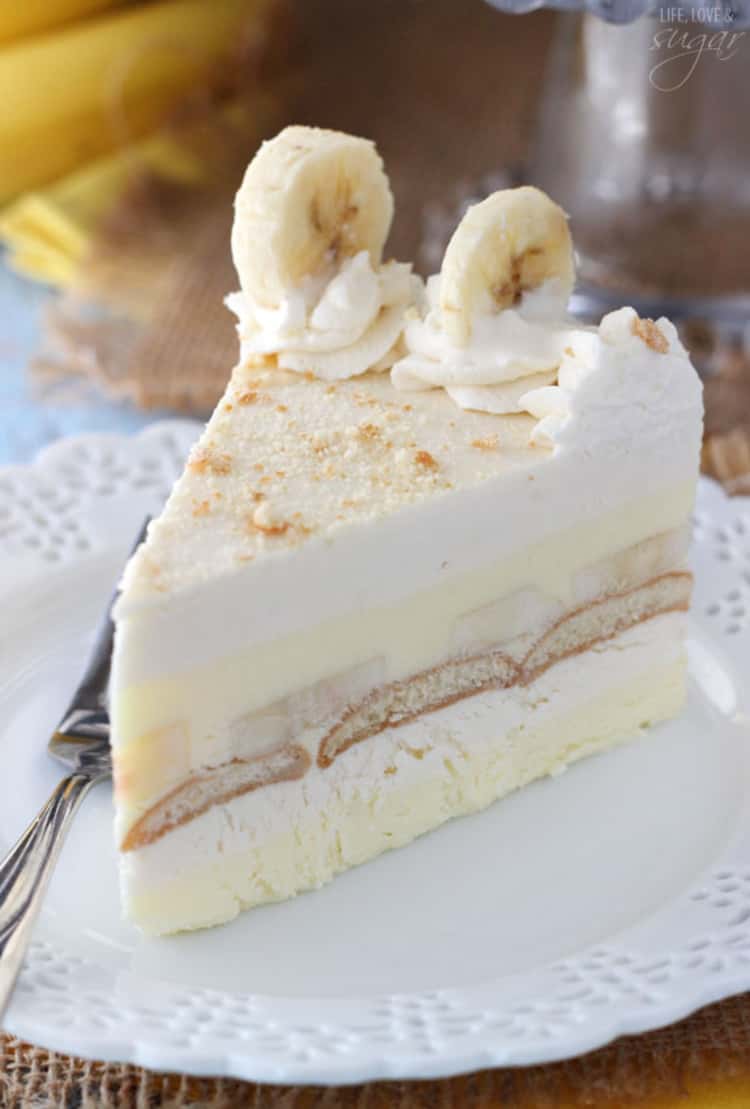 6. Though A Subtle Flavor, This Vanilla Icebox Cake Will Make You Sing
An Easy Vanilla Icebox Cake suits most palates. It's perfect for the kids because they can simply add their favorite fruits or toppings after it's made and served. It's also the go-to flavor for a quick dessert fix.  Just keep on whipping the cream on high speed until soft peaks form and you're set…oh, stiff peaks, I mean. All you need is:
heavy whipping cream
prepared vanilla pudding
frozen pound cake – we used Sara Lee
sugar
raspberries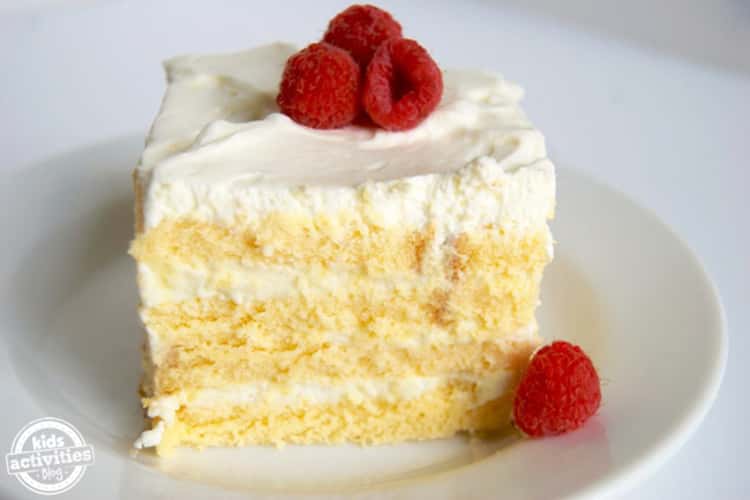 7. A Mouthful Of A Name AND Taste
Up for some protein and calcium-rich dessert? Peanut butter addicts, rejoice! This Peanut Butter Cup Icebox Cake is just the ticket for you. I can attest to the fact that it's wonderful with the Oreo crust or with a graham cracker crust. You will love this cool, creamy, and chocolate-filled treat for your lazy summer days.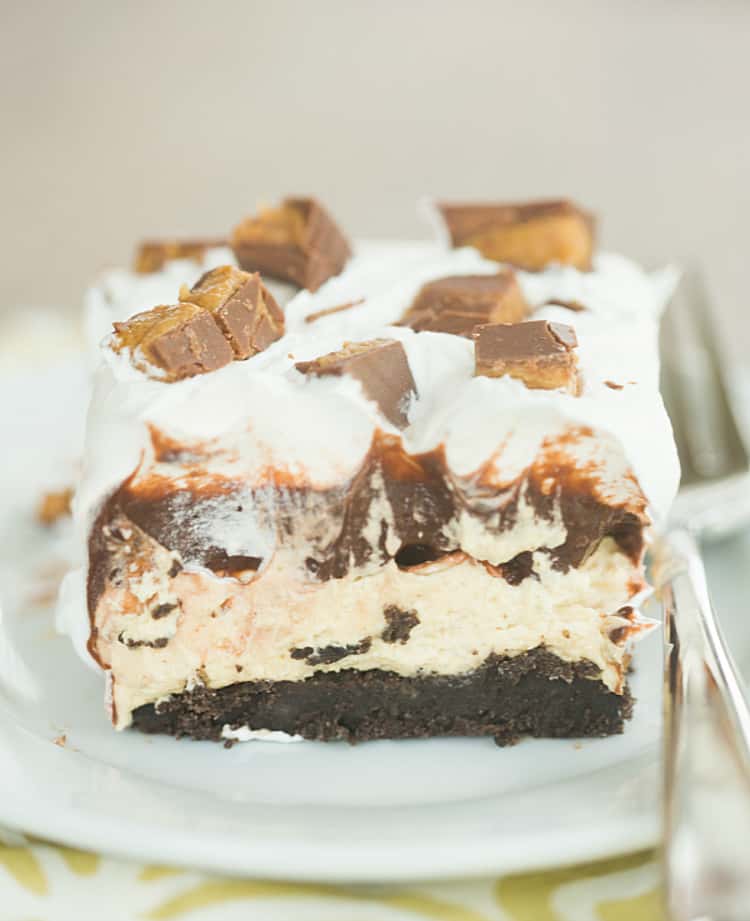 8. A Berry Berry Lovely Icebox Cake
By now, you should've known that graham crackers are a favorite for icebox cakes. This is because the filling softens them and gives them a cake-like texture that you will love! This one is no exception. Ideal for spring and summer BBQs and potlucks, everyone in your circle will love this Strawberry Cheesecake Icebox Cake made with cheesecake pudding or cream cheese. You can even add whipped cream and, of course, strawberries. A slice has bits of monounsaturated fat, but it's so good you won't mind, really.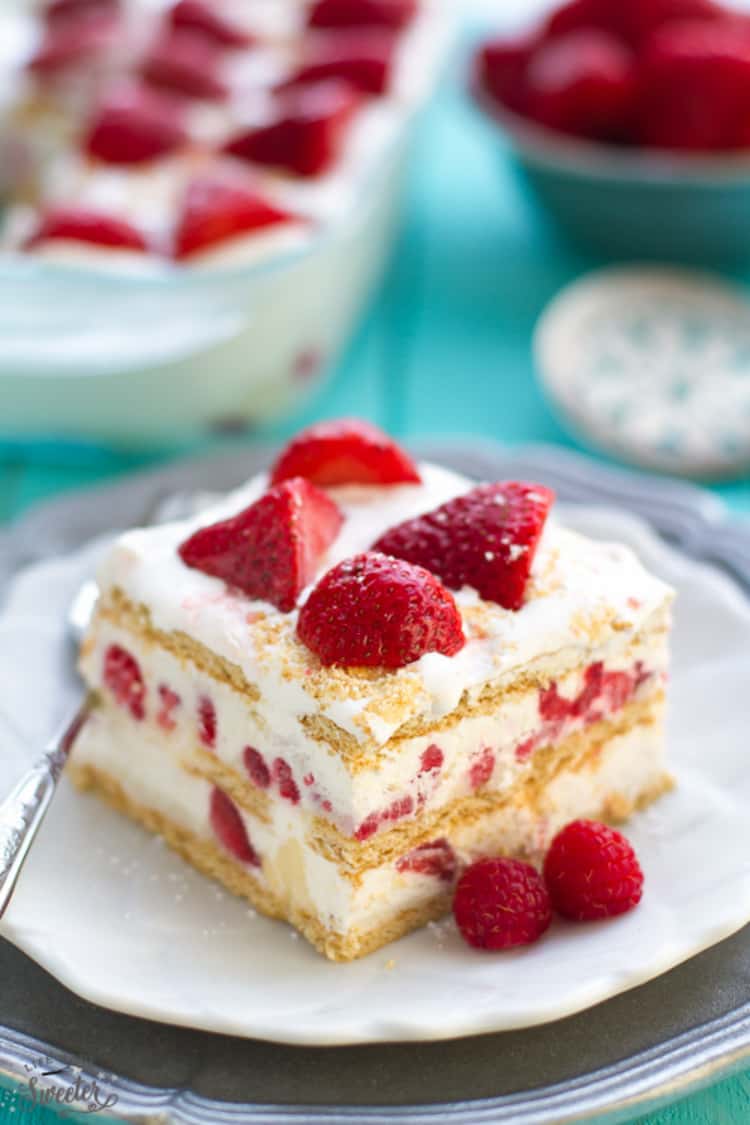 9. Our Very Own 4th Of July Icebox Cake Recipe
This cake is very similar to the strawberry icebox cake above apart from the blueberries that make it look somewhat like the American Flag. Make a Summer Berry Icebox Cake for the 4th of July or any hot summer afternoon. With blueberries and strawberries, it looks very patriotic.  Just grab graham crackers, cream cheese, vanilla pudding, milk, Cool whip or whipped cream, chocolate chips and your patriotic fresh berries…yum! You can insert some gingersnaps or some famous chocolate wafers here and there!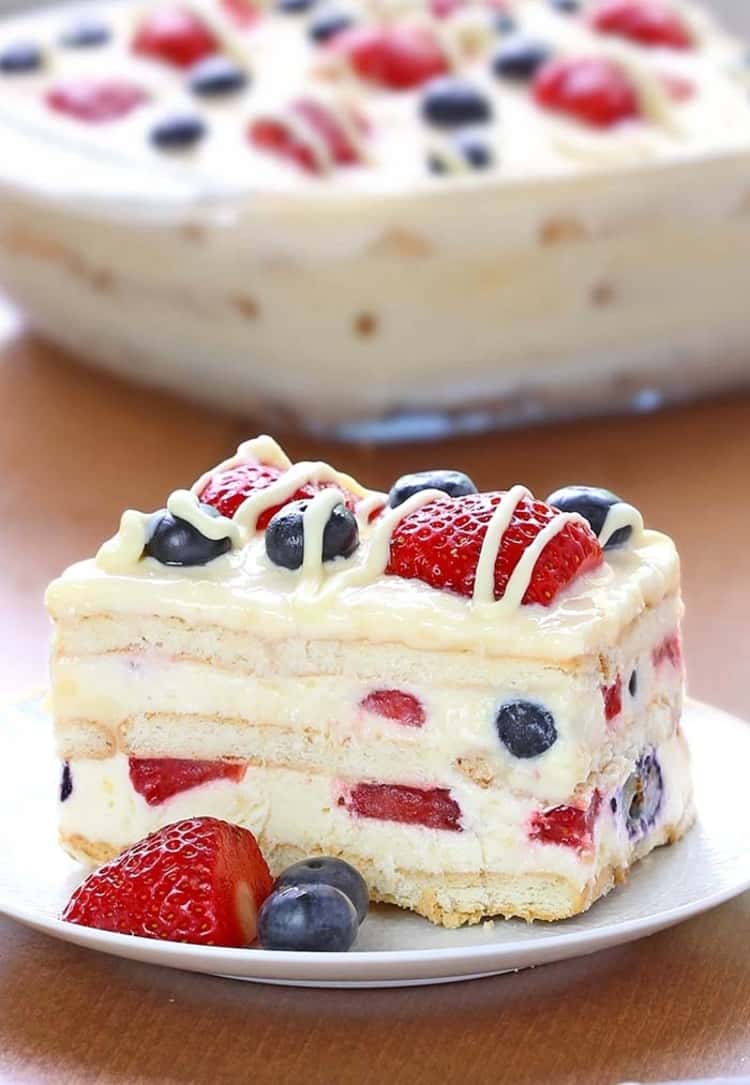 12. Nuts For This Nutella Icebox Cake
Get that Nutella out of the plastic wrap! Here at One Crazy House, we have major Nutella addictions. Imagine our surprise to find this Nutella Icebox Cake. It's literally heaven in a no-bake dessert! This recipe doubles the filling for fuller, richer, Nutella-filled goodness. This cake is simply wickedly delicious.
Layer a sheet of brownies with Nutella, cream cheese, and then more brownies, Nutella and cream cheese!! YUM!!
16. Whip Yourself This Coffee-Flavored Kick
Is coffee your weakness? Go for the Mocha Chocolate Icebox Cake. With coffee liqueur and espresso powder, it packs a nice coffee-flavored kick. Another perk of this icebox cake is that it is bursting with chocolatey goodness. The coffee amps up the chocolate flavor about a hundred times.  This homemade recipe is easier than you might expect.
What do you need?
A sheet of chocolate cake
Ganache (we cheated when we made it and just mixed hot-fudge with greek yogurt for a 2-min version)
Coffee-liqueur and instant coffee
Whipped Cream
17. Feeding Your Chocolate Obsession
If you love cookies-and-cream ice cream, here's a treat to feed your chocolate obsession: Chocolate Oreo Icebox Cake. The Oreos and fudge on top seal the deal for me. You can also use any type of cookies you want if Oreos aren't your thing. This tasty treat makes a swell after-school snack and it's so easy to make the kids can make it themselves!
10. Like Eclairs, But Way Easier To Make
If you love eclairs, this eclair Icebox Cake is a must-try! It tastes like an eclair, but it's so much easier to make. Have half the gooeyness of an eclair and triple the goodness with this chocolatey treat. Simply layer graham crackers, vanilla pudding, and chocolate topping. Drizzle some white chocolate on top for that pretty look.
11. Blueberry Lemon Icebox Cake Recipe
This Blueberry Lemon Icebox Cake is a slightly different take on the classic versions with layers of pound cake, lemon curd mascarpone cream, and blueberry sauce. All you need for this recipe are these 5 easy-to-find ingredients:
Pound Cake
Blueberries
Lemon curd
Mascarpone Cream
Sugar
This cake might seem quite ordinary but the texture and combination of flavors are OUT OF THIS WORLD!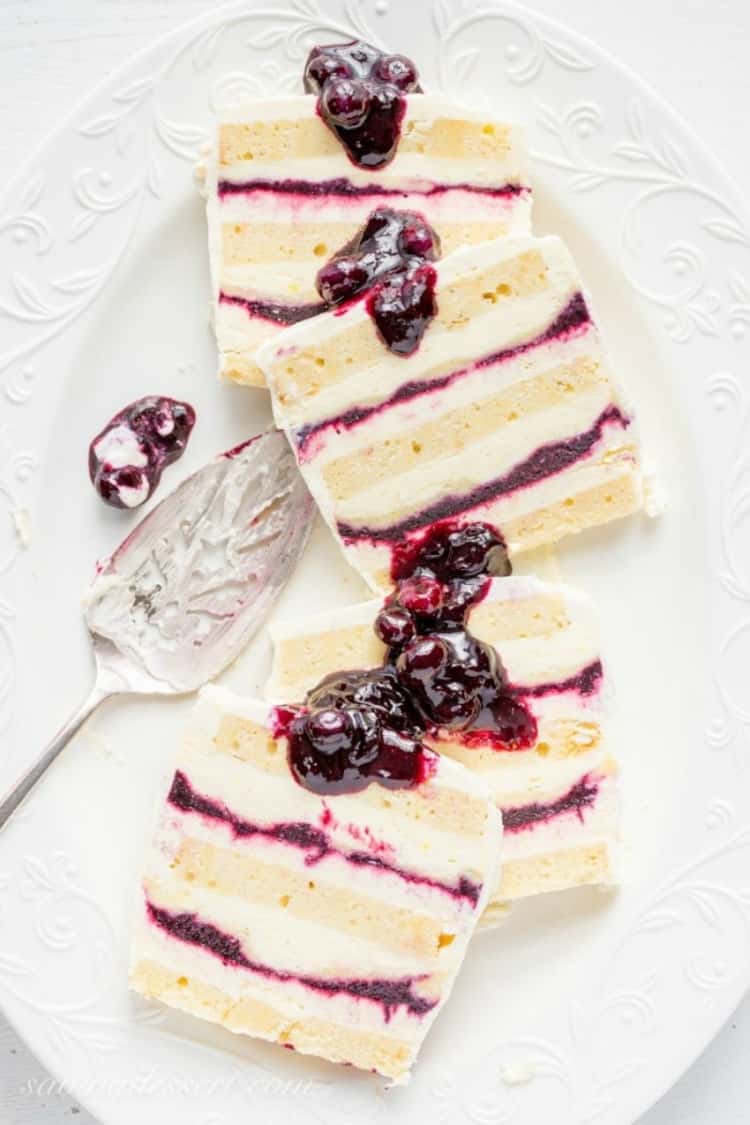 13. Gluten Free Chocolate Chip Cookie Icebox Cake Recipe
Can you believe this Chocolate Chip Cookie Icebox Cake is only 6 WW Smartpoints per serving, and it's gluten-free? If layers of chocolate chip cookies sandwiched between chocolate mousse and chilled to perfection sound good to you, then this is your cup of tea.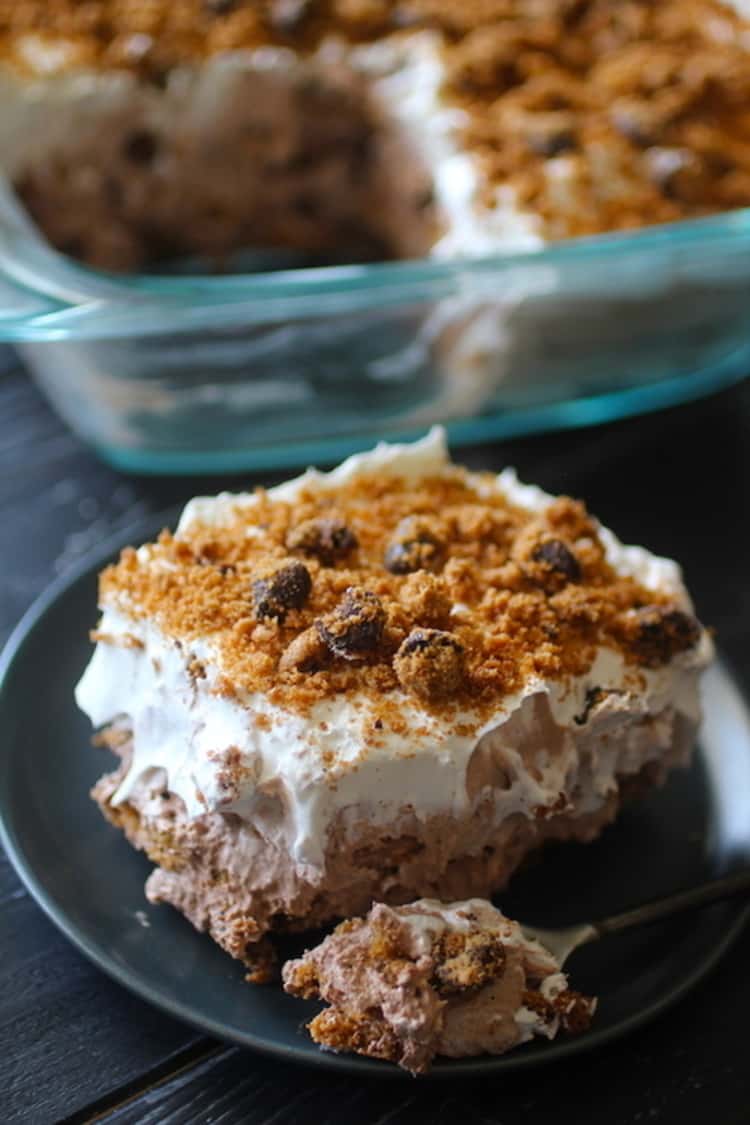 14. Banana Caramel Icebox Cake Recipe
The beauty of bananas is the fact that they go well with anything. And best with caramel. Serve up this Banana Caramel Icebox Cake when you're looking for a divine dessert that doesn't take much time. Isn't the banana and caramel combination delish? Give the kids a tasty sugar rush with this yummy recipe.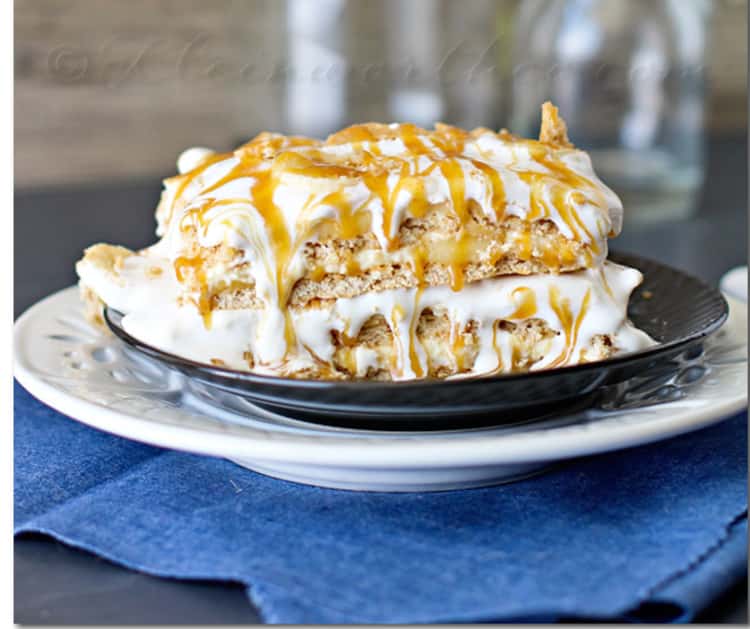 15. Snickerdoodle Salted Caramel Icebox Cake.
If you're a fan of all things caramel, don't miss this Snickerdoodle Salted Caramel Icebox Cake. This sumptuous cake is gluten-free but you can make it with gluten if you want. With a few ingredients, whip up this beauty and enjoy it. After all, who wants to spend time in the kitchen during summer? Not me!  What do you need?  Just these ingredients:
Cream cheese
Vanilla pudding
Milk
Whipped topping or whipped cream
Gluten-free Snickerdoodle Cookies
Salted caramel or butterscotch baking chips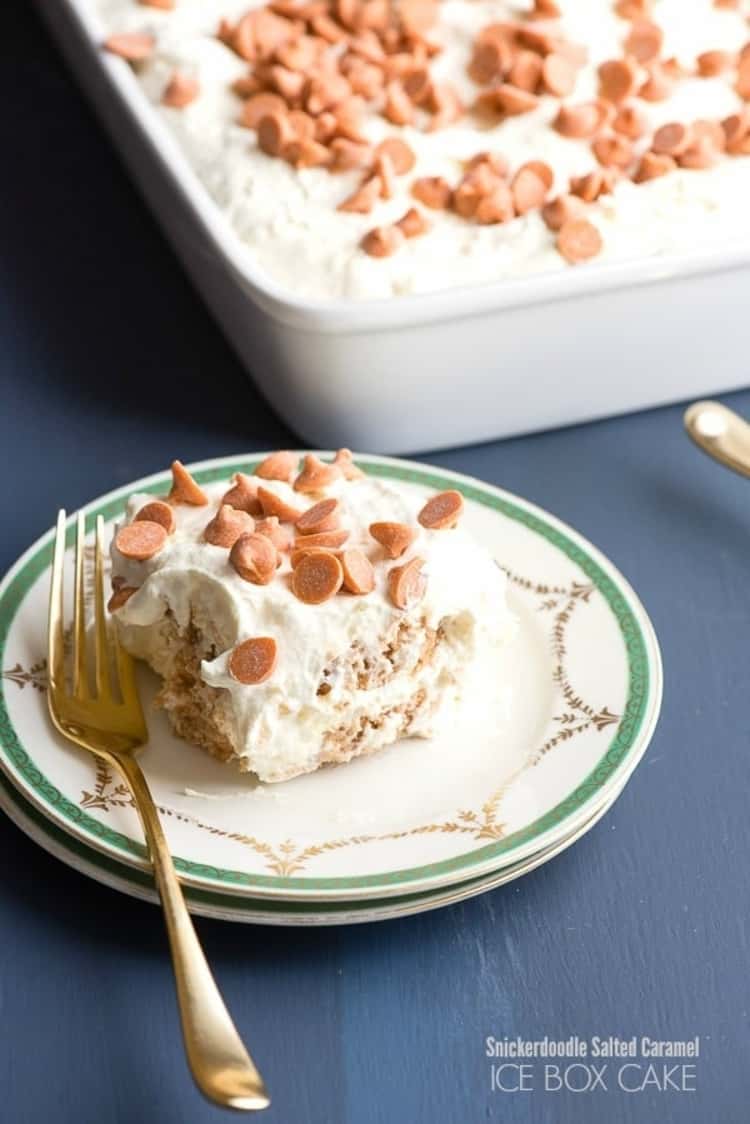 18. Tropical Treat – A Mango Royale!
Mad for mangoes? Try this Mango Royale! It's a great way to use up the mangoes in your fridge before they turn (which is much too quickly sometimes). With four ingredients and 20 mins of prep time, the hardest part of this recipe is waiting for the cake to set!  What are the four ingredients?  Shhh…this is what you will need:
Heavy cream
Condensed milk
Mangoes (or Mango puree)
Graham crackers
19. Strawberry Shortcake Icebox Cake
This Strawberry Icebox Cake is an easy dessert that's perfect for summer! Made with fresh strawberries, a berry cream filling, and super soft ladyfingers, it's light, simple, and layered to utmost perfection. Here's a little secret – there's no actual shortcake here!
20. Raspberry Lemon Icebox Cake
Tart lemon and fresh raspberry come together in this flavorful dessert that is perfect for when the house is a bit too warm for your liking. Even a well-conditioned house needs that extra frozen treat. This Raspberry Lemon Cake is creamy, tangy, and just sweet enough – perfect for those of us who are in between the sweet and not-so-sweet tooths.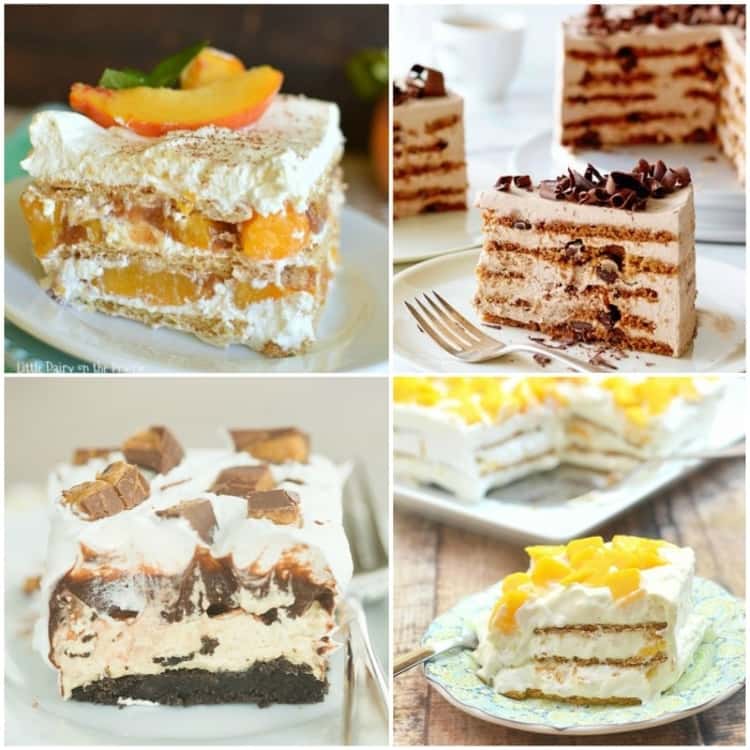 21. Pistachio Icebox Cake
This easy no-bake Pistachio Icebox Cake is made with layers of pistachio pudding, whipped cream, graham crackers, and chopped nuts. Takes you less than 10 minutes to make this mouth-watering snack and if you line your pan, you can easily remove it from the pan and cut it into slices. This recipe will 'nut' disappoint.
22. Chia Icebox Cake
Okay. Hear me out. I know you're already skeptical but I promise it's worth a try. This Chia Icebox Cake is waaaaay healthier than any of the recipes you've seen so far. With the fibery, proteinous chia seeds as a thickener and some healthy Greek yogurt for the filling, this cake is for those who prefer healthier alternatives.
23. Mexican Lime Icebox Cake
Traditionally known as Carlota de Limón, this rich, fruity, indulgent cake is both sweet and tangy. Made with lime and strawberries, it's a treat you never knew you wanted. The Mexican Lime Icebox Cake is so good it's bad for your waist! And, you need only 4 ingredients to make the magic.
Whoa! That went south pretty fast.
24. Funfetti Icebox Cake
No cake recipe worth its name is ever complete without a funfetti cake. And no pantry is ever complete without sprinkles! As the name suggests, this Funfetti Icebox Cake is a fun-filled cake with A LOT of sprinkles. But first, the cake. This particular icebox cake does involve a bit of heat so maybe don't try this in summer?
25. Boozy Icebox Cake
Funny how this just went from an incredibly innocent funfetti cake to this wickedly delicious Boozy Icebox Cake is all you need for an adult night out. With Oreo cookies, whipped cream, and some liqueur for a zing, you'll have constant guests at home. It's always great to end a party with a subtle alcoholic cake.
Have You Drooled Over These Icebox Cake Recipes?
You'll love These No-bake Dessert Ideas:
Which of these ice box cake ideas is you family's favorite?