For many people, putting up holiday lights is a necessary chore in order to get to enjoy holiday decorations. Check out these hanging Christmas light ideas and hacks as you decide how to hang Christmas lights around your home this year.
Christmas is the season of peace and joy with holiday traditional lights that warm your heart and make you smile… until you have to put the decorations up, that is.
I know hanging strands of lights seems idyllic and easy, but as someone who has done it for years and years now, let me tell you, it's tricky and annoying! And hiring someone else to do the job is just too costly. 
If you're anything like me, untangling holiday lights and climbing ladders doesn't exactly fill you with holiday cheer. It's the holiday chore you most dread. 
But we have good news… we collected some terrific Christmas light hacks to make hanging those lights much easier this year and for all the years to come. You'll find these ideas easy and economical, leaving you plenty of time for all the holiday traditions you do enjoy!
Clever Hanging Christmas Lights Tips and Tricks
Confession time: I finally got so fed up with the time-consuming, laborious process of hanging holiday lights that I went searching for some Christmas lighting hacks to help make it easier. 
I found some pretty genius ideas to help with everything from storing and hanging lights, to taking pictures, to creating magical spaces with lights, both indoors and out – you need to check out these amazing tips for your best Christmas lights! You're sure to find at least one, if not more, that will have you excited about decorating for the coming holiday season!
1. Super Simple Zip Ties for Your Hanging Christmas Lights
I have tried so many ways to attach those Christmas lights to our stair railings. All of them failed. Every single option.
Until I found (and tried) this nifty little tip.
Use zip ties to attach holiday lights to railings. The zip ties won't leave marks as tape and hooks do. They're a snap to put on and when you're ready to take them off, just cut them loose with scissors. 
2. Add Variety to The Christmas Lights On Your Tree With Different Sized Light Bulbs
Does your tree always look a little, well… boring? Maybe liven it up with two different bulb sizes.
Doesn't the bottom half of this tree look magical? Just string your entire tree with smaller lights first, then add a strand of larger bulbed lights to the bottom. I never would have thought to do this, but look at the difference it makes! This tree really pops and is sure to be a crowd-pleaser!
3. Add Some Extra Sparkle In the House With Twinkle Christmas Lights
Brighten your hallway ceiling and make it into a magical place all at the same time! To do this, simply cover your ceiling with fairy twinkle lights. Use Command hooks to attach the lights to the ceiling. The results are a beautiful display of holiday sparkle and cheer.
4. Hang Outdoor Christmas Lights on Brick – the Easy Way!
Want to do it? Forget everything else you've ever heard and break out the hot glue gun!
It's surprisingly easy to do once you know this trick. And busy moms will appreciate the tremendous amount of time it saves when you're hanging lights. 

You only need:
your hot glue gun,
brick clips,
and your Christmas lights.
Be sure to clean the brick before you start so the glue will adhere to the brick and hold your clips solidly in place for the holiday season.
Check more hot glue gun tricks!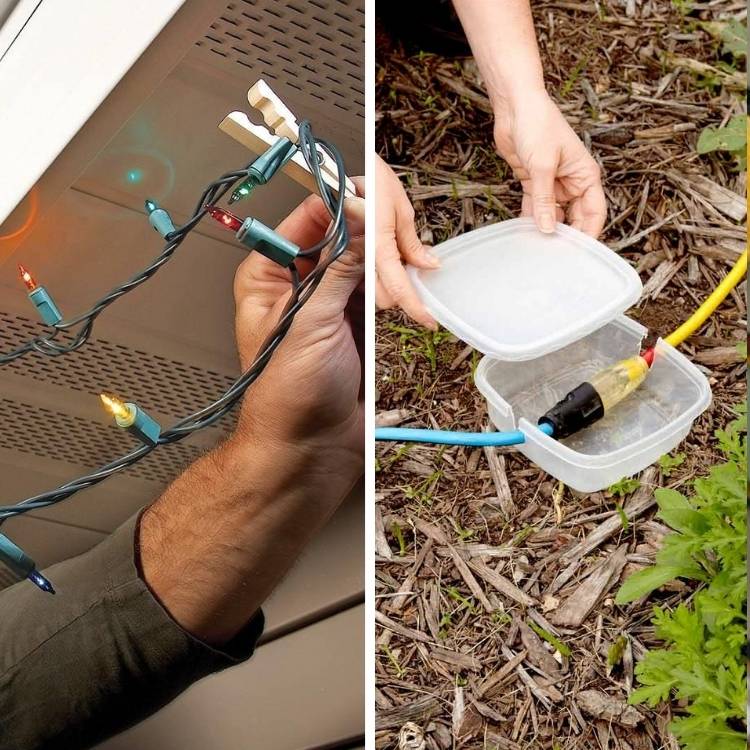 5. Protect Your Outdoor Christmas Lights Cords With This Nifty Safety Tip
No one wants to get electrocuted during the holidays.
Because safety is a priority, use an old plastic container with notches cut in the sides to protect extension cords from the wet ground during the Christmas season. This simple trick will keep your cords off the ground. You can drill holes into the bottom of the container to let out any water that gets in.
6. The Super Simple Trick for Attaching Your Outdoor Christmas Lights to Fascia
Use clothespins to easily clip holiday lights to fascia when you're decorating your home's exterior. This clever trick is so much easier (and cheaper!) than traditional light clips. And when your fingers are numb from the cold, the larger size of the clothespin are easier to hold onto. You'll love the speed with which you can get your outdoor lights hanging!
7. Keep Those Christmas Lights Tangle-Free With This Quick (and Cheap) Tip
The very worst part about hanging holiday lights is untangling them. It takes forever! Do it differently this year with this hack.
If any of your Christmas gifts arrive in cardboard packages, save them. When the holidays are over and you start taking down your decorations, wrap Christmas lights around the cardboard to keep them tangle-free and easy to prep for next year's holiday decorating.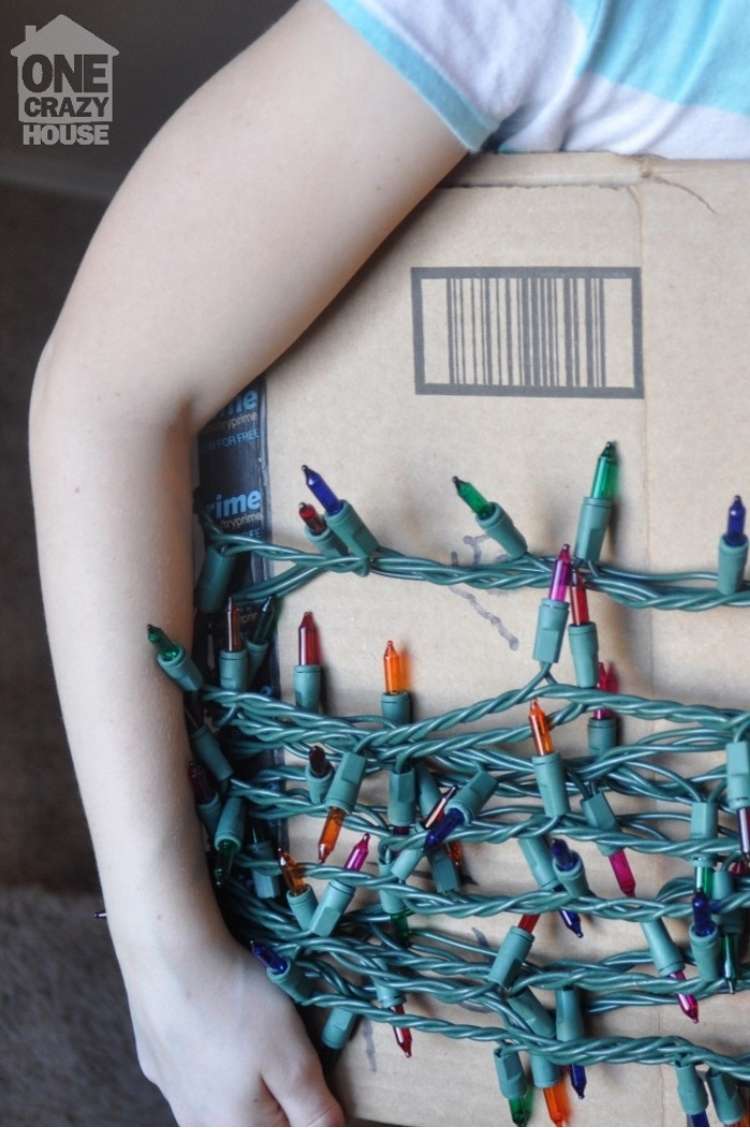 8. DIY Wire Christmas Lights Tree Lawn Decorations That Are Thrifty and Cute
Make your own wire Christmas trees with tomato cages and strings of lights. Buying them is too expensive (and they are a pain to store all year long).
If you already have tomato cages that you cleaned out from your winter garden prep, this is a super frugal way to decorate the exterior of your home for the holiday season.
You just need:
tomato cages
Christmas lights
rubber bands
The trees will light up your yard with holiday cheer (and make it easier to Santa to find you!)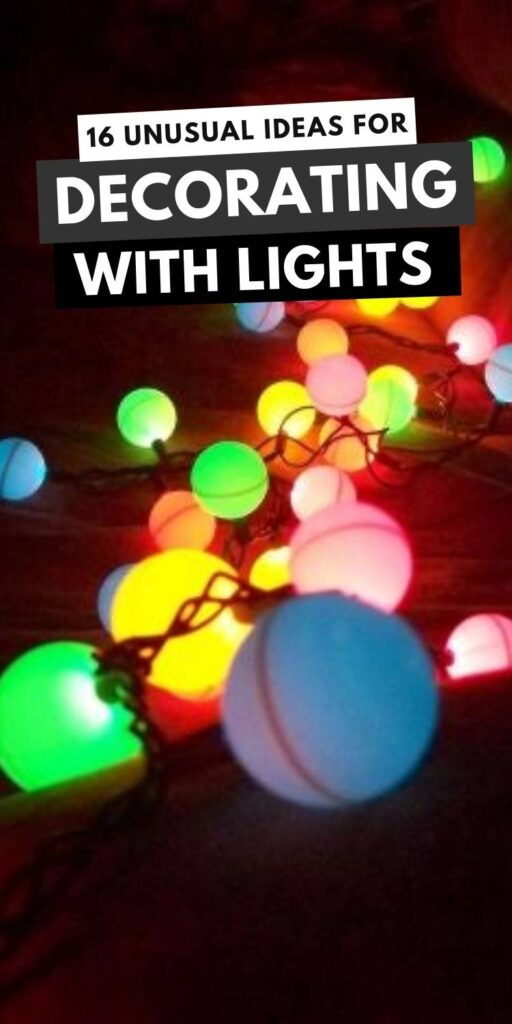 9. A Fun New Twist on Christmas Lights
Ping pong balls make excellent light diffusers, taking an ordinary set of lights and making them look absolutely beautiful (and unique). Check out this tutorial to create your own string of ping pong ball lights!
You just need:
Christmas lights
ping pong balls
hot glue gun
something to make a hole in the ping pong ball
10. Brighten Your Christmas Lights with Inexpensive Foil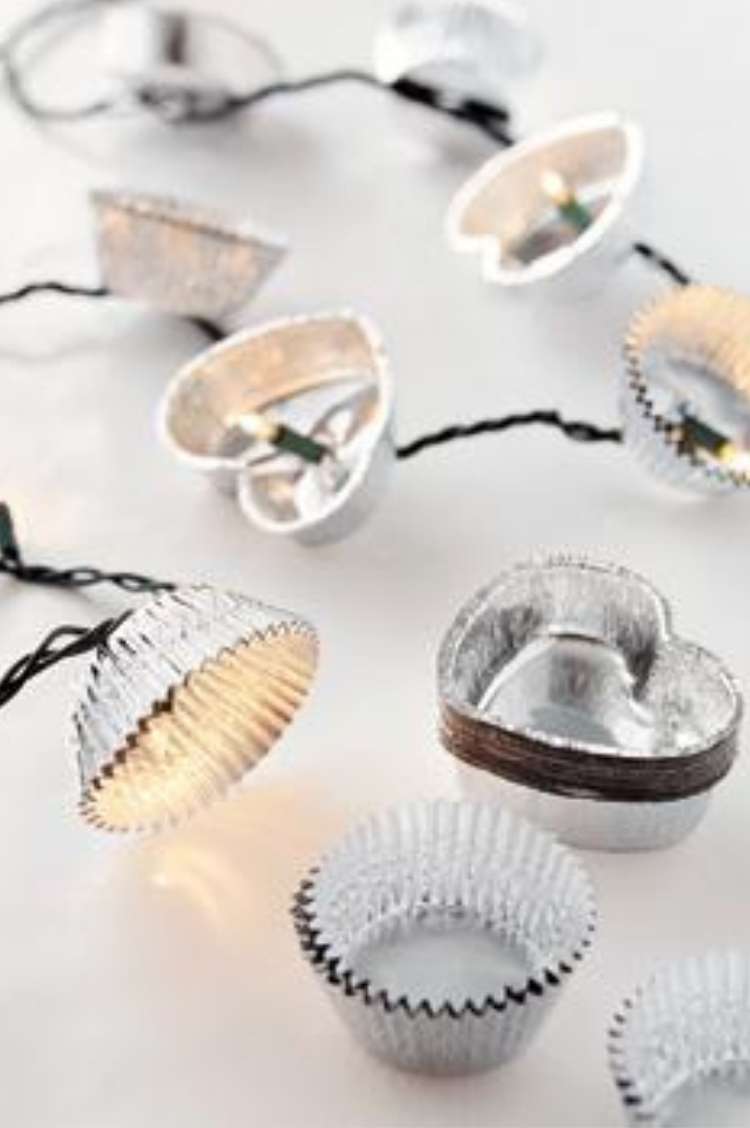 Put some foil cupcake liners behind your lights to bounce a little more light off. This works well with lights around the windows and looks so amazing! 
11. Store Christmas Lights Around (Free) Cardboard Tubes
Don't throw away or recycle the cardboard tubes from your toilet paper and paper towels! Save those tubes during the month of December and wrap your lights around them when the season is over.
This Christmas light idea will keep your holiday lights from getting tangled in storage. You save time when it comes time to hang them up again, and it keeps the bulbs from banging against each other and breaking, saving you money.
Related Post: Amazingly Clever Toilet Paper Tube Hacks and Crafts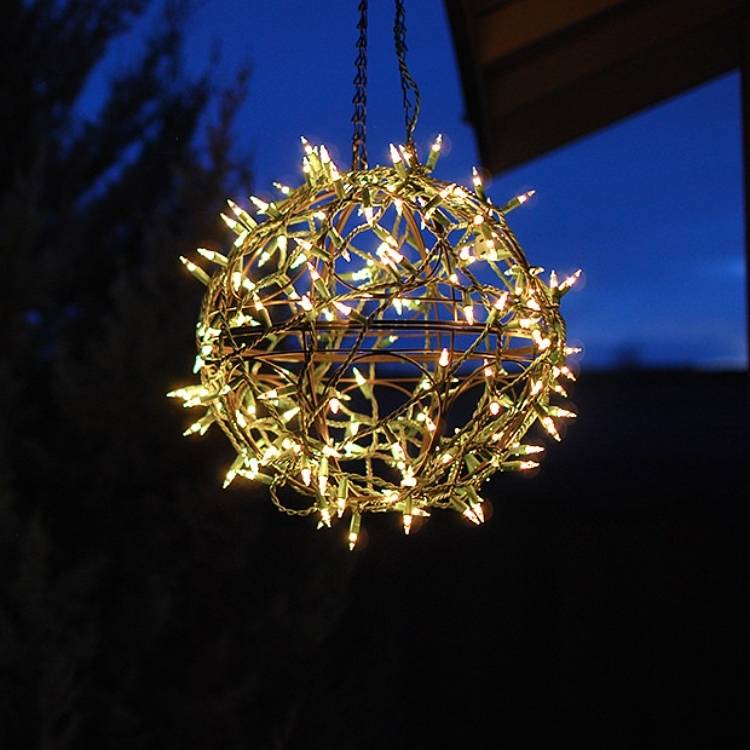 12. Easy DIY Christmas Lights Globe
Make a gorgeous holiday light globe by wiring two wire hanging baskets together and wrapping lights around them. Magical! The only supplies you need are:
floral baskets
mini lights
floral wire
When you're done, you'll have a magical sphere to hang anywhere you need some holiday lights!
13. Top Christmas Lights Photography Tips
When photographing holiday lights, you may want to turn off your flash. The flash creates a gray, washed-out look. By turning off the flash, the lights look brighter because there's more contrast.
14. Skip Pesky Outdoor Christmas Lights Altogether and Use a Projector
Get the look of hanging thousands of lights without all the hassle. The star shower makes it beyond simple. Have you seen them shine into trees? Gorgeous! As an added benefit, they use less electricity than standard outdoor Christmas lights.
15. Charming (and Easy-to-Make) Christmas Lights Mason Jars
Aren't these jars adorable? Also known as fairy light jars, they're easy to make and a snap to add to any holiday decor display. Plus, they add just the right amount of light. Simply beautiful.
16. Take a Time-Saving Photo Of Your Christmas Lights to Prepare for Next Year's Decorating
If you find that you really love the way your lights turned out this year, and you're not sure you'll remember how you got the magical effect you created, take a picture of your lights. Then when you begin decorating next Christmas, you'll have the picture to reference and you'll know exactly where to hang all your lights! It will save you so much time and energy!
Aren't these tips for your holiday lights clever? This year, decorating with holiday lights doesn't need to be a chore that's filled with frustration, taking time away from the things you really enjoy about the holidays.
With these Christmas light tips, your indoor and outdoor holiday decorating will be fun, creative, and beautiful! You'll be excited to start decorating your home for the holidays! And you'll love the results you get!
Did You Enjoy These Quick and Easy Tips For Your Holiday Lights?
Check Out More Holiday Inspiration from One Crazy House
Which of these Christmas lights tips will you try first this season?