If you want to add a gorgeous rustic touch to your holiday decor, try making one of these creative Christmas pallet ideas. With such a large variety of DIY pallet projects, you're sure to find a design you love!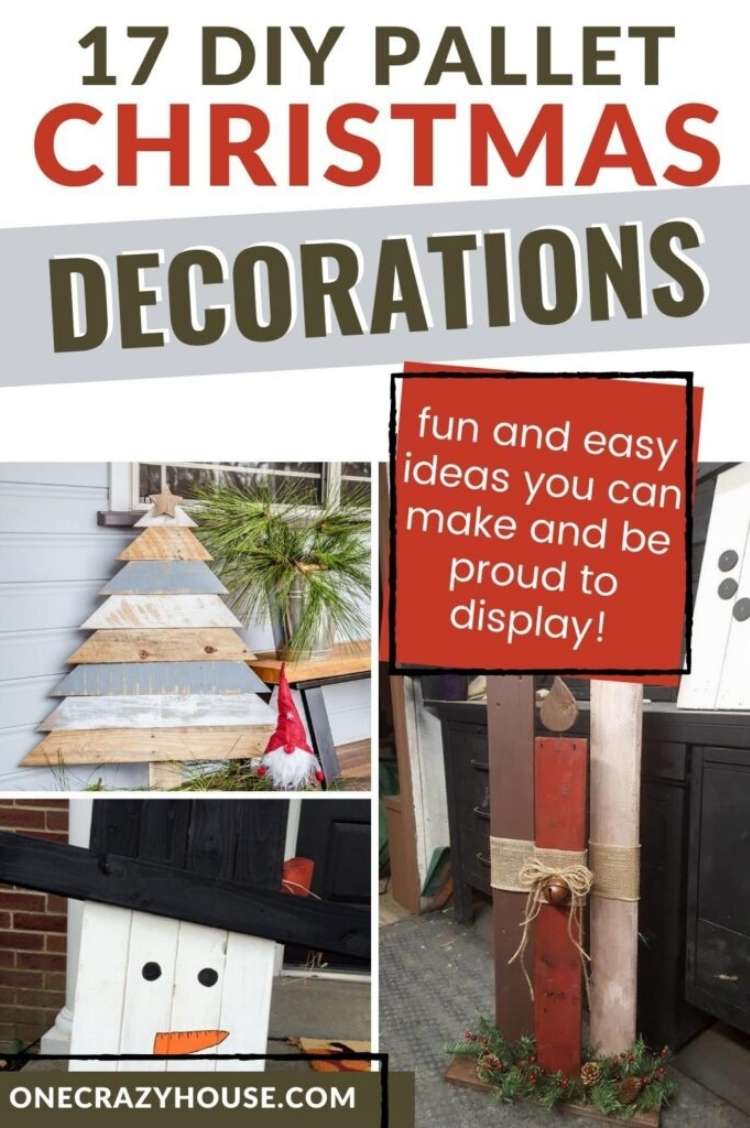 And just like that, it's time to decorate for Christmas this holiday season! If you're looking to change up your Christmas décor a little, what better creative way is there to do that than to use wood pallets?
Wood signs for home décor are all the rage right now, and for good reason. They're cheap, easy to find, and easy to make into gorgeous projects of all types.
If you haven't noticed how popular wood signs and pallet decor items are right now, simply take a tour of your local home decor store! You'll likely find whole aisles dedicated to wood signs for every inch of your home – and a whole lot more that are holiday-themed.
But what fun is it to go and buy a sign when you can simply DIY one yourself for the same price, if not less? Plus, when you make your own, you create a unique piece that you'll be proud of.
Whether you want to "build a snowman", make a wreath, a reindeer, or more, it's all possible on wood pallets!
We've gathered 17 pallet Christmas decor projects you'll love to give you some inspiration.
FAQs About Working with Pallets
Before I get into sharing all the fantastic projects you can do with pallets, let me answer a few questions you may already have. If you think of additional ones, please leave them in the comments below!
Where can I find pallets for crafting?
It used to be quite easy to find pallets to use for projects, but as they have become increasingly popular, you may have to dig a bit.

I have found that most luck getting cheap or even free pallets from:
Craigslist
local hardware stores
asking in local Facebook groups
Are pallets safe to have in your house?
Many pallets are treated with chemicals to prevent the spread of mold. Because of this, they are NOT food safe. This means you should avoid using pallets for projects that involve serving or growing food. It is also best to avoid burning pallets as they can off-gas potentially harmful substances.

To make sure your pallets are safe to display indoors, it's a good idea to add a few coats of topcoat or sealer.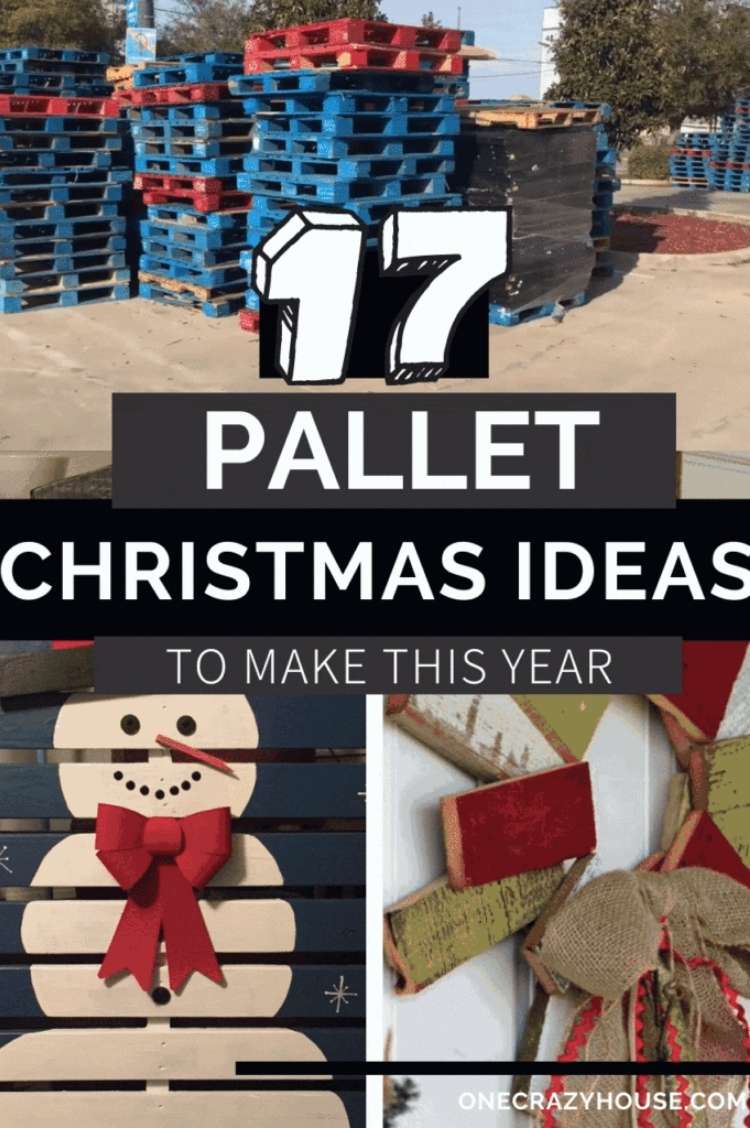 Easy Christmas Pallet Ideas You'd Be Proud to Make
Now, onto the projects! I love seeing – and making – DIY projects with pallets! They have a wonderfully natural and rustic vibe and are so versatile that you can make nearly anything you would want.
1. Make a Giant Wooden Star
Add a giant wooden star above your mantle. It has that "wow" factor, but it's still rustic and charming at the same time.
This is perfect for anyone who loves holiday decor but wants a break from the typical or maybe doesn't love red and green.
Need the perfect statement piece for your Christmas mantle? This DIY wood star mantlepiece is the perfect DIY project to add a fun bit of flair to your mantlepiece.
2. Use a Pallet Board to Display the Nativity
Use paint, a vinyl decal of the nativity scene, and a pallet board to recreate this pallet board nativity. What a terrific way to remember the reason for the season!
Try this simple Nativity board craft – it's easy to make yet has a big impact!
3. Display Your Christmas Cards in a Christmas Pallet  Tree Card Holder
I'm always looking for ways to store and display my piles of Christmas cards. Use a pallet, some clothespins, and a bit of ingenuity, to create a Christmas card holder that you'll love using for years to come.
Try this card display – its an easy DIY project. Such a fun and natural way to display your colorful Christmas cards!
Here's another version that is just as festive! 

4. Craft Up Some Festive Decor You'll Pull Out Year After Year
Make a darling set of beautiful Christmas tree and presents to adorn your front porch. They'll look amazing in any home and with any decor.
Plus, they're so easy and fun to make that you could make these as part of a girl's night if you wanted to!
This is such a fun and cheap project to make! And it looks great with any Christmas decor you already have.
5. Display a O Holy Night Pallet Sign
O Holy Night is one of my favorite Christmas hymns, so this project is definitely on my list of holiday to-dos! It's rustic but also very chic and perfect for any holiday home decor.
I finally made my first pallet stenciled Pencil-lettered sign for myself! I have wanted to make this project for a long time and I'm showing you how to make this easy project.
6. Make These Fun Grinch and Snowman Porch Signs
You're a mean one, Mr. Grinch, but you sure are adorable in this pallet craft! This post even has a snowman pallet craft that you can make too. Two for one – I love it.
We love the look of these grinch and snowman porch signs! Aren't they adorable? And they're easy to make.
7. Add Curb Appeal with an Everlasting Wreath
Do you have some pallet scraps? Use them to make this scrappy wreath. Paint the pieces three different colors and add a burlap bow when you're finished.
Try this Year-round wreath – it's fun a repurposing project that has uniquely festive appeal and just the right amount of rustic look.
8. Build the Excitement with a Christmas Countdown Calendar
Create a fun countdown for Santa's arrival! Use chalkboard paint in the area where the numbers go or just nail a small chalkboard there.
Check out this countdown calendar DIY Christmas projects that will spruce up your holiday decor this year!
9. Rustic Stocking Holder
Don't have a mantel or a place to hang your stockings? No problem! Create your own rustic stocking hanger out of an old pallet and star-shaped knobs. So cute and practical!
Make your own rustic stocking hanger by upcycling an old pallet and adding star-shaped hooks.
10. Paint a Pretty Nativity Set
Here's another pallet nativity that's fairly simple to do and it doesn't require any vinyl decals.
Create a nativity this one is rustic a very easy and unique nativity scene out of pallet boards.
11. Love Fall and Winter? Build a 2-Sided Porch Leaner
This pallet scarecrow/snowman combo pulls double duty during fall and winter. What a brilliant simple idea!
Learn how to make this adorable Reversible Snowman / Scarecrow.
12. Make it Clear that Elves are Welcome
When elf season arrives, your Elf on the Shelf will need somewhere to hang his sled until he returns home. Make this adorable elf parking sign!
The Rustic Elf Parking Pallet Sign will bring the spirit of Elf season to your home! This full tutorial will help you recreate it in just a few hours!
13. Build Santa and Roudolph Door Hangers
These Christmas pallet ideas make sure fun decor pieces and will be the envy of all your neighbors. Keep one for yourself and give one to a friend. They're so easy, and the scarves are a cute touch!
I made these Christmas Door Hangers for Christmas presents for the family. Aren't they cute?
14. Use an Entire Pallet to Paint a Cheerful Snowman
You don't even have to disassemble the pallet to make this darling snowman project. That will save you some time so you can create a very festive project.
This snowman is a quick and easy project that looks amazing when complete!
Learn how to transform a basic pallet into a showcase snowman piece! supplies.
15. Make a Minimalist Christmas Tree
Grab some nails, a string of lights, some star garland, and some ornaments and create your own lighted pallet Christmas tree.
Hooray for another project that doesn't require pallet disassembly!
This project was so incredibly easy. The hardest part is finding a pallet!
16. Show Off Some Giant Candles
How about some super cute DIY pallet candles! These would look cute inside or on a porch with other rustic Christmas decor.
My Dad sent me a picture of a wooden candle set he found in a store… I took the idea and ran with it… here's the final product!
17. Add a Whimsical Tree to Your Porch Decor
I love the huge variety of pallet Christmas tree ideas out there! In fact, I could probably write an entire post just on pallet Christmas tree ideas. No matter what style you make them in, they're amazing.
Check out this tutorial – and video – to make this gorgeous DIY pallet Christmas tree.
Christmas Pallet Ideas: Final Thoughts
Make Christmas even more magical (and save some money in the process) by fashioning this year's decorations out of items you may already have around the house. 
And if you don't already have a pallet, remember, they are easy to find if you just ask around.
You'll be proud to display your own DIY Christmas pallet with its unique and original design.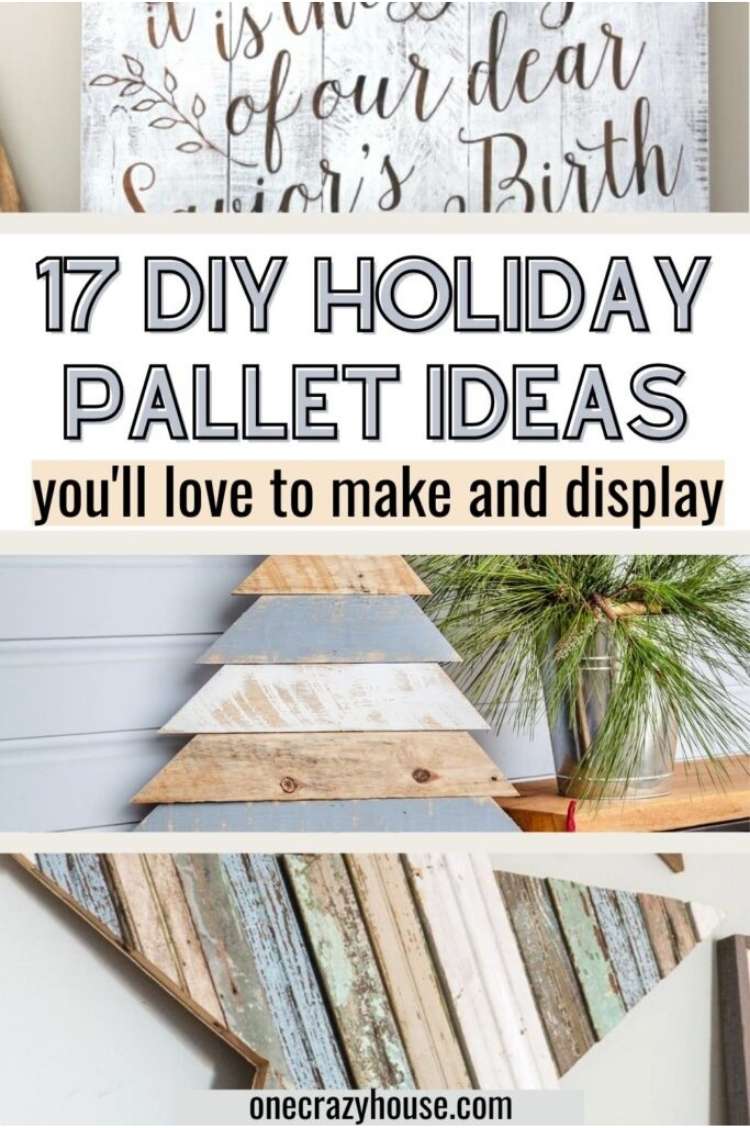 More Christmas Inspiration and DIY Ideas
Which DIY project is your favorite?